John Brown Smokehouse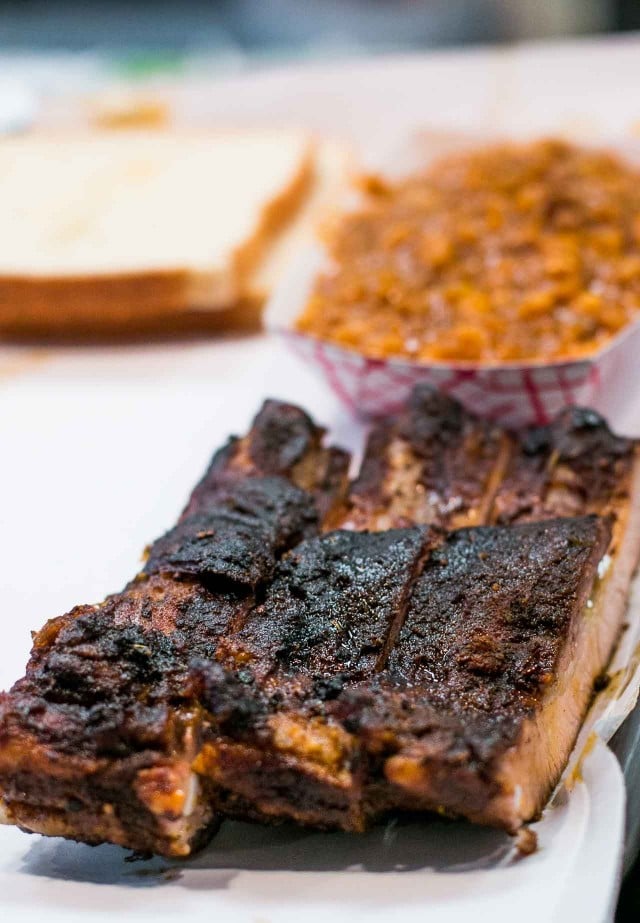 I remember being déçu (disappointed) a few years back when I signed up to go to a barbecue dinner in Paris and I was super-excited to attend. But instead of being served platters of long-cooked meat, I found myself being handed a plate of a piece of beef cooked on a regular grill: I'd forgotten that the word "barbecue" in Europe usually means "grilled." (Shhhh. Don't tell the people from Texas or Kansas City.)
Nowadays there are real barbecues in Paris, including The Beast and a few other places. And there is even an Association Française de Barbecue that celebrates the "low and slow" style of meat cooking that we know as barbecue, American-style, apparently enjoyed by an alliance of the two cultures.
Several places in America celebrate their own style of barbecue, but since Queens, New York, is one of the most vivid examples of diversity and culinary multiculturalism anywhere, it seems right that there's a pretty great barbecue in the mix, just a short subway or cab ride across (or under) the river from Manhattan.
It's estimated that nearly half the people in Queens were born somewhere else, and you can get everything, from Tibetan to Colombian food on the crowded streets of the borough. But in a less-densely populated part of Queens, Long Island City, stands John Brown Smokehouse, which offers up Kansas City style barbecue.
The first time I took my French other-half there, he was mesmerized by the tender meat – slow cooked ribs, burnt ends, and, in a nod to the city, pastrami. He insisted on going back this week and like the previous time, he (and I) were once again delighted by the especially crispy, and too-good-to-share, French fries, along with just about everything else on the chalkboard menu.
On a warm spring day, we parked ourselves outside in the backyard, surrounded by tables other people having lunch. And I gotta add that it's nice to eat outside where the only smell of smoke you're inhaling is coming from platters of meat right from the smoker. (The metal kind.) And what a smell it is!
Since there were four of us this time around, we ordered a whole rack of ribs. Each rib was meaty, with a burnished crust and well-seasoned. Although some traditionalists scoff, they were great dipped in the spicy bbq sauce served alongside, but were fine without it, if you're not into it.
They were out of burnt ends, which we had before, but along with the rack of pork ribs, we had brisket, and pastrami. The brisket got the least attention from us, but the pastrami was some of the best I've had in New York – much better than a well-known deli that served me and some other friends inedible twenty-buck sandwiches a couple of years back. (I'm still irked that I didn't say anything, if only to let them know to fix them.)
The co-stars at John Brown are the sides. I'm not a big fan of collards (there, I said it…), but the cornbread was excellent. Every time I make cornbread for Romain, he invariably says, "What is this?" (French short-term memory for American foods?) – he loves it. He scraped with crumbs from paper barquette clean before I got my fill. But the biggest star are the fries – crispy, well-browned, salty, with a lively, peppery kick.
I've never had one of their sandwiches on a bun but a group of office workers from nearby was having a great time enjoying lunch in the sun as well, surrounding one of the tables with meat sandwiches piled up high. However we were content to sit there, polishing off our trays heaped with meat, then licking our fingers afterward.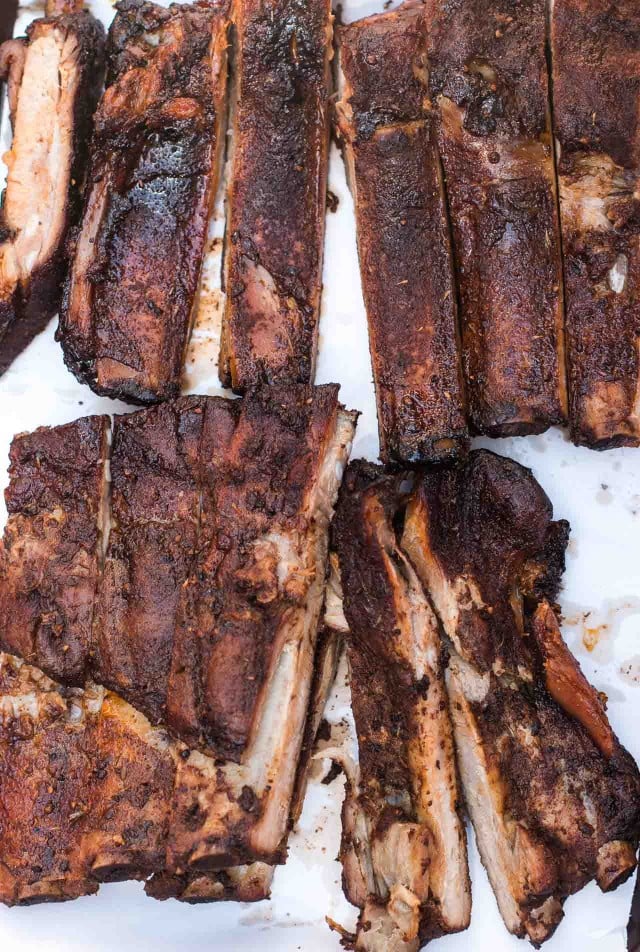 John Brown Smokehouse
10-43 44th Drive
Long Island City, NY
(347)-617-1120
Related Posts and Recipes
Braised short ribs (recipe)
Hometown Barbecue Sings the Ballad of Beef Ribs (Serious Eats)
Where to eat barbecue in Brooklyn (Edible Brooklyn)