This past Easter, I had brunch with my family in New York at Maialino. I think we are all on the same wavelength about brunch (and about facing other people early in the morning) because we sat down at the civilized hour of 2pm.
After we all ordered what we wanted and we also added a basket of pastries for us to share. Before the waiter walked away, someone said, "Let's get an olive oil muffin, too."
Ripping into that muffin and taking bites of it, we each stopped what we were doing and said, "Wow, that's good!" If I had been by myself (and paying), I probably would have ordered another one. But instead, I kept my mouth shut and finished brunch along with everyone else.
But I had those muffins in my head (just like I can't get the music from Hamilton out of my head, which I also saw when I was in New York – a friend of mine told me she had to stop listening to the soundtrack because she couldn't get anything else done in her life either) and when I got home, I found the restaurant's recipe for Olive Oil Cake on Food52. The recipe made a 9-inch (23cm) cake and I decided to adapt it to muffins. I retooled the quantities of ingredients, reducing some and increasing others, scaling them down to fit nicely into eight muffin cups.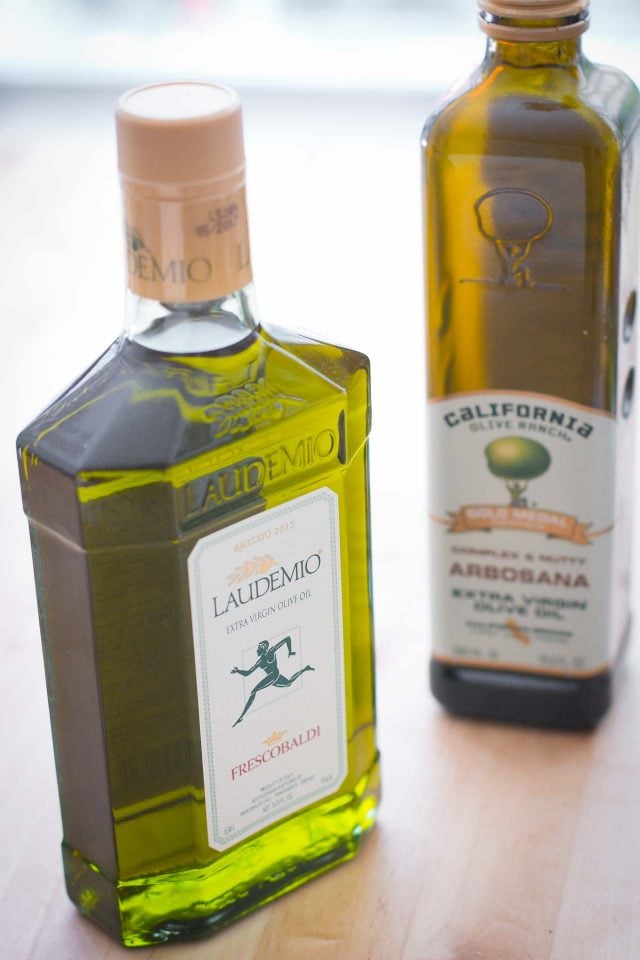 A couple of notes: The quality of the olive oil is important to these muffins. An inside source told me the pastry chef at the restaurant uses a Barbera olive oil, while I've heard other say the olive oil they use is from Liguria. Hmmmm…. So I'd recommend using a fruity, full-flavored oil olive that's available to you.
Another important player in these muffins is the Grand Marnier. The liqueur adds a dynamic, slightly bitter orange flavor to the cake that contrasts nicely with the olive oil.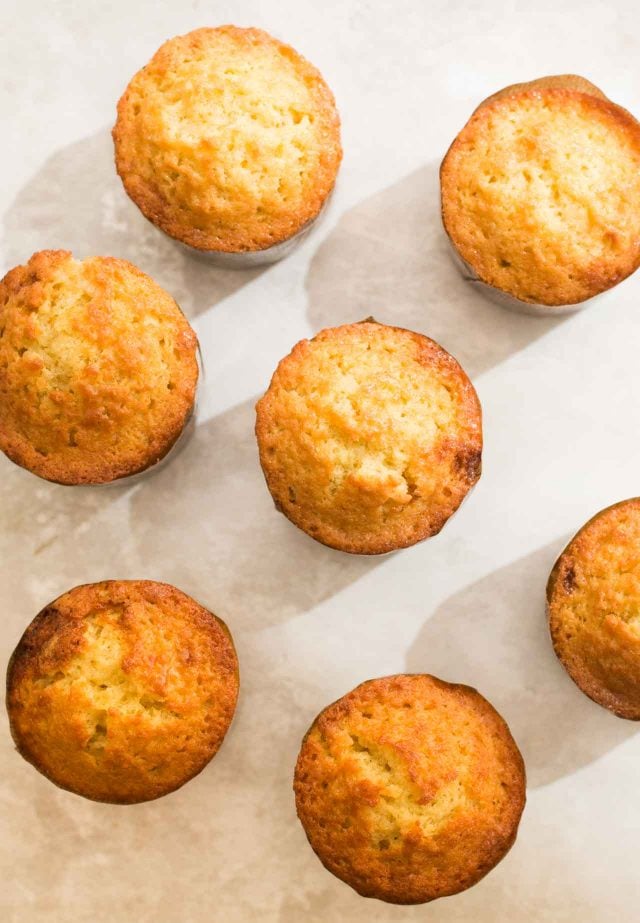 Olive Oil Muffins
Recipe adapted from
Olive Oil Cake
at
Food52
by Rachel Binder and Gerri Sarnataro from
Maialino
restaurant The Grand Marnier plays a big role in the flavor of these muffins. If you don't want to use alcohol, you could try the muffins with orange juice with a spoonful of orange extract added but they won't have the same dynamic flavor the originals have. (I haven't tried it personally, so if you do, let us know in the comments what you did and how it worked out.) One reader in the comments mentioned she'd added some orange marmalade (which is made with bitter oranges) which got me thinking that maybe you could swap out the 1/3 cup orange juice/Grand Marnier with 1/3 cup of orange marmalade, chopped fine if it has large shreds of orange peel in it. You could add a few drops of vanilla or almond extract to the batter if you wish, either way, although my French taster said not to touch them or do anything else – that they were perfect. The muffin cups I used are called mini-Panettone molds and can be found in some cookware shops and
online
. They were 2 1/2 x 1 3/4-inches. (About 6 x 4.5cm.) You could use other size muffin cups and fill them about 2/3rds to 3/4s full.
1 1/3

cups (185g)

flour

1

cup (200g)

sugar

1

teaspoon

salt

1/2

teaspoon

baking powder

,

preferably aluminum-free

1/4

teaspoon

baking soda

3/4

cup (180ml)

fruity extra-virgin olive oil

3/4

cup (180ml)

whole or lowfat milk

2

large eggs

,

at room temperature

1

teaspoon

freshly grated orange zest

1/3

cup (80ml)

mixed: half fresh orange juice

,

half Grand Marnier
Preheat the oven to 350ºF (180ºC). Set eight paper mini-Panettone or free-standing muffin cups on a baking sheet. (Or set regular muffin cup liners in a muffin tin with eight indentations.)

In a large bowl, whisk together the flour, sugar, salt, baking powder and baking soda. In a medium bowl, whisk together the olive oil, milk, eggs, orange zest, and orange juice/Grand Marnier mixture.

Make a well in the center of the dry ingredients and pour in the olive oil mixture. Stir the ingredients together with a flexible spatula until they are just combined but do not overmix. There may be some minor lumps in the batter, which are fine. (Overmixing will cause the muffins to be tough.)

Fill the muffin molds 2/3rds to 3/4s full of batter and bake until they just feel set in the center and the tops are golden brown, about 35 to 40 minutes. Remove from oven and let cool a bit before serving.
Notes
Storage: The muffins can be baked two or three days ahead and kept at room temperature in an airtight container. Although they will lose their crusty top the flavor will be more pronounced the next day as the crumb gets saturated with the olive oil and Grand Marnier flavors. They can also be frozen for up to two months.