Nutty Magdalenas
I have two confessions to make. The first is that I have a terrible tendency to wander around my place, looking for something to eat. It starts the moment I wake up, and no leftover cake or cookie is safe. And continues throughout the day as I forage and wander around, eating handfuls of nuts, chocolate chips, fruits and berries, or whatever else I can get my hands one.
The other confession is that few years ago, I was in the states at a cookbook store, and I picked up one of the books on cupcakes. When the sales clerk told me how many copies it had sold, they had to send someone running down the aisle to catch the eyeballs that had fallen out of my head.
I couldn't even calculate how much money that was in my ever-shrinking brain, but I stocked up on cupcake liners and muffin tins, and decided that when I got home I'd knock out a cupcake book. Then, I'd retire to a sunny island and spend the rest of my life in a place where my biggest fear wasn't bank tellers or supermarket cashiers, but wondering – "What's taking that waiter so dang long with my next mai tai?"
However I never pursued it because as much as I like cupcakes, my heart just wasn't it in. (And since we're being honest here, the idea of scrubbing muffin tins for a year wasn't all that appealing either.) So since I am decidedly downward mobile, I abandoned the project altogether. And now, all I have to show for it are a few thousand cupcake liners and muffin tins in every conceivable size, shape, and material, hand-carried from the United States of America.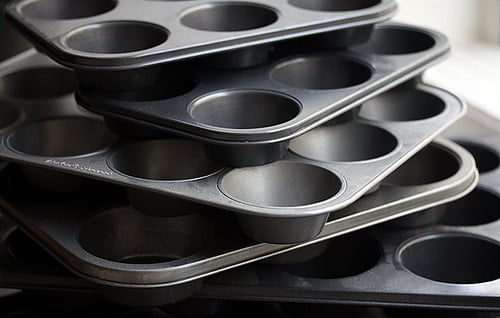 I also brought back a few jars of marshmallow cream thinking they'd make an interesting frosting for some of my cupcake ventures. But at least I put one of those to good use. And considering the list of ingredients, I don't have to worry about any of the rest going bad, say, for the next 39 years.
Since quitting the cupcake project, I spent some of the time I would have spent scrubbing muffin tins, roaming around the house, snacking on various odds and ends. I was attracted to this recipe in My Barcelona Kitchen, a cookbook about the foods of that amazing Catalan city, written by Sophie Ruggles, an Australian who moved there, opened a restaurant, and now teaches cooking classes.
Magdalenas are kind of like muffins – or cupcakes (I'm not sure of the difference, which I guess is required if you're going to write a book on cupcakes), except these Magdalenas de frutos secos have no butter. Instead, they rely on olive oil as well as ground nuts, which replace much of the flour, which Sophie claims put them into the "healthy" category.
But I'm not a total rube and did learn from her book that the Spanish say "Frutos secos" for mixed nuts, like the French say "Fruits secs", both of which translate to "dried fruits." No one's been ever to explain that to me, although I'm sure if it's done in both countries there has to be a reasonable explanation. Kinda like the one about why I have a few cases of cupcake liners and a cabinet full of muffin – or cupcake – tins.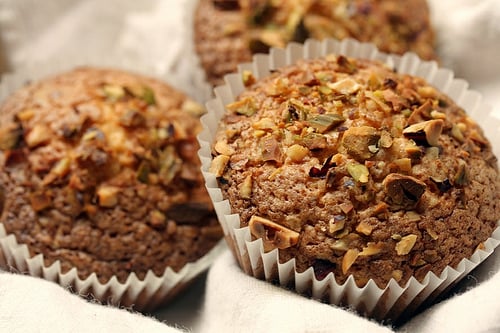 | | |
| --- | --- |
| Nutty Magdalenas | Print Recipe |
Makes 16
individual cakes
Adapted from My Barcelona Kitchen by Sophie Juggles These are curious little treats; nutty and moist, with the taste of olive oil lingering in the background. Sophie offers up that you can use any kind of nut that you like – hazelnuts, pistachios, almonds, or a combination of them. If you want to start with ground almonds or hazelnut flour (also called nut meal) use 3 1/4 ounce or 90 grams. The original recipe said to cook them at 415Fº (210ºC) for at least thirty minutes, but I dialed down my oven to 400ºF (200ºC) and they were done in about 15 minutes. You can bake them in muffin tins or just in the paper muffin cups, set on a baking sheet. They spread out a little more on baking sheets, so space them out apart to give them room to grow.
3
large eggs,
at room temperature
2/3
cup (90g)
toasted almonds or hazelnuts,
skins removed after toasting
1 1/2
cups (225g)
all-purpose flour
3/4
cup plus 2 tablespoons (200ml)
mild-flavored olive oil
About 1/4
cup (25g)
mixed chopped nuts,
such as almonds, hazelnuts or pistachios, for sprinkling, untoasted
1. Preheat the oven to 400ºF (200ºC.) Line 16 indentations in muffin tins with paper liners.
(Or set 16 paper muffin cups on a baking sheet, without using the muffin tins.)
2. In the bowl of a stand mixer fitted with the whip attachment, whip the eggs and sugar on high speed until very light and doubled in volume, 3 to 5 minutes.
3. While the eggs and sugar are whipping, pulverize the toasted almonds or hazelnuts, in a food processor with the flour, baking powder, and salt, until the nuts are finely ground up, similar in texture to very coarse polenta.
4. When the eggs are fully whipped, drizzle in the olive oil while the mixer in running at medium-high speed, in a slow, steady stream, stopping the mixer midway to scrape down the sides of the bowl.
5. By hand, stir in the flour and ground nut mixture just until it's completely incorporated. Fill the paper muffin cups halfway full with the batter. (I used a spring-loaded ice cream scoop.) Bake the cakes 15 minutes or just until the centers feel lightly set when you press one. If baking the cakes withouth the muffin tins, they make take a few minutes longer.
Storage: The Magdalenas can be stored in an airtight container, at room temperature, for up to 3 days. They can also be frozen for up to 2 months.
Related Links and Recipes
8 Tips for Choosing and Using Olive Oil
Zucchini Cake with Crunchy Lemon Glaze