The Chin Up, and Breuckelen Distilling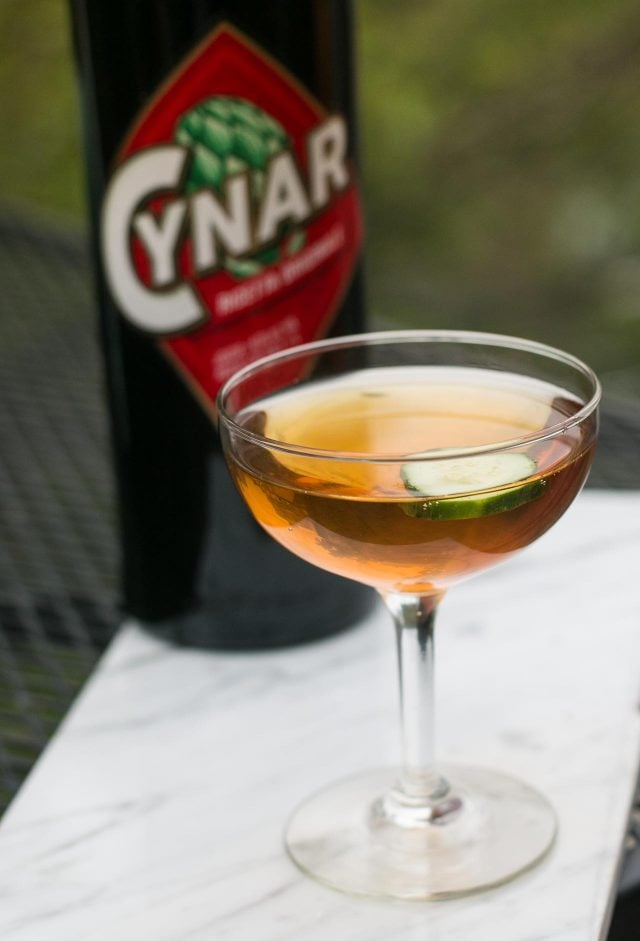 Whenever I'm in New York, I have a few drinking buddies all ready to hit a few bars for cocktails with me. One friend who I used to work with at Chez Panisse is at the top of that list and we both like our cocktails the same way: Not on the sweet side.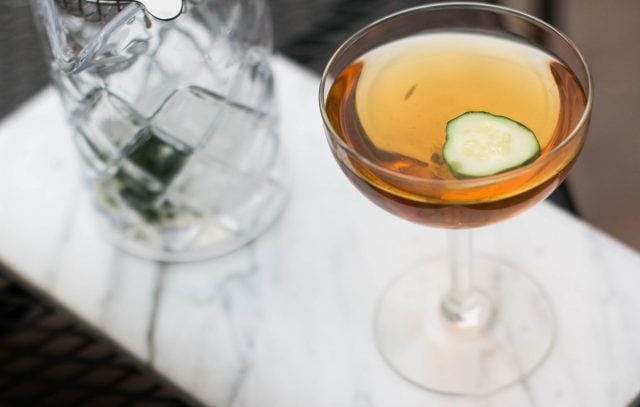 So when we go out, we scan bar menus to find drinks that accent the bitter and earthy, rather than fruity. (Unless you're talking about margaritas and daiquiris, or anything served in a hollowed out pineapple or coconut – then I'm in.) At one bar we couldn't find a drink on the list that caught our eye, so the bartender offered to make a Chin Up.
The base of a Chin Up is gin, and I recently went to visit Breuckelen Distilling, a relatively new distiller in Brooklyn that's using New York grains and botanicals (as much as possible) to make a Rye & Corn whiskey as well as two types of gin: one barrel-aged and another simply called Glorious Gin.
New York state wheat is distilled for their gin, rather than something more neutral, which gives the final gin a different flavor profile than other gins. It's smoother, yet higher in strength, coming in at a higher proof than some other gins. Once distilled, grapefruit and lemon peels are added, as well as rosemary, ginger, and juniper. A portion of their gin is then barrel-aged for a year to give it a gentle amber color and a slight woody flavor.
Just above is one of the gorgeous copper distilling machines where owner Brad Estabrooke, a young bond trader-turned distiller, was monitoring the progress as the corn and rye-based whiskey he was working on passed through the various chambers. Gino DiStefano, who works with Brad as sales director (and bottle-filler), filled bottles with whiskey a few feet away, capped them off, then dipped the necks in wax.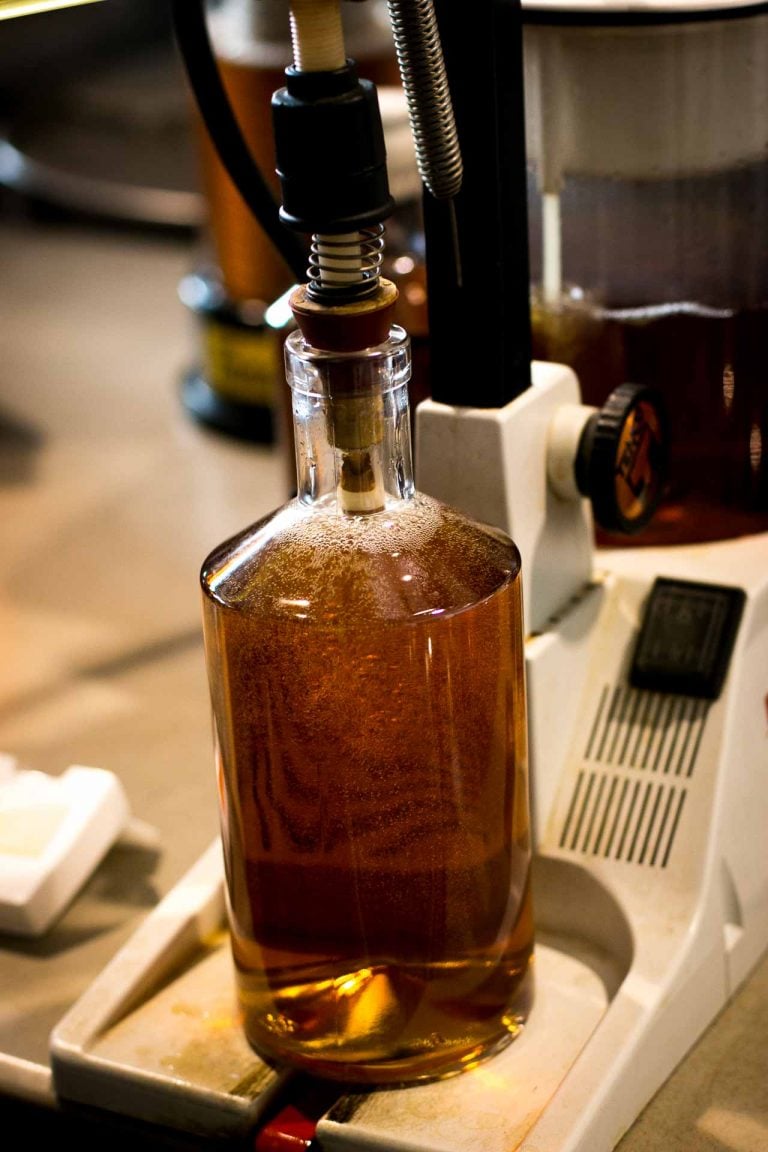 The small distillery that's been in operation since 2010 produces roughly two thousand bottles of month in an ancient boiler room, a high-ceiling space with lot of light filtering in from a large round skylight, which may have been an opening for one of the old steam pipes.
While Gino was capping bottles, a roll of dental floss was on the table nearby and I asked what that was for. "Oh, that's for putting around the caps of the bottles, so you can get the seal off!"
I left with a bottle of Glorious Gin, which they gave me to try at home. The smooth gin doesn't have the brash intensity of some of the juniper-forward gins, but is mellowed by the wheat, and the gin surprised me with its polished, buttery quality. It's not overly botanical, which a lot of gin companies are now favoring, a trend that I'm on the fence about because I like gin to taste like gin – not necessarily a bouquet of herbs and spices.
I suspected it would be a good gin to try with a batch of Chin Ups. To make them, I picked up a bottle of Cynar, an artichoke-based liqueur from Italy. It's rather intense and a little goes a long way. Even paired with vermouth, velvety-crisp gin, and tamed by cucumber, it races through the glass and hits you with a bracing bitterness.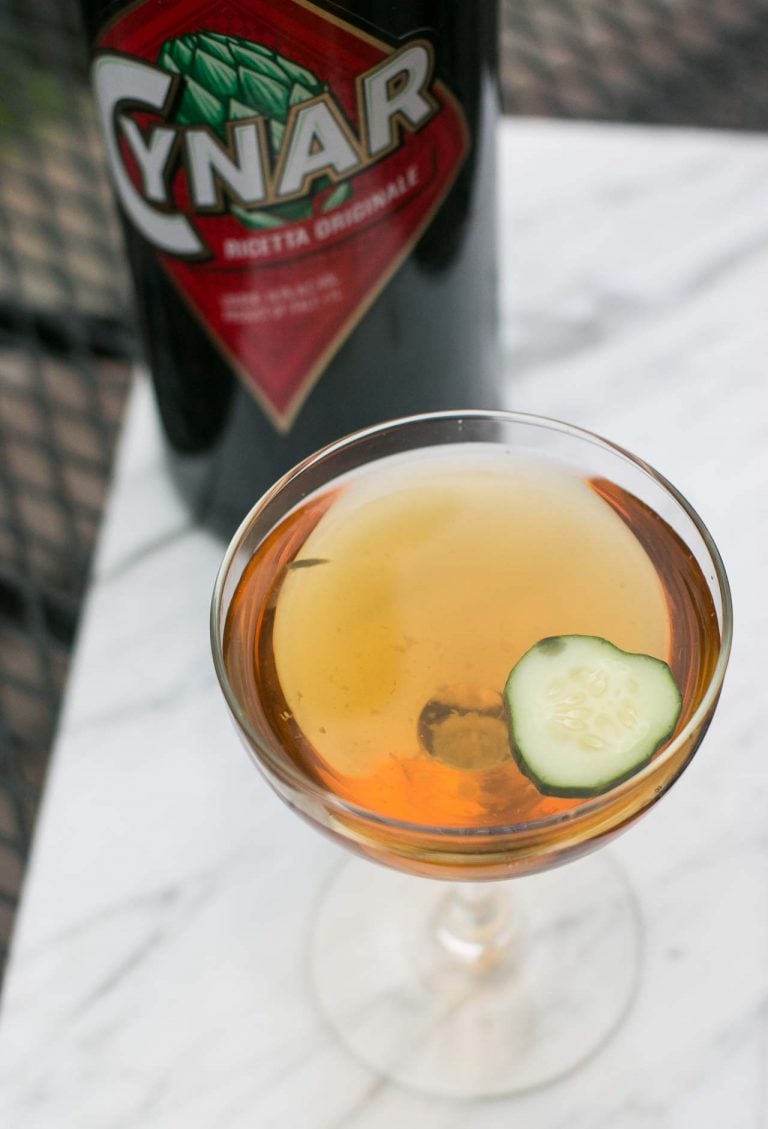 The Chin Up
I'm not sure where this cocktail got its name. But if you have more than one, you might find it hard to keep your chin up. Cynar is an Italian liqueur made from artichokes and is quite a force to be reckoned with due to its intense bitterness, balanced here by the cucumber, gin, vermouth, and pinch of salt. It's not hard to find in the States in well-stocked liquor stores. In France, you may have luck finding it in an Italian epicerie. If you can't get it, you could try another Italian
amaro
,
Fernet-Branca
, or even Jagermeister, in its place. If so, traditionalism may require you to change the name. But that's part of the fun of inventing your own variations.
2

slices

of cucumber

tiny

pinch

of kosher or sea salt

2

ounces

gin

1/2

ounce

Cynar

1/2

ounce

dry vermouth
Muddle one slice of cucumber with the salt in a mixing glass or small pitcher.

Add the gin, Cynar and vermouth, and fill the mixing glass partially with ice. Stir briskly until the mixture is well-chilled, about 20 seconds.

Strain into a chilled stemmed cocktail glass and float a cucumber slice on top.