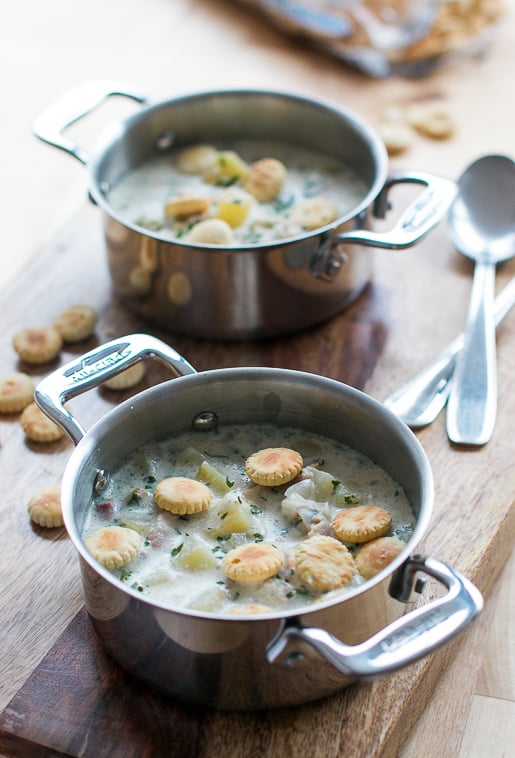 If you're not from a place, you don't have the same nostalgic pangs for the foods, even if some of us invoke Proust when we bite into a madeleine, or get all bent out of shape when someone messes with a certain food from a particular country or region – even if we've never been there.
I'm not a big fan of creamy soups, but I am a staunch defender of New England clam chowder. The word "chowder" comes from the French word "chaudière," a big soup pot or cauldron. Some say it may have been invented by Breton fishermen in France, who later brought the soup to Canada and New England. Although I am not sure about the Manhattan-variety of chowder, which to me is like adding tomato puree to the dressing for a Caesar Salad, and calling it a "Caesar Salad." If you're looking for a tomato-based clam chowder there are plenty of places to find one in books and on the internet. This isn't one of them.
I grew up eating New England clam chowder, which we often enjoyed at Howard Johnson's, the famed roadside restaurant (which was once the largest restaurant chain in America), where Jacques Pépin worked, coming up with recipes in the 1960's.
The place wasn't fancy, but it was pretty good; the orange and turquoise roofs were a welcome sight during long drives on the Massachusetts Turnpike. (Most New Englanders of a certain age will remember hearing the phrase; "Sorry, we don't have Coke. We have HoJo cola. Would you like one?"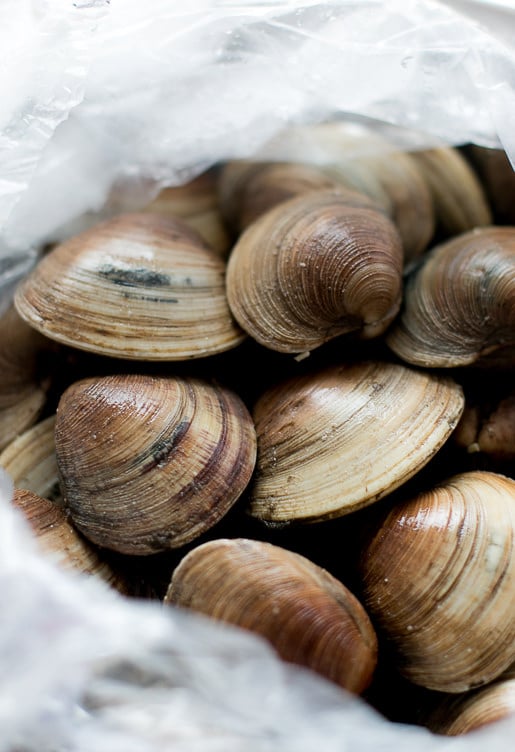 They served New England clam chowder in thick, restaurant-ware bowls, along with salty, puffy oyster crackers that came in little cellophane packets. One was never enough and it was normal just to bring a big bowl of them and let you help yourself. (I think my mother may have pocketed a few in her time as well.) Their clam chowder was rather goopy, most likely heated from a can, and dense enough to swap out for wallpaper paste. I loved it.
Most HoJo's are gone, and the last version I had was at the Grand Central Oyster Bar in New York City about six years ago, and made me pine for even the admittedly hokey version of chowder from my youth at HoJos. (I had to beg for oyster crackers at the oyster bar – three times.)
For some reason, I had a hankering for a bowl of chowder, and I picked up a can of clams when I saw them in a grocery store, the same ones which my parents often used to make linguini with clams and butter sauce, a quick-fix meal for time-pressed parents. They changed the can and it didn't bring back the same Proustian memories when I dropped it into my shopping cart. Nor could I rustle up the interest to open it when I got home.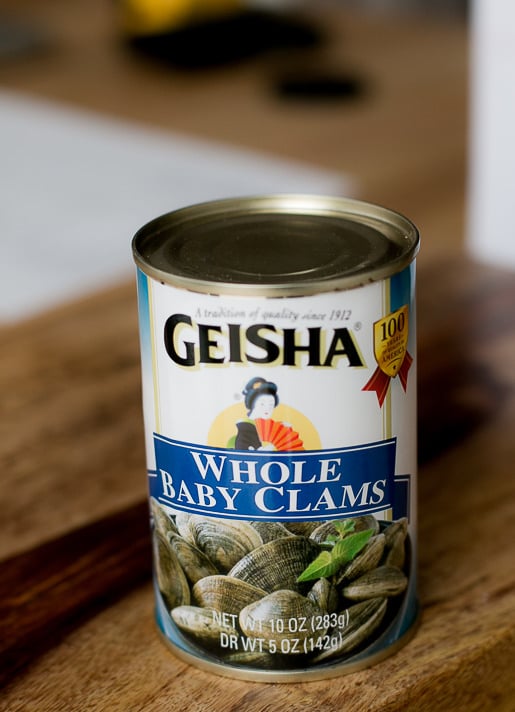 Sometimes I run into readers, online or in person, and I caught a bunch of flak for buying a bag of produce that wasn't local. (Oddly, I've never gotten flak for buying Sicilian lemons, oranges from Malta, Venezuelan chocolate, Italian Parmesan cheese, coffee from Colombia, Mexican vanilla, or Greek feta, when I'm not in any of those countries.) I was pointedly grilled by some where the peppers were from. So I'm starting a hashtag in response: #itsokay – feel free to use it : )
Finally, I'd like to remind any remaining naysayers that my nickname when I worked at Chez Panisse, one of the leaders of the farm-to-table movement, was "Chez Dave," which perhaps we could also use as a hashtag whenever I (or you) does something interdit, if you want to merit the approval of others.
So I went to the fish market and bought Littleneck clams. In France, clams don't get the same attention that oysters and mussels get. But in New England and on the eastern seaboard in the U.S., you can find them pretty easily. #ChezDave got some lovely, local Littleneck clams, but #itsokay realized that not everyone can get fresh clams, and the questions would arise about swapping out something more globally available. You can also make a pretty nice chowder with fish, and I've linked to a recipe at the end of the post.
Since I'm not giving up on my canned sardines (or coffee or chocolate), and I hate food waste, I'm not tossing that can of clams. But this chowder is so good with fresh clams that if you can track some down, give it a try. I invited a friend who I cooked with for many years at Chez Panisse over for dinner the other night and she absolutely loved it. So if you're looking for approval, take it from us, this chowder will make sure you get it.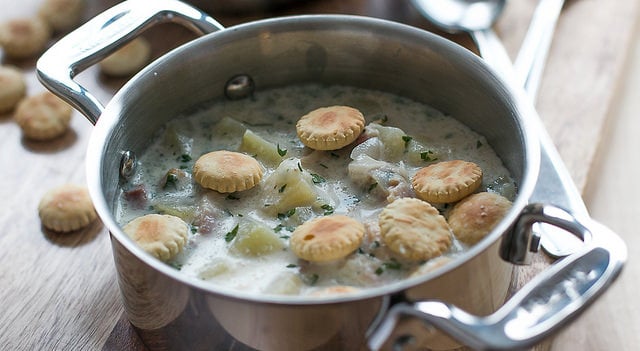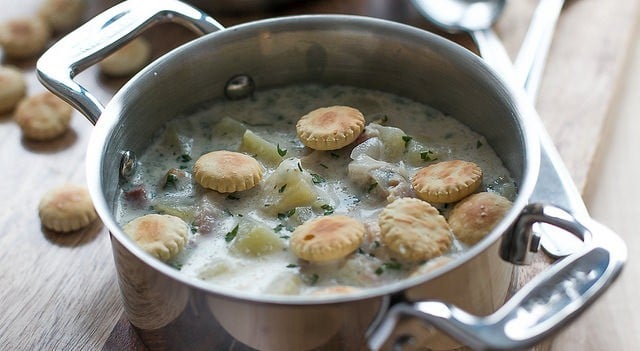 New England Clam Chowder
Be sure to wash the clams very, very well, to remove any grit. There's nothing worse than biting into a grain of sand when eating chowder. So give the clams a good scrubbing with a stiff brush under cold running water. I used Littleneck clams (about 3 dozen for this recipe) whose meat is about the size of a silver dollar, so I ran a chef's knife over them after they're cooked – but don't overdo it. You want distinct, large pieces of clams. Not tiny bits that no one know what they are. If using other clams that are smaller, you might not need or want to chop them. See note at end of recipe for using canned clams. Some versions use all whole milk, others use heavy cream. I like about one-third cream, but you can use all whole milk or all
half-and-half
. Skim or low-fat milk isn't recommended. Whatever you use, Just be sure not to let the chowder boil once you've added the milk to it, or it can break. For best results, let the chowder cool and refrigerate it for a few hours – I let mine sit 8 hours, to allow it to thicken. Rewarm it gently before serving. Be sure to serve with oyster crackers which people can float them on top. Crumbled saltines will work in a pinch. (Or make your own oyster crackers with the recipe at the end of this post.)
3

pounds (1,3kg)

fresh clams in shells,

,

well-scrubbed

2

cups (500ml)

water

2

tablespoons

butter

,

salted or unsalted

3/4

cup (110g)

diced bacon

1

medium onion,

,

peeled and diced into 1/4-inch (1cm) pieces

2

large potatoes,

,

peeled and diced(into 1/4-inch (1cm) pieces

salt and ground black pepper

generous

pinch of

smoked or sweet paprika

1

cup (250ml)

whole milk

1/2

cup (125ml)

heavy cream

1 to 2

tablespoons

chopped flat leaf parsley
1. Put clams in a pot. Add water, and cover. Turn the heat on and when the water starts to boil, reduce the heat to a low boil and let the clams steam until they open, about 6 to 8 minutes. Remove from heat and let cool.

2. When the clams are cool enough to handle, pluck out the meat from the clam shells (discard any clams that don't open), and discard the shells. Strain the liquid through a fine mesh strainer, and set aside. Coarsely chop the clams and set them aside as well.

3. In a soup pot or Dutch oven, heat the butter and bacon together over medium heat, cooking the bacon for about 3 minutes, until it just starts to curl. Add the onions and cook, stirring, until they're translucent and soft, 3 to 5 minutes. Add the diced potatoes and season with salt (lightly, as the clam broth you'll add later is salty), black pepper, and paprika. Stir a few times then add 1 ½ cups (375ml) of the clam broth. (Reserve and refrigerate any extra for later, in case you want to thin the soup.) Cover and simmer until the potatoes are tender, 6 to 8 minutes.

4. Add the milk and cream, then the clams and gently warm until heated through, but do not boil. You can serve the chowder right away, stirring in the parsley just before ladling into bowls, or better yet, chill the chowder for several hours, which will give it time to meld and thicken. Rewarm it gently before serving. Taste for salt and pepper, adding more if you wish. If it's too thick after standing, thin with a bit of the reserved clam broth when rewarming it.
Notes
Notes: If using canned clams, you can use about 1 ½ cups of (drained) canned clams (200-250g) and 1 ½ cups of the clam juice. If you don't have enough juice from the can(s) of clams that you have, add water to make up the difference.
Traditionally chowder is made with salt pork, which can be hard to find. If you want to use that in place of the bacon, you can.
Use any kind of potatoes. Russets will break down a bit, but lends starch to the chowder. Yellow-fleshed potatoes, which are what I used.
It's normal for the finished chowder to have a slightly separated appearance, which I don't mind because I like the little rivulets on the surface. One technique is to strain the liquid, puree it, then rewarm it with the clams and potatoes.
Related Posts and Links
What's the Difference? Little Neck, Cherry Stone, Top Neck, and Quahog Clams (The Kitchn)
Maine Fish Chowder (The Art of Eating)
Manhattan Clam Chowder (If you're so inclined…) (Simply Recipes)
Homemade Oyster Crackers (Serious Eats)
Fish Chowder (La Chaudrée) (La Varenne)
How to Purge Sand From Clams (Honest Food)