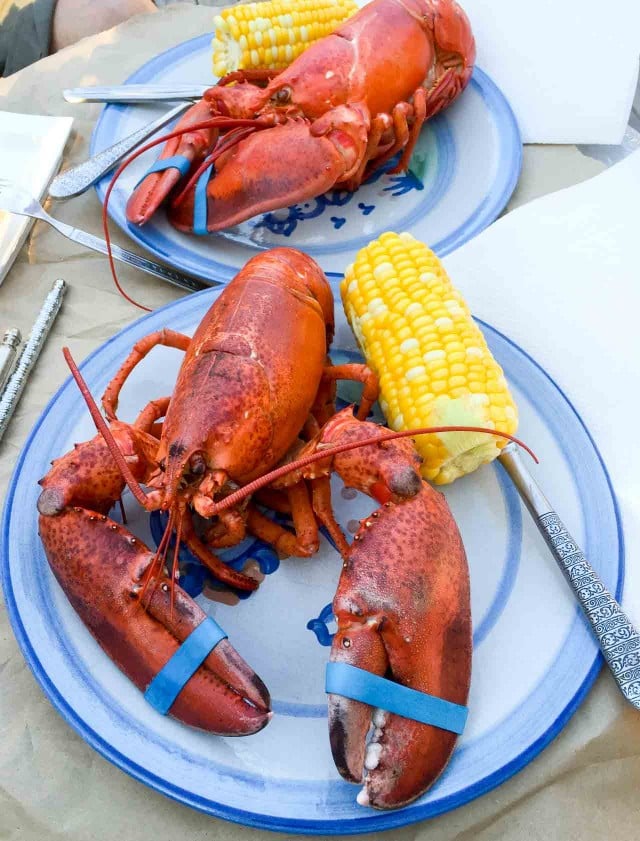 Last year, for summer vacation, we did a fabulous tour of France. This year, we crossed the pond to do a tour of New England. More specifically, Cape Cod. Since I grew up not too far from the cape, or le cap, as we came to call it during our trip. (Cap Cabillaud doesn't roll off the tongue quite the same way.) I was particularly excited that we chose this destination – well, I chose it – so I could eat the foods of my childhood, which happily haven't changed all that much over the years.
Even in California, where I lived most of my life, New England specialties don't quite cross the country with the same savoir-faire. Soft-shelled clams, lobster rolls, deep-fried clam bellies and baked stuffed clams don't taste the same unless you're eating them on a salty seashore in New England. The good thing is that you don't need to go to fancy restaurants to have them: the casual clam shacks, snack bars, and seafood stands that line the highways, routes, and coastlines, serve local seafood and specialties, which you can enjoy at communal picnic tables with other like-minded diners, and not have to worry about reservations, parking, etc…which makes for a pretty relaxed vacation.
We've done the coasts of France and while fresh seafood is abundant at markets, and is infrequently sold at the ports, there aren't stands where you can just pull up and have a fish sandwich or a bowl of steamers. Romain had told me a few years ago when we were staying on an island in Provence that locals didn't really snack or dine on foods that way, so we were either eating in restaurants, and having multi-course meals, or choosing to make our own picnics, gathering what we could. Which in France, means cheese, charcuterie, bread and wine.
In Cape Cod, I rustled up some "local" specialities, and Romain was immediately hooked on Triscuits, especially the rye-caraway ones, and he was very sorry when I told him that they weren't available in France. On the upside, there's always wine, and drinking it is legal on the beaches. But we did okay with gin and tonics, Cape Cod potato chips and local tomatoes.
When we weren't on the beach, we were eating lobster rolls and clams, raw and cooked. In America, we call them all clams, which I had to explain because in France, each "clam" has its own unique name – praires, pétoncles, amandes, palourdes, clovisses, tellines, and even something called clams, which are a species under the umbrella of what we call, well…"clams," in English. Am not sure what kind of clams clams are…but it was great slurping down plates of Littlenecks and Cherrystones, in spite of their appearance to some. (Not made any better by my use of a smartphone camera.)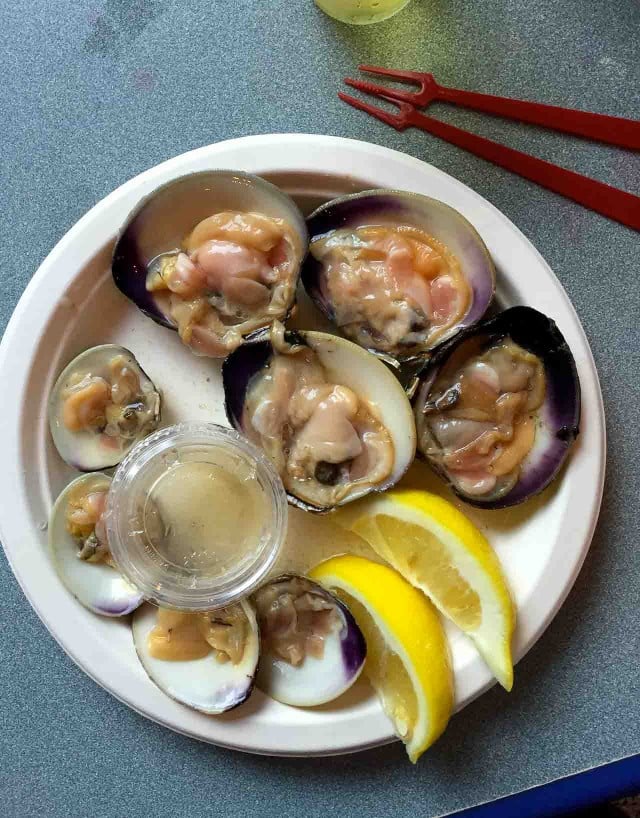 The French don't really eat raw clams, but they are big fans of raw oysters. They have oysters on the Cape which are fine, but not as delicious as the sweet, meaty, briny clams that we had.
In addition to raw clams, another thing that I had to explain was that it's not common in America to pull off to the side of the road and take a whizz, when I was looking for a rest stop on the highway up to the Cape. "Why not just pull over there?" my car-mate would say, pointing to one of the highway stop areas that are places to park and take a break from driving, with no facilities. I didn't think the people and families in them would have appreciate a couple of guys sprinting out of the car and relieving themselves in the bushes, so I held it until we made it to an actual service area.
I also had to explain, which I just discovered myself, that you can now get health care service in a gas station rest stop…
Another cultural difference is that while some French beaches are naturiste (clothing-optional), or just topless, I had to explain to Romain that in America, it's not common to change into your swimsuit on the beach. But at least I got him to use a towel to wrap around himself. Although from the looks of things, Americans aren't as très prude as their across-the-Atlantic counterparts think we/they are.
Alors…back to food. After downing plates of Wellfleet oysters and clams at Mac's Shack, we headed over to Mac's Seafood Market to pick up a couple of live lobsters for dinner along with an abundance local fruits and vegetables, including lots of corn on the cob (which joins his beloved Triscuits in the "hard to get" category, in France) to augment our picnics, along with a variety of smoked seafood. The young people working there were very friendly and I inquired about grilling the lobsters, which I've never done but had heard about. Lobsters are usually steamed or boiled in New England, and all the people working at the seafood market had never heard of such a thing, nor had any of the other customers.
(I thought it was amusing since I've had similar reactions in France when I've mentioned cooking oysters, such as grilling or deep-frying them, which elicits some stunned looks in response.)
Since we were in Wellfleet, we stopped in at PB Boulangerie Bistro and had very good baguette. They had a beautiful ranges of breads, and we settled on a baguette to go with our lobster feast that night, which was especially crisp – a tough feat in the humidity of Cape Cod. Chapeau!
At Mac's, we'd also picked up a hefty bag of Salty Oats cookies, rounds of oatmeal cookies loaded with chocolate chips, nuts, and oats, topped with a flurry of sea salt. Each one was the size of an English muffin and while I can normally can polish off several cookies in one seating, these delicious disks were big enough to share.
Cape Cod has two sides; the bay side and the Atlantic ocean. The latter is more lively, with bigger waves, occasional great white shark sightings (which I didn't tell Romain about), and more people on the beaches.
Our first beach day was spent at Nauset beach on the Atlantic side, which was beautiful, but very crowded. We arrived to find ourselves waiting in a line of cars for about 45 minutes in the heat, roasting as we waited to get into the parking lot. Just to the right of where the line of cars (including ours) was waiting to get let into the lot, was a big patch of unused grass that could have held twenty or more cars.
There were two Frenchwoman in the car in front of us, and when we got out of our respective cars to ask the rangers how much longer the wait would be – nodding my head in the direction of the big patch of grass surrounded by a fence – I said, "If we were in France, that area would have been a maze of cars parked every which way," which elicited a laugh in agreement by the Frenchwomen.
We didn't have an agenda and although I had scrawled out a few place to eat that looked interesting, after arrival, our sole objective (aside from eating as many lobster rolls as possible), was to get to the beach – and stay there. We ended up spending the rest of the time on the bay side beaches, which were smaller and calmer. The waves at Nauset beach were great, but the football-size, sharp rocks that lined the shore, which the waves threw me against a couple of times, forced me back to shore as I was concerned that I'd be spending the rest of my vacation in a cast.
In addition, where we stayed, we could walk to the beach. In the mornings and evenings, at low tide, you could walk out and wade in the ankle-deep water, beachcombing and checking out the sunsets. Most photographs of sunsets looks the same, but the one above was particularly spectacular and people on the Cape were talking about it for days afterward.
Some days we had a fair amount of wind, which prompted me to have a revelation about beach umbrellas. I'd picked up a cheap one, figuring that it wouldn't get that much use. But after a couple of gusty days spent holding down the umbrella so it wouldn't fly away, I approached a group of women who were calmly sitting nearby under a parasol that refused to budge, even in the strongest gusts.
As I approached, I told them I had been admiring their umbrella, which made them laugh because they saw me staring. They told me they had bought it at a store elsewhere, but I went to Snow's in Orleans, a great hardware and supply shop that is the model of what a local business should be. The clerks were friendly and super-informative, and although I walked out of there spending a little more than I had intended, by gosh, my new umbrella with the special anchor attachment would not move, no matter what kind of wind came along, and made the rest of the trip a lot more relaxing.
(I ended up getting one that was from Rio, along with The Sand Anchor. The women at the store said they were both of best products they had in stock, and they were right! However they only had two umbrellas left and if I had my choice now, I would have gotten one that tilts. So will plan better in advance for next time.)
We met a few other terrific people on the beach who were there to relax, enjoy their friends, and spend time with their families, happy to pass an afternoon gazing over into the water for the afternoon.
We did have one clan set up right next to us on the beach, the father nicely asking if we minded if they set up close to us. We said, "Of course, welcome!" – but their daughter sat in a lounge chair a short distance away from them, talking loudly about a variety of topics that I suppose some might find interesting. At one point, she noted that they should be proud of her, spending her vacation with them instead of other people her age. I don't have kids, but if I did, I might have reminded her that she should be proud of them for all they went through, raising a child to adulthood.
We were more interested in listening to the waves, and the sounds of people laughing and having a good time, so we quietly moved our things to another area without saying anything. Romain said as he was picking up the last of our stuff, she gave him the finger. He was fuming, muttering she was a connasse, but I said just to forget about it. I figure unpleasant people have unpleasant friends and their punishment is that they have to spend their time surrounded by the same kind of people. However it would have been entertaining to see someone on the receiving end of a French upbraiding – that's for sure!
One bad taste aside, we ate well the rest of the time. Our favorite lobster roll was at Arnold's. In spite of the swarms of people this Cape Cod institution draws, they make a great lobster roll. (Above, with mayo.) And they also do a great job of feeding people efficiently and, once again, the young people working there were great and very friendly.
However. Being from Connecticut, I'm used to warm lobster rolls with melted butter, rather than cold, with la sauce mayonnaise. With no apologies to anyone for my humble opinion (which is, of course, correct) it's hard to beat a lobster roll packed with big, meaty chunks of warm lobster with a dousing of hot butter in a toasted, pull-apart bun. (Above, also from Arnold's, on day #2.) I told Romain he had to try both. So while I took one for the team with the mayo version, just to be a good sport, it was buttery lobster rolls that took the top spot.
Fried clam bellies are another Cape Cod treat and ours at PJ's were good, and genereux. The onion rings at PJ's were preferable to the famous ones at Arnold's, and we were so happy to have a green salad after eating so many frites, chips, fried clams, and butter-soaked lobster.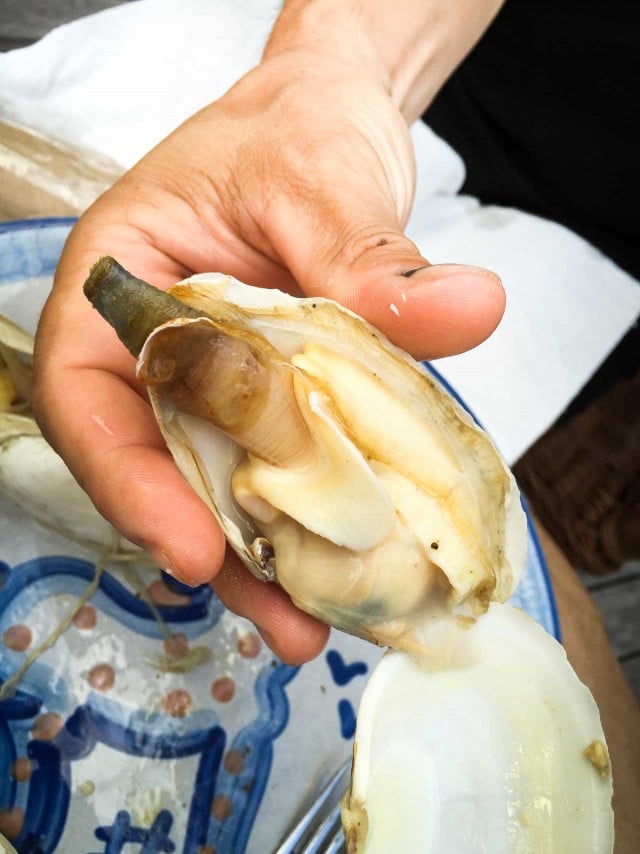 One treat that is not well-known outside of New England are soft-shell clams, also known as steamers. Unlike other clams – or whatever you call them where you live – steamers required an extra-vigorous purge and cleaning to get all the sand out. They're served with hot broth to dip the clam in, once removed from their shells, to ensure there is no grit before a final dip in – yup – more hot butter. They taste better than they look. To me, they look just fine. But I grew up with them, which I can thank my parents for. (Although oddly, I wouldn't eat lobster when I was growing up for no apparent reason, when it was $6.99/pound!)
I also grew up with clam chowder. One day we woke to a violent storm that made the sky crackle and blew out a window screen where we were staying. So we went to the Friendly Fisherman where we had a cup of chowder with yet another lobster roll (with mayo), which wasn't as copious as the ones are Arnold's, and had me missing the butter-laden version, but picked up two 1 1/2-pound lobsters and a pound of steamers, which I boiled at home with corn-on-the-cob, which Romain needed no lesson in how to dunk in melted butter.
In spite of our best intentions, and a few other places we had thought about checking out to eat, it was hard to move once we had settled into where we were staying (and truthfully, I just wanted lobster, clams, and corn), plus the idea of getting a car and driving for a while wasn't nearly as appealing as spending that time lounging under our new beach umbrella.
However on the way home, we stopped at Pizza Barbone in Hyannis and had some of the best pizza of our lives. We both ordered soppressata – I convinced Romain to order the same thing, since I didn't want to share – and our pizzas come out with perfectly blistered crusts, just the right amount of an outstanding tomato sauce that tasted like real tomatoes, not something sitting in a big pot all day, along with thinly sliced, spicy sausages.
It made me wish that we ordered regular-sized pizzas, rather than the lunch-size ones that which we went with, because I really wanted to try the roasted cauliflower with raisins, bread crumbs and ricotta. It was excellent and I like when people are creative and generous with vegetables. Seafood, butter, and all that other stuff is fine, but I always crave vegetables. And each forkful of cauliflower made us happy to have pulled off the highway.
And, of course, we had dessert. The double-whammy of peanut butter mousse and peanut croquant on the chalkboard menu didn't elicit the same excitement from my French partner (French people don't share the same fondness for peanut butter as Americans, although Romain was trying to figure out how many boxes of Triscuits would fit in his suitcase on the way home), but the housemade vanilla gelato ice cream sandwich with toasted meringue, which didn't sound so bad to me, either.