Strawberry Cooler Cocktail
Whoops! A big problem with being a seasonally based cook (and in this case, cocktail drinker) is that things go in and out of season. Compound that with the fact that different things are available in different parts of the world at different times – hello my friends in Australia and New Zealand! – and it's hard to hit it right for everyone.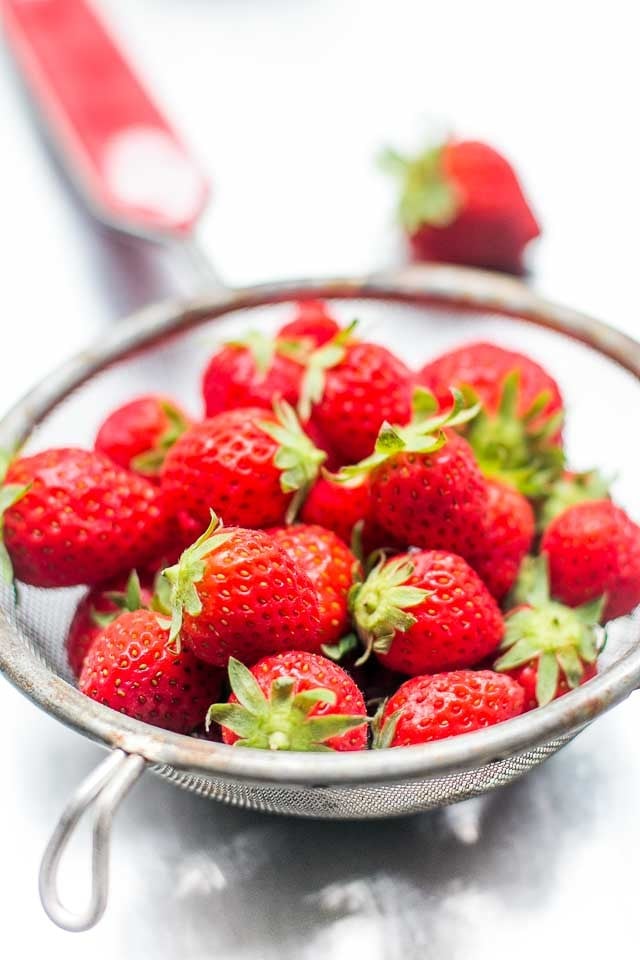 I don't make a lot of cocktails with fruit, mostly because I spent the last few years being a fan of whiskey-based libations and had forgotten a bit about my long-lost friend, gin. But we're pals again. I had written this post up and taken the snapshots, then put them into a folder. And then a bunch of other stuff I wanted to share came along, and before I knew it, strawberry season was on the verge of ending. Or depending on where you are, has already ended. If you're from Australia or New Zealand, you might want to bookmark this post for a few more months.
I'd found these delicate Mara de bois strawberries at the market in Paris, and since they were so adorably petite and smelled so good, I bought three baskets of them.
Good strawberries are red all the way through when you cut into them and these were so ripe and soft that they didn't need slicing; a good muddling was all it took to release their ruby juices and sweet strawberry syrup, which was the base for the cocktail.
Not shown in the photos is the touch of black pepper that I added right at the end, when we were nearly finished with our drinks and I thought, "Hey a touch of black pepper might be nice in this." So I added some and loved the little spicy contrast and notes. Since I'd already had the cocktail, I thought it best to put the camera away. Experience has taught me not to operate a camera while under the influence of a good cocktail, or two. (If I was better at using photo editing software, I probably could have added some in. But I thought it better just to 'fess up, and to heck with it.)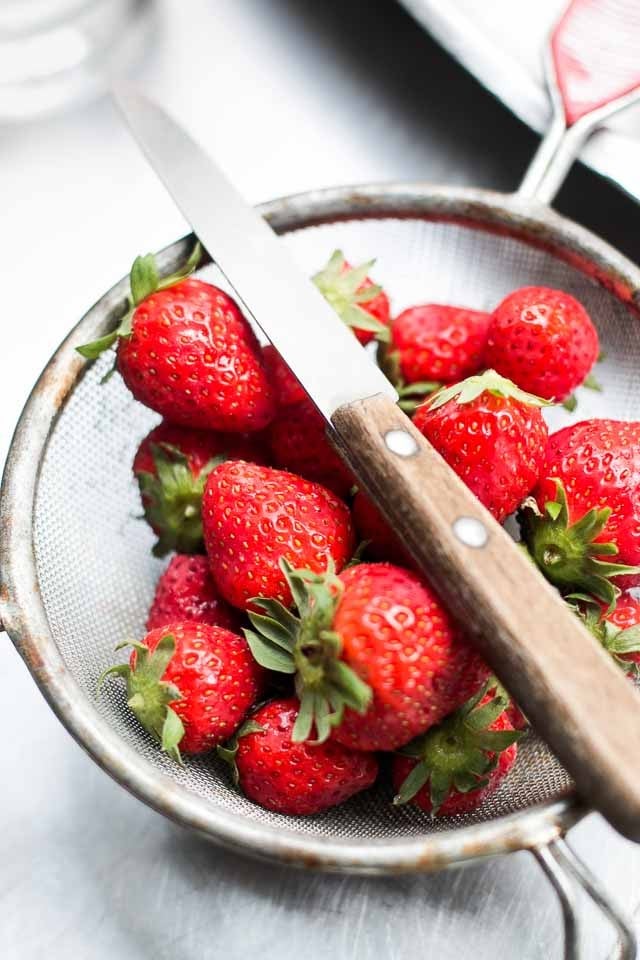 So if you've got strawberries, give this seasonal cooler a try. It kept us cool a couple of times toward the beginning, and through the middle, of summer. I used the homemade tonic water my friend Jennifer made me, but you can use regular tonic water.
Strawberry Cooler Cocktail
7 small or 4 large

strawberries (28g, 1oz)

,

rinsed, hulled, and quartered if large

3/4

teaspoon

sugar

,

agave nectar, or honey

1 1/2

ounces

gin

3

ounces

tonic water

1

lime wedge

freshly ground black pepper
In a tumbler, muddle the strawberries with the sugar (or other sweetener) until pulpy and well broken up.

Add gin, tonic water, and gently squeeze a few drops of juice from the lime wedge into the glass, then stir the ingredients together just enough to combine. (If using homemade tonic water, be sure to mix the base with an equal amount of sparkling water.)

Fill the glass with crushed ice, add the lime wedge, and grind a bit of black pepper over the top.
---
Just a Note: I'm going to be on vacation for a bit, to hit the beach, and do all sorts of fun (and hopefully, delicious) stuff. I'll be back shortly… Enjoy your summer! – David