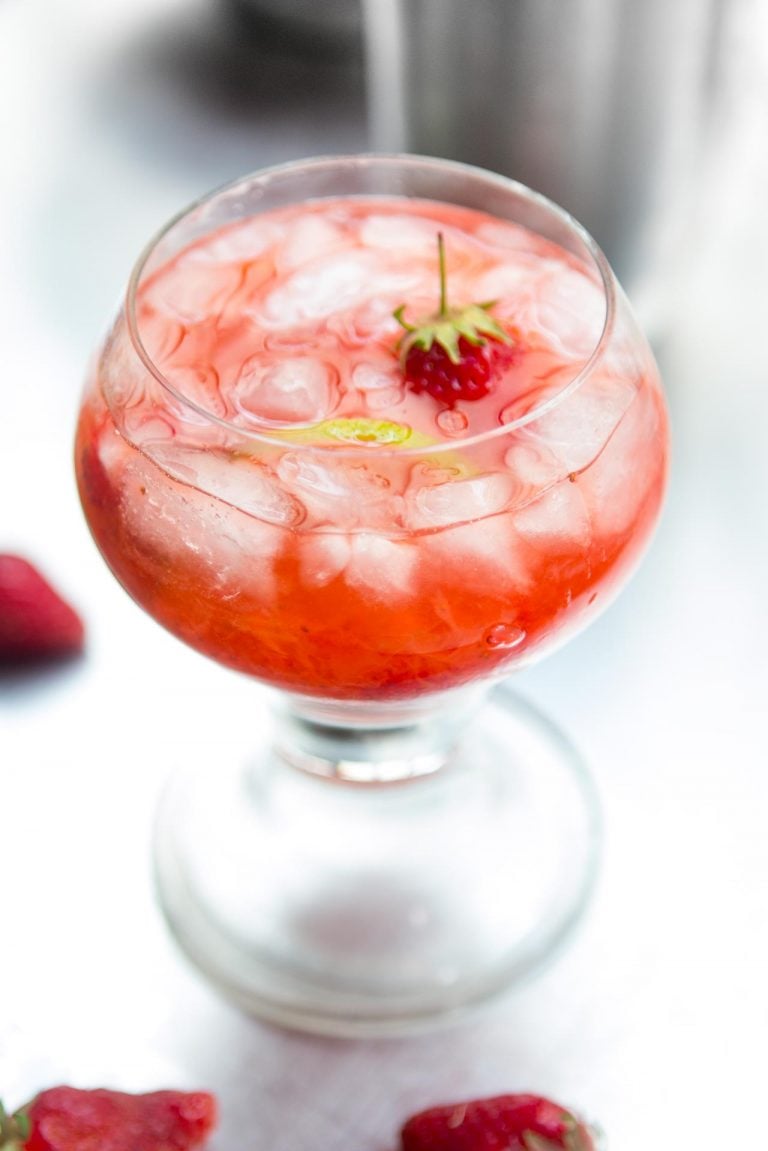 I have another recipe on the site for Strawberry Margaritas that uses fresh strawberries, but this recipe uses strawberry-infused vermouth, which I had on hand after making a Strawberry Spritz. I like it so much, I decided to give it a go in a Margarita. It worked so well, even better than expected, that I just had to share. I think you'll like it, too.
I was inspired to make the strawberry-infused vermouth (recipe here) by Chamberyzette, a French apéritif created in 1902 by Dolin distillery in the French alps, made by infusing local strawberries in vermouth blanc. (I featured the family-run distillery in my book, Drinking French.) Vermouth blanc is different than dry vermouth: Vermouth blanc is close to transparent and the botanicals lean less toward the bitter side and leans toward more floral and fruity flavors, such as citrus and elderflowers. In French, it goes by the name of Vermouth Blanc and in Italians it's Vermouth Bianco. They're both readily available in liquor shops, but if you can't find a bottle, dry vermouth will work just fine.
Another thing I learned, in addition to strawberry-infused vermouth makes a great Margarita, is that rather than straining the drink after you shake it, then adding more ice back to it, you can simply open up the cocktail shaker and pour the whole shebang into a glass, and voilà – you've got a Strawberry Margarita already on the rocks, ready to go.
Strawberry Margarita
To make the strawberry-infused vermouth, the directions are in this recipe for a Strawberry Spritz. To make simple syrup, mix equal parts sugar and water by volume in a small saucepan. Heat, stirring constantly until the sugar is dissolved. Let cool completely and refrigerated until needed. I usually made it with 1/2 cup of each (100g sugar, 125g water) and keep the rest in the refrigerator to use for other cocktails. It'll keep in the refrigerator for a few weeks. For the muddled strawberries in step #1, you can either use fresh strawberries or ones that have been infused in the vermouth. The ones that have been infused will have a slightly muted flavor since some of the flavor has been drawn out into the infusion, but they're fine to use.
3

strawberries (hulled)

,

fresh or strawberries infused in the vermouth infusion (see Headnote)

2

teaspoons

simple syrup

2

ounces

tequila

1 1/2

ounce

strawberry-infused vermouth

1/2

ounce

freshly squeezed lime juice

fresh strawberry slices (or whole, if tiny) and a lime wheel

,

for garnish
In a cocktail shaker, muddle the strawberries with the simple syrup. Add the tequila, strawberry-infused vermouth, and lime juice to the shaker.

Fill the shaker half-full of ice, cover and shake vigorously until well-chilled and the ice is broken up, 15 to 20 seconds.

Pour the contents into a glass, including just enough of the ice so it's to your liking. Garnish with strawberries and lime wheel.