Strawberry Margaritas
The seasons seem to start a little earlier in France than elsewhere, or maybe that's just me. I tend to want to jump the gun as soon as I see strawberries or cherries at the market every spring. But I know that if I wait a few weeks, they'll be a lot more abundant, and a lot better. Not to mention less-expensive, too.
Once they go from "rarity" to available everywhere, I tend to go nuts, buying as much fruit as I can. I often joke that as a Californian, I am genetically-wired to eat fruit all the time. During that brief period when the last of the apples and pears depart, and there's nothing but pineapples and apples from who-knows-where at the market, I fall into a fruitless funk until strawberries appear. Then I know that everything is going to be okay.
As much as I like fruit, I'm not a big fruit-in-cocktail drinker, more inclined to shake or stir up a Manhattan, a Black Manhattan, or a Martini. Or Chin Up or Hanky Panky.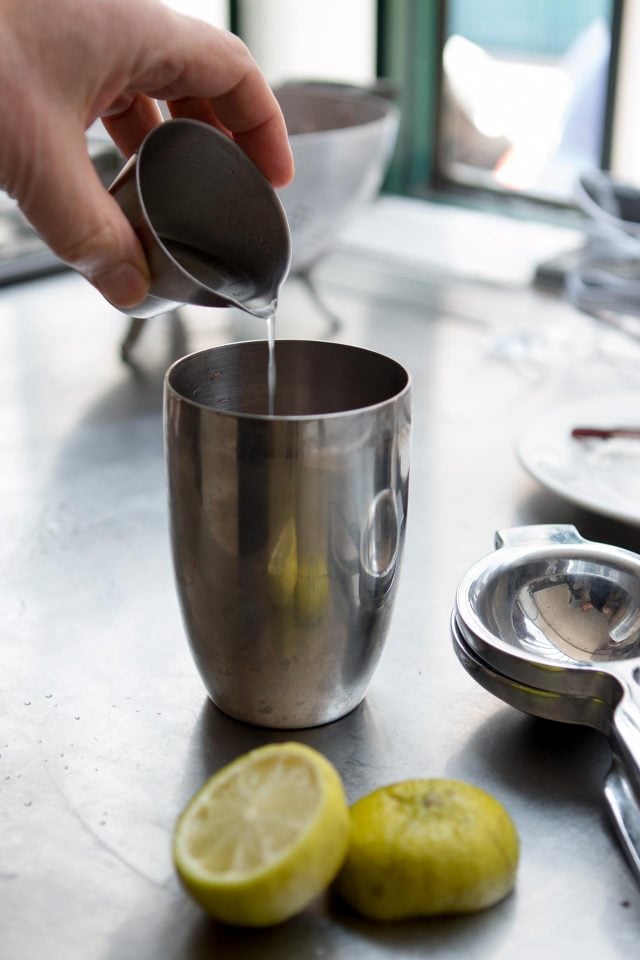 But I do like a good Margarita now and then, and when I found myself with a colander of strawberries that I'd washed for another project, I popped a few into a cocktail shaker, muddled 'em up, and shook up a couple of Strawberry Margaritas.
I find as I get older, I'm less interested in those icy, frozen drinks, and prefer my cocktails up. (Is that because it's a more direct route?) If you like your cocktails up, too, this margarita recipe makes a fine candidate for one.
But because I'm a man of different (and sometimes conflicting) opinions, which generates a variety of curious looks from my partner, I also like Margaritas over ice. Just be glad you don't live with me, although there are some benefits; ice cream, cakes, cookies, and an occasional cocktail or two, so I'm not a total bust.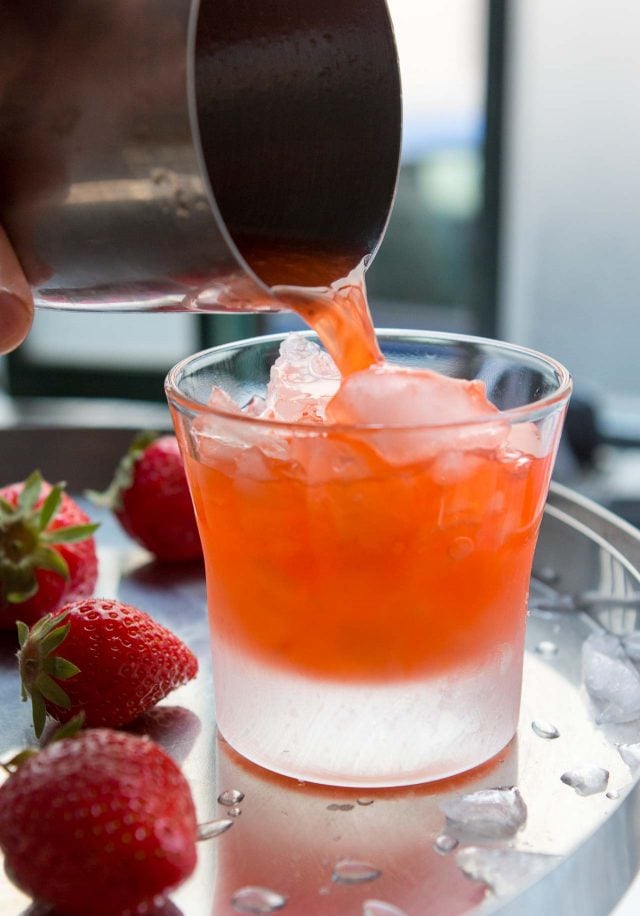 After shaking one of these margaritas up, you might want to strain the mixture through a wider strainer than the one on your cocktail shaker, so its best to remove the entire lid and either pass it through a julep strainer, or a coarse mesh strainer if serving it up. Or just pour it in the glass, without too much of a fuss, holding back the ice with a spoon.
| | |
| --- | --- |
| Strawberry Margaritas | Print Recipe |
3
ripe strawberries,
hulled and sliced
1
teaspoon
agave nectar or 1/2 teaspoon sugar
1
ounce
freshly squeezed lime juice
3/4
ounce
orange liqueur,
such as Triple Sec, Grand Marnier, or Cointreau
1. Muddle strawberries in a bottom of a cocktail shaker with the agave nectar or sugar, until the berries are almost completely liquified.
2. Add the tequila, lime juice and orange liqueur. Fill the shaker about halfway with ice, and shake for 15 to 20 seconds, until the mixture is very cold.
3. Remove the lid and strain through a julep strainer or coarse mesh strainer into a chilled coupe glass, or short tumbler half full of ice. Garnish with a lime wheel.