Black Manhattan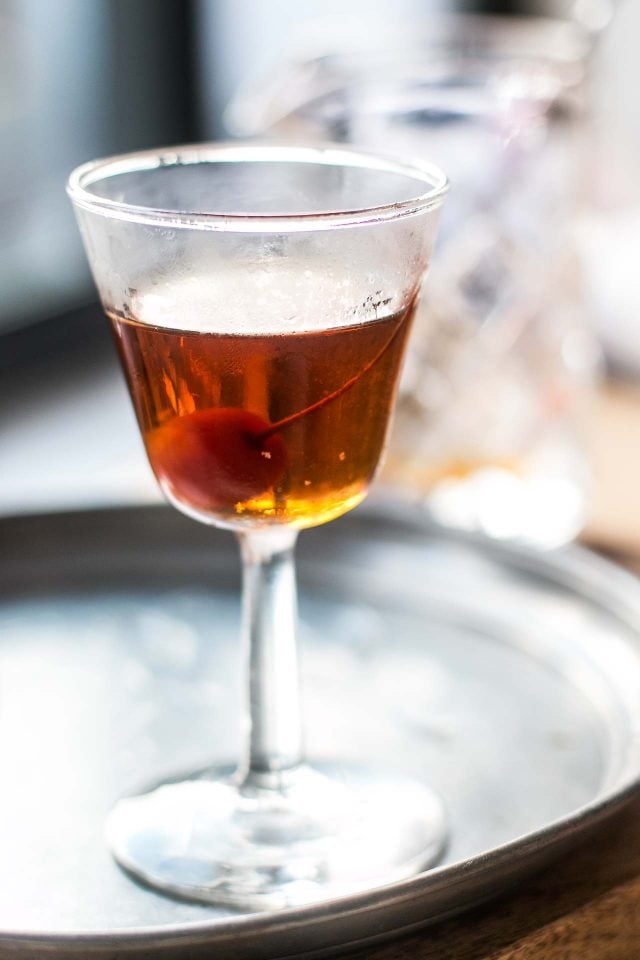 When I picked up Bitters, a book celebrating the history and culture of using bitters in cocktails, I was immediately hooked on the subject. I am always drawn to books that not only tackle a single subject, but do it so well. The book sparked additional interest when I made the Pith Helmet from the book, an enticing mixture of gin, cucumbers, Pimm's, lemon, basil, black pepper, and a few dashes of bitters. I wasn't all that familiar with bitters (the renewed interest in cocktails was just taking off in Paris), but loved what a dash of this, and a few drops of that, could add to a drink.
I eventually connected with Brad Thomas Parsons, the author of the book, and have been fortunate to pull up a stool at several cocktail bars with him. (A friend called him "The Holy Grail of Drinking Buddies.") If you can't be at the next bar stool from him, Amaro (and Bitters) are the next best thing.
In fact, they may be even better because the photos of his voyage to Italy by Ed Anderson (who shot the photos in My Paris Kitchen, who is also no slouch in the drinking-buddy department…) capture the beauty and spirit of the amaro culture in various places around the world. And you don't even have to worry about taking a tumble off a bar stool to enjoy them.
Amaro is an Italian liqueur that defies an exact description. They could best be described as herbal digestives, each flavored with a unique mixture of spices, citrus, barks, flowers, roots, and fruits. (And sometimes vegetables, such as rhubarb and artichokes.) Amari are not subtle and if you've even had a sip of one after a rich meal, it provides a jolt powerful enough to calm your stomach – and spirits, not matter what came before it.
As Brad notes in his book, humans have a natural aversion to bitter, a flavor that's naturally associated with something dangerous. But many things that are bitter, such as broccoli and other greens, are actually good for you. I'll let you be the judge on any health-giving properties of any kind of libation, but I know several people with young children who say that without wine, they could not function.
I sometimes feel that way about a cocktail, especially a well-made one, which seems to have a restorative effect on me. Making a good cocktail isn't hard, but it does require a few things. A good recipe is one, and more than half of Amaro: The Spirited World of Bittersweet, Herbal Liqueurs is devoted to recipes for amaro-infused cocktails, many from some of the best bartenders around the world.
Another is having decent ingredients. There's been an explosion in wonderful spirits and liqueurs over the past few decades and the choice can be a bit overwhelming. When my parents made cocktails, they used jarred maraschino cherries that were as bright-red as Christmas lights, which I enjoyed immensely. (Especially the ones my grandfather gave me that had been marinating in his glass of whiskey.)
Recently, I was reprimanded online on the suspicion that I was using a standard maraschino cherry in a photo of a Manhattan that I posted. Someone gifted me a jar of lovely Luxardo cherries, that are $25/jar, which are indeed, excellent. But I also sometimes like the crunchy chewiness of regular maraschino cherries, with the stems on, which also offer up a jolt of nostalgia.
Ditto with bourbon. There are lots of bourbons out there and if you ask, you will likely be told there is one better out there than the one you are using. I tried a brand I'd heard a lot about, that set me back $43 for the bottle. It was fine, but I didn't prefer it to the bottle of Old Forester that my friend Elizabeth Karmel, someone knows her bourbon, gave me, that cost about half that.
The bottom line? Do whatever you want. Yes, the flavor and quality of the cocktail will be determined by the liquor (and cherry) that you use in it. But then again, if people don't like what you're pouring, as my grandmother used to say, "The door swings both ways." Which is one of the many reasons why I miss her.
I was thrilled when I found a recipe for a Black Manhattan in Amaro. Intrigued by the name, I ordered one at a bar in New York and learned in the book that the drink was actually invented in San Francisco, swapping amaro for the vermouth (and a few extra dashes of bitters, because those are Brad's beat, too), giving the classic cocktail an agreeably robust twist.
| | |
| --- | --- |
| Black Manhattan | Print Recipe |
Adapted from Amaro by Brad Thomas Parsons Brad Thomas Parsons calls for using Averna amaro, but noted that another amaro could easily be used. I had a bottle of Cynar from a batch of Chin Up cocktails, and reached for that. His recipe also called for Angostura bitters, which I didn't have, so used a few drops of orange bitters. If you have Angostura bitters on hand, use a dash of those, and a dash of orange.
1
ounce
amaro
(see headnote)
1. Put the bourbon, amaro, and bitters in a cocktail mixing glass or small pitcher. Add ice and stir briskly until well-chilled, at least 20 seconds.
2. Strain into a chilled cocktail glass and add a maraschino cherry.