Way back when, after I arrived in France, I wanted to also be in the south of France, in Provence, and I did go off on the lookout in Paris for a large, sturdy mortar and pestle to make all those Provençal favorites, like garlic-laden aïoli and soupe au pistou. I didn't know what a mortar and pestle were called in French at the time, so I went into cookware shops, made a fist around an imaginary cylindrical object in front of me, and shook it up and down maniacally and with great vigor to get across the idea of what I was looking for. Suffice it to say, I got plenty of odd looks—I'm still not exactly sure why, but no one was able to figure out exactly what it was that I was after.
Eventually I got with the program, and learned the name, and found a few pretty mortars and pestles usually made of glass or something equally unstable. But for all the pounding in Paris that I planned to do, I needed something that's going to take it like a man and hold up during the rigors I'd put it through in my kitchen. Especially for making a batch of tapenade, a pounded paste of olives and capers, a dash of mustard, some garlic, and a slick of olive oil.
For years I pounded away alone at home, making a batch a week of tapenade, squeezing those olives and squirting oily juice all over the place, then pounding until my arm felt like it was ready to drop off. During my days as a pulp pounder, I learned a few tips: One is to rinse the capers and wring them dry with your hands to get rid of any briny taste. And using good olives was another one tip that goes without saying. But like most men of my ilk, soon I started to cheat, albeit on myself, and began buying the olives that were already pitted. Then, for some reason, I bought pre-made tapenade, which is widely available in Paris. And not bad! Fortunately the earth didn't open up and swallow me whole and life as we know it didn't end.
However at some point, the call of making my own again returned, and I was happy to return to making my own tapenade, which is much, much better than the stuff you can buy – no matter where you live.
Tapenade is very versatile and can be used a number of ways rather than just as a spread on crackers or toasts. Spread a thin layer of it between the skin of chicken breasts or thighs before roasting. Put dabs on hard-cooked eggs and top with chervil for you next cookout. Spread it on a sandwich instead of mustard or mayo, or fold some into an omelet with some creamy-smooth goat cheese. If you need a quick dinner idea, toss it in pasta as an instant sauce with chunks of fresh cooked or good-quality canned tuna, adding cubes of feta at the end.
One tapenade that I'm particularly fond of is this one, a Fig and Olive Tapenade with plumped dried figs. The fruits not only taste terrific with olives, but decreases the amount of pitting and chopping you'll need to do. This recipe was adapted from a recipe by the cheery and charming Carrie Brown, owner of the Jimtown Store in Healdsburg, California, and is also in her book, The Jimtown Store Cookbook. And I also like the crunch of the little seeds in the tapenade. Give this one a try. But if you're looking for a more traditional tapenade, you'll find a recipe in My Paris Kitchen, along with a few other of my favorites, like Green Olive, Basil and Almond and even an Artichoke Tapenade that you're sure to look as well.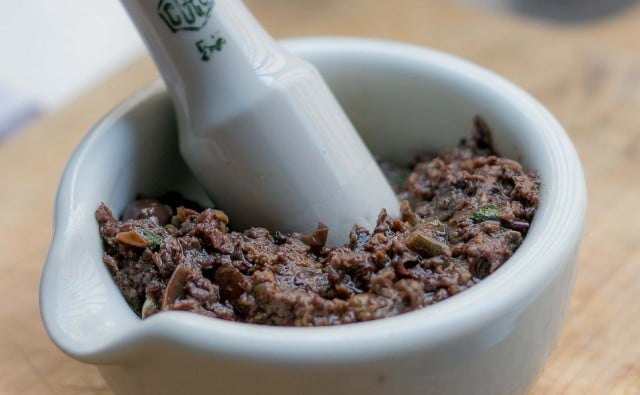 Fig and Olive Tapenade
Adapted from
The Sweet Life in Paris
If using a mortar and pestle, I find it easier to hand chop the olives a bit first before giving them a good pounding.
1/2

cup

(about 3 ounces, 90g) stemmed and quartered dried black figs

,

(use dried Black Mission figs, if available)

3/4

cup (180ml)

water

1

cup (about 150g)

black olives; Niçoise

,

Nyons, or Greek, rinsed and pitted

1 1/2

tablespoons

lemon juice

2

teaspoons

whole-grain or Dijon mustard

1

small garlic clove

,

peeled

1/2

tablespoon

capers

,

rinsed, drained and squeezed dry

1

teaspoon

finely chopped fresh rosemary or thyme

1/2

cup (125ml)

extra-virgin olive oil

black pepper and salt

,

if necessary
In a medium-sized saucepan, simmer the figs in the water for about 30 minutes, until very tender. Drain, reserving a few tablespoons of the liquid.

If using a food processor, pulse the pitted olives, drained figs, lemon juice, mustard, garlic, capers, and fresh rosemary or thyme to create a thick paste. Pulse in the olive oil until you've achieved a chunky-smooth paste. Season with black pepper and salt, if necessary. (The spread can be thinned with a bit of the reserved fig poaching liquid.)

If using a mortar and pestle, mash the olives with the mustard, garlic, capers, and fresh rosemary or thyme. Pound in the drained figs. Once they are broken up, add in the lemon juice, olive oil and season with salt and pepper, and fig juice, if necessary.
Notes
Serve tapenade with slices of baguette or pita triangles that have been lightly brushed with olive oil and perhaps sprinkled with salt and fresh thyme, or a dusting of chili powder, then toasted on a baking sheet in the oven until nice and crisp.
Note: A tip from Carrie is to make this tapenade at least one day before you intend to serve it, which allows the flavors to meld and develop.