Pretzel & Nut Mix: The Best Cocktail Snack Ever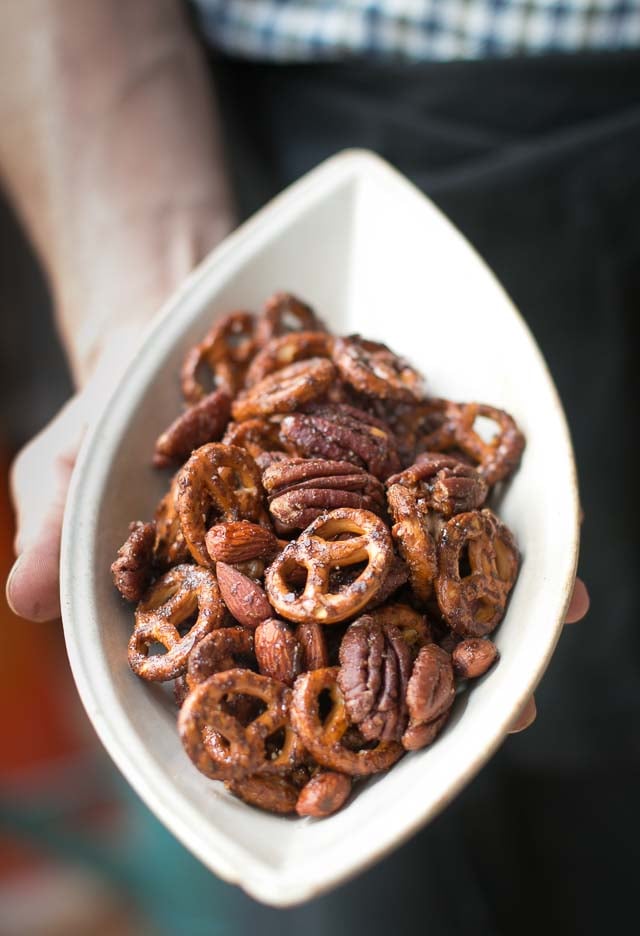 This is one of my "Greatest-Hits" recipes, and in the spirit of holiday sharing, I thought it was time to share it with everyone. I made it for a cocktail get-together the other night and my guests dove in so fast that I had to pull the bowl away just to get some for myself!
Although I confess, I ate my fair share before my guests arrived…but what's a holiday party without at least one of your guests feeling guilty about doing something they might later regret. This is a real "keeper"—not just because it tastes so good, but also because it's quickly made from ingredients that most of us have on hand. So it can be made at the last-minute while you race around showering, shaving, and freshening-up anything around the house that needs freshening-up for your arriving guests.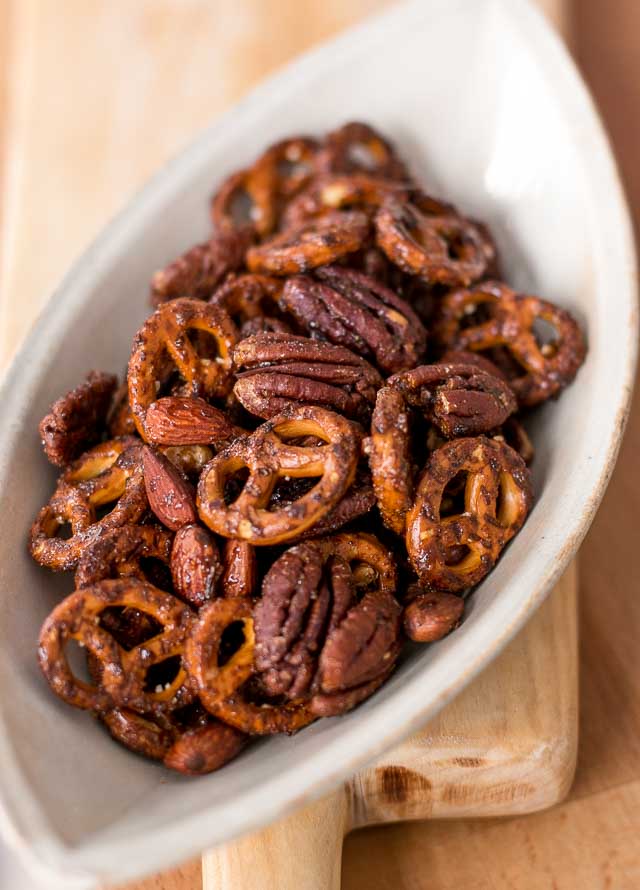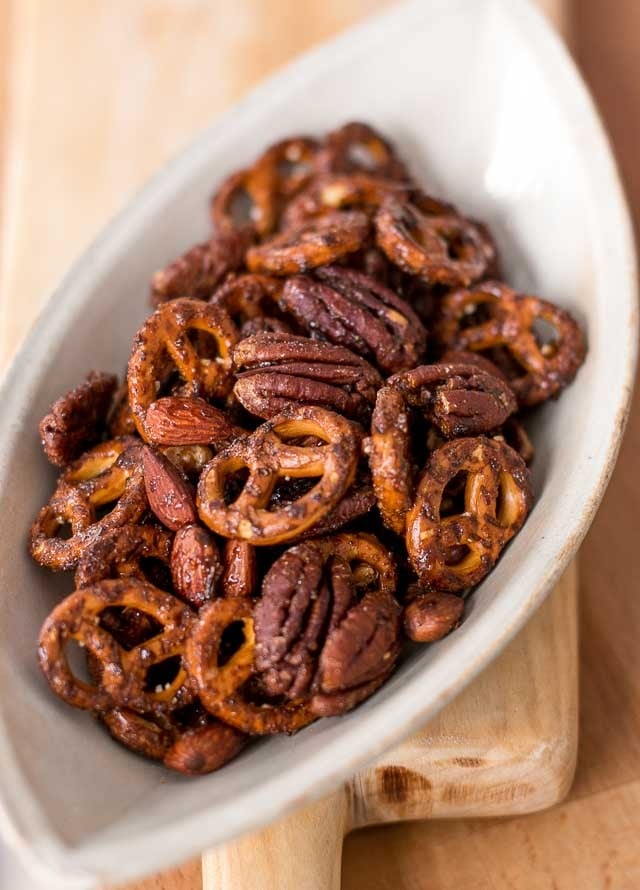 When I moved to France, I had a bit of a time finding the small twisted pretzels that I prefer in this mix, so I've made it with pretzels sticks too, which are called 'sticks d'Alsace.' Use any mix of nuts you want. Pecan halves are particularly appealing…at least to me, since those are the nuts I catch myself plucking out before my guests arrive. But whole almonds, cashews, peanuts, and hazelnuts are all very good in the mix.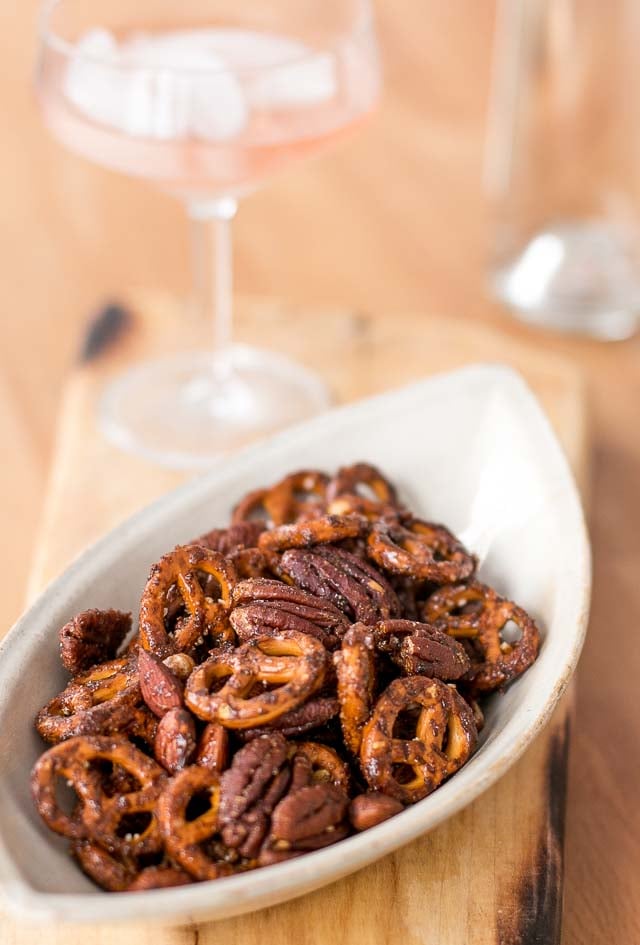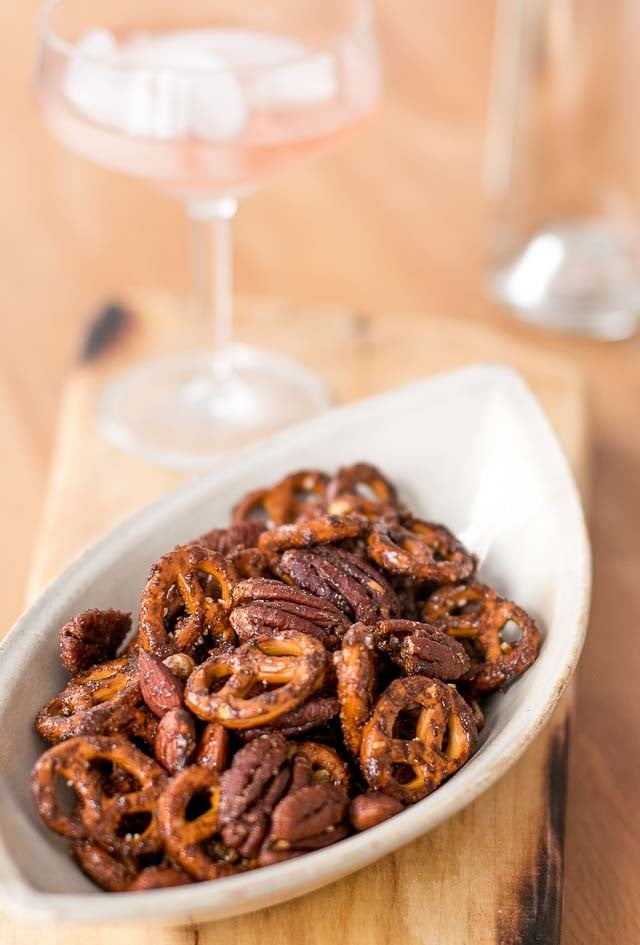 Spiced Glazed Nuts and Pretzel Mix
Adapted from
The Sweet Life in Paris
Glazing the nuts with spices and adding a touch of sweetness, makes this the perfect nibble before dinner with an aperitif. I melt the butter in a large bowl, so I can do all the mixing in that bowl, making one less thing for me to wash as well. Note that the salt is added after the nuts are stirred, so it doesn't dissolve. And be sure to use coarse salt, which has an appealing, crunchy texture and more delicate flavor than ordinary table salt.
2

cups (200g)

mixed raw nuts

,

(untoasted); any combination of cashews, whole almonds, peanuts, pecan halves, and hazelnuts

1

tablespoon (15g)

unsalted butter

,

melted

3

tablespoons (45g)

dark brown sugar

1/2

teaspoon

ground cinnamon

3/4

teaspoon

cayenne or red pepper powder

,

(see Note, below)

1 1/2

tablespoons

maple syrup

1

teaspoon

flaky sea salt or kosher salt

2

cups (100g)

small pretzel twists
Spread the nuts on a baking sheet and roast in a 350ºF (180ºC) oven for 10 minutes, stirring once for even toasting.

In a medium bowl, mix together the melted butter, brown sugar, cinnamon, cayenne, and maple syrup.

Add the warm nuts, stirring until coated. Then mix in the salt and pretzels, and stir until the nuts and pretzels are completely coated.

Spread the mixture back on the baking sheet and return to the oven for 12-18 minutes, stirring twice during cooking. Remove from oven and cool completely, separating the nuts and pretzels as they cool.

Once cool, this mixture can be stored in an airtight container for up to a week.
Notes
Note: I usually make these with cayenne pepper, although occasionally I've gotten a message from someone saying that they were a bit too spicy for their tastes. You can use a milder red pepper powder such as ancho chile, chipotle, pimente d'Espelette, or paprika, smoked or sweet. Or you can dial the cayenne pepper down to 1/4 or 1/2 teaspoon according to your tastes, although I use the full-on amount noted in the recipe when I make this and haven't had anyone tell me they were too spicy.