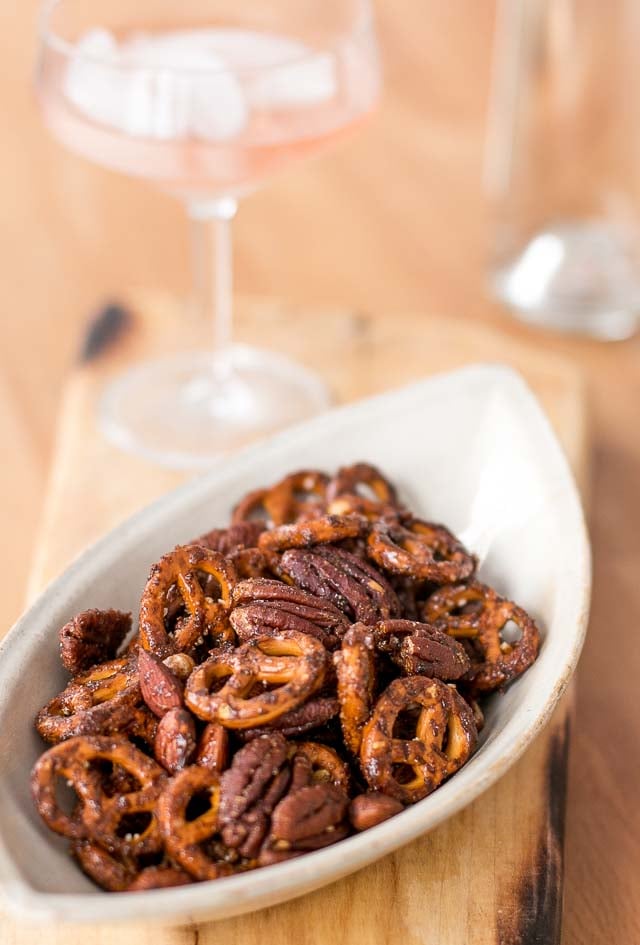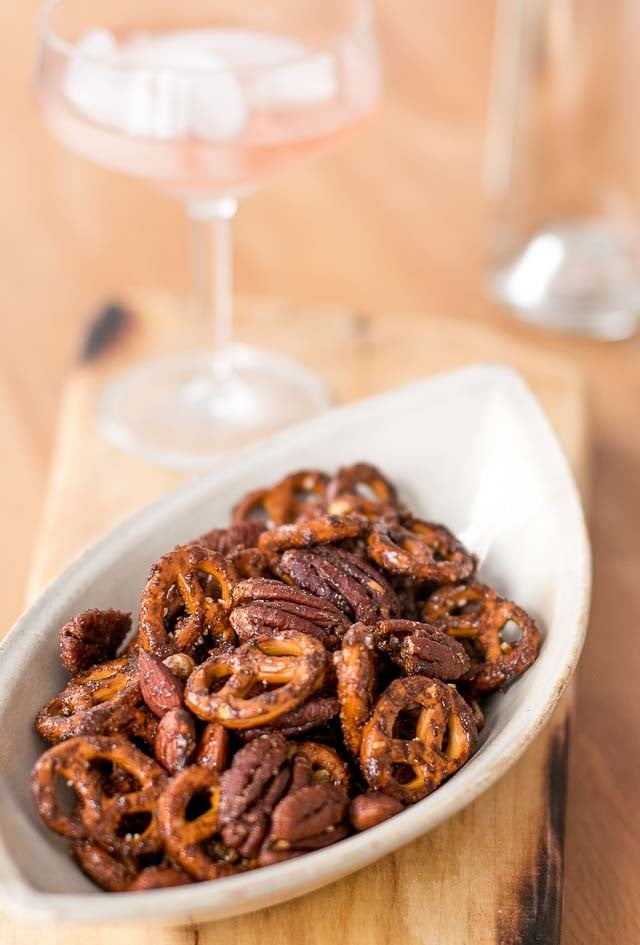 I gave this recipe out a year or so ago on the site. But because it's so easy to put together, I made it yet again last night, to have as a little nibble with some white wine before dinner. And we couldn't eat it fast enough. (And almost didn't have room for dinner.) It's adapted from The Sweet Life in Paris. So for those of you who might have missed it, I'm bringing it up from the archives as you might want to make a batch for an upcoming get-together, too.
It's really simple to make: all you really need is a bag of pretzels, a mixture of any kind of nuts that strikes your fancy, some spices, and a flurry of sea salt. Add a restrained amount of melted butter and maple syrup, and when it comes out of the oven, you'll barely be able to wait until the salty-sweet, spiced mixture of glazed nuts and pretzels is cooled down before diving right in.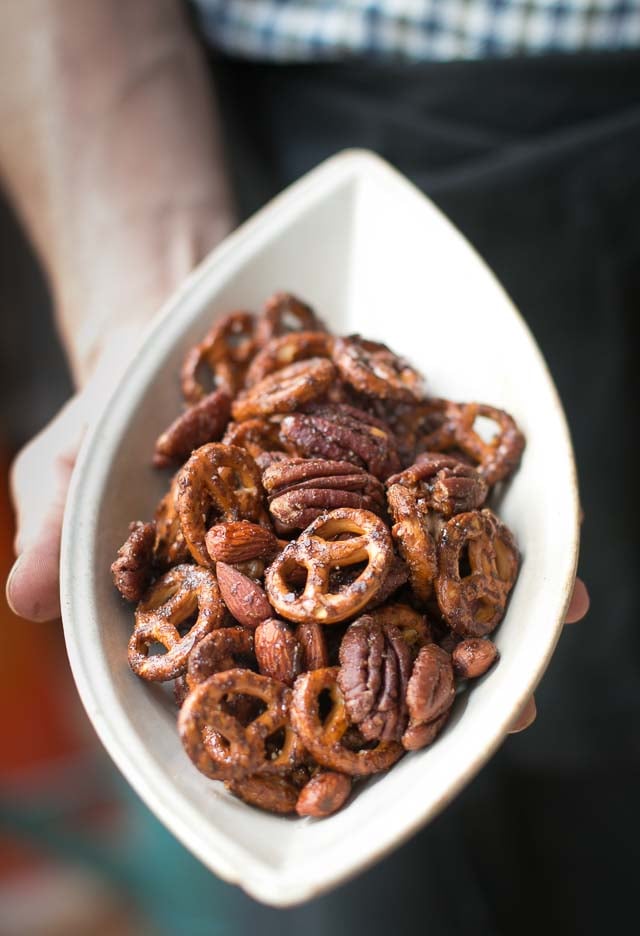 I know, because last night after I made it, two of us wolfed down the entire batch. Now if you'll excuse me, I need to go toast off some nuts, melt some butter—and open yet another sack of pretzels…
Spiced Glazed Nuts and Pretzel Mix
Adapted from
The Sweet Life in Paris
. You can use any mix of raw nuts that you want, but I'm pretty partial to some pecan halves tossed in the mix. With the bit of heat from the pepper powder, their toasty flavor provides exactly the right balance. I use a non-stick baking sheet which helps keeps the nuts form sticking during the second baking (step #4). But if you don't have one, you can use a lightly-greased baking sheet (grease it after the nuts are toasted on it) or a silicone baking mat. Note that the salt is added after the nuts are stirred, so it doesn't dissolve. And be sure to use flaky sea salt, which has a more delicate flavor than ordinary table salt.
2

cups (200g)

mixed raw nuts (untoasted); any combination of cashews

,

walnuts, almonds, pecan, and hazelnuts

1

tablespoon (15g)

butter

,

salted or unsalted, melted

3

tablespoons (45g)

dark brown sugar

1/2

teaspoon

ground cinnamon

3/4

teaspoon

cayenne or red pepper powder

1 1/2

tablespoons

maple syrup

1

teaspoon

flaky sea salt

, such as fleur de sel, or kosher salt

2

cups (100g)

small pretzel twists
Spread the nuts on a baking sheet and roast in a 350F (180C) oven for 10 minutes, stirring once for even toasting.

In a medium bowl, mix together the melted butter, brown sugar, cinnamon, pepper, and maple syrup. (In the winter, I put the butter in the bowl and melt it on the radiator.)

Add the warm nuts, and stir until the nuts are completely coated. Then stir in the salt.

Mix in the pretzels, then spread the mixture back on the baking sheet and return to the oven for 12-18 minutes, stirring a couple of time during cooking to make sure the brown sugar isn't clumping. The exact baking time will vary, but the nuts are done when they are nice and toasty, and the mixture is nicely glazed.

Remove from oven and cool completely, separating the nuts and pretzels as they cool. Once cool, this mixture can be stored in an airtight container for up to a week.