One Pan Harissa Chicken
Let me start by disclosing something. As soon as I saw the title of this book, and subtitle – Dinner: Changing the Game By Melissa Clark, I knew it was going to be a great book. With a title like that, how could it not be? It's eclectic, exciting, fresh, do-able, and most important, it answers the question: What am I going to make for dinner?
The book gets right to the point, and the diversity of recipes includes everything from a Chinese-inspired Spicy Stir-fried Cumin Lamb and Duck Breasts with Plums and Garam Masala, to Stovetop Macaroni and Cheese and Seitan Enchiladas, so everyone will feel welcome around Melissa's dinner table. And yours, too.
I'd bookmarked a number of the recipes in this book, wondering which to do first. Because, like you, I often wonder "What the heck am I going to make for dinner?"
Usually, it's 4 pm and with the kids on their way home (okay, here it's just Romain…) I find myself sometimes scrambling for what to make. There is the usual (and easy) poulet rôti that I can grab at the local butcher, which is my fall-back plan, but since I go to the market as much as possible, I put the ingredients for the Harissa Chicken on my shopping list; chicken thighs, potatoes, leeks, and fresh herbs, and off I went.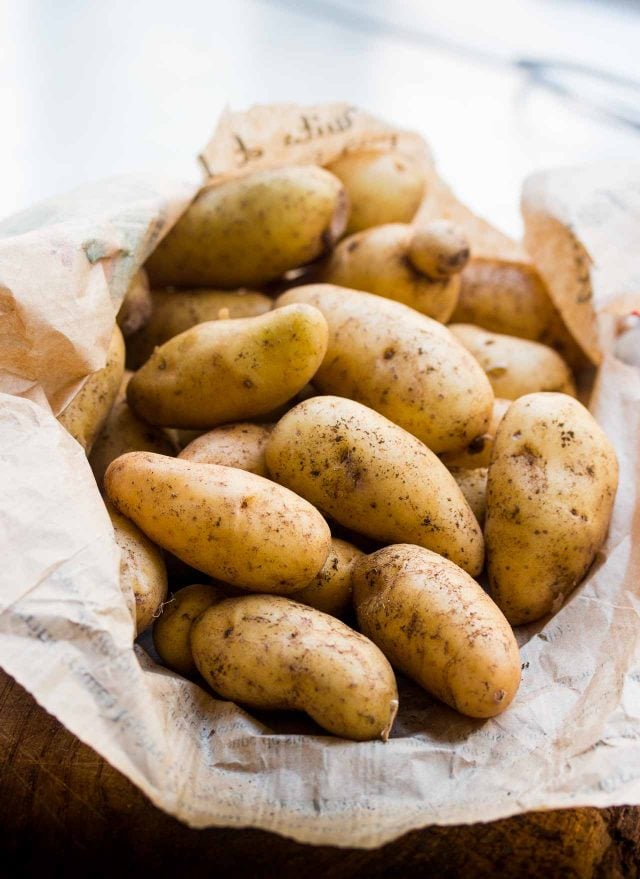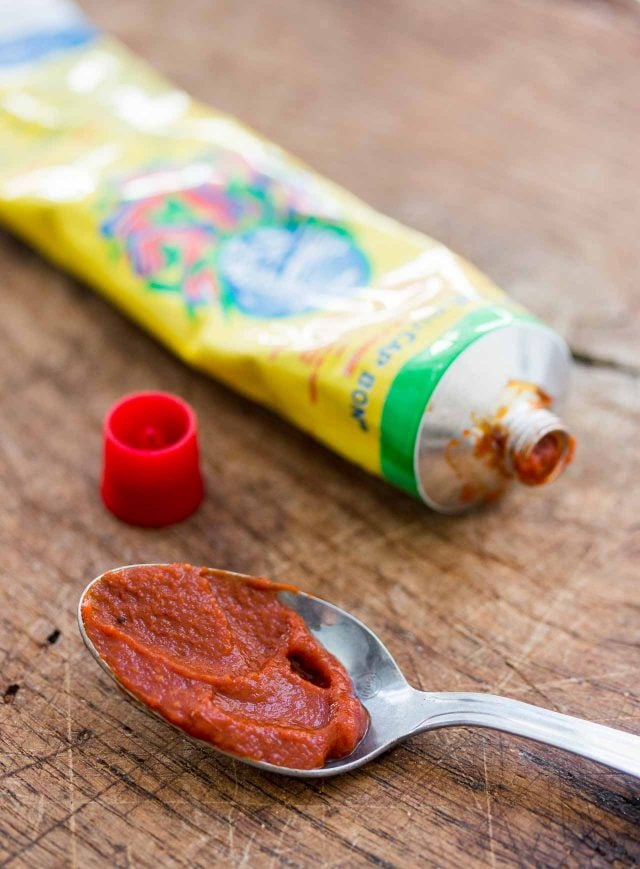 I love the idea of a one sheet pan dinner, so there's less clean up. The idea of roasted chicken and potatoes, bathed in harissa, then topped with mildly exotic yogurt sauce and lots of vibrant fresh herbs, also appeals.
This recipe uses chicken thighs and while I know some of your prefer chicken breasts, those would work as well, although you'd need to dial down the baking time because they cook faster. I'd also cut them in half, crosswise, so more of the marinade gets into the meat. I used to eat more chicken breasts than I do now, but have mostly gone to the dark side, where things are a little more delicious.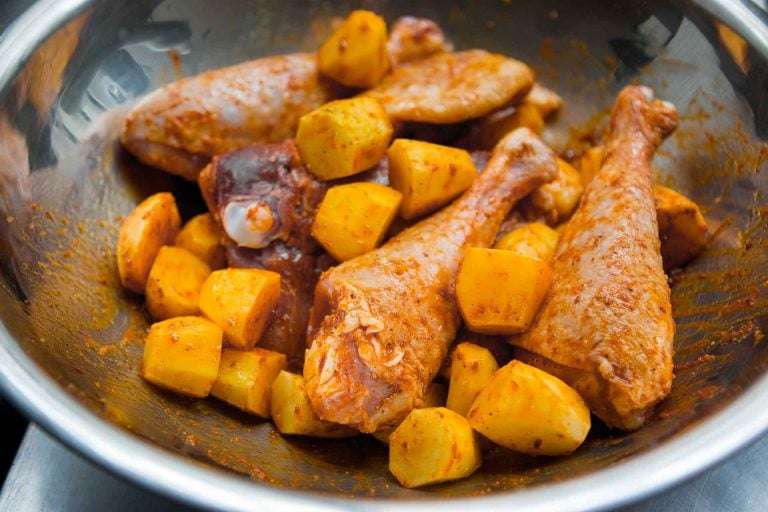 I was, however, a little concerned that the recipe called for two tablespoons of harissa. Harissa is a fiery-hot North African hot sauce, that enlivens everything that it touches. A dab is sometimes added to couscous (if it's not offered at the table, I ask for it), and it's quite piquante.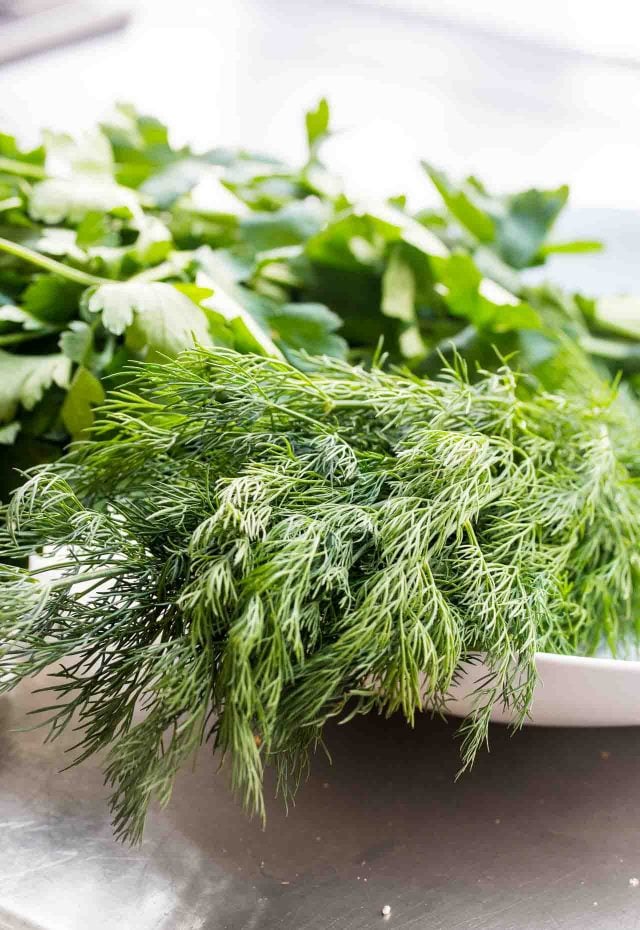 In this chicken dish, the long cooking mellows it just enough, giving the chicken more of a "glow," rather than an overly spicy burn. In contrast, there's an easy, refreshing yogurt sauce that's dappled over, and around, the top. The original recipe said to strew "soft" herbs over everything, which gives you license to adjust the dish to your taste. Romain recently discovered aneth (dill), something you can buy at the markets in Paris, but is usually destined for salmon dishes; I've not seen it served on anything else.
Dill definitely deserves more use here, and everywhere. Next time you make chicken soup, add a handful of chopped fresh dill. It's wonderful. I'm no expert on North African food, so not sure it's part of their culinary grab bag, but I'm making it more and more a part of mine. (It's also great on this Cucumber Feta Salad.)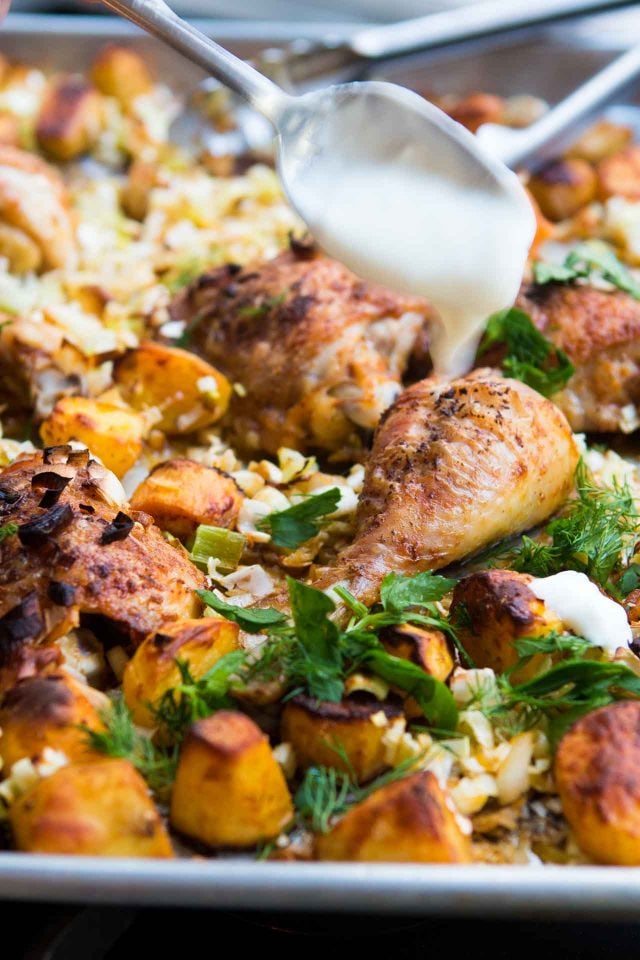 This dish really did "change my game," as Melissa promised. It's going into regular rotation at my house. Bonus points for being able to make the whole dinner on a single baking sheet. Hooray for that, too.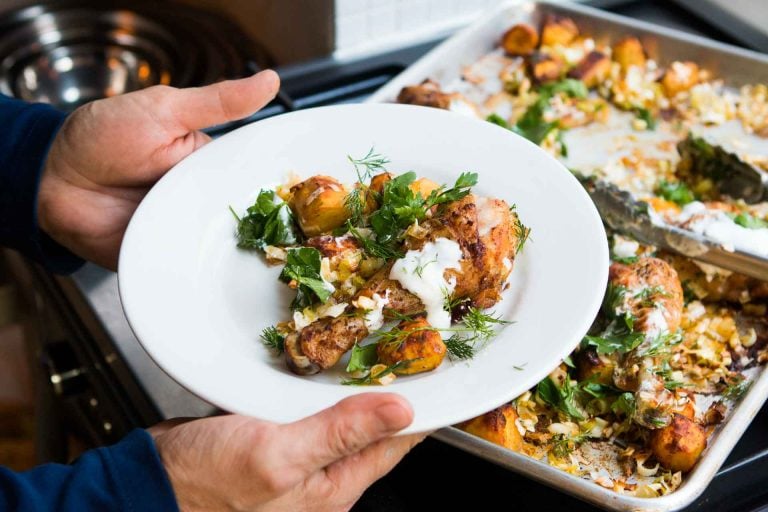 This recipe makes three servings, so you'll have to fight who gets the leftover for lunch the next day.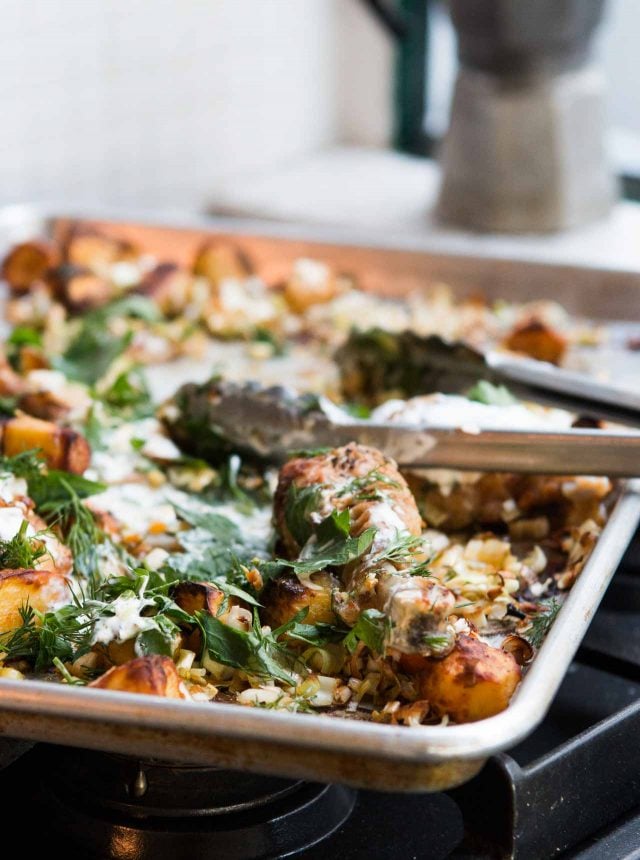 FYI: I won.
| | |
| --- | --- |
| Harissa Chicken | Print Recipe |
Adapted from Dinner: Changing the Game by Melissa Clark Harissa is a Moroccan hot sauce. You can find it in shops that specialize in North African and Middle Eastern foods. It's also available online and I've seen it in Trader Joe's in the U.S. You can also make your own. I have a recipe in My Paris Kitchen. You can substitute another chile paste or sauce, such as Piri-piri sauce. Since they all vary in heat, you can dial whatever you swap it out with, to suit your tastes. This is a fairly straightforward recipe and makes a quick dinner. If you want, the chicken and potatoes can be marinated in the sauce (in step #1) and refrigerated a few hours, or overnight, until you're ready to bake them. I used an 11 x 17-inch (27x43cm) rimmed baking sheet, which gave everything enough room to keep their distance from each other; if the chicken and potato pieces are too close, they'll "steam" rather than roast. When you add the leeks in step #5, it'll look like a lot, but they'll cook down. If using Morton kosher salt, cut the amount down by about one-third. I also swapped out a few of the potatoes with sweet potatoes to see how they cook, and they came out great. So feel free to substitute sweet potatoes for some, or all, of the regular potatoes.
4 1/2
tablespoons
extra-virgin olive oil
3
teaspoons
kosher or flaky sea salt
3/4
teaspoon
freshly ground black pepper
1/2
teaspoon
ground cumin
1 1/2
pounds roasting potatoes
(such as Yukon Golds), peeled and cut into 1 1/2-inch (4cm) cubes
2
leeks,
washed, sliced in half lengthwise, and thinly sliced crossways
1
clove
garlic,
peeled and minced
1
cup (10-12g)
a mix of fresh herbs, such as parsley, mint, dill, chervil, and tarragon,
very coarsely chopped
1. In a large bowl, mix together the harissa, 3 tablespoons of the olive oil, cumin, 2 1/2 teaspoons of the salt, and 1/2 teaspoon of the black pepper. Add the chicken and potatoes, then rub the thighs and legs and potatoes with the marinade. Be sure to use your hands to rub the sauce under the skin of the chicken. Let stand for 30 minutes at room temperature.
2. In a medium bowl, toss the leeks together with the lemon zest, 1/4 of the salt, and the remaining 1 1/2 tablespoons of olive oil.
3. Preheat the oven to 425ºF (220ºC). Adjust the oven rack to the center of the oven.
4. Transfer the chicken and potatoes, and any sauce in the bowl, onto a large rimmed baking sheet. Arrange the chicken pieces so they are skin side up, and make sure the chicken parts and potatoes are in a single layer. Bake for 20 minutes.
5. Remove the baking sheet from the oven. Toss the potatoes (so they can brown on the other sides of them) then strew the leeks over everything on the baking sheet. It may look like a lot, but they'll bake down.
6. Bake until the chicken is cooked through, another 20 to 25 minutes. While the chicken is cooking, in a small bowl, mix the yogurt with the garlic, the remaining salt and pepper, and a squeeze of fresh lemon or lime juice.
7. Remove the baking sheet from the oven and spoon the yogurt sauce in various places over the chicken and potatoes. Top with fresh herbs and serve.