If you haven't been to Bordeaux in a while, you might be in for a shock, although it's more like, you'll be in for a treat. Previously considered a staid city, Bordeaux has rebooted itself, partially thanks to a tram system that makes getting around the formerly congested city a breeze, but also because the TGV now can get you there in around two hours, from Paris.
Because of that, and for a variety of other reasons, such as a more relaxed lifestyle and better weather, there's a lot of fresh energy in town as a number of Parisians are moving south. And it's easy to see why.
To ward off incoming hoards from the north, there's a joke that bakeries are charging people €1,50 if they ordered a pain au chocolat, since the correct term in town is chocolatine. In addition to warmer temperatures (which can get quite hot in the summer, although more places have fans, A/C, and ice), there's a pleasant Spanish vibe in the food and drink categories, due to its closeness to Spain. And there's also a big river, the Garonne, that runs through town, and prices are gentler. (Unless you get charged €1,50 for a chocolatine, which to an American, seems like a bargain.)
Yes, we did our share of eating and drinking, but when I heard my weekend there coincided with the twice-annual Brocante de Quinconces, at the risk of being made fun of by my travel companion for our two-night stay, I brought a very large suitcase and some packing material…just in case.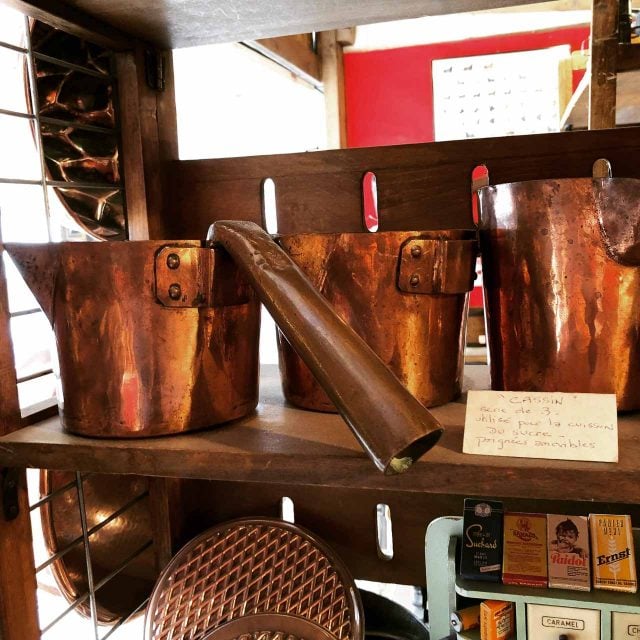 Since it was the around the tenth day of the market, there were very few bargains, if any. But it was fun to poke around and used the time to put some pictures on my Instagram account, rather than work on filling up my suitcase. When people saw the cassins, copper candy-making pots with an oddly shaped interchangeable handle (which no one could explain to me why it was bent that way), they asked me if there were any copper canelé molds. I found several tins ones for €1 each, and I probably could have bought & sold them later to pay for my pricey train ticket down here. (Due to the train strike, we got a refund on the inexpensive ticket that was purchased months ago, and had to buy a last-minute ticket for the next day, when the trains were running.)
But the good news about the TGV trains is that they've ramped up their food options in the café cars with some of France's best chefs overseeing the meals – which I suggested back in 2009. (Although the microwave oven was broken on the train we were on, and most of the offerings were listed as epuisé, or sold-out.) But what they did have for lunch was actually pretty good for train food. The trip from Paris to Bordeaux takes a lean two hours, so you can leave Paris in the morning, like we did at a 6:54 am, and be in Bordeaux in time for to hit the aisles of the antique market before tucking in a nice lunch.
Speaking of lunch, I was in Bordeaux doing some scouting of restaurants for an upcoming trip so dining was a mixed bag. We wanted to like one place we went to, a popular brasserie, but the first course salads arrived unceremoniously without any dressing. My steak hadn't been seasoned before it was cooked, and my dining companion told me their fish had no flavor until she put sauce on it. Not being a fan of undercooked frites, which I saw on a neighboring table, I asked ours to be well-cooked, but they came out white and bendable. Non, merci.
We did have a nice first day lunch at La Cagette (8, place du Palais) with a very friendly young staff, a good wine by the glass list (and reasonable, like most of the wine was in Bordeaux) and a fresh salad with crunchy cabbage, nuts, cilantro, and shrimp, that weren't quite the big, beautiful shrimp you see at the fish markets. When the couple next to us got up to go out and smoke, I made a motion pretending I was going to grab a bite of their delicious-looking tartare de bœuf, but one of them saw me and got a chuckle out of it. And made a wagging motion with his finger for me not to do it.
In addition to a twice-annual brocante, there's a weekly flea market on Sunday mornings in front of the St. Michel church in Bordeaux, which conveniently is a tram stop. We got there around 9 am and things were just getting going. I didn't find all that much, until the third or fourth (or fifth and sixth?) time I did the rounds. Then I spotted a few lovely vintages plates, a pair of delicately etched apéritif glasses, a starched stack of crisp linen napkins (for €5), and a 1960's glass pitcher that I plan to use for Pimm's Cups this summer.
I didn't buy it, but I did love this poster of how margarine is made, below. Like I mentioned in L'appart, margarine was actually invented in France. So although I don't think la margarine is ever going to dethrone butter, ça existe.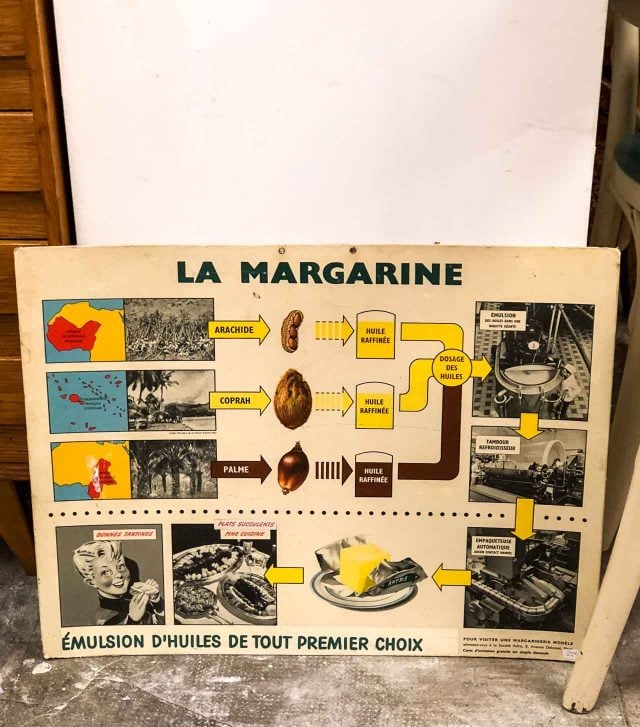 After hitting the market, we stopped in at Excuse My French for a café noisette and a green tea cookie. Like most of the young people in Bordeaux, the guy at the counter who made our drinks could not have been friendlier, or nicer. The other good news is that after I got back to the hotel, I wrapped all my stuff up in newspaper, and was thankful to have my large suitcase to roll it all home in. Some of the cobblestone streets in Bordeaux aren't so friendly to suitcases, but the trip to and from the hotel to the train station was seamless, and flat, with no stairs. And when I got home, I discovered, there was no breakage.
One of the main reasons many come to Bordeaux is, of course, the wine. The two must-see wine and spirits shops are along the snazzy Allée de Tourny. The spiral-shaped L'Intendant is not only famous for its shape, and design, but also its collection of wine.
It's got wine in all categories and price ranges, but I always head right up to the top where the Sauternes and Barzacs are, the sweet wines of the region, that deserve to be closest to heaven. They've sort of fallen out of favor (one company is introducing one with a screw top, thinking it'll appeal to the younger generation) but I like them after dinner, well-chilled. They go well with everything from foie gras and Roquefort, to fresh fruit and chocolate. The other good news is that most are available in half-bottle sizes, so you don't need to commit to a big bottle.
At the other end of the square is Badie. One of their shops has an extraordinary selection of Champagnes. (Jean-Pierre Moullé, who was the executive chef at Chez Panisse when I worked there, once said to me, with a rather dream-like look in his eyes, "Daveed, I love that store.") Their other store specializes in spirits, where you can get bottles of things, like Dolin white vermouth and fruits preserved in the Périgord (above), including local prunes and French plums.
About a half an hour out of town is Lillet, made in the town of Podensac. Which means that at every café and restaurant in the city Lillet white, red, and rosé, are available. This fortified wine is flavored with oranges and spices, and is the perfect apéritif with a cube or two of ice floating on top. It's tougher to find in Paris and when you do find it, they don't always know what to do with it. I recently saw it on a café menu in the Marais, so ordered a glass, and the waiter brought over a tall, slender, and tiny glass of Lillet, that was tepid.
Another thing Bordeaux is famous for are canelés, which are traditionally baked in (now-pricey) copper molds. For years, many visitors to Paris told me they were going to buy copper canelé molds so they could make them at home. I wonder how many of them were sold at subsequent garage sales, but the pastries themselves were invented in Bordeaux to use up the surplus of egg yolks that were leftover after they separated eggs, whose whites were used for clarifying wine.
Baillardran is the most famous place for canelés, although a reader told me to go to La Toque Cuivrée, as theirs are more delicious. So that H/T is on the list for another next trip.
What was definitely on the list for this trip was chocolate. The two most notable chocolate shops in town are just a few blocks apart. Cadiot-Badie (above), opened in 1826, and remains the more traditional shop. There are two kinds of chocolate-dipped cherries, orangettes, the chocolate "canelés" shown farther up in the post, and their signature Diamont Noir, booze-spiked raisins in ganache. Another treat are chocolate covered raisins that have been soaked in Sauternes. Don't miss those!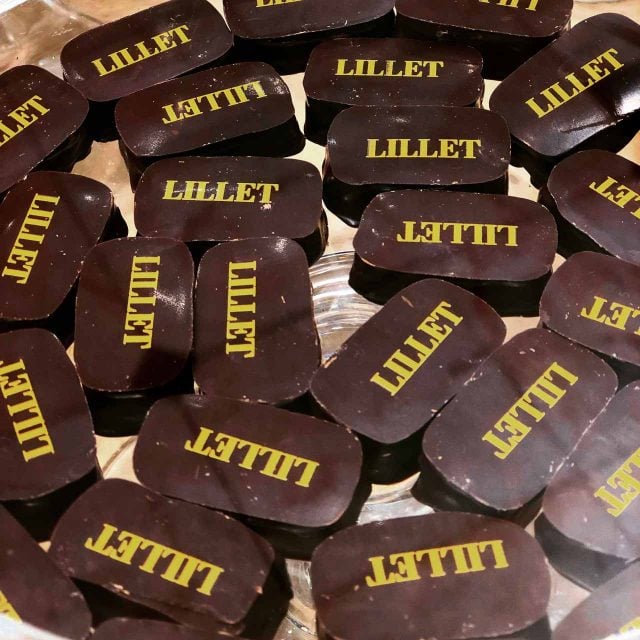 Saunion was founded in 1893, so it could be considered the new(er) kid of the block. Chocolatier Thierry Lalet is the fourth generation of his family to run the shop and he makes his chocolates in workshops next to the more contemporary boutique.
He was trying out some new pineapple-coconut chocolates, that were cooling. But I was intrigued by the Lillet chocolate, made from a secret blend with an orange base, that he didn't want to reveal. I met Thierry quite a while back, via Jean-Pierre. He and his wife lead tours of Bordeaux via their company Two Bordelais. They also co-authored a lovely book together, French Roots, about their lives in the U.S., and in France, how they differ, and how much closer to two countries have become to each other, especially in terms of food.
Thierry and I kept in touch over the years and I am particularly fond of his Rochers (above), meant to resemble rocks, and filled with housemade praline and toasted almonds, which he let me taste just off the cooling line. Longevity has its rewards.
The daily covered market in Bordeaux is the Marché des Capucines, which is easy to visit after the St. Michel flea market. I was wowed by all the local and regional produce, especially asparagus and strawberries, which were in full swing.
But there were other curiosities as well, things one doesn't find too often elsewhere, including Cebettes (green onions) and Aillet (shown at the top of the post), which have a garlicky flavor, and can be used in omelets. And even though egg salad isn't very French (like most of you probably though la margarine wasn't either), I'll bet it'd be really good chopped and added to egg salad. The aillets, not the margarine, that is.
The other nice thing about the covered market and there are stands that serve food. One had Portuguese specialities, and being Sunday, it was obvious a few people had been particularly enjoying some wine that morning. For those of you (or us) who focus more on shopping in the morning, there is a marvelous herb stand with stacks of fresh herbs, everything from oregano to several types of thyme, as well as sorrel and elderflowers, which I got the last of.
We ended up at the tapas bar drinking glasses of rosé and having a few bites. I could have done without the bread, and just had the Spanish ham, which is so good you wonder why you don't live closer (or in) Spain.
Another option in the city is the Cité du Vin, and ultra-modern wine "experience." You can choose different admission prices that offer various tours, tastings, and workshops, but we took the elevator to the top floor L7 restaurant for a late afternoon snack. At mealtimes, you'll need to dine there, but midafternoon between 3 and 7 pm, there's a limited menu carte that offers up some bites to go along with a glass or two of wine. We had some marvelous duck rillettes and a cheese plate served with a date, a local walnut, some tangy berry chutney, and a slender tube of French butter, which went to good use.
In especially nice weather, another place to go and check out the city from overhead is the Night Beach at the Intercontinental hotel. It wasn't quite night when we got there, nor did it feel all that much like a beach – although there is a hot tub that no one was using…we had Spiced Pimm's Cups spiked with ginger beer.
The prices were a bit stiffer than the cocktails, but they weren't ridiculously priced (we were the only ones drinking cocktails, everyone else was sipping beer and wine), but they gave us great seats by the edge of the roof to view the cityscape, and our drinks. And that was worth it.
Bordeaux Links
10 of the Best Restaurants in Bordeaux (The Guardian)
How to make Cannelés in Silicone Molds (eat. live. travel. write.)
Canelé de Bordeaux (Paula Wolfert)