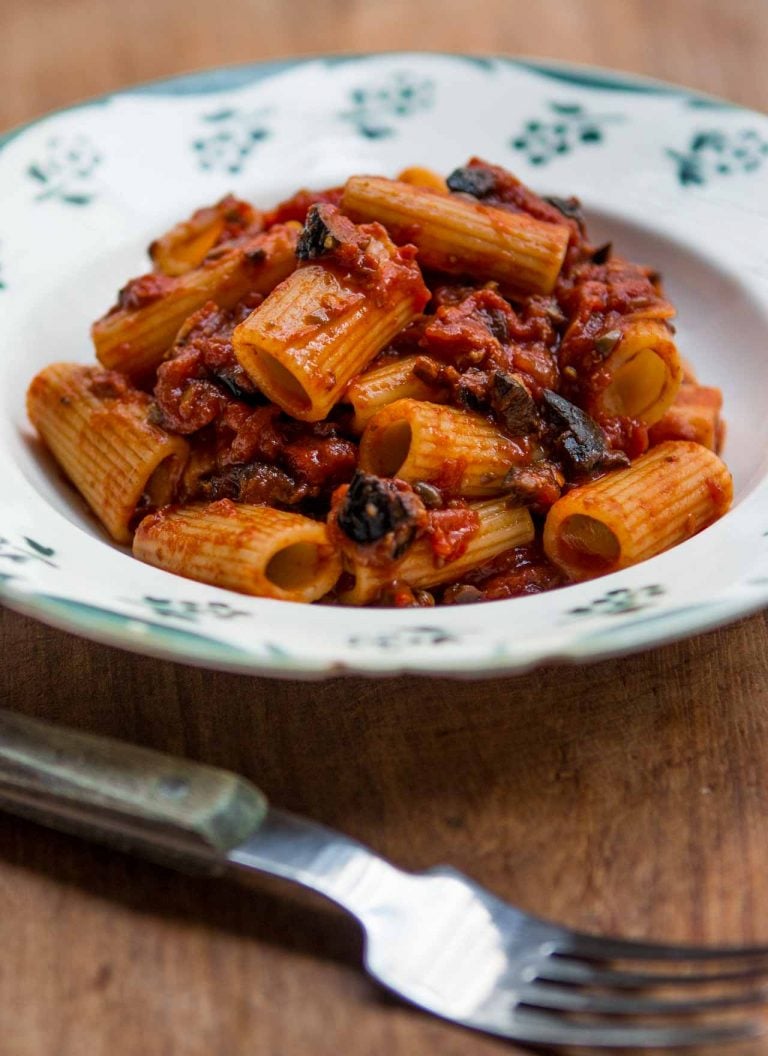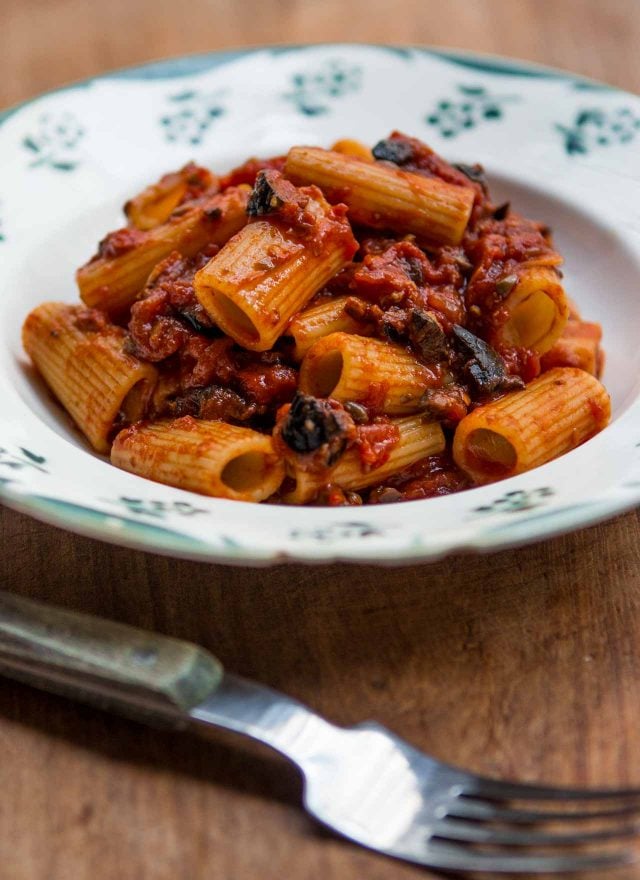 One of my favorite pastas is Pasta Puttanesca. For some reason, I don't make it very often, because I always seem to be sautéing fresh greens in olive oil and garlic, or something like that, to toss with noodles. But I love all the ingredients in Pasta Puttanesca; capers, olives, anchovies, crushed red peppers, and lots of garlic, so when faced with what to make for dinner the other night, when I didn't have any vegetables from the market, it became "what's for dinner."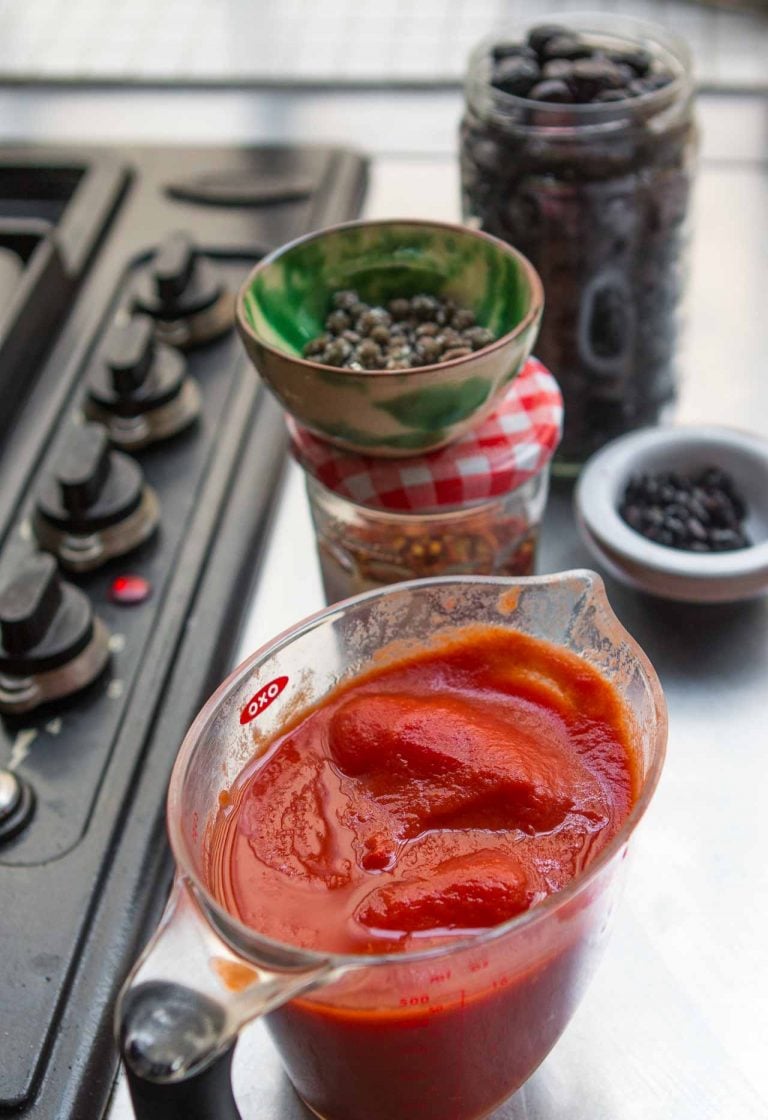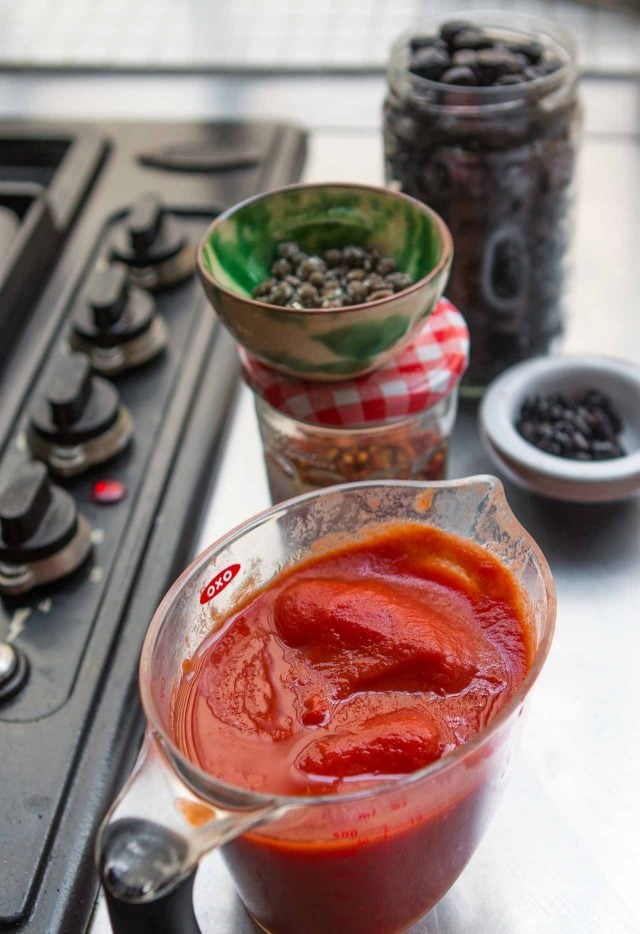 The name "puttanesca" fits, because it's one of the lustiest pasta (or dishes) that I know of. It's a mélange of robust – or umami? – flavors, using what you have on hand, which is especially handy when you've come home from a long trip and haven't had time to stock your refrigerator, or when you don't feel like heading to the grocery store. All the ingredients you probably already have in your pantry or refrigerator. And if you don't, you should.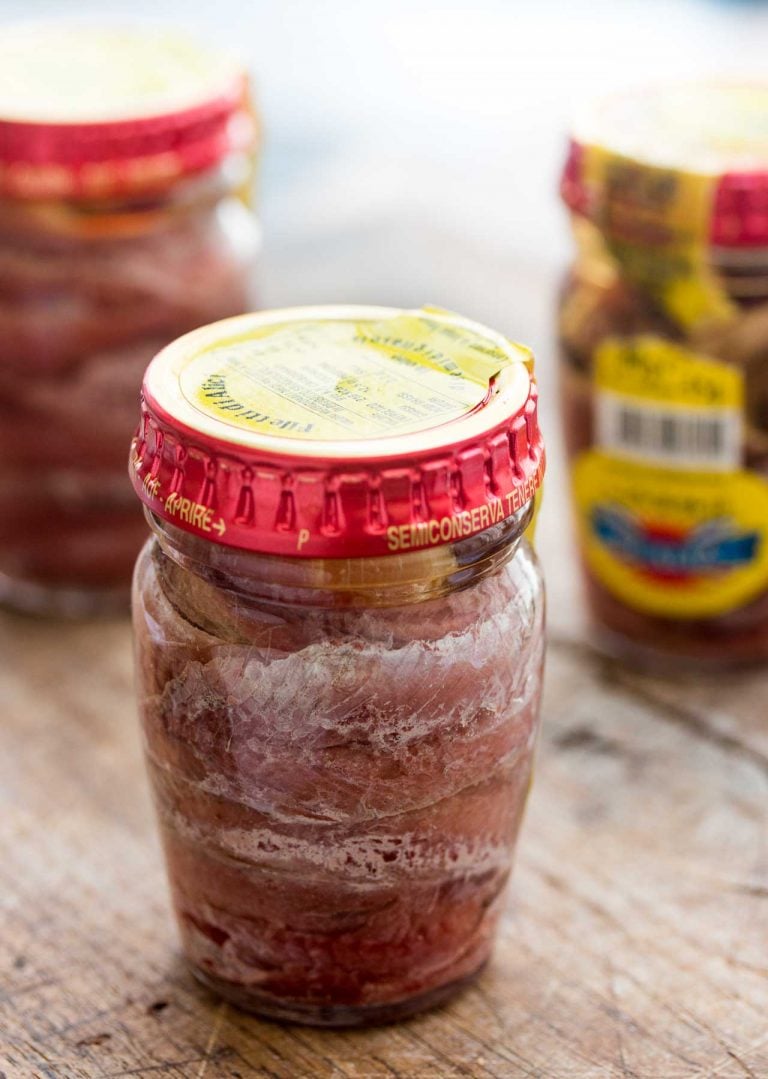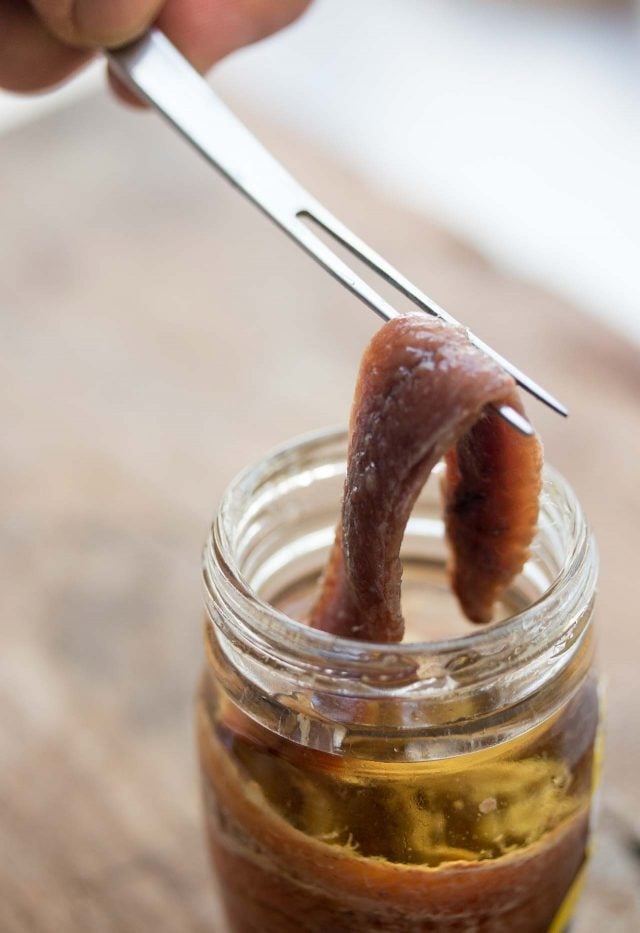 The name tends to raise some eyebrows. Legend has it that it was made by ladies of the night in Italy, either because it was easy to make with ingredients already on hand (and those of us who are self-employed know how important that can be), or because the smell wafting from their stove was enticing to customers. I know if I was walking by, I'd be curious, too. About the pasta, that is.
I love the smell, and taste, of everything in this dish, from oil-cured olives to the slivers of sizzling garlic. And I also like dried pasta. Back in the 80s or 90s, when fresh pasta became all the rage in the U.S., a lot of people turned their noses up at it. I like fresh pasta, but people eventually realized that fresh and dried pasta are two different beasts, and each has its place. Here, dried pasta works better because it's sturdy enough to hold its own against the hearty, and hardy, ingredients in the sauce.
Speaking of ingredients you already have on hand, I have a ten-year supply of tomato paste due to misreading a can at the supermarket that was concentré des tomates. I know that means "tomato paste," but wondered when I was standing in the grocery store aisle, "Surely that can't be tomato paste? No home cook would buy that much tomato paste at once…" and brought the 28 ounce (800g) can home. When I opened it up, I was faced with a solid mass of very red, and very concentrated, tomato paste.
I didn't know what to do with it, and I know everyone says, "Freeze it in small portions! That way you can take out only what you need, when you need it…" But my freezer is probably like yours: packed full. Still, I hate throwing things away, even though all those projects take time away from my regular work, which self-employed folks know is more valuable than a €1,59 can of tomato paste, but I am my mother's son, so I froze it in scoops.
Traditionalists may throw a fit, but I'm not Italian, and I'm not a hooker (and if I was, everyone knows not to mess with them) and used added some of the tomato paste to the pasta sauce. It added a deep richness, and I was happy to be down to fifty-five portions of tomato paste.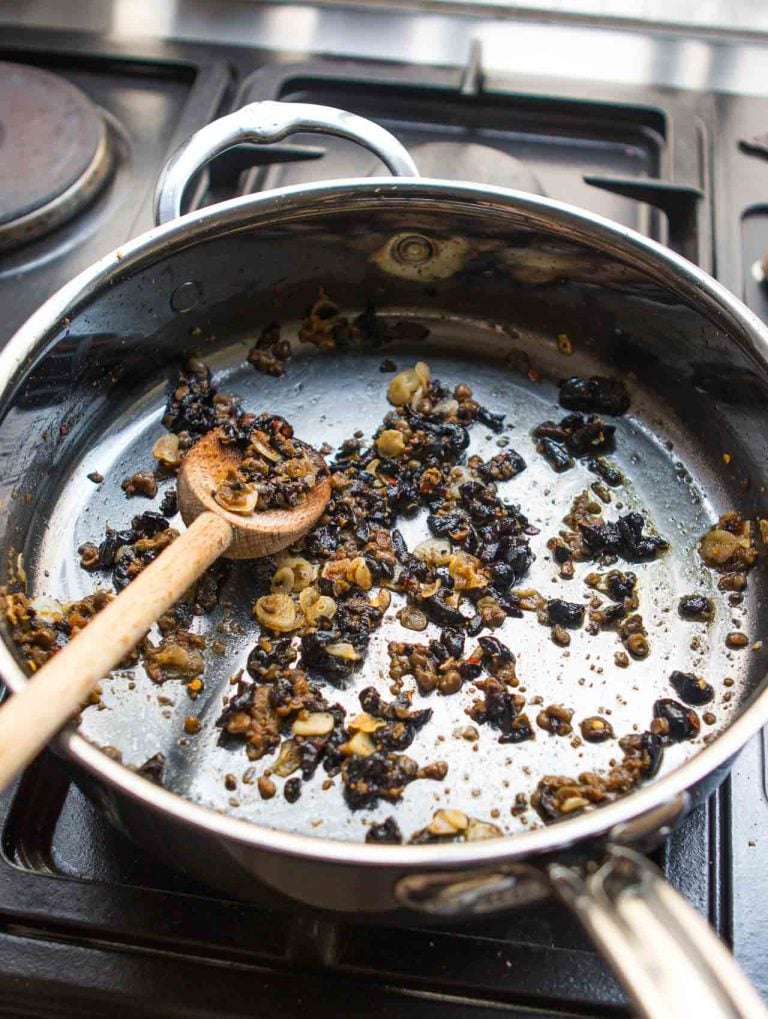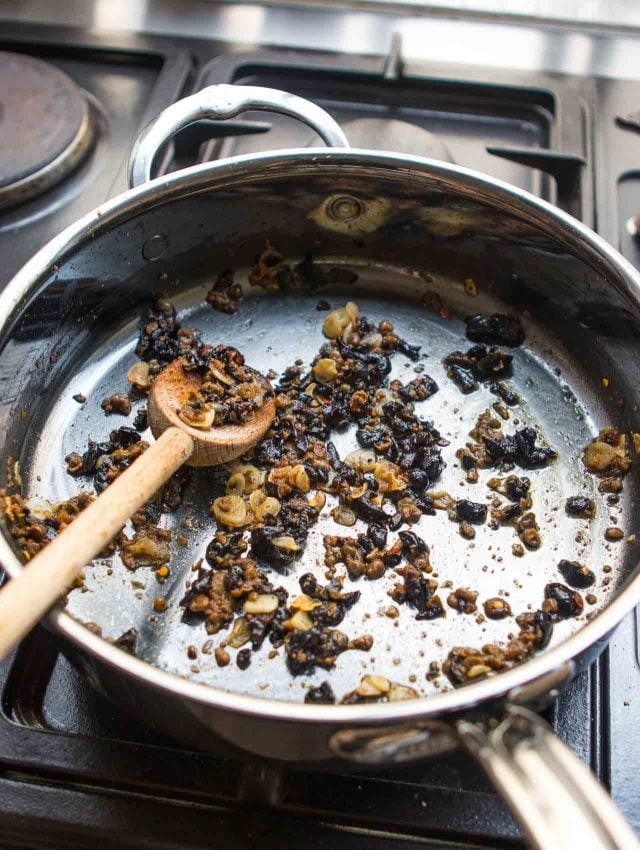 As an aside, I've been using heavy pans all of my life. Recently I've had trouble lifting them. (Doctor Romain said after years of lifting heavy pots as a line cook and baker, my arm is giving out.) I was contacted by someone offering a test pan made by Hestan, which they call NanoBond. I hadn't heard of the company, but they make commercial stoves and ranges, which raised my interest. The pans are made in Italy, bonded with layers of titanium, which is four times harder than stainless-steel, but much lighter.
So I gave it a go with this pasta and it worked really well, and was much easier to lift. I had to get used to it, since the lightness took some getting used to for me. But it heated very evenly and I was pleasantly surprised at how well it worked. (Although they are not coated with a non-stick surface, if that's a concern.) The pans aren't inexpensive, but I like trying out new things from time to time, further proof I'm not necessarily a traditionalist.
This pasta is a winner, and once you've made your first Pasta Puttanesca, if you're anything like me, you'll find yourself making the dish whenever you don't know what to make for dinner, or don't have anything on hand but capers, olives, and anchovies. And it works well for a cozy dinner for two, whether you're getting a freebie or not.
Pasta Puttanesca
Use canned plum tomatoes if you can. Fresh tomatoes don't lend the same flavor to this pasta. To get them to the right consistency for the tomato puree called for in the recipe, remove them from the can and crush them with a fork or by hand. Also note that the sliced garlic is added to the oil cold. If you add minced garlic to hot oil, it can burn very quickly. I always rinse capers, whether they are salt-packed or in brine. Then I squeeze them dry before using them. The brine has particular flavor that, to me, distracts from the capers. If using salt-packed anchovies, those should be rinsed as well. Anchovies packed in oil don't need to be rinsed. You can start the pasta before you begin making the sauce, although if making this for the first time, it's probably easier to make the sauce, set it aside, then rewarm it again before adding the warm pasta and a bit of the pasta water, until you get the rhythm down. Make sure to reserve some of the pasta water to finish the pasta in the tangy tomato sauce.
3

tablespoons

extra-virgin olive oil

4

cloves

garlic

,

peeled and thinly sliced

3-4

anchovy filets

,

minced

2

tablespoons

capers

,

coarsely chopped

1/4

teaspoon

red pepper flakes

1/3

cup (40g)

chopped, pitted black olives

,

preferably oil cured

1 3/4

cups (one 14oz can, 390g)

tomato puree

,

(see headnote)

1 1/2

tablespoons

tomato paste

7

ounces (200g)

dried pasta
Make the sauce by putting the olive oil, garlic, and minced anchovies in a large, wide skillet. Heat the pan over medium heat, cooking the garlic and anchovies, stirring frequently, until the garlic is lightly browned and the anchovies are very soft and almost melting, about 2 minutes. Meanwhile, heat a large pot of water to cook the pasta in.

Add the olives, capers, and red pepper flakes to the skillet, and stir for a minute, then add the tomatoes and tomato paste. Continue to cook, and stir, until the sauce is a deeper red color and the consistency of warm jam, which will take a couple of minutes. You want it wet and loose, but not watery. Remove from heat and set aside.

When the pasta water is boiling, add the pasta and cook it until it's al dente. Just before the pasta is ready, rewarm the sauce. Drain the pasta, reserving some of the water, and add the pasta to the sauce warming in the pan, as well as 1 to 2 tablespoons of the reserved pasta water, stirring until the sauce coats the pasta and everything is heated through.
Notes
Serving: The pasta doesn't really need any accompaniment so I don't serve it with cheese or another else on top. Storage: The sauce can be made 2-3 days in advance and refrigerated. Variations: Some people add a bit of fresh, chopped parsley to the sauce, or dried oregano. I don't, but you're welcome to.