Panzanella Recipe (Bread and Tomato Salad Recipe)
God forbid you don't buy fresh bread every day in France. And I love bread, so it's not unusual for me to come home carrying more than I should. So the problem is, it's rather difficult to eat all that bread.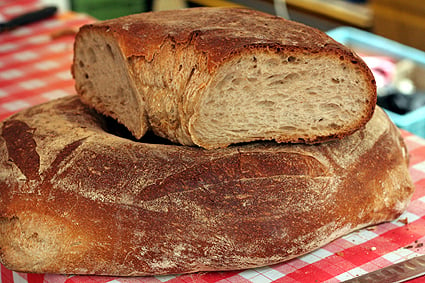 So what to do with all that lovely leftover bread? I make Panzanella, a Tuscan salad designed to use up lots of leftover bread, which we ate this weekend during an outing in the countryside. Tuscans don't salt their bread, which goes back to a long-standing rift between them and the people from Pisa, who controlled the prices of salt many years ago..and they say I hold grudges!
(But if you've ever had unsalted bread, you perhaps can understand why they have so much leftover.)
You can use any firm-textured bread you have on hand. I prefer levain bread, which is dense and won't fall apart when tossed around. But you should use what you have leftover as long as it's not too airy. And in spite of what everyone tells you, it's not vital to use pricey heirloom tomatoes:marinating them in copious amounts of fresh herbs will infuse ordinary tomatoes with summertime flavor. And feel free to use lots of chopped fresh herbs as well. Oregano, marjoram, thyme, and fresh mint are all wonderful mixed in.
Adapted from The Sweet Life in Paris by David LebovitzIn traditional panzanella, the bread gets soaked first. However I find tossing it in a copious amount of liquid from the tomatoes, and the dressing, does the same thing and adds lots of flavor. Interestingly, I've read that tomatoes were supposedly not used in panzanella until 1928. But like most foods, origins are often mired in controversy.
4
cups
torn pieces of hearty, country-style bread
(approximately 1-inch/3 cm pieces)
lots of freshly ground pepper
2-3
cloves
garlic
peeled and finely minced
3
tablespoons
red wine vinegar
3/4
cup
best-quality olive oil
8
medium tomatoes
(1 1/2pounds/750 grams)
1
large cucumber
peeled, halved, and seeds scraped away
3/4
cup
pitted black olives
preferably kalamata
1
cup (80 grams)
packed coarsely chopped mixed fresh basil, mint, and flat-leaf parsley,
1/2
pound (250 grams)
feta cheese,
1. Preheat the oven to 400ºF (200ºC) degrees. Spread the torn bread pieces on a baking sheet and toast until deep golden brown, about 15 minutes. Stir once or twice as they're toasting. Set aside to cool.
2. In a large bowl, whisk together the mustard, salt, pepper, garlic, and vinegar. Add the diced onion and let sit for at least 30 minutes. Stir in the olive oil. Remove the stems from the tomatoes and cut into 1-inch (3 cm) pieces. Cut the cucumber into ½-inch (1½ cm) pieces.
3. Add the tomatoes and cucumbers to the bowl with the dressing. Add the bread, olives and fresh herbs and toss well. Taste, and add additional salt, oil, and vinegar to your liking. Crumble the feta over the top in large chunks and toss briefly.
Note: I don't precisely measure herbs for this, so feel free to use lots and lots. The more the better!