Breakfast Martini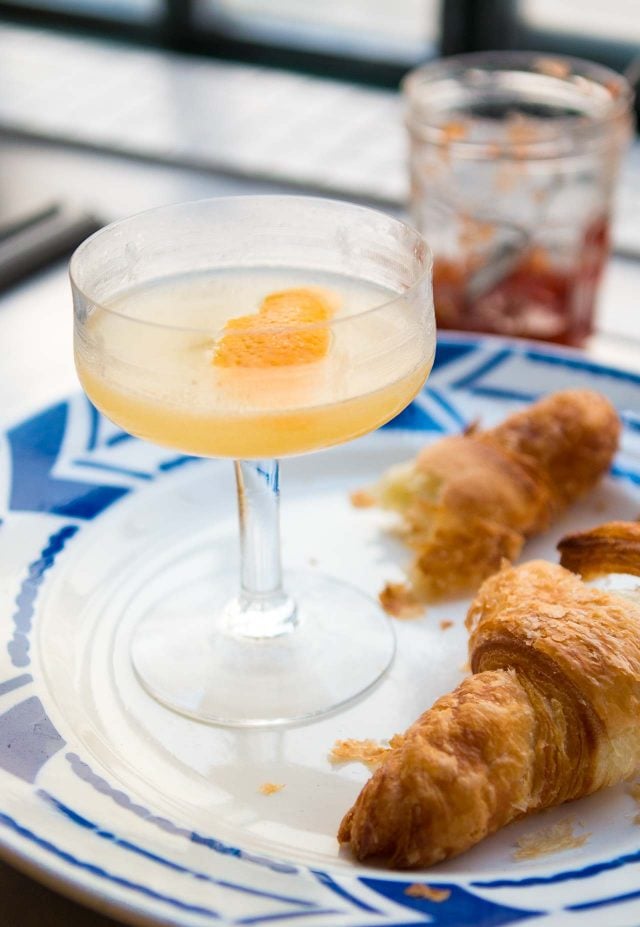 I don't go to many press events. It's not that I don't like getting to taste new and interesting things, or check out restaurants before they open and to get a glimpse of what they're going to do. But I prefer to go and have a relaxing time, and to enjoy and experience the place as a customer would. Another thing that's challenging about press events is that they can sometimes be a scrum, as anywhere where there's complimentary food or drink involved.
That happened to me when I attended a cocktail soirée at a very posh hotel. I was personally invited by the publicist and the bartender was quite well-known and quite competent. And as I found out when I arrived, also quite dashing.
I was fortunate to get seated at the bar purposely (I assumed) by someone at the hotel, so I would be able to get a good view of the action, and maybe take some nice pictures. Ten minutes passed while I timidly attempted to get the barman's attention. (It's a little awkward when drinks are on the house, to flag someone down to make you one.) While I was waiting, a magnificently arranged plate of bar food was set in front of me, which suddenly whisked away before I could get a taste and given to someone else at the other end of the bar, with no explanation. (Someone told me that when you turn sixty, you become invisible. But this was a couple of years ago, before I became a fantôme.)
As I fondled the barre d'énergie I sometimes carry around in my messenger bag for hunger pangs, I noticed servers circling the floor with sample-sized cocktails, so I gave up my coveted stool to try one. French servers can be remarkably adept at avoiding customers when they want to, and these folks were pros. Not being super aggressive, I wound my way toward the servers holding the trays laden with drinks so I could taste one.
Alas, I was no match for them as they all nimbly managed to elude me just as I got near to them. So I gave up and decided it was time to leave. I thought it would be polite to congratulate the bartender on his success (in France, leaving without saying goodbye is a no-no), but he was surrounded by a gaggle of women and I had little chance of getting closer than I was, so I split. As I was walking to the lobby of the hotel, a publicist sprinted toward me, asking if I had enjoyed myself.
I'm not really one to hold grudges…okay, wait, who am I kidding? I told her I was sorry not to be able to taste any of the drink and left to meet up with Romain for a hot bowl of ramen, a little steamed myself. Fortunately, there's nothing that a bowl of noodles can't iron out but I'm still irked by it and now are wary of those kinds of events. Before that, there was another incident where I was invited to a restaurant opening but almost refused entry at the door by the gruff publicist, who demanded to know what publication I was going to "place" my article" in. She grudgingly let me in, but I didn't exactly feel welcome. (Why invite people if you don't want them to come?)
Anyhow…before I left that hotel bar, one thing I saw that they were serving were Breakfast Martinis. It wasn't morning, but I'm sure they get their name for a dab of orange marmalade added to the shaker. Fortunately, I have no gatekeepers at home, and it was a breeze to shake one up, and enjoy in the comfort of my own confines.
1
teaspoon
orange marmalade
1/2
ounce
freshly squeezed lemon juice
1 3/4
ounces
London Dry gin
1/2
ounce
Grand Marnier or Cointreau
orange twist,
for garnish
1. Muddle the marmalade with the lemon juice in a cocktail shaker until the orange bits in the marmalade are liquefied.
2. Add the gin and Grand Marnier to the shaker. Fill with ice and shake until well chilled.
3. Open the shaker and strain the drink through a mesh sieve into a chilled coupe or martini glass. Hold the orange twist over the top of the drink and twist it to release the oil over the surface of the cocktail. Drop the orange twist into the glass, and serve.