Apple Blackberry Slab Pie
Summer has just started and temperatures have been hovering close to 100ºF (37ºC). It's been hard to stay cool but I've learned that temperatures are lower first thing in the morning, so I wake up earlier and get some tasks out of the way before the full blast of heat begins to slowly roast me, and my kitchen.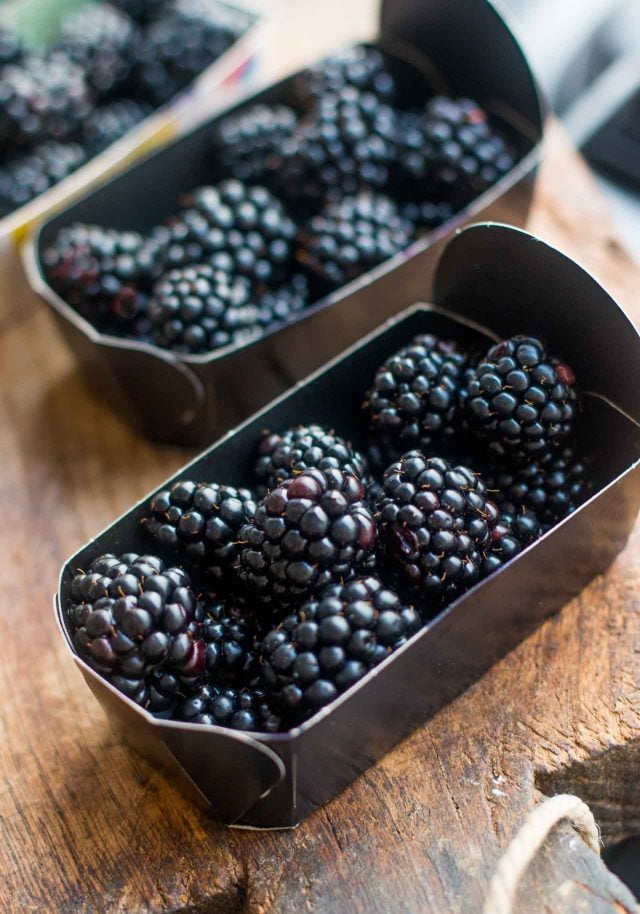 The other thing that's hitting us at full blast is the deluge of summer fruits. There are so many nectarines, peaches, cherries, and strawberries at the market that I don't know what to do with them all. And melons and plums are just around the corner, too. So it was odd that I found myself with a windfall of apples.
A neighbor gave me some Pink Lady apples that were leftover from a job he was working on that required apples (stylists often have to create scenarios months ahead for print publications), and although it's not exactly apple season, being frugal and anti-gaspillage (anti-food waste) are year-round activities. I didn't want to see them go to waste, so in spite of the withering temperatures, I decided to bake them all up in a big, generous slab pie.
People don't often pair apples and blackberries, but sometimes (and in some places) serendipity finds them available in the same season, such as in the fall, when Gravenstein apples arrive in Northern California while blackberries are still lingering. Apples go so well together with rich, inky blackberries that you might start hoarding blackberries in your freezer if you go picking this summer, just to make this come fall or winter.
But here I was, in the midst of a canicule (heatwave), cutting butter to make pie dough at 6:41am, and racing to get it into the refrigerator, to make my pie.
Being a line cook for many years inured me to cooking and baking in crazy-hot temperatures, and I can tackle anything, any time of the year, no matter what condition I am in. I've put out food while tending ovens in kitchen temperatures that soared to 110ºF (43ºC), after being revived after nearly fainting from badly cutting myself, and once when I was so dizzy from a (non-contagious) malady that I almost fell over several times while doing my shift. But as long as I am vertical, I can – and will – cook.
Working quickly while making and rolling the dough, and assembling the pie, I didn't have any problems, although by the time it came to crimp the edges of the dough to enclose the apples, things were getting a little sticky, so I didn't spend too much time on a fancy finish. Instead, I focused on getting the pie into the oven and 45 minutes later, pulled out a golden brown slab of buttery dough with a crunchy sugar topping, enclosing a thick, bubbly fruit filling, that was begging for a scoop of Vanilla Ice Cream. So I gave in.
| | |
| --- | --- |
| Apple Blackberry Slab Pie | Print Recipe |
You'll need about 6 pounds (2,75kg) to end up with the right amount of apples. You can use fresh or frozen blackberries. If using frozen, don't defrost before using. In the winter months, especially if you want to make this holiday-friendly, feel free to replace the blackberries with a few handfuls of fresh or frozen cranberries, or scatter bits of traditional mincemeat or quick mincemeat over the apple filling before covering the pie with the top layer of dough. I don't use too much sugar in the pie but if you have very tart apples, or like a sweeter filling, you can use 1 cup (200g) of sugar. I like to sprinkle the top generously with granulated (free-flowing) natural sugar, which goes by several names, but it's darker in color than white sugar and the large crystals give the pie a supremely satisfying crunch. Turbinado or demerara sugar fall into that category; in France, it's called cassonade. French people don't habitually add cinnamon to apple desserts, but if you'd like to do it, you're welcome to add a dusting of it to the apple and blackberry filling mixture.
For the dough
2
tablespoons
granulated sugar
1
teaspoon
baking powder,
preferably aluminum-free
1 1/2
cups (12 ounces, 340g)
unsalted butter,
cubed and chilled
2/3
cup (160ml)
ice water,
plus more if necessary
For the filling
12
cups (3 pounds, 1,3kg)
peeled, sliced or cubed apples
2-3
cups (8-12 ounces, 225-340g)
blackberries
2/3
cup (170g)
granulated sugar
4
teaspoons
freshly squeezed lemon juice
2
tablespoons
Calvados, Cognac, or brandy,
or 2 teaspoons vanilla extract
For finishing the pie
3-4
tablespoons
granulated natural sugar (see headnote),
or granulated sugar
To make the dough
1. In a stand mixer fitted with the paddle attachment (or by hand in the large bowl using a pastry blender) mix the flour, sugar, salt, and baking powder. Add the cubed butter and mix on medium speed until the butter is broken up into pieces the size of corn kernels. Add the water and continue to mix until the dough just starts to come together. Use your hands to gather the dough into one cohesive mass. (If it feels dry, you can add more ice water, 1 tablespoon at a time, until it's wet enough to hold together, but don't overdo it.) Divide the dough in two and shape each piece of dough into a rough rectangle about 1-inch (3cm) high. Wrap each piece of dough in plastic wrap and chill for a few hours, or overnight.
To make the filling and assemble the pie
2. In a large bowl, mix together the apples, blackberries, sugar, cornstarch, lemon juice, and Calvados or vanilla extract.
3. Preheat the oven to 375ºF (190ºC). Have a rimmed baking sheet ready that's approximately 18 x 13-inches (46 x 33cm).
4. On a lightly floured surface, roll one rectangle of the dough so that it's a little larger than the dimensions of the baking sheet. Transfer the dough to the baking sheet; it may help folding it in half before lifting the dough, then unfolding it once you've got it in the pan. Spread the apple and blackberry mixture over the dough.
5. Roll the remaining rectangle of dough so it's also a little larger than the baking sheet, then drape the dough over the apples. Fold the excess overhang of dough around the edges of the pan underneath the pie then crimp the edges. Make 8 slits in the top of the pie with the tip of a paring knife.
6. Mix the egg and milk together then brush the egg wash over the top of the pie. Sprinkle liberally with the granulated natural sugar then bake the pie until it's deep golden brown on top and thick juices are bubbling from the slits in the top of the pie, about 45 minutes. (Note: I didn't have this issue but you may want to line the oven rack you'll be baking on with foil, or the rack underneath, before baking the pie, to catch any sticky juices that may bubble over.)
7. Let the pie cool a little before slicing.
Serving: Serve the pie warm or at room temperature with a favorite ice cream, such as Vanilla Ice Cream or Cinnamon Ice Cream.
Storage: The dough can be made up to three days in advance and refrigerated. It can also be frozen for up to two months. The pie will keep for up to three days at room temperature but the dough will become less-crisp after the first day.