Chocolate Pecan Slab Pie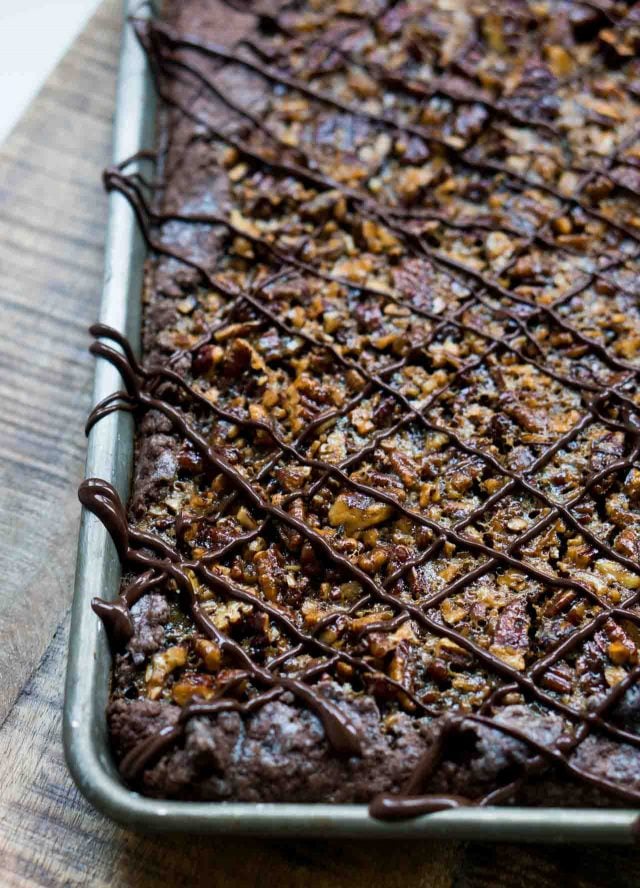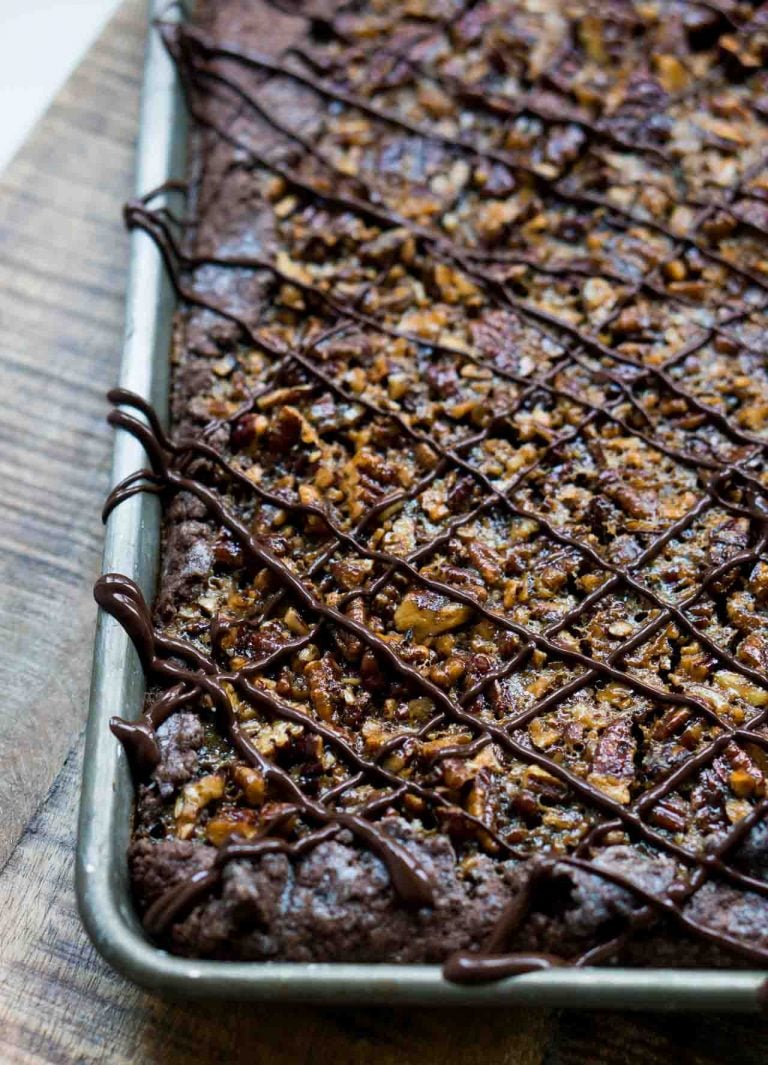 Pecans are the great American nut and at no time of the year are they more in demand than around the holidays. There are a lot of different nuts grown in the United States; walnuts, almonds, pistachios, and hazelnuts, but a pie made with toasted pecans is a holiday tradition and every year I have the urge to make one.
Recently an American membership-only store opened in France, and while there are many French hypermarchés (mega-stores), this one caused a splash, particularly amongst Americans, because they have things like big rolls of their famous plastic wrap with that superlative cutter, IPA beers, and from what I hear, big bags of pecans.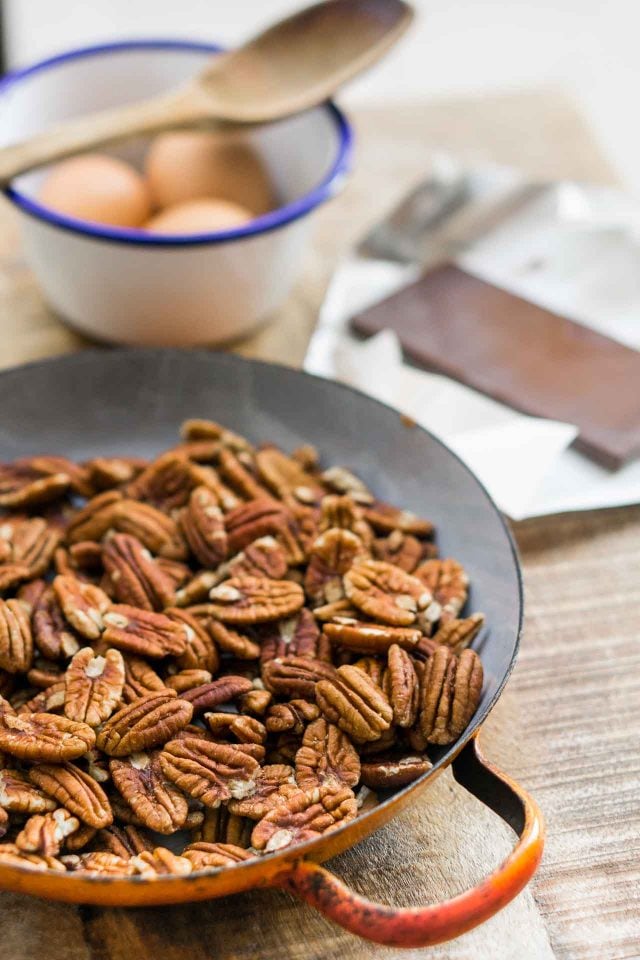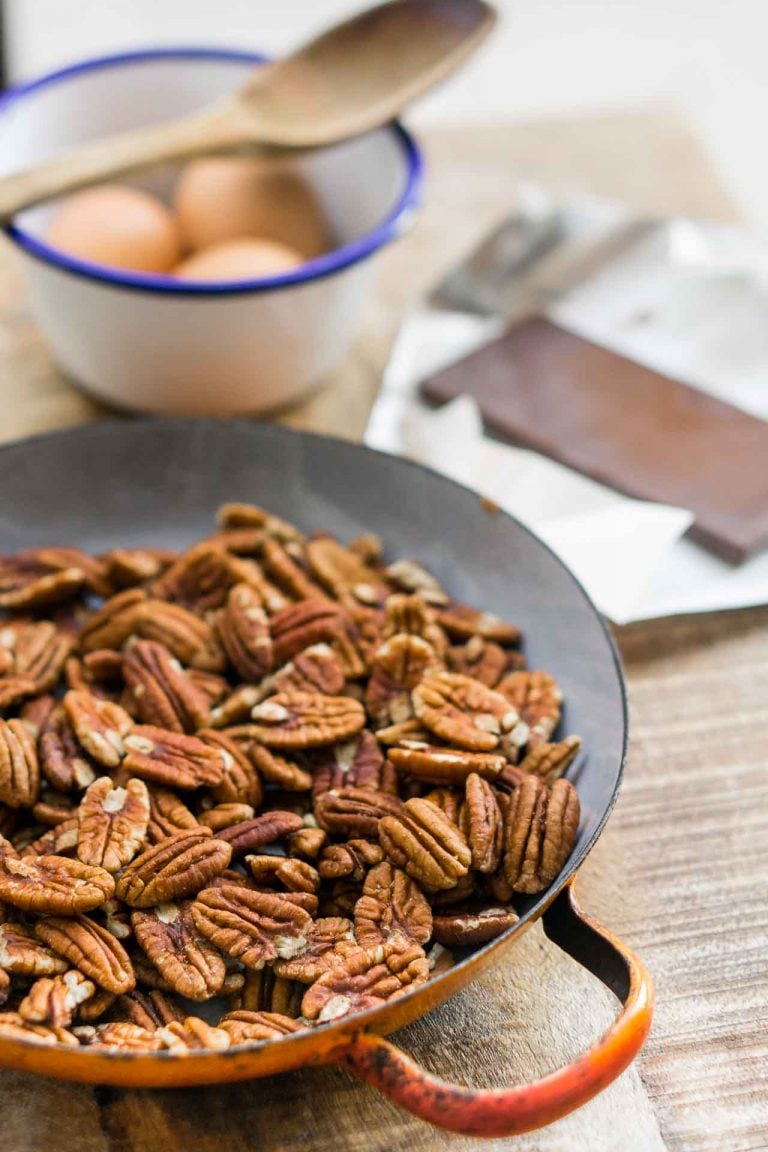 There's always been Metro, a similar mega-store that carries more restaurant-supply items. But there's a huge refrigerator filled with every kind of French cheese (and butter) that you can imagine, sold whole (like an entire wheel of Brie) or butter in large blocks, and they give you down jackets to wear because you want to spend so much time in there. It really is that cold. But you need to be a professional to go there.
I don't have room for an entire wheel of Brie – and I'm not talking about in my stomach (which I'd be up for trying…), but in my refrigerator – but I do have room for pecans, which I stockpile as the holidays get closer and closer. Over the years, I've made Ginger Pecan Pie and Chocolate Pecan Pie with my precious pecans that I haul back from the States because I'm not schlepping out to the boonies on the outskirts of Paris to get a bag of pecans when I can carry them 5500 miles over the Atlantic. (And sometimes pay extra in luggage fees.) That makes sense. Right?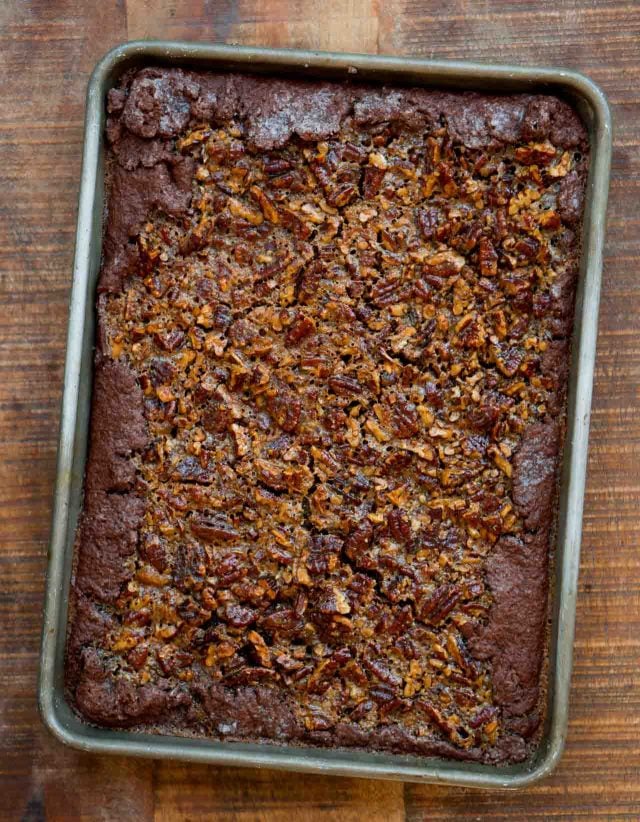 So when I do use them, I made sure they're going into something that's going to be a sure-fire hit. I got a copy of Pie Squared from Cathy Barrow, who's very adept at baking. And this one was a winner.
The one thing that you will need is a quarter sheet pan. She and I must've been on the same page because a few months back, I suggested everyone get one since I'm enamored of mine.
People say, "I hate to say I told you so…" but have no idea what they're talking about because I love saying that. And if you got one of those pans, I told you so, and you're probably glad that you did because they have so many uses, including for making slab pies. (Although if you didn't, in her book, she gives instructions how to hack a standard baking sheet.)
Speaking of hacking, the rich chocolate dough was a little sticky to roll out. Cathy recommended rolling it in a good amount of powdered sugar. Unfortunately, my kitchen counter started looking like a blow bust, so I pulled out two large sheets of parchment paper and rolled the dough between them, which worked great.
The edges will be a little rustic, but that's okay – in spite of what people say, you don't eat with your eyes. Which would be a pretty astounding feat, so I'll stick with my mouth
I still haven't mastered the art of taking pictures of myself doing things like rolling out dough, digging my hands in flour, or scribbling tarts and pies with chocolate (when I try to do it on Instagram stores, it never ends well for me…or my iPhone) but the final results were greatly enjoyed.
| | |
| --- | --- |
| Chocolate Pecan Slab Pie | Print Recipe |
Adapted from Pie Squared: Irresistibly Easy Sweet & Savory Slab Pies by Cathy Barrow Cathy recommends baking this slab pie on a pizza steel, which I happen to have, and they work great. If not, you can use a pizza stone or over an inverted baking sheet, to evenly distribute the heat. She wrote a whole book on slab pies, and I figured extensive testing revealed those to be the best workarounds. She also makes her dough in the food processor, freezing the cubes of butter first. If you want to go that route, you can. Speaking of the dough, the recipe uses natural unsweetened cocoa powder, which in the U.S., is what you find in the supermarket, such as Hershey's. You can also find natural cocoa powder made by bean-to-bar companies like Guittard, Askinoise, and others. I asked her about using Dutch-process cocoa powder, which is what's usually available outside the U.S. (and, of course, it's available within) and she said it made the dough gummy and difficult to deal with. We didn't hash out why, but since she told me she tested it to death and it didn't work for her, I recommend only using natural cocoa powder. (If you try it with Dutch-process cocoa powder, let me know your results in the comments. UPDATE: A reader made the dough with Dutch-process cocoa powder and said in the comments below this post that it worked just fine.) For more on cocoa powder, check my post, Cocoa Powder FAQs. If you want to skip the chocolate crust, you can use a favorite pie crust recipe or even a store-bought one, if you're so inclined. For information on tracking down ingredients in France, like brown sugar, molasses, maple syrup, and more, check my post, American Baking in Paris.
For the chocolate crust
3
tablespoons (18g)
natural unsweetened cocoa powder,
not Dutch process (see headnote)
3
tablespoons
granulated sugar
8
tablespoons (4 ounces, 115g)
unsalted butter,
cubed and chilled
1/4
cup (60ml)
cold coffee (or water)
For the pecan pie filling
6
tablespoons (3 ounces, 85g)
unsalted butter,
cubed
1 1/4
cups (270g)
packed dark brown sugar
1/4
cup (80g)
maple syrup
1/4
cup (80g)
dark corn syrup, sorghum syrup, golden syrup, or light molasses
2
tablespoons
bourbon
(optional, but excellent)
1/2
teaspoon
kosher or flaky sea salt
1
teaspoon
vanilla extract
3
large
eggs,
at room temperature
3
cups (330g)
toasted pecans,
coarsely chopped
2
ounces (55g)
bittersweet or semisweet chocolate,
chopped
To make the crust
1. In the bowl of a stand mixer fitted with the paddle attachment, mix together the flour, cocoa powder, granulated sugar, and salt. (You can also make this in a medium bowl using a pastry blender, or a food processor. See headnote for tips on using a food processor.)
2. Add the 8 tablespoons (115g) of butter and mix at medium speed, until the butter is broken down into pieces the size of small peas. Add the coffee and mix until the dough comes together. Stop the mixer and knead it a couple of times with your hands, only enough to shape it into a smooth rectangle; do not over knead the dough. Wrap the dough in plastic and chill the dough for at least 4 hours. (The dough can be made up to 2 days in advance and refrigerated, or frozen for up to two months.)
3. Roll the dough by placing the rectangle of dough between two large sheets of parchment paper, until the dough is a 11- by 15-inch (28 by 38cm) rectangle. Carefully peel the top piece of paper off of the dough (if it's difficult, it may help to chill the dough on a baking sheet), and overturn the dough onto a quarter baking sheet. Remove the other piece of parchment paper and use your fingers to coax the dough into the pan, gently making sure it's well-fitted into the corners and the sides, leaving any excess dough overhanging the sides. Refrigerate the pan with the dough in it.
To make the pecan filling
1. Preheat the oven to 350ºF (180ºC). If you have a baking steel or stone, put it on the middle rack of the oven. Otherwise invert a rimmed baking sheet, if you have one, on the rack to even out the heat. If you don't have any of those, it's okay to bake the pie without it. Melt the 6 tablespoons of butter in a saucepan over medium heat until it starts to foam. Add the brown sugar, corn syrup (or another liquid sweetener), and maple syrup and stir until smooth. Remove from heat and let cool until tepid, about 5 minutes.
2. Whisk in the the bourbon (if using), salt, and vanilla. Then whisk in the eggs one by one, until they're completely incorporated. Stir in the chopped pecans.
3. Scrape the pecan filling into the prepared pie shell, fold the overhang of dough over the pecan filling, and bake on the prepared middle rack of the oven until the center feels almost set in the center. Mine took 30 minutes, although in her book, Cathy says it'll take 55 minutes, so start checking it at the 30 minute mark.
4. Remove the pecan pie from the oven and let cool completely.
5. Melt the chocolate in a small, absolutely dry, heatproof bowl set over a pan of barely simmering water, stirring until smooth. Transfer the melted chocolate to a pastry bag fitted with a small plain tip, or into a sturdy zip-top bag. Snip off one of the corners of the plastic bag, or use the pastry bag fitted with a tip, to scribble the chocolate over the pie. Refrigerate the pie until the chocolate has firmed up. (Alternately, you could serve it with soft chocolate on top.)
Serving: Serve the pie on its own, or with whipped cream, vanilla ice cream, or cinnamon ice cream.
Storage: The pie can be made 3 or 4 days in advance, and kept at room temperature or refrigerated.