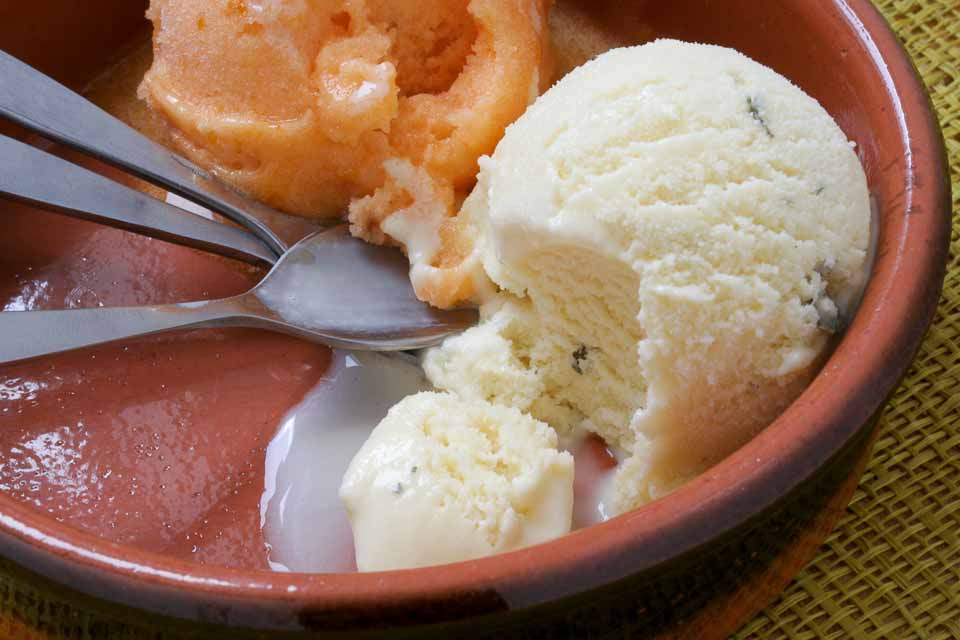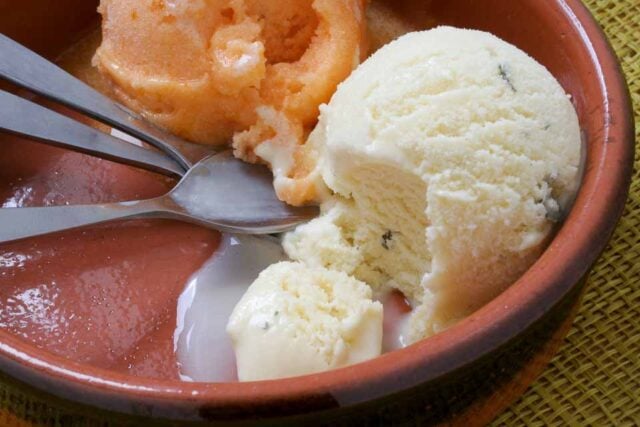 Lest you think this is turning into a blog about obscure, leafy ingredients, you might be right. But when I sniffed the very fragrant leaves of lemon verbena, or verveine, growing out-of-control at my friend Trisha's house near Nice, and she told me to take as much as I wanted home, I dove for the clippers. And almost as soon as I got home, to preserve the taste, I infused them and churned up a batch of lemon verbena ice cream.
French people drink infusions and tisanes after dinner, which in English, we simply refer to as "herb teas." But in France, what they call "tea" has black tea in it. Infusions and tisanes are made with herbs or other greenery.
Yet Arabic mint tea is called "tea" by the masses, and while it usually has some green tea in it, I can't figure out the differentiation between "tea" made with leaves and "infusion" made with leaves.
But it's funny to see visitors from my mother-land try the explain to café waiters that they want "lemon verbena tea", because French people have no idea what they're talking about. (I shouldn't laugh; it's a position I'm all-too-familiar with.) So I'm not picking on anyone. I'm just doing my duty here as an unofficial ambassador, without the awesome perks our highly-paid ambassadors are privy to. A situation which is grossly-unfair, if you ask me.
And you are probably asking yourselves how someone can begin to write a recipe for ice cream and go from language quirks to cultural differences, then touch on overpaid political appointments, to hot, soothing beverages before finally touching back down on botanical variations in leaves in a couple of short paragraphs. It's something that also confounds editors across the country. But lord love 'em, they still hire me. Rarely—but some a have a soft spot for me. And God bless 'em; the rest don't know what they're missing. Really.
(Note to self: I must someday learn to write recipes that begin with, "This refreshing dessert goes well with so many delightful things, like…")
Lemon verbena ice cream is a refreshing dessert that goes with so many delightful things, like apricot sorbet as well as fresh or stewed berries, apricots and plums. I would also imagine it would be curiously delicious served with a scoop of Lemon Sherbet as well, both providing their own unique lemony compliment to each other. See? I can do it if I really try. I guess there's hope for me yet.
Lemon Verbena Ice Cream
Since I'm in the people-pleasing mode, although I squirreled away a bunch of lemon verbena from my friend's shrub, you can probably find some if you ask friends, or at your local farmer's market or well-stocked grocers. You could equal parts fresh mint instead.
1 1/2

cups (10g)

loosely-packed fresh lemon verbena leaves

,

rinsed & dried

1 1/2

cups (375ml)

whole milk

1 1/2

cups (375ml)

heavy cream

3/4

cup (150g)

sugar

pinch

of salt

6

large egg yolks

optional: a dried leaf of lemon verbena

,

to crumble in the just-churned ice cream, or a very-finely chopped fresh leaf
In a medium saucepan, warm the lemon verbena leaves with the milk, 1/2 cup (125ml) of the cream, the sugar, and a pinch of salt.

Once warm, remove from heat, cover, and let steep for one hour.

To make the ice cream custard, pour the remaining cream into a large bowl set in a larger bowl of ice water, and put a mesh strainer on top.

Use a strainer or slotted spoon to skim the lemon verbena from the cream & milk mixture and squeeze the leaves to extract as much liquid as possible back into the saucepan, then discard them. Rewarm the lemon verbena-infused cream & milk, then

In a separate bowl, whisk the eggs together in a small bowl and slowly pour in the warm infusion, whisking constantly.

Scrape the warmed egg yolks back into the saucepan and cook, stirring continuously with a heatproof spatula, until the custard leaves a trail on the spatula when you drag your finger across it. (If using a thermometer, it should read about 175ºF, or 79ºC.)

Immediately strain the custard into the bowl of cream. Stir until cool.

Chill thoroughly, then freeze in your ice cream maker according to the manufacturer's instructions. When done, crumble a dried verbena leaf in the ice cream, or finely-chop a fresh leaf and stir that in.
Related:
Making ice cream without a machine
Candied bacon ice cream (recipe)
Tips for making softer homemade ice cream
Easy no-churn chocolate ice cream (recipe)
Salted Butter Caramel ice cream (recipe)