Chocolate Pecan Pie
I'd been planning on making a pecan pie this year for Thanksgiving, but unfortunately, the list of ingredients sent me on a little scavenger hunt around here, as American baking in a foreign country can do. And in spite of my best efforts, I didn't quite make it.
The first issue was I opened a big bag of pecans that were brought o me by a friend in the states, which had gone beyond and unfortunately had to get dumped. (Readers often remind me to put nuts in the freezer, which of course, I know. But they obviously haven't seen my very un-American sized freezer.)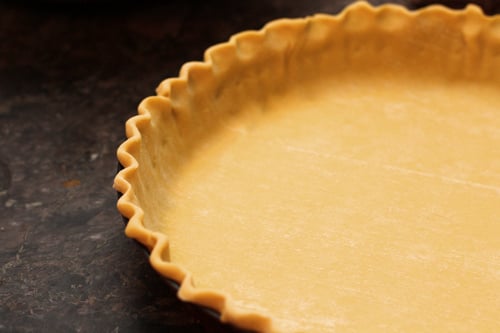 I also wanted to track down some rice syrup. Most classic pecan pie recipes use corn syrup and I wanted to give it a try with something different this time around to avoid the widespread panic.
Lastly, and most importantly, I didn't have a pie plate. On trips back to the states, I've brought back cake pans and loaf pans and muffin tins in various sizes, but I realized that I'd never slipped a pie tin in my suitcase. So I used a French tart pan but I do prefer a more traditional, higher pie, and a pie plate is on my list for my next trip back.
But time was wasting so I used a high-sided tart pan, which didn't hold a fluted edge quite as nice as a pie plate, but the pie came out great. A few years back someone told me they tried to slice this pie while it was still hot and it didn't slice evenly. Like any pecan pie, you should wait until it's completely cool before taking a knife to it and it's one of those pies that I don't think is really any better when warm.
When I was learning to make pie thirty or so years ago from my friend's Norwegian grandmother, the dough was falling apart and crumbly. And I remember her words every time I make dough—"Pie dough that holds together doesn't taste very good."
Which was good to know because speaking of broken, I was so excited to eat a slice of this pie, I greedily grabbed a fork after I took the photo which resulted in a broken Heath plate, a chocolate-brown rectangular one, which was one of my favorites that I brought when I moved here from San Francisco.
So along with a pie tin, I think I need to add a replacement Heath plate to my list for my next trip back to the states. Along with pecans, too. Although I think I'll wait until closer to the date next year to get those pecans. It's going to take me that long to get over mourning the loss of 2-pounds of pecans anyways and I'm not quite ready to revisit that scenario. It's one day at a time around here. Or one replacement at a time, I should say.
| | |
| --- | --- |
| Chocolate Pecan Pie | Print Recipe |
I often prefer to use chopped chocolate in place of standard chocolate chips in recipes because in this case, the chips work a little better because they have less cocoa butter and make the pie easier to slice. But feel free to use either.I don't pre-baked the pie dough before adding the filling—I like the way to sticky filling fuses to the crust during baking. The generous dose of bourbon cuts the sweetness of the pie and if you choose omit it, expect the pie to be denser. You can swap out another liquor in place of it if you wish.
The crust:
4
ounces (115g)
unsalted butter,
chilled, and cut into 1-inch (3cm) cubes
4
tablespoons (60ml)
ice water
The chocolate-pecan filling:
3/4
cup (150g)
packed dark brown sugar
2/3
cup (200g)
light corn syrup,
rice syrup or golden syrup
1
teaspoon
vanilla extract
2
tablespoons (30g)
melted butter,
salted or unsalted
1 2/3
cups (190g)
toasted pecans,
very coarsely chopped
3/4
cup (120g)
bittersweet or semisweet chocolate chips
1. To make the crust, mix together the flour, salt, and sugar in a bowl or in a stand mixer with the paddle attachment. (Or use a food processor.)
2. Add the cubed butter and mix until the butter pieces are broken up and about the size of small peas.
3. Add the ice water and mix just until the dough comes together. Form the dough into a disk, wrap in plastic, and chill for at least 30 minutes.
4. Roll the dough on a lightly floured surface into a 12-inch (30cm) round. Transfer the dough into a 9-inch ( cm) pie plate letting the dough ease into the pan, rather than pressing it in. Tuck the overhanging dough underneath the area above the rim of the pie plate, to create a double width of dough, then crimp the edges and refrigerate until ready to fill.
5. Preheat the oven to 375ºF (190ºC) and position the oven rack to the center of the oven.
6. In a large bowl, which together the eggs, brown sugar, syrup, vanilla, salt, melted butter, and bourbon.
7. Stir in the pecans and the chocolate chips then scrape the filling into the pie shell and bake for 30 to 35 minutes, or until the filling puffs up slightly but still feels slightly jiggly and moist in the center.
Let pie cool completely before slicing.
Serving: Vanilla ice cream or whipped cream is a good accompaniment to pecan pie. Storage: Dough can be made ahead and refrigerated for up to three days, or frozen for up to two months. The pie is best eaten the same day although will keep for up to three days, at room temperature.
Related Recipes and Links
When to Use, or Not Use, Corn Syrup