Paris Restaurants, Bistros, Cocktail Bars and Bakeries
Not a day goes by when I don't get a message requesting a restaurant recommendation in Paris. (Curiously, I also get asked for restaurant recommendations in cities I've never lived in, or even visited.) My promise to you is that I'll only write up or recommend places I've been to, and with apologies to all who've asked for restaurant recommendations on social media, if I answered every request and message, I wouldn't have time to write up this list for you. Or even go out to eat myself.
I do update my Paris restaurant list when I find a place I like. Similarly, when a restaurant or bistro isn't what it used to be, I remove it. When I do a more extensive write up of a place, you'll find it listed in my Paris restaurant categories. But other times, when I'm just going out to dinner, not toting my camera with me (and not remembering all the details the next day), I'll give it a more general shout-out on my Paris restaurant page. But here's a little more to add to that list, as well as some sweet shops and cocktail bars that are worthy of being on your radar.
Brasserie Bellanger (140, rue du Faubourg Poissonière, 10th) is one of the newer of the low(er)-priced bistros that have popped up in Paris over the last few years. The young owners promise everything is fresh and fait maison (homemade), which was a criticism rightly leveled at some of the old-school bistros that lost their luster, noting that the brasserie sources things directly from producers, which allows them to keep prices modest. Our vegetable-centric pollack (above) was nicely cooked, served on a heap of fresh vegetables. The frites we ordered alongside – because man cannot live by fish alone – were some of the best I've had in town. We finished with an Île flottante filled with mango puree and very good Paris-Brest. The staff is very friendly although if you choose a table outside, expect a majority of the neighboring tables to be occupied smokers.
Another place that I've been enjoying, where I've not taken a picture at, is Le Mermoz (16, rue Jean Mermoz, 8th). This starkly-decorated bistro allows you to focus on the food, which isn't just beautifully-presented, but it's perfectly prepared. A recent lunch started with a plate of lightly blanched green beans with fresh almonds and pickled apricots. Dessert was softly cooked cherries bathed in sabayon with cubes of Gâteau de Savoie and a sprinkling of fresh elderflowers. The focus is on quality of ingredients and preparation, rather than portion size, at least at lunch, when I've dined there. But it's usually enough for me.
I've written about les routiers before, French truck stops known for serving honest, no-nonsense fare, hearty enough for truckers, who need a decent meal to break up the monotony of being on the road. Aux Bons Crus in Paris probably doesn't get that many truckers, but locals like it because it serves honest French food without a lot of fuss. Recently three women next to us were thrilled to be able to get kidneys, while we shared a Frisée salad with lardons (bacon), rillettes (not my favorite dish on the menu), and œufs mayo, before digging into mains of straightforward French fare, everything intentionally priced to please camionneurs (truckers), and the rest of us.
Yup, I know it's not called Bo Bun, but that's what they call it in France. (And yes, in France, it's also café express, not an espresso.) If you have a problem with the language, take it up with the Académie Française. Whatever you call it, Bo Bun has become as popular at the Apérol Spritz around town, especially with the twenty-something set. But the one at Lux Café (73, rue Saint-Maur, no website) is different than others. The grilled rolls and pork (although it's available with fried tofu, and yes, with grilled pork the dish is traditionally referred to as Bun Cha) are on a bed of curled up sheets of noodles, rather than the traditional strands of vermicelli.
There's only one thing on the menu and the prices are higher than the other places around town, but I think it's worth it. If you want to walk up to Belleville, Dong Huong has a pretty good one, too. Actually, at Dong Huong I always get B12 on the menu, do-it-yourself rice paper rolls that you roll up with grilled chicken, fresh herbs, carrots, and rice noodles. It took me a while to get the hang of it; an older Vietnamese waiter saw me struggling the first time and came over to show me how it's done. Now, I'm almost a pro, although when I was in Vietnam, when I saw how deftly everyone make their rice paper rolls, and realized how much I still have to learn.
Also on my radar has been Poulette, perhaps the prettiest restaurant in Paris. We went for lunch and started with asparagus bathed in a Chartreuse-tinged mousseline and œufs mayo, then moved on to an outstanding plate of quail in a sauce of d'Anjou white wine with green peppercorns and fingerling potatoes. Happily, Poulette has fresh fruit juices made to order at the bar, if you're on lunch break and don't want to drink wine, but if you come in the evening (or if you're up for a little day-drinking), there's an especially strong list of house-made cocktails.
It was late afternoon when we arrived at Cravan (17, rue Jean de la Fontaine, 16th), so was happy to have a sip of one of the libations of Franck Audoux, the owner of this truly hole-in-the-wall café. But what a hole! Designed by Hector Guimard, who designed many of the art nouveau Paris métro stations, everything at Cravan is pretty, and perfect. I've not been during mealtime but I've tried a number of the small plates, which are a quite a change from the bowls of peanuts or potato chips served around town. (However, these aren't free.) I've loved everything I've had here, from the straightforward cocktails that focus on French spirits, like the Cognac-forward Boulevardier I had last week, but the snacks have always been excellent. The café is rather cozy, but the expansive terrace is a gorgeous place to sit in the warmer months.
I went shortly after it opened and Double Dragon (52, rue Saint-Maur, 11th) had a few kinks to work out. They didn't take reservations so we got there when they opened at 7pm, and there was already a line. The other was the music, which was pretty loud. Thankfully both have calmed down, however they still don't take reservations, and Double Dragon offers up Asian fare quite a few steps above the other places around town. Opened by the two sisters that operate Le Servan down the street, you'll find little pepper icons on the menu to let you know something is spicy. The server warned us against a few of those things on the menu, then heard my accent, and let me go ;)
The fritters (above) are tofu beignets lined with Comté cheese, served with a mayo-based XO sauce. The thrice-cooked beef with celery was very good, and the Sichuan noodles were, indeed, very spicy. But we both slurped them up.
An old favorite that I hope never changes is Le Petit Vendôme, known for having some of the best sandwiches in town. True, there are places to sit, but if you want to feel like a local, order a sandwich, saddle up the bar, order a glass of Burgundy, and enjoy the atmosphere…and le sandwich. The classic jambon-beurre here is renown.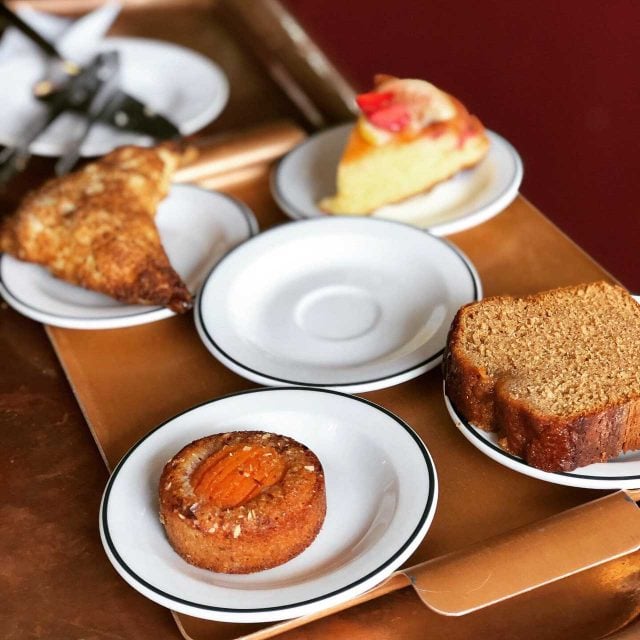 On the other end of the spectrum is La Fontaine de Belleville, a spiffy, well-polished French café, owned by Belleville Brûlerie, pioneers of the quality coffee movement in Paris. It's been restored and serving the legendary coffee that's roasted not far from the café, and you can also get a classic jambon-beurre sandwich and a Croque Monsieur, then finish up with one of the excellent house-made desserts. The Pain d'épice, shown above, goes great with a p'tit crème.
Further up the hill in Belleville, is La Cave de Belleville, a natural wine bar. Often these kinds of wine bars attract a hip crowd, who seems more interested in jumping out of their seats to grab a smoke outside, or check their Likes, rather than doing any serious eating. (I'm always amazed when a server puts down plates of hot food in front of people, and at that moment, they run outside.) Here, everyone stays put as the plates of cheese and charcuterie are hard to walk away from. The one shown (above) was dinner for three of us, along with a plate of burrata that was better than most versions around town. Wines are available by the glass or bottle, and the wine prices are remarkably reasonable.
On the sweet side, I went to a launch party for Aqua Vitae chocolates from Edwart. Edwin, the owner and chocolatier, loves liqueurs and spirits and his new collection of chocolates brilliantly incorporates them. Sometimes when people add liqueurs, they can be too faint to fully appreciate. But each chocolate in this assortment, which includes one blended with Glenfiddish whisky aged in IPA barrels, Del Maguey mezcal and Venezuelan chocolate, and the elusive Chartreuse végétal elixir (unavailable in the U.S., but comes in a handy wooden box for travel), boldly go where few chocolates dare to go. The collection is available for a limited time only.
The sign outside says "Depuis Hier," nothing that they've been open "since yesterday," The French Bastards have arrived on the Paris pastry scene. There are babkas and cruffins, as well as a formidable lemon meringue tart (which is meant to be for one, but I think it'd feed four), but their regular vienoisserie, the croissants and pains au chocolat (above), are outstanding. One day the exceptionally friendly bâtards called me into the kitchen and sliced into a slew of trial batches, to taste. Their croissants are larger than others around town, but as buttery flakes and shards flew around while we sampled, I learned that they've hit their stride and this is a bold new addition to the pâtisseries of Paris.
Starting a meal with a drink is a French tradition, during l'heure de l'apéro, or apéritif hour. This Kiss & Fly (above) at Mino was a refreshing twist on the spritz, a blend of Pimm's, lemon, ginger cordial, finished off with grapefruit soda and prosecco. While this is a very competent cocktail bar with friendly bartenders, the food is quite good, too. The menu changes frequently but the flavors (and decor) continue to be drawn from the Mediterranean.
Staying by the sea, the nautical theme at Copper Bay will take you away from being in a bustling city center, along with a line-up of seasonal cocktails shaken and stirred up by the friendly staff. There may be a Tipsy Tea, their interpretation of a Pimm's No. 1 Cup, or a Tzatziki, made with dill-infused vodka, basil, cucumber, and mastic spirit. You can also get artisan sparkling apple cider or pastis (with or without orgeat syrup), served by the glass, carafe, or even frozen.
Considered the oldest cocktail bar in Paris, Gallopin has expanded to the space next door, for the more casual La Rôtisserie Gallopin featuring cocktails on tap, created by one of the best bartenders in Paris, Stan Jouenne. His coffee-fueled Negroni combines Grand Brûlot coffee-Cognac liqueur, Salers (gentian) and Dolin vermouth, all from France, as the bar only uses French spirits. I haven't eaten at their rôtisserie yet (it just opened this week), but if this drink is any indication, we might both want to check out the food.
Someone requested the recipe for these Socca Chips on social media, which are available at the Fédération Française de l'Apéritif, which is like asking the recipe for Fritos. It's not going to happen, at least in anyone's home. (If you do have a recipe for Fritos, please forward it to me!) But as I often say, everything doesn't need to be available everywhere, all the time. It's often best just to go somewhere and enjoy it there, which holds especially true for the FFA, as this apéritif bar is called. Only French products line the shelves, including buckwheat galette (crêpe) chips, that are also "Recipe, please" worthy, and a changing selection of cheese and meats to go with whatever you're drinking.
Combat may seem like an unusual name for a Parisan bar (in my next book, I explain why), but you don't need to know why right now, you just need to go to what is one of my favorite cocktail bars in Paris. The drinks aren't over-the-top (thank you…) but straightforward, and delicious. For some reason, the bar height and size works perfectly for me; I always feel like I'm dining (or drinking) in someone's home, rather than in a bar. The cocktail I prefer is the Perfect Serve, above, with whiskey, dried pear, sherry, ume liqueur, and a touch of absinthe. The name is spot-on.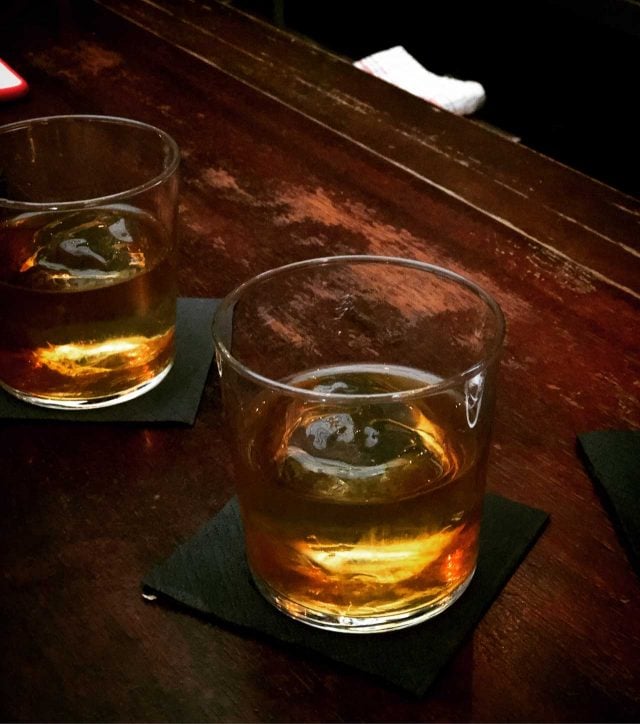 While I avoid the term "industry favorite," a number of bartenders in Paris have told me they like Sherry Butt. They've got a beguiling list of drinks, which changes, but I recently enjoyed a Ronin (above), with Japanese whisky, madiera infused with pandan (a tropical plant), oloroso sherry, Champagne, smoked sea and – whew – black salt. It sounded more complicated than it was, and I'm always amazed when a bartender can add a curiously diverse list of ingredients to a glass, and make it taste like simple liquid. That's a skill worth raising a glass to, which we did.