Caramel Flan
The name of one French dessert that people find confusing is crème caramel. Caramel-topped custards like this are called flan in Spanish, which confounds people who come to France and see a slice of flan in a bakery, that looks like (and is) a tart baked with a flour-stiffened custard, rather than the wobbly, caramel-topped custard that some of us are used to.
To confuse people further, the Breton term far is used for flan in French, such as in the case of Far Breton. So while the nomenclature of the other desserts, from here, there and everywhere, might be confusing in France – and in French, a crème caramel – also called crème renversée, is usually what they are called in French, not flan.
(People ask why learning a language is so hard. That little lesson right there was just for one single mound of custard on a plate.)
This was my first time baking a crème caramel, or crème renversée, in a loaf pan, which intrigued me, since I had never baked flan, I mean…crème caramel, in a rectangular pan before.
Another thing that intrigued me was the book that inspired the recipe, Les Routiers: Les meilleures recettes. A French friend enthusiastically recommended the book to me, so I picked up a copy. According to the book, there are over one thousand routiers (truck stops), in France, where one gets a "bon accueil, qualité irréprochable et prix en rapport" – "a nice welcome, irreproachable quality and good value for the price."
The opening of the book also lauds the restaurants as offering cuisine maison, a fairly new signifier used in France to describe a restaurant that makes the food on the premises from fresh ingredients.
Flipping through the pages, I immediately saw why she recommended this book to me: It showed a side of France that's seldom seen, or given much attention, unless you're driving around the country and stop at a truck stop for a meal. But if you mention les routiers to a French person, many will smile with a bit of nostalgia as they probably stopped in one as a road trip as a child.
The truck drivers in France are known for liking good, hearty food, and there's everything on the pages here. I was going to share Jambon persillé (below), long-cooked pork that's jelled in a mold, but it called for one liter (~1qt) of wine and 2 liters of beef or chicken stock, and made two terrines, which, unless you were running a truck stop, might have a hard time finishing off. For those who like storage information, note there's no information on how long something will keep or can it be frozen; this kind of food is meant to be served as soon as it's ready, and in generous portions.
There were also Rognons de veau (veal kidneys), which I didn't know if you'd like, to a Strawberry Bavarian made with boudoirs, which I had to ask someone what those were, since I always thought a boudoir was a woman's salon or bedroom. They're ladyfingers – another reason learning a language is so hard. And since I've made a few embarrassing blunder relating to restrooms and genitalia before around here, I decided to skip that as well.
So I landed on the Flan au caramel, which I was surprised to see called that since I'd never seen the caramel-topped custard referred to that way in Paris. I was worried I was going to have to delete everything I carefully explained earlier in the post, until I saw that the recipe was from a truck stop in the Southwest of France, close to Spain. Whew, that was close…
I've made a lot of crème caramels in my life and usually use milk as a base, which the recipe in the book used as well. It also had 200g (1 cup) of sugar, which seemed like a lot for a dessert that gets its sweetness from the liquid caramel which is baked on the bottom, and becomes the top once you turn it over. The recipe also called for caramel liquid, which is something you can buy in France. And then I looked at some of the recipes on that company's website, and saw a recipe for Flan au caramel, too, and decided that maybe it was time to leave explaining French desserts to someone else ; )
In addition to my concern about the name of this dessert, I was concerned that it wouldn't be cooked after 1 hour at 100ºC (212ºF), which was recommended by the recipe, which seemed low for such a dense custard, baked in a water bath.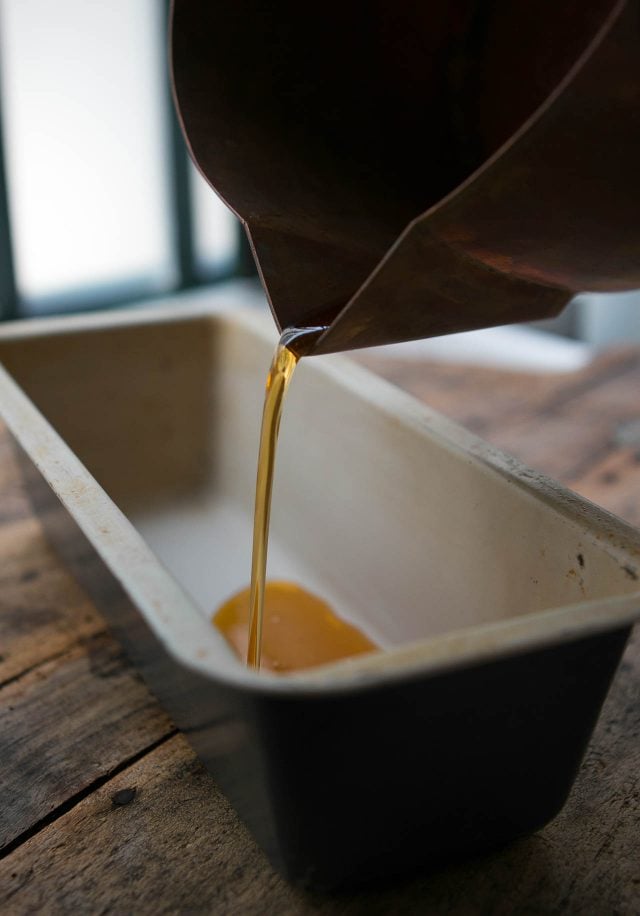 So I made it a few times, including one version using sweetened condensed milk (below), since lait condensé is such a favorite in France that it's sold in toothpaste-like tubes, often enjoyed by squeezing it directly into your mouth. It's such a treat that they even sell "pocket" versions flavored with strawberry and vanilla, which you can carry around like Americans tote around chapstick.
The version made with condensed milk was hard to cut and quite sweet, even though I reduced the sugar, so I stuck to my maison version, using whole milk, fresh, free-range eggs, and a vanilla bean. When all was said and done, to give my brain a rest, I went at a café and saw Flan au caramel on the menu. So perhaps I'm thinking, or more like overthinking the name, and from now on, will just focus on the dessert itself – whatever you want to call it.
| | |
| --- | --- |
| Caramel Flan | Print Recipe |
Inspired by Le Routiers: Les meilleures recettes (Tana) by Isabel Lepage I made many tweaks to the original recipe, including making my own caramel, rather than using store-bought caramel. An issue that vexes people is getting all the caramel that's stuck to the pan out, after they've released the custard. One strategy is after you unmold the caramel, put the empty mold back in a hot water bath and let it stand to soften the caramel, then scrape out what you can. For further instructions and details on making caramel, check out my post, How to Make the Perfect Caramel. Vanilla happens to be quite expensive at the moment, so if you don't have beans, you can use extract. I do like seeing the little seeds of vanilla in the creme caramel, but extract will provide a similar flavor.
For the custard
8
large
eggs,
at room temperature
3 1/4
cups (800ml)
whole milk
1
vanilla bean,
split lengthwise, or 1 1/2 teaspoon vanilla extract
1. Lightly butter a 9-inch (23cm) loaf pan. Have a pan or baking dish with high sides ready, that's larger than the loaf pan, for making a bain-marie (water bath) to bake the custard in. A roasting pan or large baking dish works well.
2. To make the caramel, spread the 1 cup (200g) of sugar in an even layer in a skillet. Pour the water over it and add a few drops of lemon juice. Cook the sugar over medium-high heat, swirling the pan only as necessary, to let the water moisten the sugar, and so it cooks evenly. (Avoid stirring or over-swirling; excessive movement can cause the sugar to crystallize.)
3. When the sugar is liquefied, and starts to turn a deep amber color and begins to smoke, remove it from the heat and pour the caramel into the buttered mold. Tilt the mold so the caramel coats the bottom evenly, being careful with the very hot caramel. Set aside to let cool.
4. Preheat the oven to 300ºF (150ºC).
5. Whisk the eggs and 2/3 cup (130g) of sugar in a large bowl. Scrape the seeds from the vanilla bean and add them to the eggs. (The vanilla pod can be reserved for another use.) Gradually add the milk to the eggs, whisking constantly as you pour.
6. When the custard mixture is well-blended, pour it into the prepared loaf pan. Place the custard-filled pan inside the larger roasting pan or baking dish, then pour very warm water into the outer pan or dish until it reaches a little more than halfway up the outside of the loaf pan. Bake the custard in the oven 1 hour, 20 minutes, uncovered, until the center feels like it's just barely set.
7. Remove the custard from the oven, and let it rest in the water bath for 30 minutes. Transfer the pan with the custard in it to a cooling rack, and let cool to room temperature, then refrigerate until completely chilled, preferably overnight.
To serve: Run a knife around the outside of the well-chilled custard, to help it release from the pan. Place a large serving platter upside down over the custard, then turn the platter and loaf pan of custard over simultaneously. Lift the pan from the custard and serve.
Storage: The caramel flan can be made up to four days ahead and refrigerated.