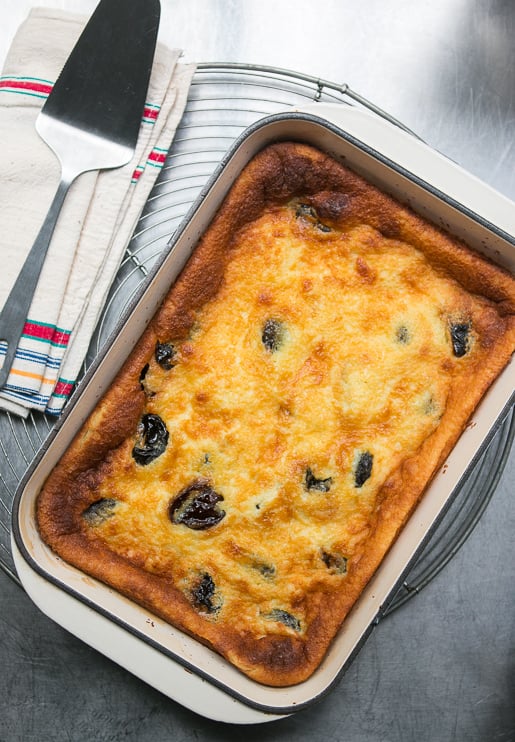 The other day, while minding my business, taking a casual stroll about town, I suddenly realized that I'd written "Bonne anniversaire," or "Happy Birthday," in French, here on the site. It's an honest mistake because the happy (or bon, er, I mean, bonne) expression is pronounced bonneanniversaire, rather than bon (with a hard "n") anniversaire, because, as the French would say, it's "plus jolie," or simply – "more beautiful."
(And I'm pretty sure I got that jolie right. Since it refers to l'expression, which is feminine, it's jolie, rather than, joli. Although both are pronounced exactly the same. And people think I spend all day making up recipes…)
I raced back home as fast as my feet could take me, shoving pedestrians aside and knocking over a few old ladies in my path, to correct it to "Bon anniversaire." Then afterward, after I caught my breath, I did a search on some French grammar sites on the Internet and landed on one forum with four intricate pages of heated discussions on whether it was actually masculine (bon) or feminine (bonne). Everyone (well, being France, most people…) agreed that it was masculine – although curiously, it's pronounced as bonne, the feminine, when wishing someone, or anyone, a "Happy Birthday."
Just like you would never write, or say, ma amie (feminine) – even if "my" friend was a girl or woman, because it would sound like ma'amie, which reads like Finnish, and if spoken (go ahead, try it) sounds like bleating sheep. So it's always mon ami, and mon amie, a gender-bending (and for us learning the language, a mind-boggling) minefield of a mix of masculine and feminine pronouns.
Another thing that confuses people is salade, which is what lettuce is generally referred to in French, when talking about the genre of lettuces. If it is a specific kind of lettuce – batavia, rougette, romaine, l'iceberg, etc, it's often referred to by type. Yet the word salade is also used to refer to composed salads, like salade niçoise, salade de chèvre chaud, and salade parisienne. Hence non-French speakers are often confused when they order a sandwich with salade and find a few dinky leaves of lettuce on their plate, not the big mound of nicely dressed greens that they were hoping for.
Whew! After those first three paragraphs, I think you'll understand why French is a tricky language to master, and even the French are at odds with how to say and write what. No wonder everybody smokes. #stress In fact, I think I also need to step outside myself after writing all of that.
Flan is another word that is a bit confounding to visitors, especially for those of us familiar with Mexican flan, which is called crème renversée or crème caramel, in French. In pastry shops, visitors to France are often surprised to see wedges of dense custard-filled tarts, sold as flans. They're a popular snack in the afternoon, although I can't say I've had one that I truly love.
However in Brittany, since they have their own language – just to keep us on our toes – they refer to flan as far, and put prunes in it. I'm not sure how the prunes got in, but they're soaked in Armagnac. And honestly, you could soak a funky, well-worn sock in Armagnac, and it would taste like the best thing on earth. (Although I'm just guessing on that one…)
It's a very easy dessert to make and I was happy when I got Patisserie Made Simple by baker Edd Kimber, a book filled with recipes for French pastries, simplified for all. (Now if he could only do that for French!) And each pastry looks beautiful, too. In it, Edd has a recipe for Far breton, which had me reaching for my Armagnac bottle to get those prunes soaking.
I played around with the recipe a few times, trying more prunes (the picture of the prunes in the baking dish shows fewer prunes than I ended up using in the recipe below), and even giving a go at a gluten-free version using 1/2 cup (70g) corn starch, which resulted in a bubbling dish of prune-dotted butterfat during baking. I dialed up the Armagnac (*yes!*), tinkered with the sugar, and went back to using regular flour.
After I popped the final one in the oven, I then made myself un une salade for lunch…not just a leaf, but a whole bowlful. And wished myself Bonne appétit. Or rather, make that, Bon appétit.
Far Breton
Inspired by
Patisserie Made Simple
by Edd Kimber Although I've seen versions of Far breton made with raisins, I urge you to resist the urge to substitute another dried fruit. Prunes really make this dish. To pit prunes, use a paring knife to make a slit in each prune and slide out the pit. For those who really don't want to use prunes, I've seen French recipes that use raisins, so those are entirely permissible. If you are avoiding alcohol, you could
poach some prunes in tea
and use those, drained. The batter is similar to crêpe batter, and like crêpe batter, it should rest for at least 4 hours in the refrigerator before using it. You can make it the day before you plan to use it. If you prefer a less-sweet dessert, you can reduce to sugar to 6 tablespoons (75g). Some recipes advise lining the baking dish with parchment paper, which I found wasn't critical. And in fact, it got soggy during cooking (and tore easily) – so decided to stick with regular butter and flour, and didn't have much of a problem getting pieces out of the baking dish.
22-24

prunes (dried plums)

,

pitted

1/3

cup (80ml)

Armagnac

,

(or Cognac, brandy, or dark rum)

2

cups (500ml)

whole milk

2

large eggs

2

large egg yolks

1/2

cup (100g)

sugar

1/4

cup (60g)

melted butter

,

salted or unsalted

1

teaspoon

vanilla extract

1/8

teaspoon

salt

2/3

cup (90g)

flour

Additional softened butter and flour for preparing the baking dish
In a small saucepan, warm the prunes with the liquor over moderate heat, stirring them a few times while cooking, until most of the liquid is absorbed. Cover, and remove from heat and let cool. (The prunes can be prepared a day or two before using.)

To make the custard, put the milk, eggs, yolks, sugar, melted butter, vanilla, salt, and flour in a blender. Blend until smooth. Refrigerate the custard for at least four hours, or overnight.

To bake the far breton, preheat the oven to 400ºF (200ºC).

Generously butter the bottom and sides of a baking dish roughly 10-inches (25-30cm) in length. (Or use a round cake pan of similar diameter, but not a springform pan, which would leak.) Dust with flour and tap out the excess. Strew the prunes in the bottom of the baking dish.

Stir the chilled custard a few times, then pour it over the prunes and bake until the top is gently browned, 45 to 50 minutes. Let cool completely, then slice into bars.
Notes
Storage: Far breton can be made up to three days before serving, and refrigerated. Let come to room temperature before serving.
Related Recipes
French Chocolate Macarons with Prunes