This Weekend at the Paris Market
As the weather turns cooler, the skies of Paris take on that violet-gray color that we're all (too) familiar with, which means the onset of winter. When you live in a space-challenged city like Paris, that means going through those long-forgotten boxes you've stored away since last spring, and sadly putting away those short sleeve shirts and linens, replacing them in your closet with wool coats, scarves, and mittens. (Although I think I am the only adult in Paris who wears them. The other people, over eight years old, wear gloves.)
The outdoor markets of Paris take place, rain or shine, sunshine or sleet, no matter what the skies and weather are up to. The vendors never go on strike, and even on les jours fériés (national and public holidays), they are always there, selling their fruits, vegetables, meats, and cheeses. I'm always struck by their ability to stand out there in the dead of winter when their cabbages, bunches of radishes, and rows of lettuce, are all frozen solid. When the rest of us can barely stand to be outside for more than thirty minutes, they're there from 7am to 2pm in the unfavorable weather, setting up, selling, then breaking everything down and packing it all up, ready to do it all again the next day in another neighborhood.
There is an outdoor market every day, somewhere in Paris, except Monday, and most people simply go to the one closest to where they live. Other markets may beckon, but few want to schlep bags of produce home on the métro when they can walk to a market just a few blocks away. And once you know the vendors at your market, it's a much more enjoyable experience to shop there. (Plus you get better stuff, and most vendors let me pick my own produce, rather than decide for me.) I happen to live between three outstanding markets – the Bastille market, Popincourt, and the Marché d'Aligre. Here are some of the things that caught my eye this week at the Popincourt market:
The first thing you'll notice during the winter is a lot of mandarines. It's not winter in France if you aren't walking by tables heaped with mandarins – a jumble of tangerines and clementines. They come from a variety of places, but the ones from Corsica seem to draw the most interest. As for me, I tend to grab ones that don't have seeds in them. I also look for ones with fresh leaves; wilted foliage is an indication that they've been picked a little while ago.
Visitors are often surprised that the vendors don't offer samples of things such as cheeses and fruits, like they do at cheese shops and farmers' markets in the states. However that's not the case for mandarins, where the vendors are always pushing you to try theirs. In a place where capitalism and "competition" can seem like foreign concepts, because each and every vendor has their own mandarins that they're trying to sell, the best way to tempt shoppers to buy theirs is to offer samples. (Before tasting, I make sure that the vendor has used a knife to open the fruits, rather than their teeth, which makes me a little uncomfortable.)
Because I know a number of readers are sensitive things as well, I'm not showing the lièvre (hare) that the voilaillers were skinning at one of the booths, even though they held it up for me to take a picture (you can thank me…or be irked) – but 'tis the season for gibier, or game, in France. It's one of the glories of French cuisine during the fall and winter season. Fancy poulets de Bresse are available all year round, it's status protected by the AOP designation and each bird has 10 meters of space to roam in, and the rest of their production is carefully monitored. Due to the quality of the meat, these pricey birds generally aren't roasted, but prepared in a more delicate fashion, such as poached or braised.
Other game birds, like pheasant and pigeon, are on offer at the moment as well, along with things like chapon (capon), quail, and dove, if you're into those things. If not, keep walking… (But please, don't make a face. It's impolite to the vendors.) Winter also means more meat-centric dishes, including slabs of pâté aux figues. I used this one for inspiration for this one, for the recipe that's in My Paris Kitchen).
Ropes of Toulouse sausage form a meaty spiral, in case you feel like making cassoulet. (There's a recipe for that in the book, too. And I'm getting on that project next week.)
Yet if you're not the DIY type, if want to buy your own, that's okay too, as the charcuteries are experts at making their line-ups of terrines, pâtés, and rillettes. This jumbo bowl is holding is a fat-rich spread of goose and pork, ready to take home and enjoy today. (Not the whole bowl. You can buy just a little.) I didn't bring any home since I picked up that large slab of pâté. But rillettes are nice to have on hand for a quick sandwich or snack. And surprisingly, they also go well alongside fresh oysters, as do herb sausages called chipolitas aux herbes, slender herb-flecked sausages. If you're lucky enough to have a grill, try to find some of those the next time you're serving fresh oysters. You're in for a treat!
A while back, when food truck were hitting the curbs of Paris, I went on a little tear, hoping that instead of just copying what Americans do, enterprising locals would take some of the French specialties and adopt them, and make them le street food. Which, oddly, is often not served on the streets, but simply take-away food. (One newer restaurant in Paris actually put a food truck inside their restaurant.)
There used to be a hamburger truck at the market, and I once gave it a try. While they were nice enough, which has a certain value around town, I asked for my fries without sauce poured all over them. They erred and covered my fries with sauce, then put them in a closed container and handed it to me. Personally, I can't think of a better way to ruin French fries. So I asked if they could give me a re-do without the sauce, which they were happy to do, but I couldn't get them to understand the concept of not sealing the warm fries in an air-tight container. And was handed another (fully enclosed) batch of soggy frites.
The new truck features grilled cheese sandwiches, which is a good idea since France excels at both bread and cheese, and seeing them being fused together takes me to a happy place. (Happier than frites fused with a warm, red mayonnaise-based sauce.) Someday I'll get around to trying them, but I was happy that I had my own cheeses that I brought home from the wonderful women who sell all sorts of curious and interesting cheeses, some with ephemeral names.
This one is simply called Le trèfle, the clover, and if you went into a cheese shop and asked for a "clover," they likely wouldn't know what you are talking about. I don't go to the fromager with any particular cheese in mind, but I wait and see what looks good. They're the experts and a good fromager relies on repeat customers, so they try (and succeed) in carrying whatever cheeses they feel are best at the moment. Goat cheeses tend to go out of season in the winter, when the goats stop producing milk, and this one – as you can see- is very well aged. So was probably made before the milk production ground to a halt.
Less-aged, but delicious, is Neufchâtel, a Normandy cheese that bears no resemblance to the lowfat cream cheese sold elsewhere, under the same name.
It's not really a well-known cheese in Paris, for some reason, and people don't buy it very often. But I love it. I also like plain yogurt, which is getting harder to find in France. If you go to a supermarket, you need to comb through the extensive yogurt aisle to find one that isn't sweetened or flavored. Which is a shame, because plain yogurt is so good…and good for you, too. I eat one every day.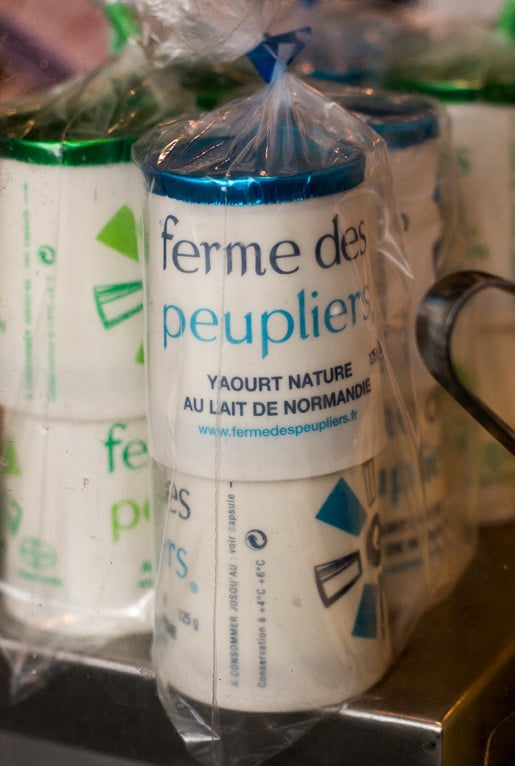 Speaking of plain, a few weeks ago I was picking up some yellow onions and an older man was completely perplexed that I was buying regular onions. "They're sweet!" he told me. Um, yes, I know. (But only when cooked.) Because of his age, I didn't want to shock him too much, but I also was picking up a pumpkin…to make, egads, a tagine. It was as if I had told him that I filling the gas tank of my car with burgundy, then taking it for a drive across France.
"C'est pas vrai!" he uttered back – "It's not true!" – with complete disbelief that I'd put pumpkin in a tagine. I decided to avoid talking about the grilled cheese truck just a few paces away because the idea of putting cheese between two pieces of bread might have required a call for an ambulance.
Also confounding to some are the root vegetables and things like panais (parsnips), which are relative new-comers, so to speak, on the produce scene. Of course, they're not new, but are considered a légume oublié or forgotten vegetable. Because parsnips are on the sweet side, in my experience dining with French friends, they aren't all that enjoyable to their palates (due to their natural sweetness, I think), but many people have brushed away root vegetables, saying that they're reminders of the war.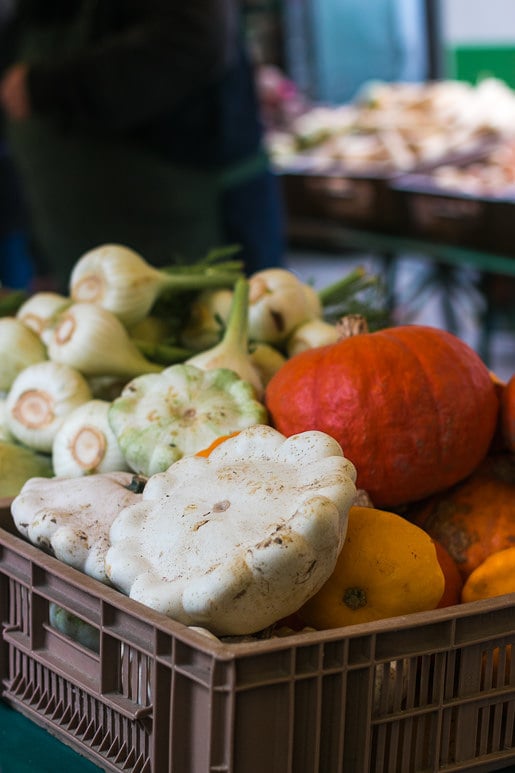 When I mentioned, respectfully of course, that the Liberation of Paris was in 1944, seventy years ago – before most people were even born – it was kind of a long time to hold onto something. But in a country where history takes on a special importance (if you pass by a newsstand, you'll likely find magazines with Valérie Trierweiler and Marie Antoinette on covers, side-by-side), I guess the aversion to root vegetables is something that's ingrained, and passed on from generation-to-generation. But I'm seeing more and more of them at markets. So maybe in the future they'll someday be called "remembered vegetables"?
Curiously, another root vegetable (or tuber, actually) that's not fallen out of favor are potatoes. I, and the French, eat 'em up. And you can get them in a variety of colors, shapes, sizes, and firmnesses. Not sure how potatoes survived the post-war years, but I'm glad that they did.
(On a side note, that sign points to the direction the line is supposed to go. Sometimes it's a necessity to keep patrons orderly – and to keep the vendors sane.)
One thing that confounds me, though, is that people buy plain, undressed grated carrots for up to eight times the price of fresh carrots. The salade des carottes râpées is the national salad of France, and one of the places where raw – not cooked (but yes, peeled) vegetables are consumed.
But I don't mind taking the extra two minutes to peel and grate a couple of fresh carrots. But that's what my grandmother called her "Yankee thrift," which is apparently stronger than what here is called la radinerie.
But I'm happy to join les radins (cheapskates) in Paris at the market when buying apples, and don't mind rifling through the bins of pommes à cuire (cooking apples), which are slightly dinged or dented, but taste just as good as the other apples the apple vendor from the Picardie has at their stand. Most of the time the cooking apples get used for another French classic dish, le compote, otherwise known as applesauce. Unlike les dames, who have to scrutinize each and every apple, I grab the largest ones so I can spend less time peeling apples, and use that time to grate my own carrots.
For les américains, Thanksgiving is coming up. And while a few clever vendors at markets in neighborhoods more popular with American expats stock fresh cranberries, whole turkeys, and Pepperidge Farm stuffing mix (just kidding on the last one…but hope springs eternal), chestnuts are enjoyed by Americans and Europeans alike.
A friend who is a private chef confided to me that he buys them already roasted from sellers on the street, who cook them over an open fire. But in the trendy and/or upscale parts of Paris, there aren't many people standing on street corners, huddled over a swiped supermarket shopping cart that they're using as a grill, roasting off chestnuts on a fire, and selling them in paper cones. However, one can dream…
I make it a point to visit the stands of the North African and Arab vendors, who always have a few curiosities, like bitter turnips, on hand. I seem to hone in on whatever is buried amongst the tables of leafy greens and herbs, to see what I can find in there. One such thing I found this week is what they call "absinthe," an herb used to flavor the well-known drink. I believe that it's actually wormwood. The fellows tell me that they use it make an infusion, an herbal tea made by steeping greens in hot water. It's quite bitter, they add, but say that it's good for the digestion.
I've not really been a fan of prickly pears (called figues de Barbarie – or Barbary figs), ever since I was given a batch of them many years ago as a pastry chef in California…and I spent the rest of the day (and part of the next), plucking the tiny, microscopic prickly fibers out of my hands. I've since learned to spear them on a fork and use a knife to peel them. Not sure how the ones we get in France don't have any prickly little things, ready to attack, on the outside. But I've been wary of touching one ever since that memorable 48 hours of my life that I spent with that pair of tweezers.
Easier to deal with are scallops, which are sold in the shell in France, with the orange roe attached. When they're in the shell, they're called Coquille Saint-Jacques; in the U.S., we use that term to refer to a gratinéed dish made with them. (Out of the shell, they're called the noix de Saint-Jacques, the "nut" or "walnut" of the scallop.) You buy them, weighed and priced in the shell. The fishmonger opens them for you, since it's a bit of a task as those suckers are stronger than they look, then you can bring them home and cook them.
I don't really like seafood with lots of sauce, or cheese, as in Coquille Saint-Jacques, but prefer them simply prepared with melted butter and herbs on them. That's my Yankee simplicity speaking. But to each their own and if you're eating them, you can do whatever you want.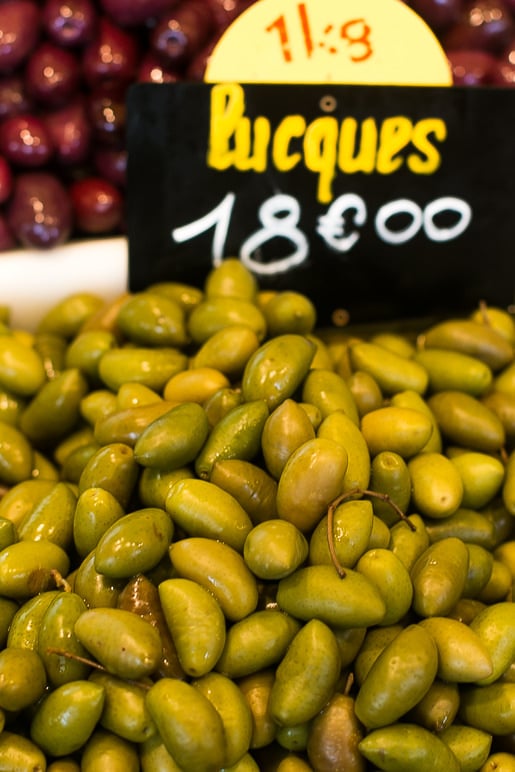 Even easier to eat are French olives. At most markets, there is at least one stand with a dozen or more kinds of olives. Resist the urge to get the cheaper ones, which to me, have off flavors (I once bought some and could swear they still had lye on them – which you don't want to eat), so I stop digging for change, and pull out some bills when buying olives. The best are Lucques olives, sold with some of their brine to conserve their color, (which someone who was practicing her English, asked me if I wanted some "brain" with my olives), because they turn dark quickly. My solution is to eat them fast.
According to the New York Times, the name Crosne refers to a town near Paris, where an agronomist brought them to, from Japan. One oddity that is usually pricey are crosnes.
Some of the young chefs in Paris have adopted them, although because they are pricey (they usually cost around €30 per kilo, 2.2-pounds) they tend to use them sparingly. Plus they are a bit of work to cook, if you choose to peel them. The French are fond of peeling things and I know people who won't eat tomato or potato skins. These are from a local producer, so they're not as pricey. If you find them at your market, you can try making Crosnes and Peas. Or just stare at them in wonder, like I do.
In addition to food, you can find all sorts of other things at the markets in Paris. Because it's winter, you can find French-made wool slippers, to keep your feet warm. The same vendor had espadrilles, for €10/pair, but there were no takers for them.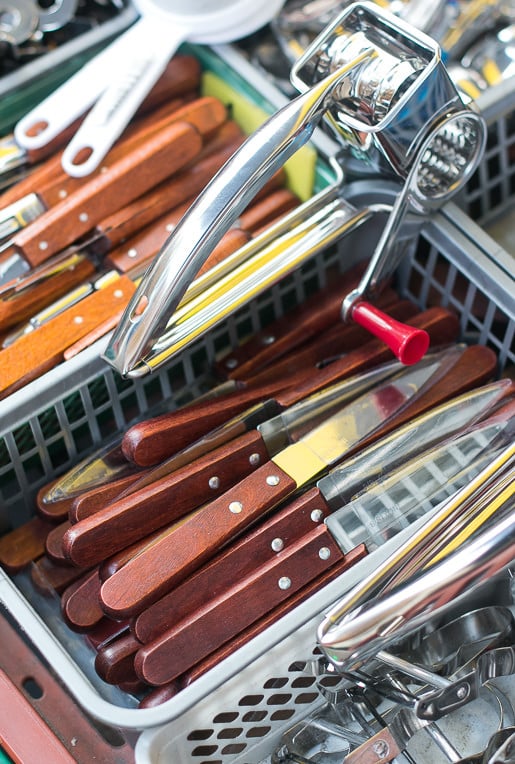 I sometimes rifle through the bins, looking at the cheap paring knives (and wonder how much they would sell for in the U.S. – and wonder if I could make some extra euros selling them online), and poke through all the other things they have on offer.
I don't have mice, thank goodness. But if I did, I'm sure they'd be eating as well as I am this week.