Kig ha farz: Breton buckwheat recipe
Note: I'm in the midst of updating this post. Will finish it shortly! (Bookmark it so you can return to it in a few days.)
Kig Ha Farz is a homely, but absolutely delicious, Breton specialty that few French people even know about. It's highly-unlikely that you'll ever find it served in a restaurant although I've heard reports of one Breton crêperie near Montmarte which makes it one day a week, but I haven't investigated further. But if you travel through Brittany, some old-fashioned stores sell the simple sacks which are used to cook the kig ha farz, which means 'meat' and 'stuffing' in the Breton language, and you can make it yourself at home, like I do.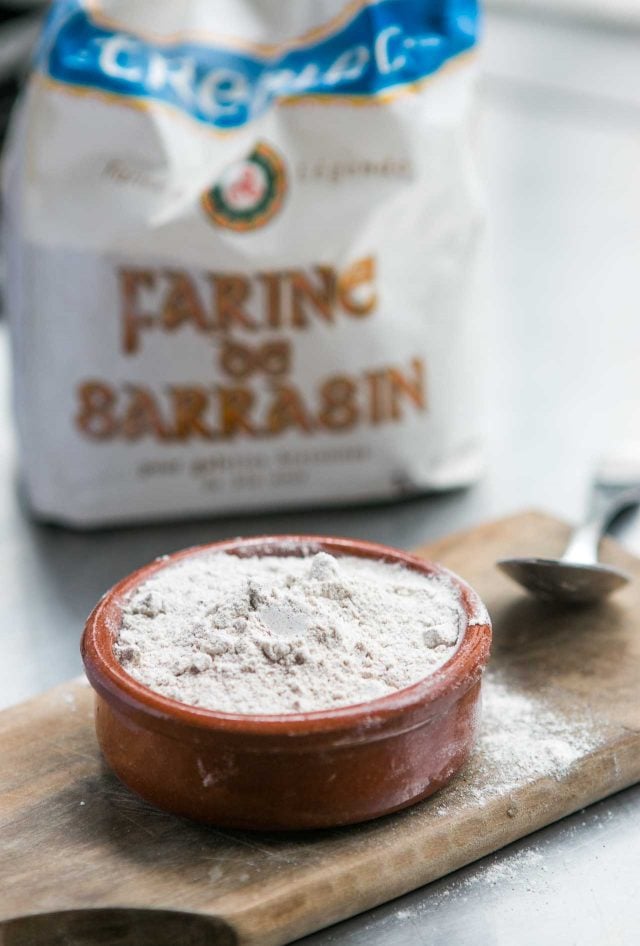 When we rented a house by the north coast of France last summer, the retired owners who lived next door offered to make us a stack of galettes au sarrasin, the buckwheat crêpes the region is well-known for, as a nice welcoming gesture.

Curiously, if they're made with buckwheat, they're not called 'crêpes', which is why if you go to a French crêperie and ask for buckwheat crêpes, they might not know what you're talking about. I might suggest they change to name to galetterie, but that doesn't quite have the same appeal, for some reason.
Instead, we asked if they'd make us kig ha farz, which really surprised them and they told us we were the first people to ever ask for it. But they were more than happy to comply!
It's said the tradition of simmering the crumbly, dumpling-like mixture was done using the sleeve of an old men's shirt. So if you have one lying around that you don't mind ripping the sleeve off of, you might want to give it a try. If so, I would use one made of natural cotton, preferably undyed.
Kig ha farz is probably one of the most unusual things that'll ever come out of your kitchen and I like to surprise friends by serving them this very unusual but versatile side dish. But once you pour your first batch from the cotton sack, you'll find it's simply delicious and easy enough to do over and over again, especially if you love the hearty taste of earthy buckwheat.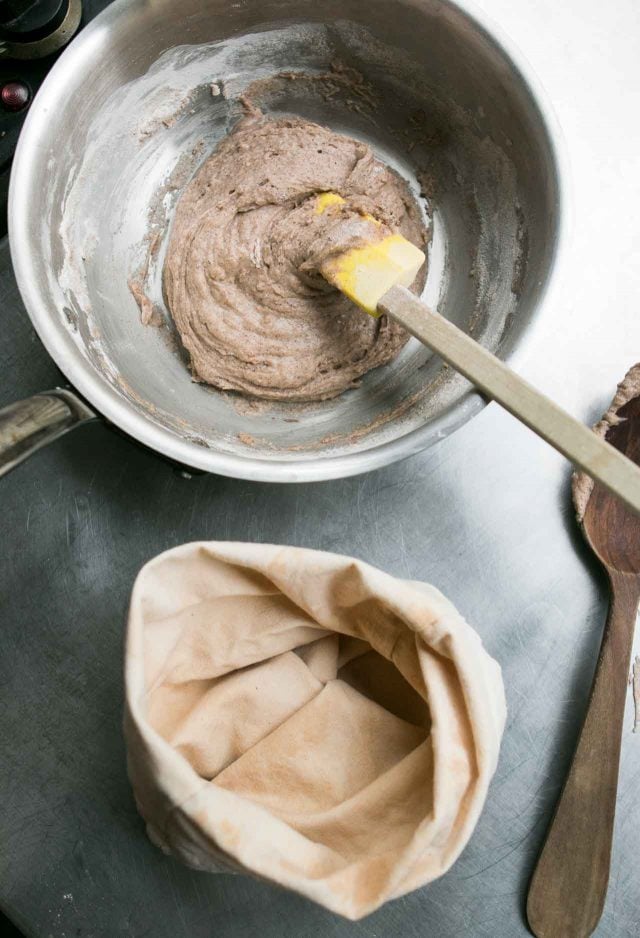 Buckwheat flour is what gives Kig ha farz its hearty, earthy flavor. A reader in the U.S. recently wrote that when she made buckwheat crêpes (called galettes, in France) hers were almost black. I've made them in the States and didn't have that problem but another reader chimed in that some buckwheat flour is whole grain and quite dark, unlike French buckwheat flour, which is partially refined. I didn't research it except to look at some pictures of American buckwheat flour online and didn't notice it to be much darker than the French stuff, but the second helpful reader suggested the closest replica of French buckwheat flour can be found in Japanese stores, the buckwheat flour they sell for making soba. I'm going to lug my precious farz sack along with me next time I go to the states, and give it a try.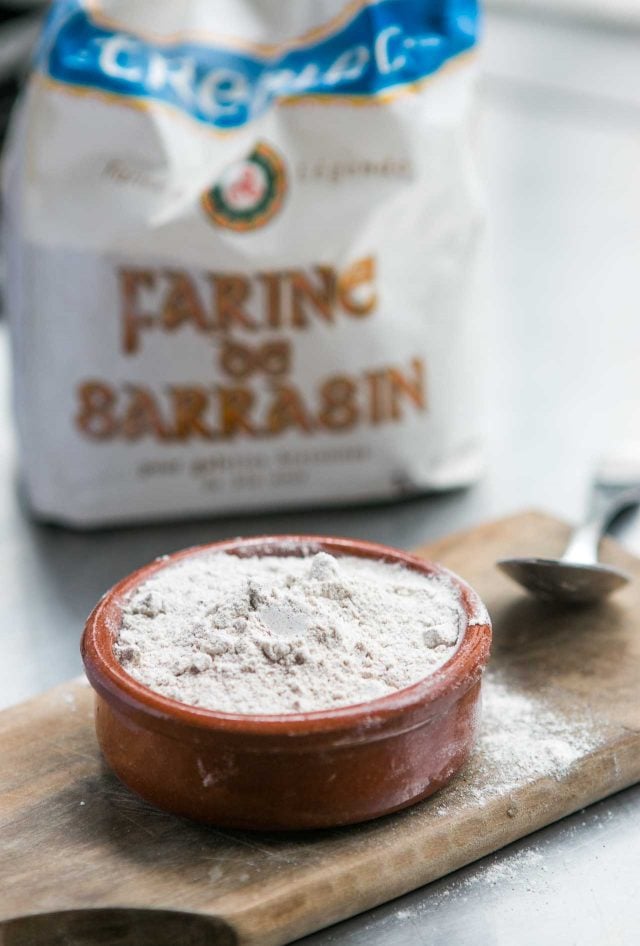 Because I ingest ample fat from chocolate, ice cream and the big jar of foie gras that I opened last week, I served my kig ha farz the other night with a lean pork loin which I cured myself in a brine of cassonade sugar and allspice. I then pushed slivers of garlic deep into the meat then rubbed it all over with lots of freshly-chopped thyme and sea salt. The loin got oven-roasted with lots of minced shallots and a few centimeters of fruity Breton apple cider in the pan. And it was fantastic.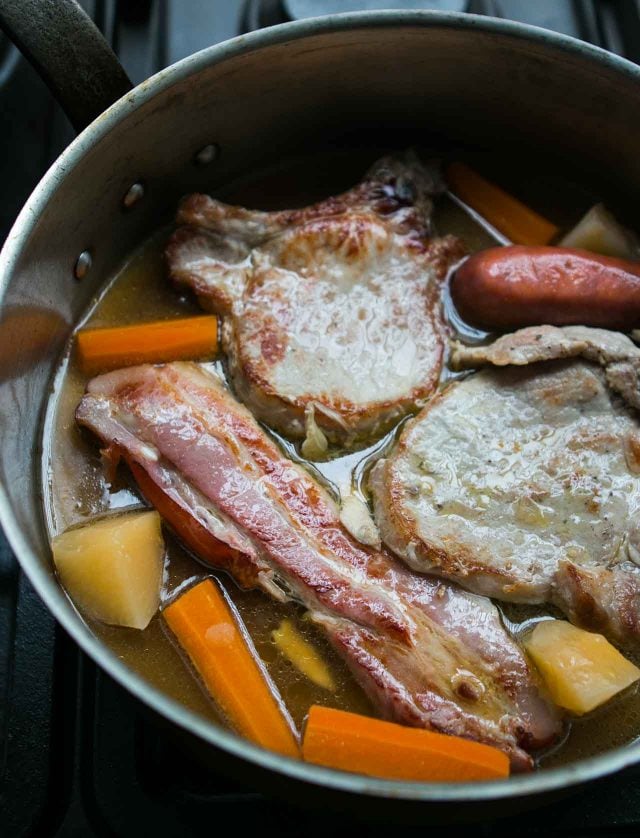 "Tradition" is a tough word to use to describe food. What's "traditional" in one place, varies when it's served in the next town (or village) over. In the case of Kig ha farz, it's often served by the slice, rather than crumbled. I've also seen recipes with a lot of sugar in them, up to 3/4 cup (150g). I share the people from Brittany's love to sweet things, namely Kouign amann, palets Bretons, and other delicious treats from the region, but I didn't want to add all that much sugar, especially since I prefer Kig ha farz crumbled into little bits, which makes it easy to see why it's sometimes referred to as "Breton couscous."
Bretons sometimes serve this with what is called le libig; melted butter, shallots, and bone marrow, from the os à moelle that you cook with the meats and vegetables. Kig ha farz always has what the French call lard, a thick strip of bacon or pork belly. There are also sausages, vegetables (here I used turnips and carrots), as well as pork.
Mine was a speedy version, which I made for two. I pan fried the bacon and a couple of thick pork chops then added some lightly simmered carrots and turnips to the pan along with some of the cooking liquid, as well as couple of small smoked sausages, then simmered everything together until it smelled like dinner was ready. Each plate got served with a ladle of the sauce In lieu of the lipig, you could dab the kig ha farz with some salted butter.
Many Breton women were happy to share their recipes with me, often scratched on pieces of worn paper with rather sketchy instruction, sometimes in a mix of French and Breton. But when I got home, I had a bit of difficulty reproducing them. Those darn French housewives and their astuces! So I use this recipe, an adaptation from one of my favorite books on French cooking: The French Farmhouse Cookbook by Susan Loomis.Recently I was told that much of the buckwheat flour in the U.S. is whole-grain, whereas the buckwheat flour in France is more finely milled. Sobakoh is a Japanese buckwheat flour that I'm told is most similar to French buckwheat flour. Using U.S. buckwheat flour may produce a darker kig ha farz than the one shown here.
1/2
cup (125ml)
whole milk
4
tablespoons (60g)
melted butter,
salted or unsalted
1 3/4
cups (250g)
buckwheat flour
1
teaspoon
coarse sea salt
1. Mix together the eggs, milk, and butter in a large bowl.
2. Gradually add the flour, sugar and salt, stirring until smooth.
3. Place the mixture into a farz bag, a sack made of unbleached muslin specifically for this purpose. I tie it closed, leaving room for it to expand by about one-third.
If you don't have a sack, place the mixture in the center of a clean, damp piece of cotton cloth about 2-feet square (60 cm). Gather the corners of the cloth and secure them tightly with kitchen string, leaving room for the mixture to expand by one-third.
4. Simmer the farz in simmering broth, turning it a few times while cooking, for about 2 hours.
5. Drain the sack in the colander very well for 15 minutes. Then take the sack and roll it on the countertop, pressing it firmly back-and-forth, until you can feel it's broken into irregular bits inside. (If it resists being broken up by rolling the sauce, open the sack, empty the contents into a bowl, and break it into pieces with your fingers.)
Open the sack and pour the kig ha farz onto a platter or serving dish. Serve hot with boiled meats, vegetables, or simply a pat of salted butter. Some like it drizzled with maple syrup as well.
Related Links