Beet and Ginger Cake with Cream Cheese Frosting
Yotam Ottolenghi seems to be everyone's favorite cookbook author. After meeting him, he became mine, too. (But if I could stay in your top ten, that'd be appreciated.) His previous books focused on the savory side of Middle Eastern cooking, but Yotam was a pastry chef prior to being a restaurant co-owner (with Sami Tamimi) and cookbook author, and anyone who's walked into one of his restaurants or cafés in London is wowed by the stunning cakes and sweets lined up on the counters.
This time, he shares the spotlight with Australian pastry chef Helen Goh, who met Yotam long before he became well-known, and their decade of collaborating resulted in Sweet, a baking book filled with exciting and sometimes unexpected ingredients used in brownies, cakes, and cookies. Which is why when I hit page 130, I stopped turning the pages, and headed into my kitchen.
I've baked with beets before, when they were cloaked by chocolate, a term I may crib as a title for my final memoir, but was intrigued by combining them with candied ginger, nuts, and an especially unusual ingredient: Vitamin C.
As I gathered the ingredients for this cake, I didn't have any vitamin C on hand but did have some Fruit Fresh, that I bought a while back for recipe testing. Its ingredients are ascorbic and citric acid, and it's high in vitamin C, which apparently helps "set" the red color of the beets, so I cracked the lid on that, and saved a trip to the pharmacy. (Which is everybody's favorite place in Paris, including mine.)
One thing I didn't have was candied ginger. "But David, you can make your own candied ginger," and yes, I often do. But like growing your own beets, or raising wheat and milling my own flour, if I DIY'd everything, I wouldn't have time to make and share recipes with you, so I hiked up to Belleville and bought a few bags of it. I found that if I keep it on hand, the candied ginger gets snacked on before I get a chance to bake anything with it.
Being me, I can't get out of any multicultural market without buying other things, coming back with ingredients that I never heard of. And I have a drawer in my kitchen filled with everything, from ginger-infused brown sugar, to sticky, dark coconut syrup, to prove it. (In my defense – how could I pass those up?)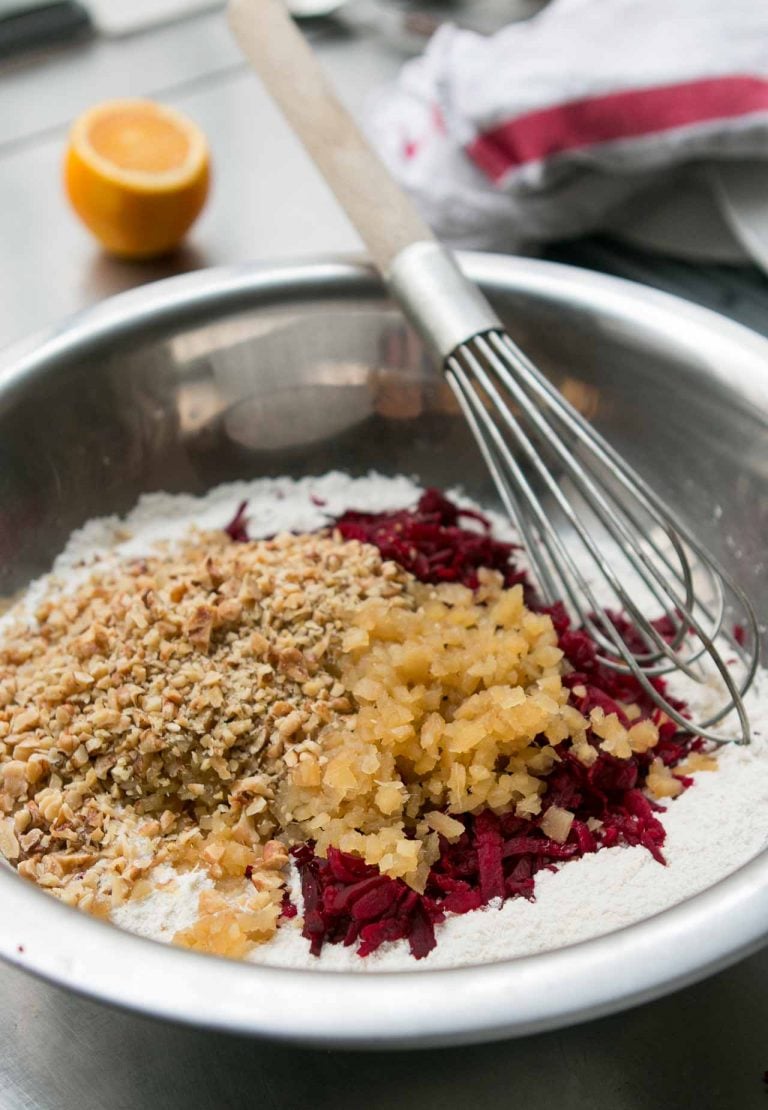 I managed to get out of the store this time around without overloading my bags too much, but was happy they also had pâte à tartiner (cream cheese) and fromage frais, which is similar to sour cream in texture, and tang, which the frosting called for.
One doesn't use the word "astonish" when describing cake batter very often – if ever, but when I was mixing it all together, it was, astonishing. The addition of vitamin C really did help set the color of the beets, as Yotam and Helen promised, and I was looking forward to seeing how the batter would bake up.
Turns out, the color mellowed to a more subdued rosy hue after some time in the oven, but the bits of red beets remained bright in the nutty batter, with little nubbins of ginger adding bits of excitement. I loved it.
This cake is decidedly on the less-sweet side, which is fine with me. If an American baker had created it, it would likely have some spices added, as we're especially fond of cinnamon, etc. But I didn't miss them at all. And as is often the case with desserts frosted with cream cheese, you could almost say that was the best part.
The two worked perfectly together well, and I don't mean just the cake and the frosting, but Yotam and Helen, and I've got a few other recipes from Sweet bookmarked…once I've polished off this cake.
Beet and Ginger Cake with Cream Cheese Frosting
Adapted from
Sweet
by Yotam Ottolenghi and Helen Goh Although I liked the cake just fine without it, a little ground cinnamon or allspice in the cake batter would be welcome, for those who like spices. The original recipe had some fresh ginger juice added to the cream cheese frosting, but I didn't think it was necessary; it was so good on its own. The candied ginger in the cake gave it enough bite. The recipe also called for an 8-inch/20cm round cake pan, which I didn't have in that size, so I used a square cake pan, which worked well. For more on alternatives to certain ingredients (sour cream and cream cheese, for example), check out my post,
Ingredients for American Baking in Paris
, which may be relevant if you live somewhere where those ingredients might not be available.
For the beet and ginger cake
1/2

cup (100g)

finely chopped candied ginger

1 2/3

cups (200g)

flour

3/4

cup (150g)

sugar

2

teaspoons

baking powder

, preferably aluminum-free

1/4

teaspoon

baking soda

1/4

teaspoon

salt

1 2/3

cup (9 oz/260g)

grated fresh, raw beets

,

(peeled)

finely grated zest

of one orange

2/3

cup (75g)

toasted walnuts

,

chopped

2

large

eggs

,

at room temperature

1/4

cup (60g)

sour cream

1/2

cup (125ml)

sunflower or canola oil

3/4

teaspoon

Fruit Fresh,

or 1 (1500mg) vitamin C tablet, crushed to a fine powder (optional)
For the cream cheese frosting
5 1/2

ounces (160g)

cream cheese

,

at room temperature

1/2

cup (60g)

powdered sugar

,

sifted if lumpy

1/3

cup (80ml)

heavy cream

1/2

teaspoon

vanilla extract

,

or the finely grated zest of one lemon
Butter an 8-inch (20cm) square or round pan. Line the bottom with parchment paper. In a small bowl, pour boiling water over the candied ginger and let it sit for 15 minutes. Drain the ginger and squeeze out as much of the excess water as possible.

Preheat the oven to 350ºF (180ºC).

In a large bowl, whisk together the flour, sugar, baking powder, baking soda, and salt. Add the grated beets, orange zest, walnuts and candied ginger to the bowl, but do not stir in.

Whisk together the eggs, sour cream, oil, and Fruit Fresh or vitamin C is a small bowl. Pour the mixture over the dry ingredients in the large bowl and use a spatula to mix the ingredients together, stirring just until thoroughly combined

Scrape the batter into the prepared cake pan, even the top, and bake until a toothpick inserted into the center comes out clean, about 40 minutes. (Note: The original recipe in the book, which called for the cake to be baked in a round 8-inch/20cm pan, said to bake the cake for 50 to 55 minutes. So it may take longer in another pan, but you should begin checking it at the 30 minutes, or so, mark.)

Remove the cake from the oven and let cool for 30 minutes on a wire rack, then remove the cake from the pan, peel off the parchment paper, and let cool completely.

To frost the cake, beat the cream cheese in the bowl of a stand mixer fitted with the paddle attachment (or by hand in a large bowl, using a wooden spoon or spatula), until smooth. Beat in the powdered sugar until it's completely incorporated. Add the heavy cream and vanilla (or lemon zest) and beat for about 1 minute on high speed, until thickened. The frosting may seen rather soft, as mine was, but spread beautifully.

Spread the frosting over the top of the cake.
Notes
Storage: The cake will keep for up to 3 days. If not eaten the same day, it's best stored in the refrigerator, although let it come to room temperature before serving, if you can.
Related Links and Recipes
Nigel Slater's Moist Chocolate Beet Cake
Gluten-Free Baking and Substitutions
American Baking Ingredients in Paris
How to Tell if Baking Powder is Still Good