Carrot Cake with Cream Cheese Frosting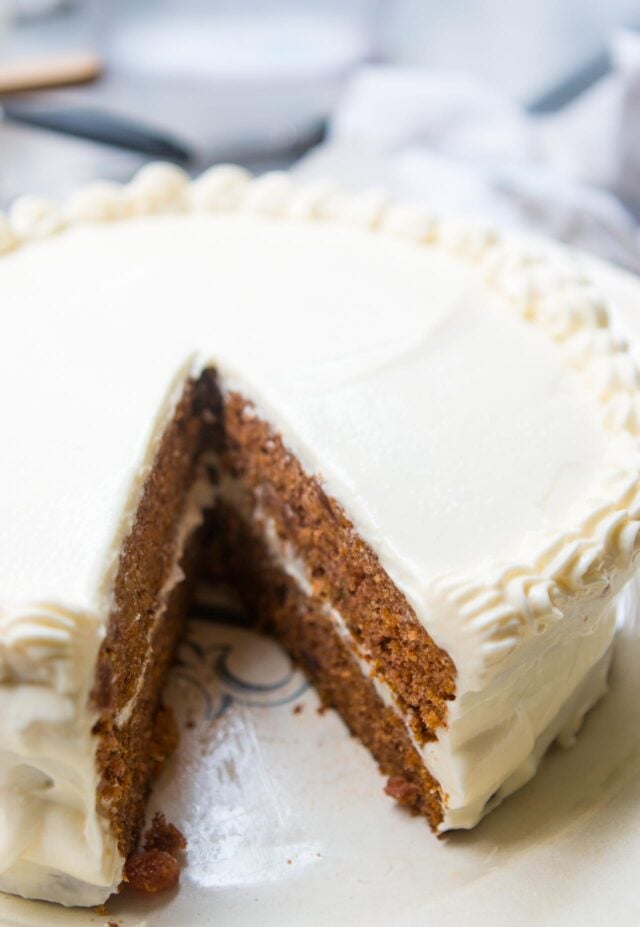 One thing I've been working on this year, which may be remembered in the future as "the year we all stayed home," is updating blog posts. Quite a few of them that were written, say ten…or fifteen years ago, benefitted from being reformatted and tightened up. Blogging was a lot more casual way back when, and as I make (and remake) recipes, I often tweak and refine them. So I used my time during confinement to go through some classics and give them a fresher look.
It's been a tough year and with Thanksgiving not necessarily happening, it's good to have memories of friends. When my first book, Room for Dessert came out (which morphed into Ready for Dessert), a lot of people said, "I'll bet everyone is going to make you a Coconut Cake for your birthday now?" That was because one of the first recipes in the book was for a Coconut Cake I made for Alice Waters' father for his birthday, and I mentioned before the recipe that I wish someone would make me a Coconut Cake for my birthday. It took a long, long time for me to get that Coconut Cake, but it finally happened in, of all places, Paris.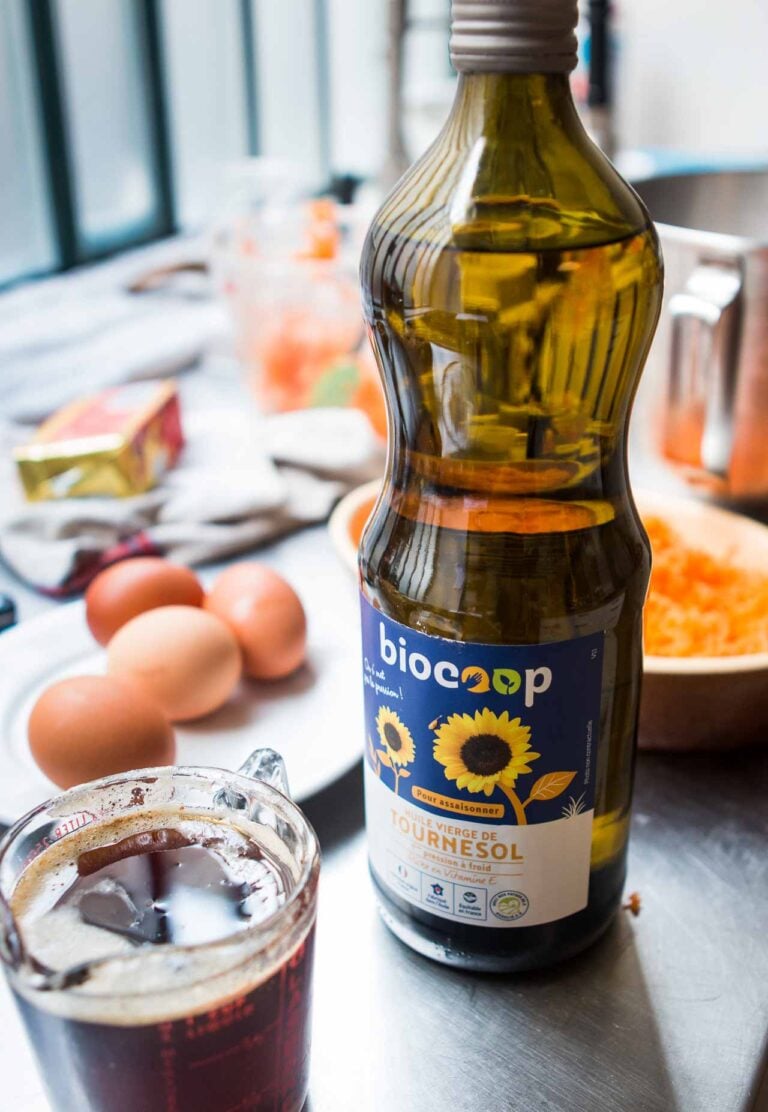 The cake arrived via Barbra Austin. Barbra lived in Paris wrote a lovely blog that I started following and after I met her in person, I found that we had similar backgrounds, both of us having worked in a number of restaurants making desserts. And Barbra surprised me one year – enfin! – with a Coconut Cake for my birthday, which was a great gift indeed.
Barbra eventually tied the knot and moved to Hong Kong with her husband, but not before I attended a party at her place where, when I arrived, found her icing a Carrot Cake with cream cheese frosting.
Back then, cream cheese was a rarity. If you found it, you'd let your American friends know what supermarket you scored it at, and they'd race over and grab a tub or two. Now cream cheese is widely available in France, edging squares of Kiri (a French "fresh cheese," sold in little squares that people used for making cheesecakes), down the supermarket refrigerator case. These days supermarkets carry a number of brands of fromage à tartiner or "spreading cheese," including Philadelphia and store-branded varieties, like the ones above, that just happened to be the right amount needed for the cream cheese frosting for this Carrot Cake.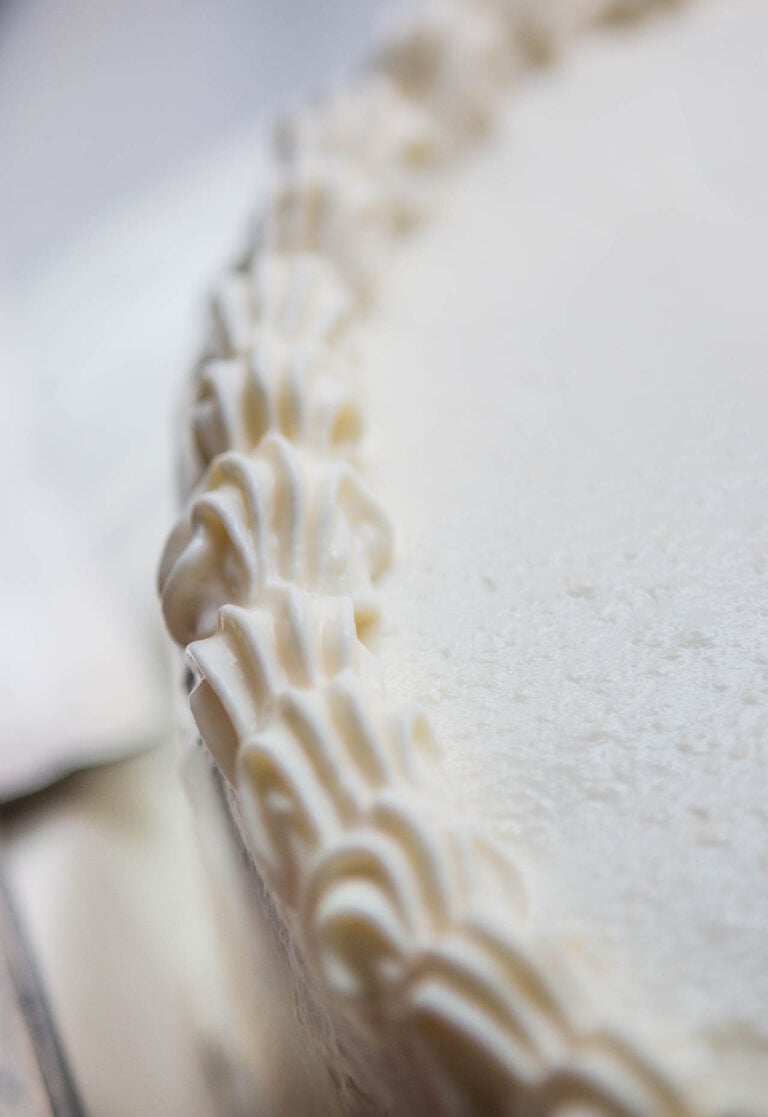 Another thing that happened this year was I started toning down dessert recipes on the blog after a number of comments and controversies ensued about the amounts of eggs, butter, sugar, cream, and chocolate in recipes. I come from the era of Julia Child, Marion Cunningham, Maida Heatter, and Jacques Pépin, who ate everything, and lived long and what appeared to be happy lives. I got into cooking and baking because of them, and I learned how happy people are eating an occasional cookie or slice of cake, when I moved from my position as a line cook to being a full-time baker, pastry chef, and then cookbook author.
My specialty is not "over the top" desserts and you'd be wasting your time if you came here (or in my books) for sky-high cakes slathered with buttercream and decorated with Oreos, or multi-colored cakes where, when you slice them, an avalanche of store-bought candy falls out. I know those are fun for people to make, and people like to eat (and share pictures of them online), and I have nothing against any of them. But I'm more of a classic baker. While I don't make one often, Carrot Cake is a classic that's at the top of my list. And yes, a good part of that is because of the cream cheese frosting.
You may not associate France with Carrot Cake, but it's popular here and I've never had anyone decline a piece. And how could you? With a gently spicy batter and cream cheese frosting, it's one of the most revered cakes anywhere.
Barbra told me that this recipe is an adaptation of one in Gourmet's Best Desserts, tinkered with by her friend, pastry chef Heather Miller when they worked together at a now-defunct restaurant in New York called Washington Park. They were on a brown butter kick and decided to replace some of the oil in the recipe with nutty browned butter. And it worked.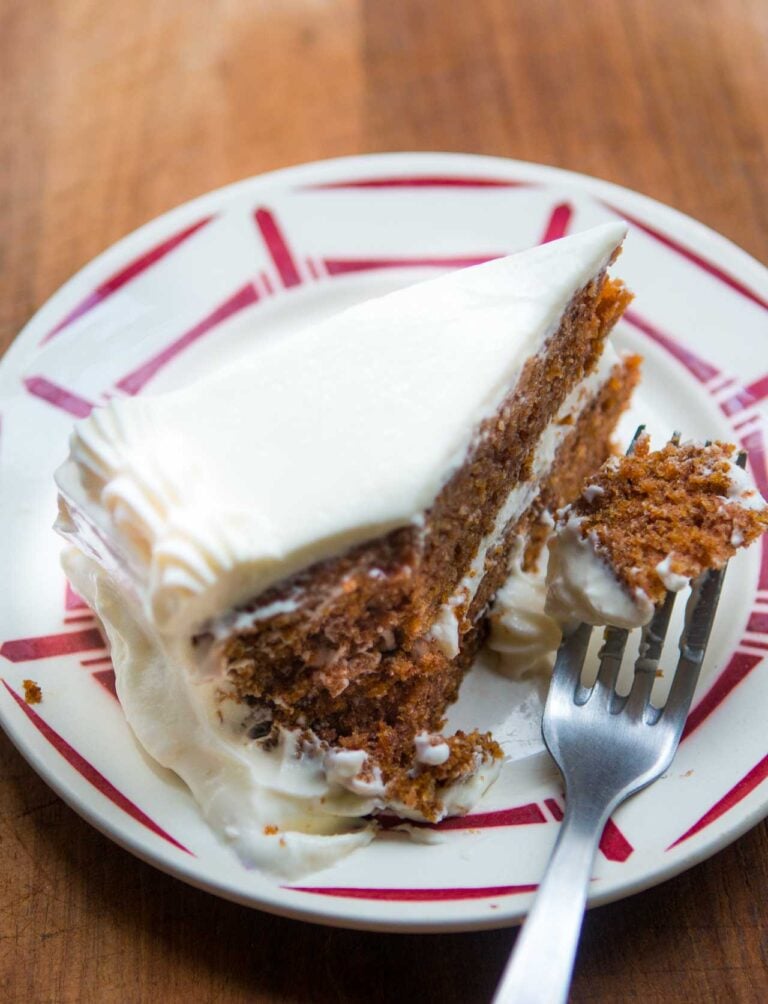 In France people eat desserts but don't overindulge. As this isn't a super high cake, so consider any and all of those aforementioned things that you'd like to reduce, already reduced. And this year, I think we all deserve a piece of cake, as we await better things to come in the new year.
Carrot Cake with Cream Cheese Frosting
Inspired by Barbra Austin and adapted from Gourmet's Best Desserts 
To get the 3/4 cup (180ml) of browned butter, you'll need to start with about 7 ounces (200g) butter, which will cook down to around that amount. You don't want to use any blackened bits in the bottom of the pan, so don't scrape the pan, but just pour out the brown butter into a heatproof measuring cup and leave the burnt parts behind in the pan. (A few stray ones won't hurt, though.) Spoon off any foam in the measuring cup as well. If you don't have a heatproof measuring cup, pour the browned butter into a metal bowl and let it cool, then measure in a measuring cup. If you don't get 3/4 cup (180ml) just top it up with vegetable oil. This carrot cake is lightly spiced, which is more in line with local tastes. Feel free to bump up the spices. Also, be sure the cream cheese and butter for the frosting are at room temperature so they meld smoothly when beaten together.
For the cake layers:
4

large eggs

,

at room temperature

1/4

cup (60ml)

neutral-tasting vegetable oil

3/4

cup (180ml)

liquid

, brown butter, or 3/4 cup additional vegetable oil

1

teaspoon

vanilla extract

2

cups (280g)

all-purpose flour

2

cups (400g)

sugar

2

teaspoons

baking soda

1

tablespoon

cinnamon

1/4

teaspoon

(each) ground nutmeg and cloves

1

teaspoon

kosher or sea salt

4

cups (1-pound, 450g)

loosely packed grated carrots

1/2

cup (60g)

raisins
For the frosting:
1

pound (450g)

cream cheese

,

at room temperature

4

oz (115g)

unsalted butter

,

at room temperature

2

cups (240g)

powdered sugar

,

sifted

1/2

teaspoon

vanilla extract

1

teaspoon

finely grated lemon zest
Preheat the oven to 350°F (180°C). Butter and flour two 8- or 9-inch (20-23cm) cake pans and line the bottoms with parchment paper.

To make the cake, sift together the flour, sugar, spices, baking soda, and salt in a medium bowl. Set aside. With a handheld mixer or a stand mixer fitted with the paddle, beat the eggs on high speed until they are pale and frothy, about 3 minutes. (They will not increase dramatically in volume.) With the mixer on medium-high speed, drizzle in the oil and melted butter, then the vanilla. (If you don't have an electric mixer, you can beat the eggs with a whisk vigorously in a large bowl, and do the same when you add the browned butter and oil.)

With the mixer on low speed, gradually mix in the dry ingredients until just combined, but don't overmix. The paddle will accomplish this easily but if you are using a handheld mixer (or a bowl and a spatula) I prefer to do it by hand with a spatula.

Fold in the carrots and raisins, then divide the batter between the two pans and smooth the tops. Bake until the tops are golden brown and the surface springs back when gently touched, 30-35 minutes. Cool the cakes completely.

To make the frosting, beat the cream cheese and butter at high speed together until completely smooth and lump free. Reduce the speed of the mixer, then gradually add the powdered sugar and increase the speed to medium, or medium-high, and mix until light and silky. Add the vanilla and lemon zest. Use the frosting to ice the cake, spreading 1 1/4 cups (220g) on top of one layer, and using the rest to frost the outside and top of the cake.
Notes
Serving and Storage: This cake is best served at room temperature, but will keep for a few days stored in the refrigerator.
Related Posts and Links
American Baking Ingredients in Paris
How to Brown Butter (Simply Recipes)