Holiday Gift Guide: Bringing France to You and Others
Hello, Emily here, from day 29 of the 2nd confinement (lockdown) in France.
I never thought you could miss the city you live in, but I miss Paris. Physically she remains present and although stores are allowed to reopen tomorrow, restaurants will remain closed, the streets are quiet and the soul of the city is sleeping. The old Latin motto of Paris is 'Fluctuat nec mergitur' which roughly translates to 'tossed by the waves but never sunk' and wow, has 2020 done some tossing. 
During the second lockdown we have been restricted to a 1km (about half a mile) radius from our homes with a permission slip needed (that you fill out yourself) to go out for essentials (food, medical appointments, etc.) or to exercise. While my little radius included some of my favorite places, most of the city has been decidedly off-limits. 
Over the past 4 weeks we made the most of our allocated hour of 'exercise' each day in the nearby Jardin Du Luxembourg, letting the dog do her daily investigating, and letting our kids play in the fresh air. When possible, I also enjoyed a solo walk along the banks of the Seine, whose calm current reminded me that the history of France is filled with challenges that have been overcome. 
I never realized how much of the city I took for granted – perhaps a fitting metaphor for 2020? A quick stop at my local terrace for a coffee or chilled glass of wine, and a quiet exchange with the impeccably dressed waiter. The cultural institutions, who remain shuttered, their beauty and history waiting patiently to be frequented once again (although you can visit many online like the Louvre, Versailles, Centre Pompidou or the Musée d'Orsay). And the small boutiques and independent bookstores that I visit as much for the conversation with the owners as the books. But most of all, I am excited to return to the specialty food shops spread all over town, which were beyond my 1km 'border.' 
The radius will increase to 20km (about 12.5 miles) tomorrow and I cannot wait to visit G. Detou for a kilogram of chocolate-chips, the BHV department store for fuel for my blowtorch to make crispy crème brûlée, and La Grande Epicerie at The Bon Marché for all kinds of fresh specialty ingredients, their vast selection of wonderful pastries, and to order a Bûche de Noël from there in time for Christmas!
I continued to shop during lockdown (mostly online) as the holidays approach, in the selfish hope that the stores I love can survive for me to enjoy long after the shadow of Covid has lifted across Paris. As it gets colder and we settle in for a long winter, I have been trying to order comfort itself from some of the unique stores I'm featuring here. These are places that ship outside of France, along with a few other addresses that can offer you a taste of France if you're outside of l'hexagone. 
As 2020 begins to show signs that we are heading back to smoother waters, and a new sense of positivity slowly creeps into the air, why not put a bottle of champagne on ice, pop on a French playlist, and transport yourself to Paris and France for the holidays! Wherever you are in the world, if you are missing France, I hope that this selection offers you (and your loved ones, especially if you send any as gifts) some joy.
(Note: This information is correct at the time of publication but subject to change). 
Food and Wine
If you are pining for French cuisine – the flaky pastries, the crusty sourdough (that we take for granted – I don't personally know anyone in France who has attempted sourdough during lockdown), the smooth, rich hot chocolate, the wonderful wines with their traditions and terroir, and the cheese and charcuterie, here are a few ways to bring a bite of France to you.
La Cuisine 
This cooking school has collaborated with E. Dehillerin to ship pre-packaged baking kits which you can combine with a live online class to learn to make your favorite French pastries and treats at home, such as macarons (above), baguettes, and croissants, which are also available as downloadable classes. Kate Hill does a wonderful cassoulet class from her cozy kitchen in the southwest of France. Cook'n with Class in Paris can organize private classes for your friends and family, so you can hold a private family get together online! And Les Petits Farcis offers a virtual culinary tour of Nice with live online classes to make Niçoise specialties such as Panisses and Menton lemon tarts, as well as other French specialties.
Bernachon Chocolate
This 3rd generation chocolatier has been open since 1953. Whether it's a gift for you, or someone else, make sure to check out their seasonal products such as marrons glaces (candied chestnuts) and famous palets d'or in their online shop. The quality is second to none and this is one of David's absolutely can't miss shops in Paris. (Note: If you are in Paris, Denise Acabo at A l'Etoile d'Or has a great selection of Bernachon chocolates as well as other bonbons and confections for gift-giving, or for yourself.)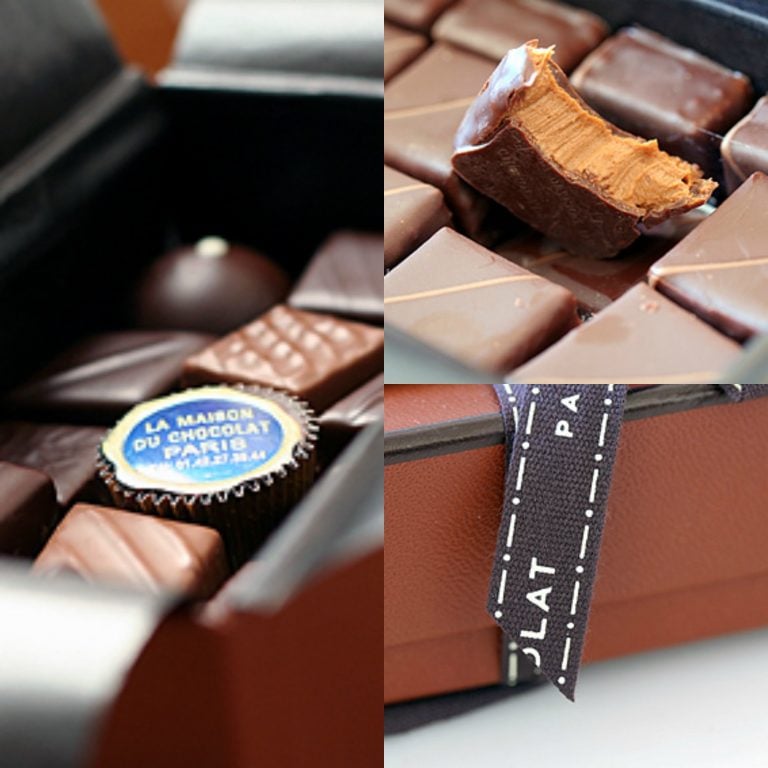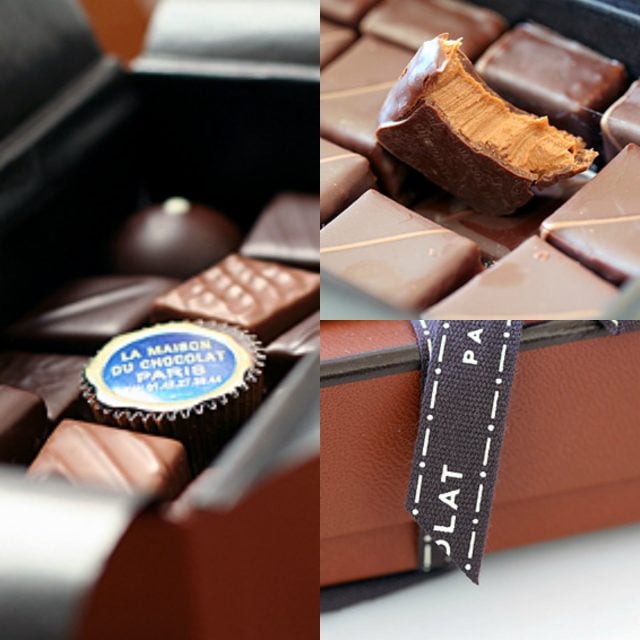 La Maison du Chocolate 
This well-known classic Parisian chocolate shop offers up a selection of their best truffles, pralines, bars and boxes for international shipping. All their chocolate are made fresh at their atelier just outside of Paris, and available for shipping worldwide.  
Poilâne
The famous Poilâne bakery ships a selection of their bread and sweets, as well as flour, books, homewares, and their 2020 advent calendars. You can even send a loaf with a personalized message baked onto it! 
Oliveraie Jeanjean
South of Nîmes, this family business manages 10,000 olive trees and the 7 varieties are pressed in their own mill by Monsieur Fabien Jeanjean, resulting in award-winning oil. Their aromatic box offers 5 different oils and 5 different tapenades to try.
Fromage.com
General Charles de Gaulle once asked "How can anyone govern a nation that has two hundred and forty-six different kinds of cheese?" This website only offers 96 varieties of French cheese, which is a good start. 
Gourmet Food Store
I could write for pages about the nuance between different French butters but should you wish to experience some of the joy firsthand, there is a good selection available here, including Beurre d'Isigny. They also offer an incredibly wide range of products from caviar to snails in a tin!
Frenchery
Frozen croissants from Lenotre, a well-stocked apéro section, or my absolute favorite winter treat, aligot (a cross between fondue and mashed potato) is sold by Frenchery. You can even get specialty Bordier butter (I want to try the yuzu flavor!) which they take pre-orders for. 
Absinthes.com
A great place to find unusual Chartreuses and absinthes, some that aren't usually available in the US. What better way to see out the rest of 2020 than with a strong French-based cocktail?
Rancho Gordo
Being stuck inside is a pretty good excuse to finally tackle cassoulet, the grand French casserole of beans, duck confit, and sausages. (The exact ingredients are a source of contention in France, but David has a recipe in My Paris Kitchen if you want to give it a go.) Haricots Tarbais are the "official" bean of cassoulet, which are expensive and hard to get outside of France. Enter Steve Sando of Rancho Gordo fame, who is offering the same beans, at a more accessible price. His "cassoulet beans" as he called them (since the French name is protected) cook up beautifully, and even if you don't want to tackle cassoulet, they are wonderful gently simmered, then seasoned with salt and pepper and tossed with olive oil. Their black caviar lentils are also a treat for making French lentil salads.
(Note: Classic Not Frères Poterie cassoles, earthenware cassoulet dishes, are available from Le marché au naturel and La Tuile à Loup which both offer international shipping.)
French Feast
French sardines, truffle, herbs, chestnut cream, marrons glacées (candied chestnuts), prunes from Agen, bitter chestnut honey, and salted butter caramels are all on offer from this comprehensive (although not super user-friendly) website. I love their beautifully packaged tins of rose and violet pastilles.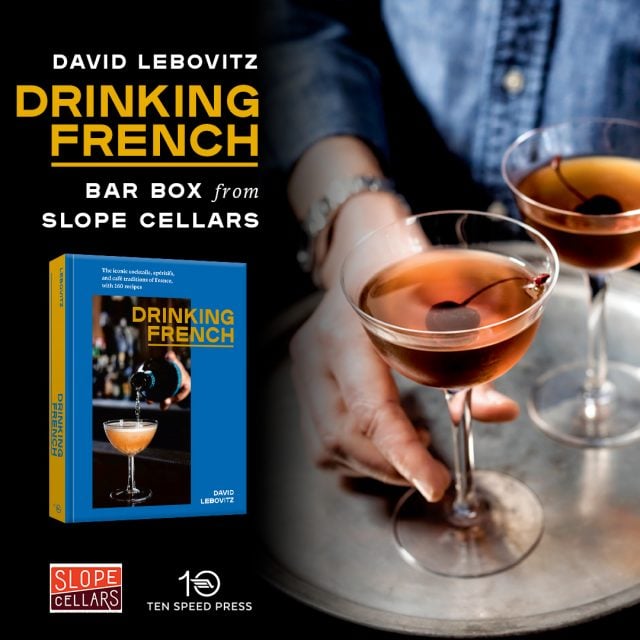 Drinking French
For seasonal holiday gift-giving, for yourself or to send to someone you want to treat, Drinking French Bar Boxes are now available from Slope Cellars and with be available at K&L Wine Merchants in early December. (We'll update that information here on the blog when those are ready.) As a special treat for the holidays, both shops are including a signed bookplate in each book. I might be biased but a signed book by David, and a box of French spirits, makes a perfect gift ;)
(Note: Please check the websites of the shops to see which states they can and can't ship to due to local and federal liquor laws. Boxes are available for pick-up or local delivery from Slope Cellars in Brooklyn, and they can ship to New York, Washington, DC, Alaska, and Florida. K & L Wine Merchants can ship to California, North Dakota, and New Hampshire. For questions, please contact the stores using the links above.)
Beaune Imports
This small, family-owned importer of fine wine, olive oil, and Catalan anchovies, offers a selection of well-curated French wines that will immediately transport you back to your favorite Parisian terrace, or take you on a trip to the countryside of Burgundy, the Loire, or elsewhere in France. My pick – the Holiday Dinner Party six-pack. (The current special of six bottles of rosé wines is also attractive, and specially priced, too.) And let's be honest, this year, you deserve it!
(Note: Due to shipping laws, Beaune Imports can ship to CA, WA, OR, ID, NM, and NV in the U.S. only. In-person pick-up is available at their warehouse in Emeryville.)
Ladurée
Nothing else to say apart from macarons make everything better. 
Mariage Frères
Having moved from the United Kingdom to France, I never thought I would be impressed by the tea here but Mariage Frères is just so wonderful. My favorite is the Marco Polo; the elegant canister sits on our kitchen bench and I start every morning with a cup of it.
Kitchen and home
E. Dehillerin
The website of this incredible culinary store takes a minute to load but it is worth it to have access to this Aladdin's cave of treasures. They're known for their copper cookware, cutlery, and baking supplies, from the tiniest copper pan to a 15-inch pepper grinder and EVERYTHING in between. I bought some of their oyster serving plates and they sell both right-handed and left handed oyster opening gloves, just in time for seasonal shellfish.
Merci
One of my, and everyone in the know's, favorite stores in Paris. Spread out over three floors, there is always something new to discover. Their linen sheets will take your bedroom to a new level of chic and their linen napkins were one of the first things I bought when I moved to Paris to make my house feel like a home.
Le Creuset
This colorful cookware is an icon around the world. The Le Creuset Dutch oven will last a lifetime but my favorite is the petite heart cocotte in which I make rustic, oversized soufflés and comforting baked eggs. Anything served in a lovely red heart just tastes better. 
Diptyque
Diptyque have just launched their annual festive candles in Moonlit Fir, Amber Feather and Floral Majesty (or a set of all three in mini). Also their much-anticipated annual carousel, which dances on top of your candle, has just arrived online. My dream gift is their Advent calendar, one of the most luxurious I have ever seen. I miss visiting their store on Boulevard St Germain but their candles will get me through the long dark nights ahead.
Trudon
Founded in 1643, this historic candle maker supplied the Imperial court of France. Now they are invested in bee conservation. Arguably the best smelling candles in the world.
Madame de la Maison
Ajiri of Madame de la Maison offers a beautifully curated selection of French tableware that includes linens tablecloths and napkins, vintage plates as well as drinking glasses and barware, to either buy or rent. I also enjoyed the articles on 'A Brief History of Monograms' and 'A Case for the Good China' on her website.
Dermstore
Stocking French pharmacy staples such as Avene, Bioderma, Caudalie, Embryolisse, La Roche-Posay and Leonor Greyl, this store has everything you need for some French pampering. A great place to stock up on your favorite brands until you can visit France again.
Bouquinistes of Paris
If you miss strolling along the Seine, rifling through the original art and books at the bouquinistes (booksellers) that line the banks, you can now order one-of-a-kind pieces online from this new initiative to help support these legendary book (and art) sellers. 
Shop the Chateau
From the owners of Château de Gudanes, this beautiful new website connects buyers and sellers of french treasures (both old and new). If you have ever been interested in David's brocante visits, this site is for you. 
Marin Montagut
This chocolate-box of a store, full of dreamy French decor, opened in June 2020. Luckily the owner, Marin Montagut, also launched his easy-to-navigate website so we can all brighten up our homes with his creations.
Culture
Bookshop.org
Bookshop.org is "an online bookstore that financially supports local independent bookstores and gives back to the book community", and has just launched their site in the UK. An easy-to-navigate website is a plus, as are the discounted books, which help support local booksellers. Plus they stock all 7 of David's books ;) Book Depository is another option with an enormous selection and international free worldwide shipping. 
Shakespere and Company
One of the most photographed bookstores in the world, with a brilliantly curated selection of books, Shakespeare and Company is currently shipping internationally and has also launched a year-long "Friends of Shakespeare and Company" program where you can help support the shop, financially and spiritually, through 2021.
Sennelier
For your inner artiste, this exquisite brand of high quality art supplies is available via authorized resellers. I also highly recommend a visit to their original store (opened in 1887) on the Quai Voltaire during your next trip to Paris.
Atelier Choux
With the first wave of lockdown babies due soon, this is the perfect place to send a gift, or to order something, for the nursery. Everything they offer is so incredibly cute, yet very chic. 
And if you really want to keep the French close, perhaps something from Le Slip Francais to add a certain je ne sais quoi to (or under) your holiday outfit ;)
Feel free to message me on Instagram @thereal_emilyinparis if you would like some more festive gift ideas!