Creme de Marrons (Chestnut Spread)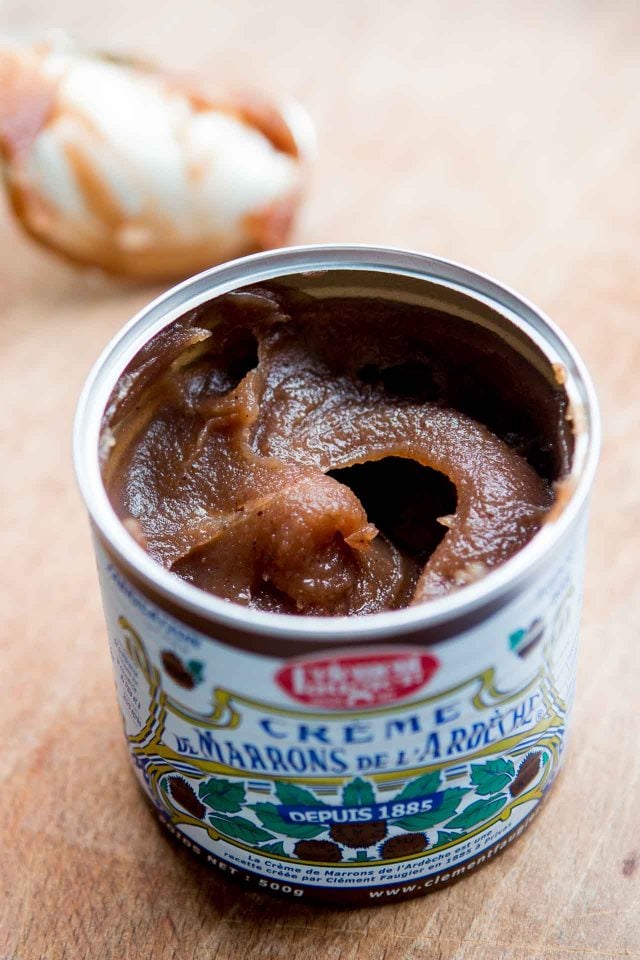 When I was sprier (and when I could eat all that chocolate!) I used to do culinary tours. One of the most fun things to do was to take people into places and explain some of the lesser-known items that, incongruently, France is famous for. I know. I had to think about that for a minute, too.
I'd point out things like fleur de sel, salted butter from Brittany (doing my best to reverse decades of people insisting that gourmands only ate unsalted butter), the esteemed (and ridiculously delicious) Madame Loïk, Amora mustard, Kiri, and caillé. I even shared some of the goofier things here on the blog, which has been up for a decade but still has only 1 share on Pinterest and 17 on Facebook. So perhaps I overestimated people's interest in pop'n fresh-style croissant dough sold in cardboard tubes, and rosé wine pre-mixed with grapefruit flavoring.
Still, he persisted. Take crème de marrons, for example. It's hard to get people outside of France to pay attention to it. Heck, even the Wikipedia page for it, in French, when you head over to the English version, takes you to a page about candied chestnuts, not chestnut cream. It easy to dismiss the dubiously brown paste that comes in a tin, that's admittedly a lot prettier than what's in it. But if you're not familiar with it, I urge you to consider it.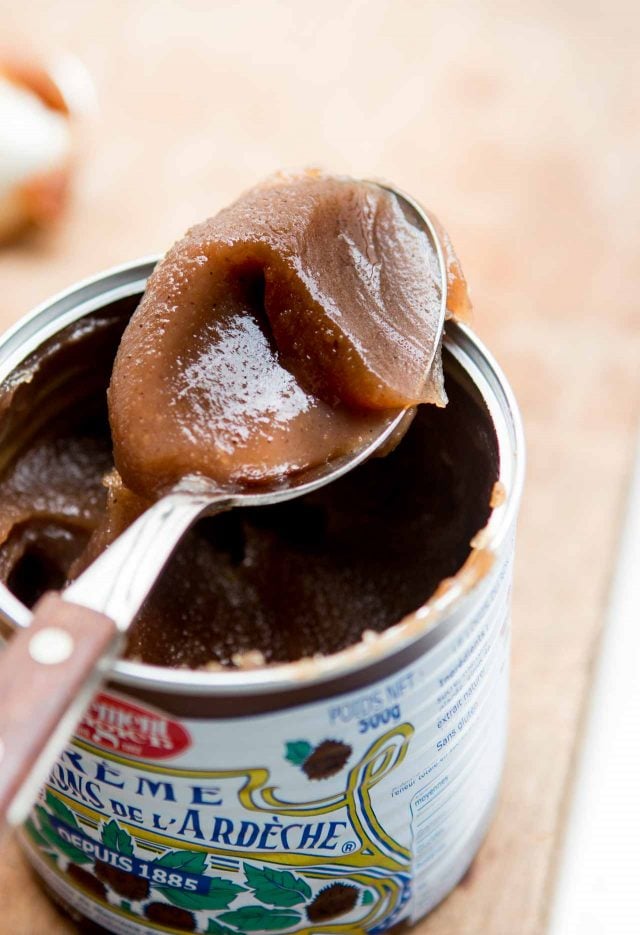 First up, the word crème is a misnomer. There's no cream in it; it's just pulverized and pureed chestnuts. In some cases, the chestnuts used are already candied. (They use the brisures, the bits of candied chestnuts that are broken in the complicated candying process.) In other cases, the paste is sweetened with vanilla added, and packaged up, for all to enjoy. There's no fuss, no muss.
The variety of les formats are interesting. There's a standard 300-gram tin (above), which is a little over a cup. But there's also a 4-pack of mini tins, each one holding no more than a few demitasse spoonfuls. For bakeries, I've seen multi-gallon pails of it for sale in professional supply stores. And for those who don't want to bother buying two things at once, you can buy yogurt with chestnut cream already in it, since they're often enjoyed together.
It's also sold in toothpaste-like tubes that are intended, intentionally or not, to be administered directly in the mouth, like sweetened condensed milk. Some are surprised that normally-reserved French people might stick a tube of something in their mouth and squeeze something to eat into it.
But let me assure you, I wouldn't be surprised if many of those very chic French women that everything talks about in best-selling books and widely-read magazine articles, who know how to tie their scarves just right and are impossibly chic with pencil jeans and oversized handbags casually tossed over their shoulder, very possibly have a tube in their kitchen (or in their shoulder bag) that they take a squeeze out of every now and then. When no one's looking – or writing about, of course.
Romain likes the version from the magasin bio, the organic store, made with natural ingredients. I have proof of that because he recently presented me with a crate of empty jam jars, which he managed to stash somewhere where I never saw them. I thought were jars he wanted me to refill with jam, but noticed almost half of them were empty jars of organic chestnut cream. (Actually, when I just took a look at it again, I realize there are more empty chestnut cream jars than jam jars. And here I've been slaving over a hot stove, winter, spring, summer, and fall, to keep him stocked with jam.)
Aside from baker's using it make Mont Blanc, a classic French pastry with a spaghetti-like pile of chestnut cream mounded on top, I suspect the rest of the crème de marron consumed in France is either swiped across morning toast, or eaten with yogurt or fromage blanc. That's how I like it. But it also is used in a number of recipes, a few of which I've linked to below. And yes, you can even make your own at home, if you've got the moxie.
So what the heck does this shiny paste, that I just learned Romain prefers to my homemade jams and jellies, taste like? Well, the dirt-brown color of the crème lets you know it's gonna earthy-tasting, a claim backed up by it's ruddy, nutty, almost roasted squash-like flavor. The sugar gives it distinct toffee notes, which complements the chestnuts and makes them (very) easy to swallow, or lick off a spoon. The organic brands use raw cane sugar, but don't always have vanilla in them.
While I no longer take people through outdoor markets and supermarkets anymore (online, or in real life), if you go on your own, there are a variety of other brands to choose from, although Clément Faugier is the most prominent and popular you'll come across. And there's a surprise on the bottom when turn the empty can over; you can meet Marono, their mascot, and thank him for leading you on a tasty adventure.
Chestnut Spread Recipes
Angelina's Mont Blanc (Fine Dining Lovers)
Mont Blanc Dessert (Mary's Making)
Mont Blanc Chestnut Dessert Tart (Olive and Mango)
Homemade Chestnut Paste (My Little Expat Kitchen)
Galette de rois à la crème de marron (Albert Menes, in French)
Chestnut Paste (Asian Vegan and Beyond)
Crème de marron ice cream (Turbigo Gourmandises, in French)
Chestnut Cream/Crème de marrons (Food 52)
Chestnut Cream Éclairs (Southern Fatty)
No-Churn Chestnut Ice Cream (Nigella Lawson)
Chestnut Vanilla Ice Cream (Mad About Macarons)
Clément Faugier Chestnut Spread in Tins, Mini-Tins, and Tube (Amazon)