The funny thing about having a blog is that you become "searchable." I've changed my tune many times, which astute readers often note, on everything from where my favorite croissant can be found (in 2007), where I get my falafel fix (a change from 2005), to what French butter I prefer (in 2008). C'est normale. Bakeries change hands, restaurants slip in quality, or, more recently, you redesign your blog and decide to go back and update pictures and older posts as you land on them. But with 1753 posts here, it's hard to keep them all updated, while still moving forward
Last night I was having drinks with a new friend and I told her about a great restaurant somewhere that she was going to visit. For the life of me, I couldn't remember the name of it. And now, the morning after, I can't even remember where she was going so I could send her the link to it! I guess I could compare myself to a computer; if you put too much information in, you're going to run out of memory. So my blog is like my "cloud" in a way, where the information is retrievable – even if my brain crashes.
Like croissants and butter, Dijon mustard is a big deal in France. It's the condiment of choice and the French have adopted le ketchup, a condiment that they have a love/hate relationship with. It was famously banned in school cafeterias, which may have created more of a stir in America than in France, but the shelves of les supermarchés have plenty of bottles of Heinz on hand, and other brands, to feed the local appetite for what is often an international symbol of la cuisine américaine. (Never mind that I'm from Northern California, and spend time in New York, so my symbols are heirloom tomatoes, local greens, and pastured meat. And ketchup isn't even American, but an Asian-inspired condiment, likely derived from a Chinese sauce made with fermented fish.)
In spite of the emergence of ketchup appearing on some French tables, Dijon mustard is still the king of the condiments. Many Americans got their first taste of Dijon mustard via Grey Poupon, now made by an American company (it's hardly available in France, although there is a store in Dijon that apparently sells it), courtesy of some witty commercials that featured a gentleman in a Rolls-Royce pulling up alongside another limo politely requesting some Grey Poupon.
Later the company changed their ad strategy, with mixed results, which was rightfully wiped off the air.
(Although I have to say that when I visit the states these days, I'm startled by the bluntness of ads on television for toilet tissue, with brands expounding on their own particular cleaning qualities and virtues, which I won't get into here, not to worry.)
On a more refined note, Dijon mustard gets its name from the city of Dijon, where it originated. But there's no official designation that says that Dijon mustard has to be made in Dijon. In fact, even if the mustard is made in Dijon, France, in most cases, the seeds have been imported from Canada.
I've waffled over the years on mustard, beginning a big jar of Amora mustard I picked up at a supermarket the first week I'd arrived in Paris, when I was stocking my kitchen. That initial purchase prompted a woman on the bus, who saw the jar in my bag, to remark that the mustard I was buying was "très, très forte" (strong). People change over the years, and so do our condiments, and I found myself picking up a jar of Maille at the supermarket or at their boutique in the Place de la Madeleine (and they now have one in New York City, too) or Edmond Fallot from a more upscale address. (Which I go to on my bike or by bus, not by limo.)
Both of those were certainly my mustards of choice for a number of years, and I still buy them. But I also always have a jar of Amora in my refrigerator, too. I like it because it is très, très forte, and indeed, a just-opened jar of Amora mustard will blow your sinuses out. The French aren't generally fans of strong or spicy flavors, so for the timide, Amora makes a Dijon mustard that is mi-forte, or half-strong.
But most French people can't get enough Dijon mustard, and it's part of the classic bistro tabletop trio along with salt and pepper. A dab of Dijon is used a condiment alongside a plate of meat, sausages, and poultry, and as a base for vinaigrette; Romain always tells me to add more mustard when making the sauce for the salad. And a commenter found the amount of mustard in a recent salad recipe that I posted to be overwhelming. We probably go through half a jar a week and if Romain had his way, it'd be a full jar. Thankfully, Amora mustard is inexpensive in France: a jumbo glass jar costs around 99 cents. The travel-friendly squeeze bottles come with at a slightly premium price of around €1,39.
That's worth paying because when I travel back to the states, several friends implore me to bring them back Amora mustard which I do in my checked in luggage. On my last trip, I actually checked a bag solely to haul over jars of Amora mustard for them. (Okay, and one for us.) I also like the squeeze bottle, the copious use of plastic notwithstanding, because I've seen some people dip a knife covered with meat juices in the jars of mustard in restaurants – and yup, even in my home, despite my OCD admonitions about cross-contamination, which not everyone is as concerned about as me.
Since I'm assuming that cafés and bistros don't change the mustard jars after each service, hygienic me often gives pause before dipping into a communal pot. Perhaps I should get a pack of these mustard dosettes, and carry them around, like people tote hand sanitizers?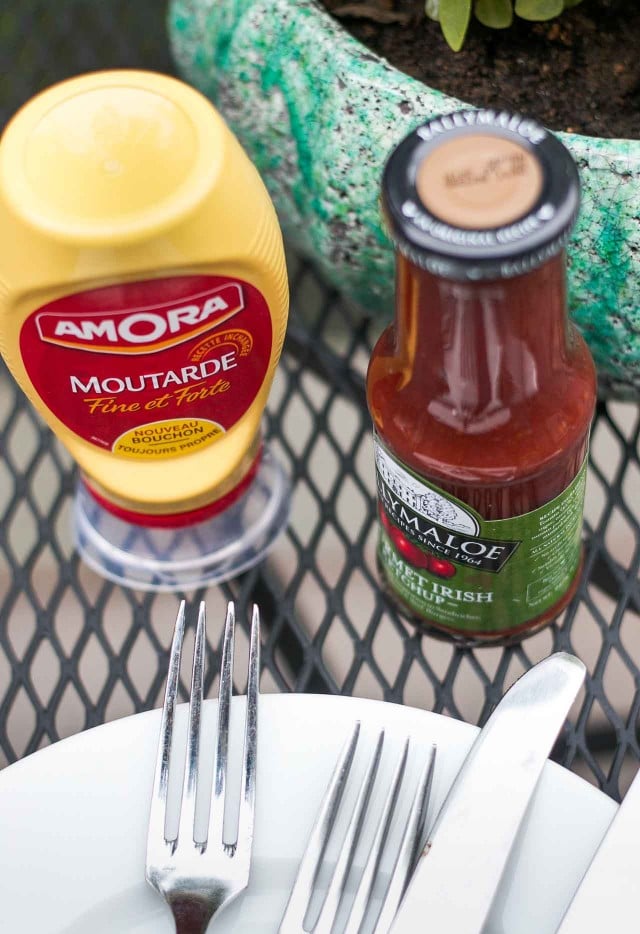 I fit right in with the French because I love Dijon mustard too, and was never a big ketchup fan, although I was won over by the bottle I picked up at Ballymaloe, which is rich with spices and seasonings, and not overly sweetened, like the kind you find in supermarkets. Although the French have taken to ketchup, I discovered the Irish-made condiment and now I'm getting requests from my Frenchman to start importing that, too.
So mark my words – well, for the time being – I've switched not only my ketchup, but my Dijon mustard allegiances. So much so that, that in fact, we took a squeeze bottle of it on vacation with us this summer. Which had its place in the sun. (Actually, astute readers will see that we actually kept it in the shade.) But who knows what the future holds? So don't hold me to it.