Mustard Glasses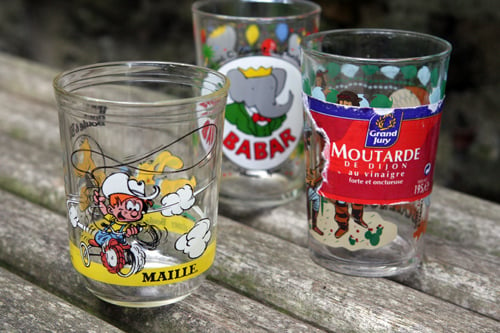 It's been a while since I've visited the jelly aisle of an American supermarket. But one thing I have etched in my memory from my childhood are the glasses with cartoon characters on them. Whatever marketing genius came up with the idea deserves more recognition than I can give here, but as a kid, we had to finish all our milk and "see Fred Flintstone" (whose visage was embossed in the bottom), before we could get on to dessert. And imagine where my career would be right now if I didn't comply?
As long as I can remember, drinking glasses were a give-away item in the states, from being packed in cardboard boxes with powdered laundry detergent to give-aways at the local gas station. And that tradition has crossed the Atlantic when a few years back 6-packs of blue-banded Orangina glasses were offered as a token with a fill-up on l'autoroute.
Unfortunately the ones I like are no longer made and a few got broken, which I tried to replace on Ebay.fr. When I found some, the person shipped them without any padding – just a few sheets of flimsy newspaper – and, of course, when the box arrived, it was rattling with broken glass.
[In one of the various "C'est pas ma faut!" ("It's not my fault!") moments here, the seller complained about the lackadaisical handling by La Poste, with no mention or blame inferred by stacking six glasses inside each other together in a box, putting a stamp on it, and just dropping it in the mail. Another one of those moments was when a friend was in a small accident recently and blamed it on his cell phone, which was making a funny noise when it was clanking against something else and distracted him. So the accident was, naturally, the phone's fault.]
Curiously a few years ago, some other enterprising Americans decided that French jam jars would make good drinking glasses. And even though they had snap-on plastic lids, they became wildly popular and repositioned as "working glasses." We were invited to the home of some Americans and out they came as drinking glasses, and Romain was stunned to be offered a drink in a jam jar.
But time have changed and in a recent issue of a French food magazine, I counted dix, or ten, dishes presented and served in drinking glasses. This troublesome trend has really gotten out of control and while I can understand serving a crème brûlée or tiramisu in a squat glass, passing by a corner bistro and seeing a woman sitting by the window digging into a steak-frites, a jam jar full of dressed lettuce alongside, should be a wake-up call to all that it's time for this silliness to stop. If you're confused, just remember this: plates are for eating food off of, bowls are for eating soup and cereals from, and glasses are for drinking liquids out of.
But I'm obviously outnumbered, plus throwing a wrench in my argument is chances are, if you're invited to spend any time with a French family, odds are excellent that somewhere in their cupboard will be at least one mustard or pickle glass, repurported for beverage consumption, like juice for the kiddies or libations for the adults.
A Parisian friend of mine, who's about my age, said, "I hate those glasses" and she was probably reacting to the fact that anyone over the age of fifty in France, about the time when frugality sets in (along with stone curtains begin encasing people's minds, which as you can read from above, is happening to me as well), starts collects the cornichon glasses a bit more obsessively, which are used for everything from un verre d'eau to prendre un verre, water to wine.
I kind of think they're charming but I haven't spent my whole life drinking out of them. But I'm about to start since I've bought a few jars of mustard in, yes, wine glasses. What a lot of people don't know is that most Dijon mustard either isn't made in France, or that the spices that are used are shipped in from elsewhere, or across the ocean. But spicy Dijon mustard is still the condiment of choice in France and you'll find jars of it on bistro tables and in for sure in everyone's refrigerator or pantry.
However don't make the mistake I did, shortly after I arrived in France, by asking for some mustard to go with charcuterie at a wine bar. The server bellowed at me, "Our charcuterie is too good to be served with mustard!" I thought it might be those stone curtains, but now I realize he was right; the spicy taste of mustard obliterates the flavor of good charcuterie. Which was also why when I was making ham and cheese sandwiches for a train trip, Romain couldn't believe his eyes when he saw I was about to slather them with a smear of Dijon. (The French usually use butter, although nowadays some are sneaking mayonnaise in there.)
Anyhow, the longer I live in France, the more of these jars I'm starting to collect myself. In the next ten years or so, it'll be interesting to see how my collection is getting along. I do miss Fred and Wilma Flintstone – and Concord grapes a little (okay, the grapes I miss a lot) – and since my Orangina collection is dwindling fast, I'm going to have to ramp up my consumption of mustard. I can't eat it with ham or cheese, and there's only so much lapin à la moutarde a guy can eat. But I'm going to give it my best shot anyways.

Related Posts
10 Goofy Foods You'll Find in a French Supermarket
5 Absolute, Sure-Fire Ways to Get Rich in France
15 Things I'd Miss About France If I Moved Away