Les Jars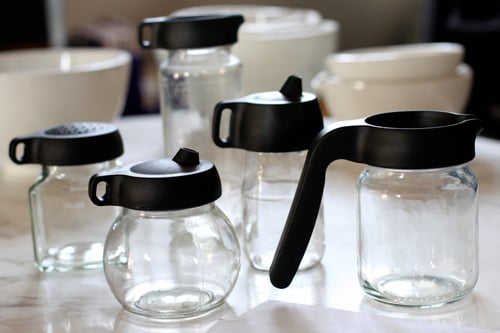 I hope for your sake that you're nothing like me. If you are, you've probably saved every single glass jar that's ever crossed your path. (Don't even get me started on reusable plastic containers, which merit a whole separate post.) Once something lands in my apartment, it's there for the duration. Someone once attempted to give me a smackdown for advising my favorite people in the world, my readers, to cover their cookie dough in plastic wrap.
But little did she know that I've been using the same sheets of plastic wrap, and plastic bags, since my arrival in Paris many years ago, which I rinse and dry methodically. Believe me, if a plastic bag or jar ever exits my threshold, it's destined for only one place, and that's the Smithsonian.
I have two areas in my apartment specifically dedicated to the preservation of glass jars. One is for jars I use for jams and jellies, and the other is for jars I've used for pickles, kimchi, and other things that are stinky. And nary the two shall meet: we all, somehow, have learned to co-exist in my tiny garret.
I am an avid jam-maker and I always make jars and jars of jam with whatever fruit happens to be copious at the market. It's a bit of a sickness and like my cabinet that's a jumble of plastic containers, I'd need to increase the bandwidth here to let you know what's going on in my refrigerator. When giving away my overload, I choose which jar goes to whom; if it's a particularly pretty or interesting jar, it goes to someone I really like. If it's a dinky jar, it's for someone I don't know all that well, but still want to give them a taste of the jam.
(If you don't get anything, well, you know where you stand. Sorry)
A lot of jars, especially in France, are pretty distinctive, French Dijon mustard jars come to mind. And in France, Bonne Maman jams and marmalade come in attractive ribbed jars with wide mouths which make them easy to refill with your own confiture du jour. Plus the labels come off easily after only a brief soaking.
To jar fanatics like me, there is absolutely nothing more annoying than those labels that don't slide off after a few moments of soaking, meaning those of us with OCD (obsessive confiture-jar disorder) have to scrape them with our fingernails and get all that icky glue stuck underneath them. (My kingdom for a gallon of Goo Gone. I lent 'someone' my bottle of it a while back, and haven't seen it since. And yes, that same 'someone' does get a majority of my jam—on a regular basis.)
(On an dubiously tangential note, it's funny that Americans have co-opted French jam jars for use as drinking glasses, which somehow got dubbed French "Working" Glasses. I'd defy anyone to go into a French home and not find at least one long-emptied mustard jar being used as a glass—which I've seen called a "verre à whisky", with the distinctive swirl of ridges. So I guess mustard jars are okay, but those "working" glasses definitely don't "work" for anything but storing jam: drinking out of one is considered un peu bizarre. And speaking of bizarre, there's a new trend in Paris to serve soup in canning jars. What the enfer is up with that? I don't mean to offend anybody, but if we can't drink from your jars, then you can't eat soup from them either.)
I often ride my bike down the Quai des Celestins since it has a bike path and is marginally safer than riding on the suicidal thoroughfare. It's actually not all that safe as the Midas muffler shop regularly has cars double-parked and if you're taking in the scenery and forget, and don't swerve away quickly, you'll likely to fly over the handlebars and plaster yourself on the side of a Citroën. There's a great shop on the corner, agreeably called Cornershop Diffusion, and the brightly lit window filled with Danish flatware and other modernist goodies always makes me stop, gradually, to take a look.
I keep hoping that my sleek—but somewhat unusable…at least according to my resident jam-eater, Arne Jacobsen flatware will one day be on sale, so I can add a few more pieces. Including that elusive—and pricey…bouillon spoon that I seem to be missing, that may, or may not, have gotten swiped. If you're out there and have a single Georg Jensen bouillon spoon in your possession, and don't get any jam from me, well, I hope you're enjoying that spoon.
One recent evening I was riding by and, as usual, I slowed down when passing their brightly illuminated window, looking for my flatware en promotion. Since I'm an optimist, hope springs eternal, but I haven't seen it yet. Yet illuminated in the window were these graceful, charming jar tops. I gently squeezed the brakes, not wanting to risk of flying over the handlebars, because I knew that life again was worth living when I discovered yet another, and rather creative, use for my reusable jars.
So the other day, I took a walk over there to get them. When the clerk showed me the box, I noted, rather incongruously, that there was quite a bit of packaging involved to wrap these five jar tops, which I presume was meant to be a 'green' gesture. There was a box, a cardboard slotted holder for the lids inside, plus two reinforced cardboard side holders, and each screw top was individually wrapped in plastic. And there was an instructions book. Raise your hand if you need instructions for screwing a lid on a jar.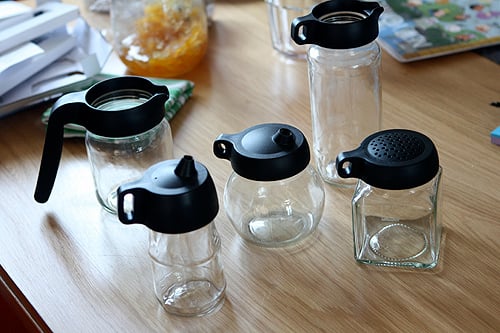 But since I was riding a bike, not driving, I figured I was neutralizing mon empreinte carbone so I bought them. What was funny was when after I paid, the clerk reached for a bag while I was simultaneously opening my reusable shopping tote, to take them home. "Il faut!" I said, ("It's a must!") and we both had a good laugh as he slid the box into my nylon sack. And now I've got five jars with new lids, and new lives.
Cornershop Diffusion
3, rue Saint-Paul (4th)
Tél: 01 42 77 50 88
(Map)




Related Links and Posts
Royal VKB (Jar Tops)
How to Find Food and Other Items I Mention on the Website
Cheesecake Baked in Little Jars (Chez Pim)
Five Extra-Pretty Canning Jars (The Kitchn)
Coconut Rice Pudding (delicious:days)
Weck Canning Jars (Heath Ceramics)
Christine Ferber's Strawberry-Lemongrass Jam (Wednesday Chef)
How to Make French Vinaigrette