Almond Cake
If someone had to ask me – what would be my "desert island" cake, I wouldn't hesitate for a minute. It's this simple beauty. Although chocolate figures largely into the equation for many of my favorite desserts, as much as I love Chocolate Orbit Cake, I'd have to pick this Almond Cake as the one that I would choose to sustain me through thick and thin.
We made almond cake at least once a week when I baked at Chez Panisse, and I've adapted the recipe from one of my baking bibles, Chez Panisse Desserts by Lindsey Shere. Lindsey was the executive pastry chef of the restaurant, and co-owner since the very beginning. When she started baking desserts for the restaurant, she baked in a home oven stowed away in a shed behind the restaurant. That just goes to show that you don't need a lot of fancy equipment to bake something wonderful. If you have just a few ingredients, and a standard cake pan, you can bake this exceptionally moist almond cake.
This cake is endlessly adaptable, and once I baked it in loaf pans, split the cooled cakes horizontally four times, smeared a bit of dark chocolate icing between each layer, then stacked them back up. I frosted the whole thing in more chocolate icing and when I gave a slice to Lindsey, she asked me where I got such a delicious recipe. Ha!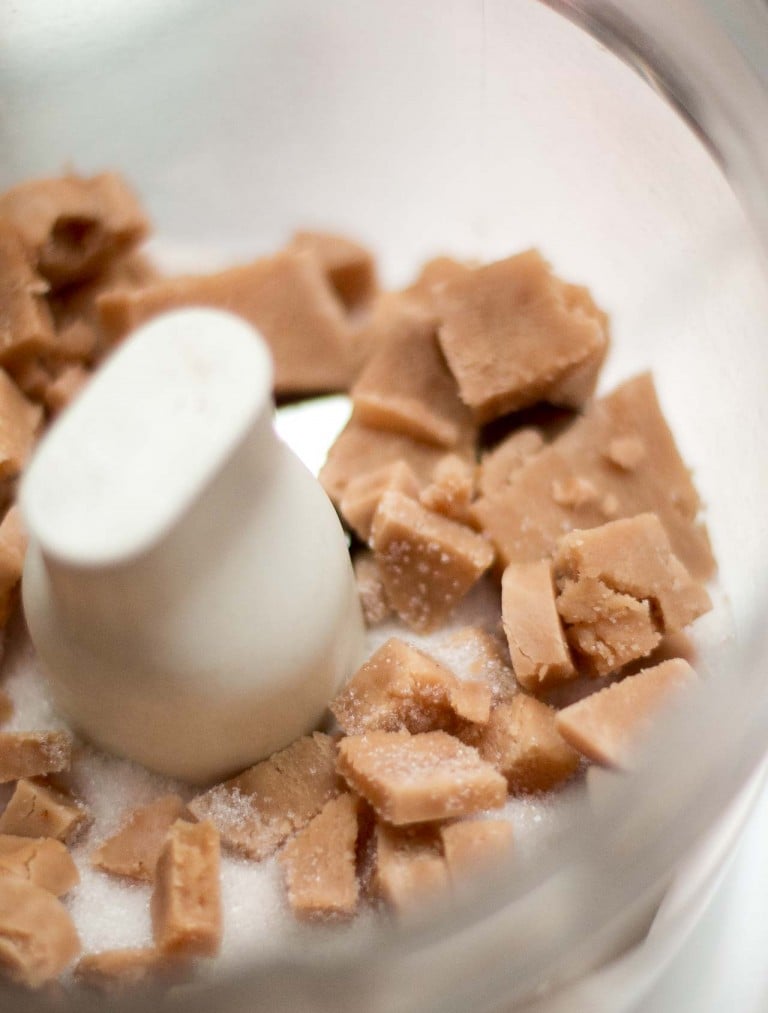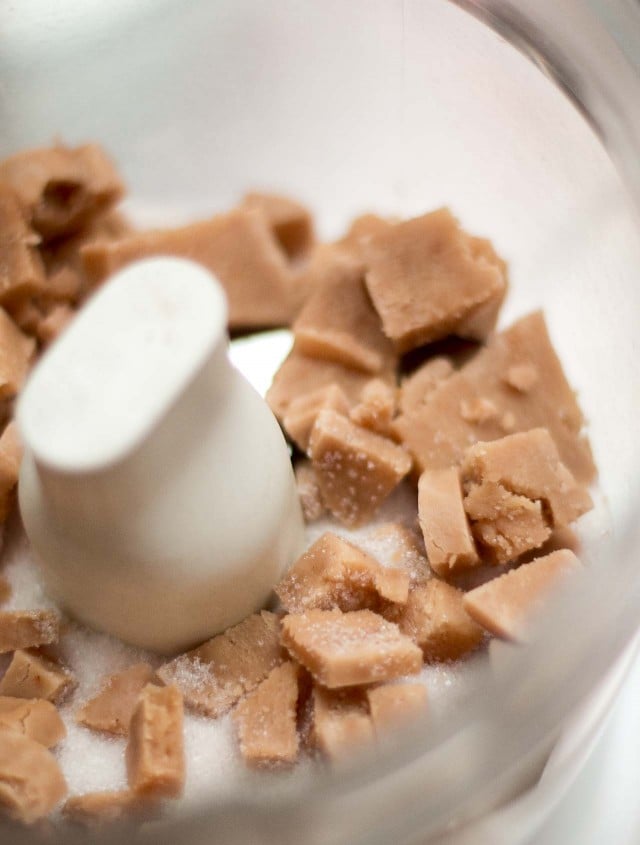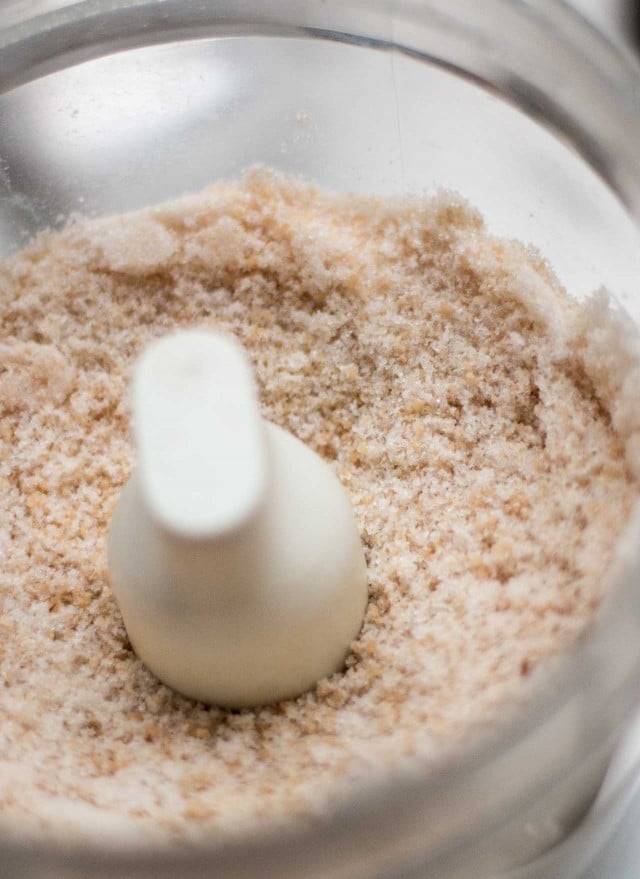 Although chocolate is wonderful with this buttery almond cake, this cake shines equally bright when paired with lightly sweetened fresh peaches, plums, oranges, apricots, or whatever berries are the most spectacular at the time. I've also served it successfully with quick-candied cherries or poached pears with chocolate sauce. And for those who like tea-time cakes, it can be split horizontally and filled with a thin layer of raspberry or apricot jam, reassembled, and brushed on top with bit more jam and a layer of toasted almonds, then finished with a dusting of powdered sugar.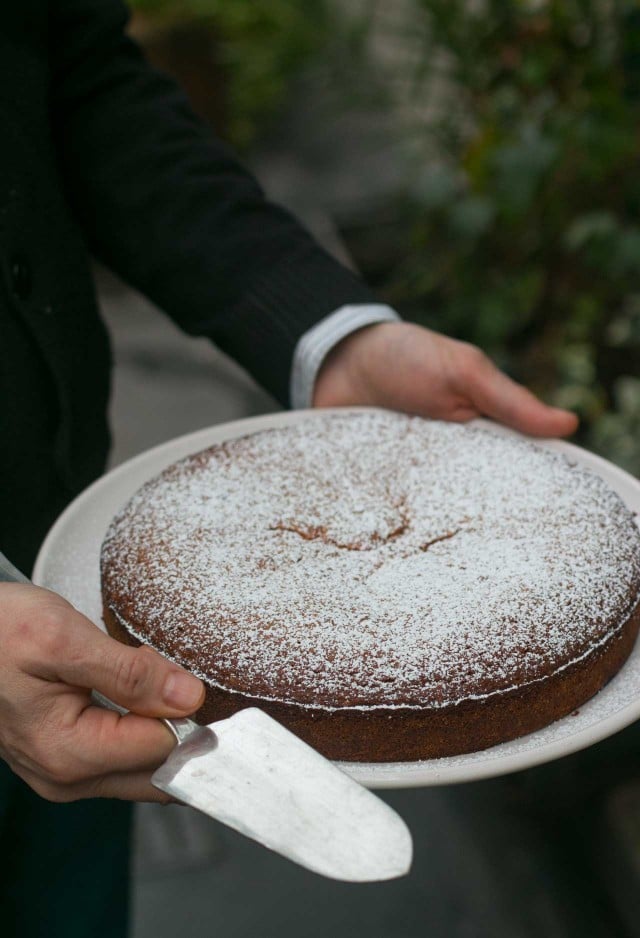 This is one of those cakes that's hard to mess up. There's no sifting or folding or tricks, and it keeps well for several days. In fact, it gets better if it sits a day or two before serving. Occasionally it will sigh a bit in the center, which is normal and adds to its character. (So no need to panic if it settles as it cools.)
You will need to get almond paste, not marizpan, which is softer and sweeter, but most supermarkets in America carry almond paste. (The almond paste shown in the photos is from Sicily and is slightly darker than what you might find elsewhere.)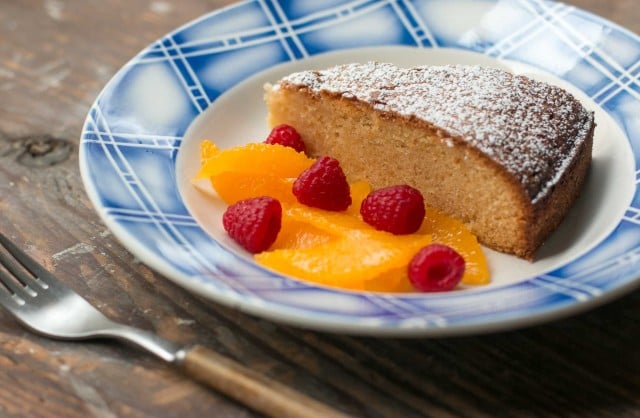 To get the paste fine enough, enlist your food processor. It makes quick work of the job and breaks up the almond paste very well. If you don't have a food processor, be sure the really get the almond paste broken up as fine as possible in your stand mixer.
One 9-inch or 10-inch (23-25 cm)
cakes
Adapted from Chez Panisse Desserts by Lindsey Remolif Shere As mentioned, this cake is best made in the food processor. If using a stand mixture, use the paddle attachment and let the mixer run until the almond paste is finely broken up. There's a few notes at the end of the recipe, including some almond paste tips and suggestions.
8
ounces (225g)
almond paste
3/4, plus 1/4
cup (140g total)
flour
1 1/2
teaspoons
baking powder
1
cup (8 ounces, 225g)
unsalted butter,
at room temperature, cubed
1
teaspoon
vanilla extract
1
teaspoon
almond extract
6
large eggs,
at room temperature
1. Preheat the oven to 325ºF (160ºC). Grease a 9- or 10-inch (23-25 cm) cake or spring form pan with butter, dust it with flour and tap out any excess. Line the bottom of the pan with a round of parchment paper. (See Note, below.)
2. In the bowl of a food processor, grind the sugar, almond paste, and 1/4 cup (35g) of flour until the almond paste is finely ground and the mixture resembles sand.
3. In a small bowl, whisk together the remaining 3/4 cup (105g) of flour, baking powder, and salt.
4. Once the almond paste is completely broken up, add the cubes of butter and the vanilla and almond extracts, then process until the batter is very smooth and fluffy.
5. Add the eggs one at a time, processing a bit before the next addition. (You may wish to open the machine and scrape the sides down to make sure the eggs are getting fully incorporated.) After you add all the eggs, the mixture may look curdled. Don't worry; it'll come back together after the next step.
6. Add half the flour mixture and pulse the machine a few times, then add the rest, pulsing the machine until the dry ingredients are just incorporated, but do not overmix. (You can also transfer the batter to a bowl and mix the dry ingredients in, which ensures the dry ingredients get incorporated evenly and you don't overbeat it.)
7. Scrape the batter into the prepared cake pan and bake the cake for 45-60 minutes, or until the top is deep brown and feels set when you press in the center.
8. Remove the cake from the oven and run a sharp or serrated knife around the perimeter, loosing the cake from the sides of the pan. Let the cake cool completely in the pan.
Once cool, tap the cake out of the pan, remove the parchment paper, and set on a cake plate until ready to serve. (Tip: Warm the bottom of the cake pan directly on the stovetop for just a few seconds, which will help the cake release.)
Storage: This cake will keep for four days at room temperature, well-wrapped. It can also be frozen for up to two months.
Notes: For this cake, I used this 9-inch cake pan, whose sides are 2-inches (5cm) high. Some readers noted that the batter rose higher than their pan, although I've made this cake well over a hundred times and have not had that problem. So use a standard size cake pan whose sides are at least that high, not a layer cake pan, which is shallower.
In the United States, Solo and Odense are good brands of almond paste available in supermarkets. I'm partial to the almond paste from American Almond Products, which is marketed in home baker-sized containers under the name Love 'N Bake.
Related Links, Post, and Recipes
Almond Paste FAQs (Odense)
Almond Paste Recipe (RecipeLink.com)
Almond Cake with Strawberry-Rhubarb Compote (Smitten Kitchen)
Almond Cake (Amateur Gourmet)
Olive Oil Almond Cake (Sassy Radish)
American Baking Ingredients in France
How to Find Food Products and Other Items Mentioned on the Site