Madame Loïk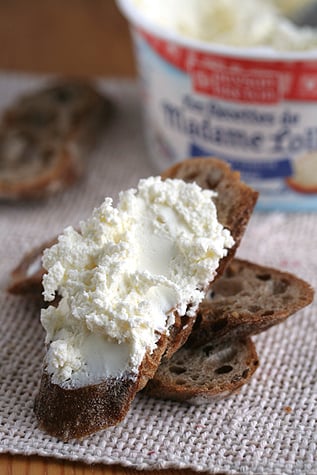 One of the things I promised myself when I moved to France, was not to buy cheese in the supermarket. It's not that you can't get good cheese there. You can. But if people continue buying cheese at the supermarket, eventually les fromageries will lose business and disappear, which would be a terribly sad thing for France.
And even sadder for me, since I'd probably move.
But there is one damsel I've become acquainted with, and she's unattached, not affiliated with any fromager: Madame Loïk.

Simply spread on slices of bread without anything getting between me and her snow-whiteness, Madame Loïk is one of my sinful pleasures from the supermarket. In the past, I've added finely-chopped fines herbes and olives and used her as a spread. And just the other night, I made a simple snack for l'heure d'apèro by topping a bit of bread with a smear of Madame, then delicately draping an anchovy filet over her.
I don't know much about her, though; she's a woman wrapped in mystery.
She calls herself "fromage fouetté nature" (whipped cheese) and I don't think she has an equal anywhere else. And although there's a couple of different varieties, my hands-down favorite is the one with sel de Guérande noted on the label. (Don't you wish in America they'd start telling you what kind of salt they use? Seems like there's everything else on labels over there.)
I don't buy her very often, since she's incredibly rich, so I'm sure she's not dependent on me, financially. But every once in a while, when I'm at the store, I'll bring her home, lift her top, and dive in, enraptured in the creamy madness, the fluffy freshness, and the silky softness of her snow-white crevasse.
Afterwards, we take a break until I can't stand it anymore. Then I'll go back for more.
Madame Loïk…Je t'aime…