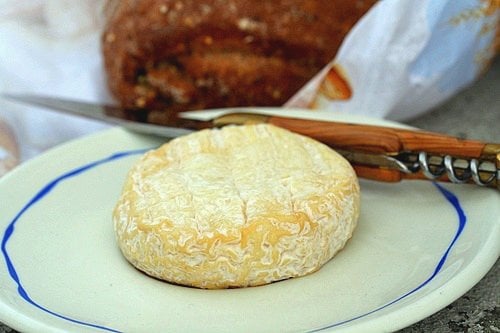 If you go to Lyon, you'll find Saint Marcellin pretty much everywhere. It's the best-known cheese from that region, and the user friendly-sized disks are inevitably piled high at each and every cheese shop you step in to. Locals bake them at home and slide the warm disks onto salads, and I've not been to a restaurant in that city that didn't have Saint Marcellin on the menu doing double-duty as the cheese or the dessert course. Or both. At the outdoor market stands, you can see how popular they are with les Lyonnais. And if you don't believe me, their presence is so pervasive that I once bought a ticket on the bus in Lyon and instead of change, the driver handed me a ripe Saint Marcellin instead.
Because they hover around €3, I used to pick one up at the fromagerie since they're an inexpensive way to add variety to a cheese platter. The ones I'd buy were decent, although I never heard anyone put a dab on their bread and say, "Good gosh David, that cheese is friggin' amazing!" (Although I'm not sure "friggin" is a well-used word around here.)
Like kouign amann, and other things that aren't from the Île-de-France (the region where Paris is) you often need to go to the source to get the best example. Down in the Rhône, one can find excellent little disks of Saint Marcellin piled up, wrapped and ready to go, at Les Halles in Lyon. That's where I had the best Saint Marcellin of my life, one which made a table of French friends stop mid-bite and say, simply, "Wow." Not "Friggin' wow", but just a "Wow" was good enough for me.
When I don't have time to make the 2-hour train trip to Lyon for a 3-inch disk of cheese, in Paris, I head to Fromagerie Trotté, in the middle of the Marais. This tiny trou of a shop is so slender than two people couldn't pass without one graciously stepping back and letting the other go first. (As if that's going to ever happen in Paris.)
It's small size means that they carry a very carefully-selection assortment of cheeses. The two men working there can be a tad gruff. Yet other times, they're as friendly as can be. So don't be put off. I actually got one of them to laugh. Once.
Well, to be honest, it was more of a chuckle. But I savored the victory nonetheless.
Right by the door you'll find a little ziggurat of Saint Marcellin cheeses piled up; some very ripe, pungent and moldy, others fresh, soft and dewy. I prefer mine between the two and point at the one I want. Sometimes they're sold in little tins or crocks, because when especially ripe, the fatty goop can't be contained by the fragile crust. When I get it home, I slide it out of the container and onto my plate. And we all what that leads to…
Pascal Trotté
97 rue Saint Antoine (4th)
Tél: 01 48 87 55 37
Métro: Saint-Paul
Related Posts and Links
French Cheese Puffs (Recipe)
Internship at Pascal Trotté (Slashfood)
Splurging on Saint Marcellin (Washington Post)
Fondue de Saint Marcellin Parmentière (Lucy's Kitchen Notebook)
Warm Baked Goat Cheese (Recipe)
Searching for a Sublime Saint Marcellin (Janet Fletcher, San Francisco Chronicle)
Flickr French Cheese Photo Group
Saint Marcellin (Available online, via Artisanal Premium Cheese)