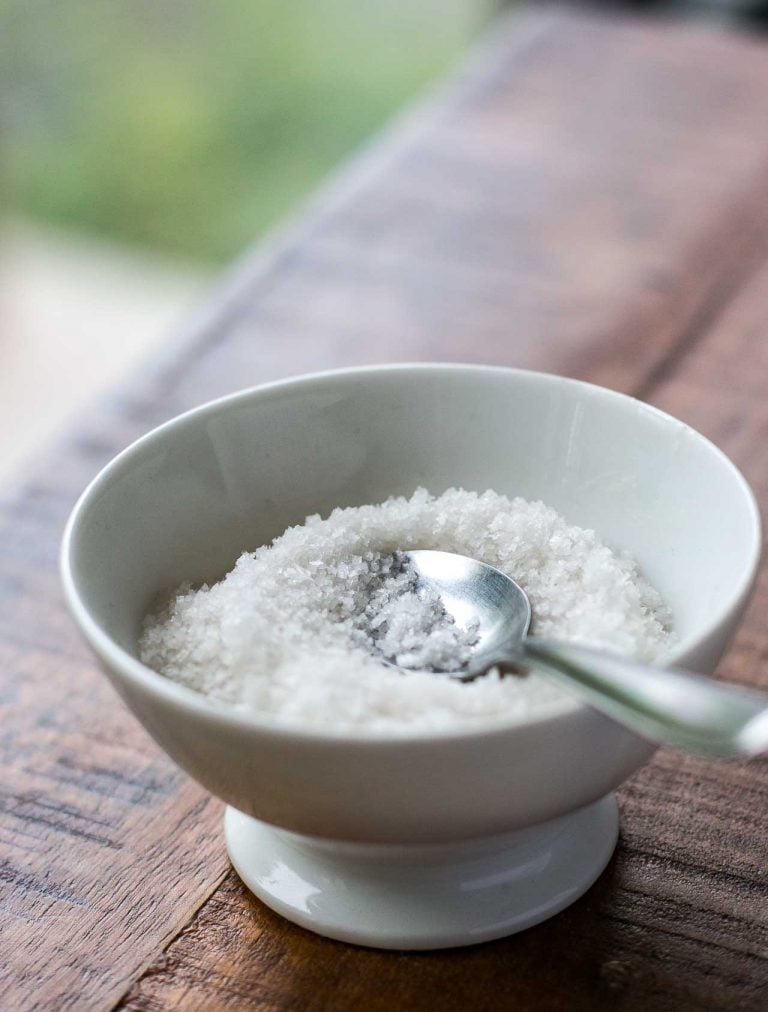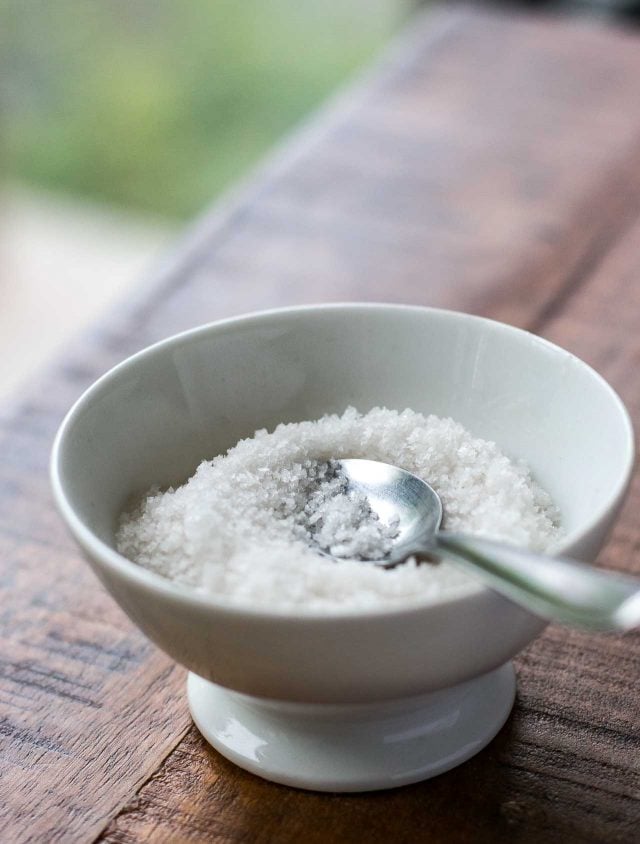 There's been a lot of discussion about what is the best salt in the world. There are lots of opinions, tastings, and scientific studies floating around. But I'm here to tell you, my absolute favorite salt is Fleur de sel de Guérande. I think there's no finer salt available anywhere.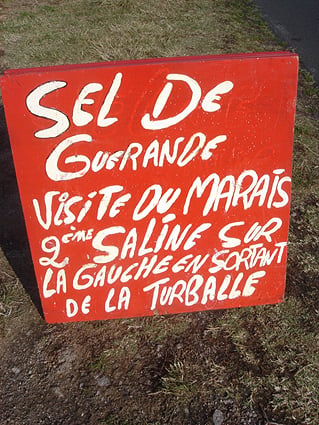 When I was invited to visit the salt marshes and learn to rake the highly-prized, precious crystals of fleur de sel, I decided that the Guérande, in Brittany, would make the perfect place to begin my August vacation. Brittany is a rugged part of France that faces the Atlantic and is unspoiled by tourists. The coastline is gorgeous: large rock formations are piled everywhere, giving one many opportunities to ascend the boulders and enjoy the magnificent views in all directions. The ocean was a bit too cold for me to swim in, but Bretons have no trouble diving right in.
But there's also lots of buckwheat crêpes and sparkling apple cider to keep your spirits up as well, just in case you get stuck in one of the rainstorms, as I often did. And although the Guérande lies in the south of the region, and in spite of Breton flags everywhere, I was curiously told by the locals that the Guérande was actually part of the Loire-Atlantique, not Brittany.
Like the numbered roadway signs that lead to nowhere (locals told us not to follow the signs since they're wrong), and in spite of the magnificent Michelin maps, driving in France provides its fair-share of frustrations.
Still, we managed to make it, and by the time we arrived I was ready to throttle someone. Yet looking out over the marshes did indeed have a calming effect—perhaps they can build a salt marsh in Paris, visible from my apartment?
Le Marais Salant of the Guérande.
These are the salt marshes of the Guérande, les œillets.
They're so prominent, that they're visible on the Michelin maps of France, although when I got home and tried to look on Google maps, viewing the region was prohibited. Perhaps there's a military installation nearby, since it's on the coast. The exceptional salt from the Guérande is justifiably famous since it tastes like no other salt in the world. Although the words 'fleur de sel' have been bantered around and used as marketing tools for many salts being promoted (nowadays you find salts labeled as such from Portugal, Italy, and elsewhere) nowhere else on earth does the salt have the same fine flavor and delicate crystals of Fleur de Sel de Guérande.

When I asked about the other French salts which are calling themselves 'fleur de sel', such as, Fleur de Sel de Camargue, my guide screwed up his face, wrinkled his nose, and told me that that kind of salt was mechanically harvested. Fleur de Sel de Guérande doesn't touch the coarse grey salt beneath the surface and merely floats on the surface, delicately scraped off for harvesting.
Large crystals of salt from the harvest.
So what is Fleur de Sel de Guérande, and why it is so special (and expensive)?
Sel de Guérande is harvested by hand, raked from the salty ocean water from the Atlantic that's carefully guided into shallow marshes through a complex series of 10 various, winding waterways. Being guided from the ocean, it floats down a narrow path encircling the marshes. Along the way the water is held in a basin, called a vasière, where fish, eels, and everything else you don't want to find in your salt shaker is cleared from the water before it's guided into narrower channels, and ultimately into the marshes, the œillets. Starting out, ocean water has roughly 27 grams of salt per liter, but by the time the water makes it way into the œillets, it's far saltier, containing 300 grams of salt per liter.
In the marshes, when the water evaporates to a depth of about 1/2 to 1 centimeter (about 1/2-inch), a fine layer of salt collects on the surface, and is delicately raked up with a lousse à de fleur, designed to disturb the tender crust as little as possible during the process. The salt is raked by specialists, a delicate job formerly entrusted only to women, by people called paludiers.
This fine layer of salt is the Fleur de Sel de Guérande, and is the most highly-prized of all salts. Salt harvesting in this region began in the year 868, and as mentioned, only women were allowed to rake the fleur de sel, since men were thought to be too rough to do such delicate work.
Once harvested, the women would gather the salt into large bowls, or gèdes, weighing roughly 30 kilos (65 pounds), and carry it to the shore perched on their heads since the pathways were too narrow to navigate otherwise. But when the rubber wheel was invented, that simplified the process, and was perhaps more comfortable, and wheel barrels were used beginning in 1932. But even to this day, all the salt is hand-harvested in the Guérande and the only mechanical part of the process is the truck which drives the salt to the packaging facility close-by.
Each marsh can yield about 1 kilo (2.2 pounds) of Fleur de Sel per day, although during the July heatwave recently, the water evaporated quickly and much more salt was harvested than normal. However although I was anxious to wield the rake myself, during my visit, the weather was foul, drizzly, and wet, making the marshes too wet and salt was unable to collect on the surface.
Large, irregular crystals of sel gris get protection from the wet weather.
Because it was so damp and drizzling rain, the recently harvested coarse grey salt had to be covered by tarps and there was no salt to be harvested. But I took a taste and it was delicious; delicate and sea-salty, tasting vaguely of the ocean, like the fine salt that you taste licking your lips after a day at the beach.
Grey salt, the other salt harvested in the Guérande, is from the same marshes, but is collected by vigorously raking the salt with a wooden lousse, from below the surface of the water. Unlike grey salts from elsewhere, which can get their color from the metal bulldozers used for harvesting, the grey salt of the Guérande gets its color from argile, the dense clay lining the marshes, which is also where it gets its special flavor and high magnesium content. Every 30 years the marshes are drained, cleaned, and the argile gets replenished to begin the process again.
Dark chocolate bars with fleur de sel from Henri Le Roux, in Quiberon.
So why and how should you use Fleur de Sel de Guérande?
If you take a taste of Fleur de Sel de Guérande, then a taste of ordinary table salt, you'll never go back to using ordinary table salt again. You'll find its taste acrid and bitter. Try it sometime. Fleur de sel is a 'finishing' salt; you don't cook with it, but sprinkle it over just before serving. I like it on leafy green salads, grilled meats and fish, or sprinkled over slices of cool melon or pineapple. It's also amazing sprinkled on dark and milk chocolate too!. If you cook with it, such as adding it to a soup, it melts, and you loose the special character of the fleur de sel, so reserve it for the final flourish.
For those of you concerned about your salt intake, I spent a week cooking for two people and only had with me a small vial of fleur de sel. I ended up using about 1 teaspoon of salt for the week. Since junk food and many pre-packaged foods are loaded with salt, those are what you may wish to avoid. Fleur de sel is reportedly lower in sodium than ordinary table salt as well.
Lastly, what shocks many people about Fleur de Sel de Guérande is the price. After all, you can get a big round box of table salt for about 50 cents at the supermarket. If you come to France, Fleur de Sel de Guérande is available in many supermarkets and outdoor markets. My source is Monsieur Dion at the Richard Lenoir market (Thursdays and Sundays). If you visit the Maison de Sel where the salt is harvested, coarse grey salt costs about 1.5€ per kilo, and fleur de sel costs a mere 13€ per kilo (about $8 per pound).
Fleur de sel is one of the great bargains in France and a small 250g (8 oz) bag generally can be had for about 4-5€ in many markets and shops, and I would imagine a normal person might go through one of those little bags a year, or .01095 cents per day. But even if you buy yours in the states, 4 cents a day is a lot cheaper, and lasts far longer, than one of those turbo-sized coffees that costs 4 bucks that everyone's always schlepping around. Aren't you worth it?
Oh, and just in case you're thinking that only pretentious foodies care about what kind of salt they're using, think again…
Visiting the Guérande
Terre de Sel
(Guided visits of the marshes, in French. Call for hours, reservations and tours in English.)
Route des Marais Salants
Guérande
Tél: 02 40 62 08 80
Maison des Paludiers
(Film and indoor discussion of salt harvesting. No reservations required.)
Saillé (near Guérande)
Tél: 02 40 62 21 96
Two Local Guests Houses:
Chez L'Habitant
50 Boulevard de Lauvergnac
La Turballe
Tél: 02 40 23 32 18
Les Close des Pins
Route de Méliniac
La Turballe
Tél: 02 40 23 33 69
For Dining:
(Moules-Frites, Crêpes, and Seafood)
L'Escale
Port de la Turballe
La Turballe
Tél: 02 40 62 82 81