Bernachon Chocolate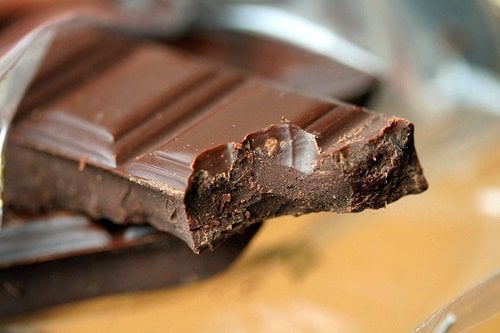 For my birthday, back in December, Romain presented me with a Kalouga bar from Bernachon, handwrapped personally for me by Denise Acabo of A l'Etoile d'Or, one the best, and wackiest, candy and chocolate shops anywhere in the world.
I've been afraid to open it since I know what'll happen once I do. So I've been saving it for a special occasion, or a WTF moment. And yes, I'm aware that it's a long time, but I guess things have been going pretty well lately.
Well, that is until a recent trip to my bank to simply change the status of my account since I found out I was being overcharged up the wazoo for services I didn't understand or use. (Like, even though she insisted I did, do I really need two free money orders a month? I think the last time I used a money order was in 1998. But I've learned that not speaking picture-perfect French can easily tack on 20-30% to the cost of things.)
The banquière hefted a thick dossier of paperwork so voluminous, it made the Sunday New York Times look like a pin-up flyer for a lost cat. It took my breath away, and I spent an hour and a half going through it and just to get out of there, I signed away whatever it was they wanted me to sign away.
When I got home, that bar was certainly tempting me. And I held off. But I don't need to hold off any further.

Life took a turn for the better and I made a trip to Lyon to refresh my stash and came back with so many blocks of chocolate that a stone-mason would've had trouble hefting them onto the train back to Paris. What a haul!
For those who aren't familiar with Bernachon, they're both a chocolate-maker and chocolatiers, meaning that they don't just buy chocolate and melt it down (fondeurs, or 'melters', in French), but they roast and grind the beans and make the bars themselves. Yes, there are lovely pastries in their shop. And their chocolate bonbons are to die for, especially their signature palet d'or, but I usually make a dive for the bars.
There's Jour et nuit, a 'night and day' bar, filled with half milk and half dark chocolate. Pepitos is jammed with roasted cocoa nibs, and Café is a smooth mocha-like bar (shown at the top), made from cocoa and coffee beans roasted then ground together to make a smooth bar with the intense flavor of café express in the background.
But my favorite, the one I'm saving (and saving for last) is Kalouga. This bar came, and went—and now is back in their line-up. The runny salted caramel was giving them a run for their money, as soon after the bars would get filled, the caramel was too eager to burst out. But the sticky problem has been resolved and I bought all I could carry, and then some, to bring back to Paris. So I'm stocked up for whatever happens for at least for the next 3-6 months. Unless I need to go back to the bank, that is…but at least I'm ready.
I'm often asked by people coming to France: What is something that they absolutely shouldn't miss? Bernachon is uniquely French, and their chocolate that's made in the back of their shop was the inspiration behind Robert Steinberg, who ignited the bean-to-bar explosion in America when he started Scharffen Berger chocolate. If you can't make the trip to Lyon, tant pis. At least I know there'll be more for me when I go back.
Bernachon
42, cours Franklin-Roosevelt
Lyon
Tél: 04 78 24 37 98
[Update: The now have a boutique in Paris at 127, rue de Sèvres, 6th]
A l'Etoile d'Or
30, rue Fontaine (9th)
Paris
Tél: 01 48 74 59 55
Related Links and Posts
Chocolatiers and Chocolate Makers