Update: A l'Etoile d'Or
If you'd ever stepped into A l'Etoile d'Or, the candy and chocolate shop located just down the hill from the Moulin Rouge windmill, near Montmartre, it wouldn't have taken you long to know you had entered somewhere special.
It might have taken a few minutes, especially if Madame Acabo was occupied with other customers. But as soon as her attention was turned on you, you were immediately taken under her wing, and guided around the shop, exploring all the various soft and hard candied in the vintage jars, flavored with everything from bergamot to caramel. You might have learned what was hiding inside the vibrant-colored purple jellies. (It was liquid cassis, and tasted like purple manna from heaven.)
With a snip of her scissors, Madame Acabo might have given you a taste from one of the ropes of marshmallows, scented with Madagascar vanilla bean or fragrant bergamot peel. There were caramel-filled caramels, salted butter caramels by Henri Le Roux, mango-passion fruit caramels from Jacques Genin, crisp caramelized almonds from Montargis, and caramel-filled squares of chocolate, with a wisp of a brown sugar cookie tucked inside.
Speaking of chocolate, if you liked chocolate, this was the shop for you. Lining the shelves were bars from France's best bean-to-bar chocolate makers, from Bonnat to Bernachon, and she was the only person outside of the original Bernachon shop in Lyon that was given the privilege of carrying their chocolate bars. (She told me she got down on her hands and knees and begged them to let her carry them. Happily for us – it worked!)
With a table heaped with tablets of their chocolate bars, with flavors ranging from Moka (made by grinding coffee beans together with cacao beans), Jour et nuit (half milk chocolate, half dark chocolate), and ivory-colored white chocolate bars, it was rare if I left there without at least two or three bars from one of the stacks, which would always include Kalouga, my gold-standard for caramel-filled chocolate bars, which oozed gooey salted butter caramel when you snapped off the end.
Denise Acabo spent decades sourcing the best chocolates and candies in France, many of which were rare and hard-to-find, which she displayed in polished wooden showcases. Her distinctive handwriting made everything more charming. It didn't matter, who you were, or where you were from; the minute she caught your attention, you became part of her family.
It wasn't unusual to find a small crowd in her little shop, with everyone from clusters of tourists, some just wandering in, curious about the shop with all the chocolates and confections in the windows, to famous actors and notable figures who lived in the neighborhood, grabbing a box of chocolate to take to a dinner party. Although it's rare that chocolatiers heap praise on other people selling chocolates in Paris, the face of every chocolatier would bloom into a wide smile when her name was mentioned.
In early 2014, her shop collapsed due to a gas explosion that occurred while construction was going on underneath the store, which also took out the pharmacy next door. Denise Acabo was in the shop at the time and when I saw her shortly after, she shockingly told me as she stood there, she saw the whole floor collapse and everything fall. Fortunately she was out of the way.
Thankfully, no one else was seriously injured in the accident, but the blast was heard far and wide. And her fans as far away as Japan were shaken up to learn that their favorite shop in Paris was gone.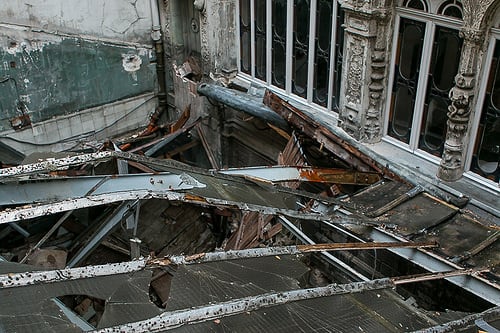 Shortly after the accident, I met with her and her daughter, who were trying to figure out what to do. We discussed some ideas to bring the business back, while Madame Acabo insisted that what she missed the most was the human contact from meeting and greeting customers. While the chocolates were her first love, engaging with the customers came in a very close second.
Reopening the shop is a big step and I'm not sure she is ready, and she isn't sure either. I'd proposed maybe doing some pop-ups around town, which presents some problems (finding a space is probably the most challenging, as is the paperwork), or reopening with some backing behind her, so she can concentrate on the chocolates, caramels, and customers. I also floated the idea of becoming her partner – wouldn't that be fun! But in addition to the paperwork, which I don't seem to have a knack for, my other challenge would be growing my dwindling hair out into pig tails, too.
But at this point, six months later, the shop is still closed, with protective steel doors, since it's unsafe for anyone to go inside. What she could salvage – some jars of honey, a few broken, crumbled bars of chocolate, tins of anise candies, the magical wrapping paper that customers loved that she used to hand wrap every purchase, her cotton chocolate-handling gloves having been taken into her home for safekeeping.
Surrounded by what was left of the chocolates and candies in her salon, I loved seeing this picture a local photographer had taken of her, which I hadn't seen before, depicting her presiding over a likeness of herself crafted of dark chocolate with bars of Bernachon chocolate paving the way toward her.
When you've lost so much, under such circumstances, it's hard to get back up and reboot. It isn't easy when you're young, and it's harder to imagine when you're not. Walking down the sidewalk in her neighborhood with her last week, shopkeepers coming racing out of their stores to say hi, and everyone in every restaurant, café, and troquet, came out to give her bisous (kisses).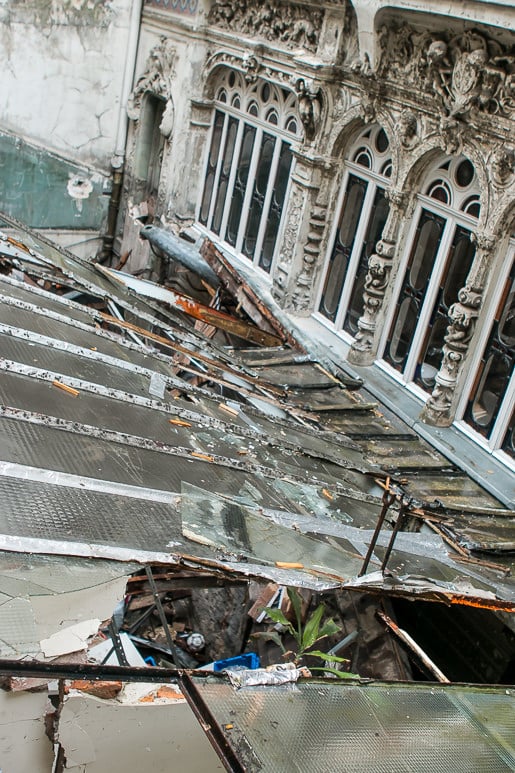 Readers have been asking me for updates, and while it's hard to say what is in the future for Madame Acabo, and her shop, A l'Etoile d'Or, apparently they plan to start reconstructing the destroyed part of the building in the fall. Madame Acabo may, or may not re-open. If she does, I told her she'll have a lot of support from visitors, friends, and fans. Whether she has it in her, is another story.
UPDATE: As of 2015, A l'Etoile d'Or is open again!
Related Posts and Links
A Visit to A l'Etoile d'Or (video)
A l'Etoile d'Or (Cafe Fernando)