You get a little lazy living here. At least I do. And because I'm not as spry as I used to be, if someone proposes a trip that's more than one métro change away, I usually find a way to opt out of it. Arrondissements that are far, far away, like the 15th or the 17th, may as well be on the outside of the périphérique (or l'hexagone, for that matter) and I haven't stepped foot in the likes of them in years.
One place that's worth going out of my way for is A l'Etoile d'Or, and I broke my cardinal rule when Cenk from Café Fernando came to Paris for a visit and he asked me where to meet up.
I've known Denise Acabo, who lords over her confectionery wonderland, even before I moved to Paris, when I'd stop in and gawk at all the amazing chocolates and confections.

But when you live somewhere, after a while, you just don't get to those places as often as you'd like—if at all. (I used to live about two hours from Niagara Falls, and I never went there, either.) Her shop is amazing and I could easily spend hours poking through all the glass jars and metal tins lining the glass shelves. But one thing I've learned living in France, which I've had to explain to more than one impatient visitor who was tapping their foot by the door, waiting for me: relationships are very important and if someone wants to talk to you, you stay and talk.
Like at the market, if you go and buy some lemons from the women who you regularly shop at, you don't just tell her how many lemons you want, pay her, and split. You say hello, and ask how she's doing. She'll tell you…"Ça va, ça va…."…"Okay, okay", is the usual response. No matter how many people are behind you in line, there's always time for that interaction. Which is why I often compare France to the bathrooms on airplanes: When you're waiting, you're incredibly impatient. But when it's your turn, suddenly no one else matters and you take all the time in the world.
So when you go to A l'Etoile d'Or, you simply can't go if you're in a hurry, because Denise will want to show you everything, and she's so excited, it's impossible to resist.
She is famous for being the only place outside of the original shops that carry Bernachon chocolates, including the much sought-after Kalouga, filled with salted butter caramel, which they'd stopped making for a while because the caramel always leaked out. But she claims that she told them to keep making them, just for me, so they kept up production. (I don't know how true it is, but if you go and get one, you can thank me all the same.)
Then there's the CBS caramels, which are only outdone by the pâte à tartiner, Henri Le Roux's salted butter caramel spread. A friend bought two jars, which she planning to bring back to the states, and they were promptly confiscated by security at Roissy airport for falling into the 'liquid' category. And therefore, very dangerous. But I would've unscrewed the jar and just sat there, lapping up the buttery caramel studded with toasted nuts and sea salt, danger be damned.
Although not my favorite, she's got a full line of Bonnat chocolate from a bean-to-bar maker in the French alps, which I probably need to taste more of. And her latest love (aside from me) is Franck Kerstener (warning: Euro website, with awfully loud music), a young confectioner whose chocolates are getting prime real estate in her glass showcase, alongside the classics from Bernachon and Monsieur Le Roux.
Cenk bought plenty, which isn't hard to do there, including some of Jacques Genin's caramels which are worth every centime (each one will set you back more than a hundred of them).
And right before we left, she slipped a bar of M. Kestener's chocolate bars in my pocket, which she accompanied by lowering her voice, pulling me close to her with a talon-like grip, saying, "Daveed, it's a crunchy brown sugar cookie covered with buttery caramel and fleur de sel, then covered in very bitter chocolate. Oh-la-la!" Which she finished by rolling her eyes in a large circle, looking like she's just seen the second coming of you-know-who.
I know some people consider accepting gifts improper*, but I also know that refusing a gift is considered impolite. So I weighed my options, and reluctantly handed it back to her.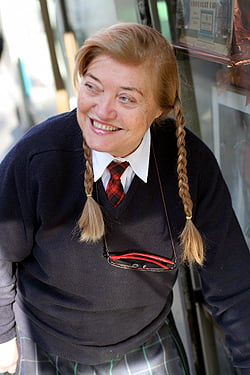 *Disclosure: I'm lying. I took it. And I ate it.
A l'Etoile d'Or
30, rue Pierre Fontaine (9th)
Métro: Blanche
Tél: 01 48 74 59 55
Related Posts and Chocolate Addresses
La Maison du Chocolat

Jean-Charles Rochoux
The Pâtisseries of Paris Guide
10 Insanely Delicious Things You Shouldn't Miss in Paris
Paris Chocolate & Pastry Shop Archives