Le Servan
I'm not always in agreement with those that say dining out in Paris is expensive. For example, last week I found myself with a rare moment of free time at lunch, and I pinged a neighbor, who unfortunately replied that he was out of town, like the rest of Paris in the summer. So I decided to go to Le Servan by myself, a restaurant I'd been hearing a lot about. And since it's "hot", I figured lunch would be the perfect time to go. And I was right. Although it filled after I got there, I managed to get there during the "sweet spot", and grab a stool at the counter, where I had a terrific lunch for €23, all by my lonesome.
If you think about it, that's three courses of food made with fresh ingredients, prepared by a highly competent staff. The price includes tax and tip, which in the states, would mean that about one-third of that total would be earmarked for those extras, and the meal itself would cost roughly €15. Yikes. Of course, one often adds a glass of wine – I had a nice Vouvray for €6 – so my meal deal clocked in at €29. But either way, I can't imagine getting a meal like I had in, say…New York, London, or San Francisco. Because I liked it so much, I went back the next day with Romain.
Unfortunately the next day didn't start off very well. Like, at all. But as Gloria Gaynor famously said — or sang — "I will survive." (Although she didn't sing it in French.) But good food, and wine, heals a lot – although not all – and it was nice to get a particularly bad taste from the morning affairs out of our mouths.
Two glasses of surprisingly inky rosé from the Loire did the trick. They were deeply colored, with the slightly maderized (sherry-like) taste that one often finds in natural wines, which have been left to their own devices.
Romain didn't believe me when I told him that the day before, I'd ordered tête de veau (yup, veal head), which was served atop a nice mound of tiny raw turnips, crescents of raw celery, and a few uneventful fava beans, perhaps due to the fact that it was the end of their season. On my advice, Romain ordered it, and the crusty disk came on a bed of braised leeks with a dab of concentrated eggplant emulsion. It's nice to see a chef not afraid to take something to the point of croustillance (crustiness), which highlights the especially meltingly tender meat on the inside.
I was têted out, so my first course was mussels with corn and shiso with tiny dill fronds scattered here and there, providing nice little éclats (sparks) of flavor. It was excellent, but I read a while back that David Chang was irked when people took photos in restaurants, and since he was sitting behind my back, I was so nervous that I ended up with this:
Which was too bad, because it was and especially beautiful bowlful of food. (On the way out, I asked the chef/owner if I could take a picture of the kitchen, where all this lovely food was made, and it was declined. But I guess cooks and restaurant owners need to be wary these days of people snapping pictures as they never know where they're going to end up. Since we'd been hearing "Non" all morning elsewhere, I was used to it, and wasn't particularly bothered.) However you don't get to see the kitchen. Or my mussels with corn and shiso. (At least not clearly.)
However the baguettes caught my eye, and I apologize, but I just had to take a shot of them, too. But really – when a baguette is this good, why keep it to myself?
Lest anyone think I get special treatment when dining out, two other tables were sent out bowls heaped with cockles, bathed in what smelled like an incredibly succulent sauce, with aromatic basil and red chiles. One was David Chang, and the other was the designer of the restaurant's logo who were sitting next to us, who kindly offered us a taste. They were outstanding. So it's true that there are some things that money can't buy.
The roasted chicken I had the previous day came with roasted and raw carrots. The raw carrot coins scattered on top weren't necessary because the roasted carrots were marvelously sweet and savory. The moist chicken came with a dab of spicy apricot puree, which was a pleasant surprise, as one doesn't come across fiery or lively condiments very often in Paris restaurants. (The chef, Tatiana Levha, is part French, part Filipino.) So much so, that Le Fooding noted that diners at Le Servan should expect a meal featuring "Shocking pairings!"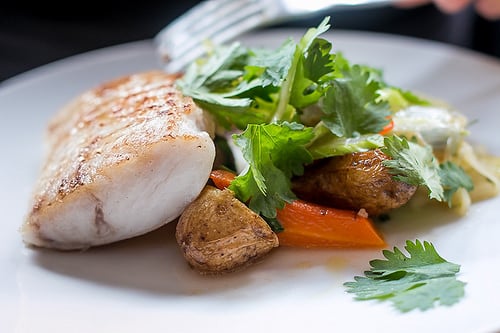 We both liked our plates of lieu jaune (pollack), which came with a pile of braised fennel, carrots, roasted potatoes, and a remarkably potent green herb sauce tucked underneath.
Desserts were spot-on, too. Because I had an apricot tart waiting for me at home, the day I was by myself, I went with the cheese course, which they told me was Comté. I like Comté cheese just fine, but was happy that the course was actually a towering pile of greens with a mustardy dressing and thinly shaved cheese strewn over the top.
When we were dining à deux, our superb chocolate tart (shown at the top of the post) came with a layer of thick caramel and a cushion of dark chocolate, melded together over a crust baked just the way I like it; dark and crumbly, almost like graham cracker crust. In fact, as I was leaving, I poked my head in the kitchen to ask the chef what kind of flour they used in the crust, and she said wheat flour. Although I don't think it's an option, it was worth going just for the dessert.
But I'm going back for the whole she-bang. Not just to get a better look at those mussels with corn and shiso, but to see what other shocking – or as I'd say – inventive pairings, the chef has up her sleeve. And will watch my back the next time I do.


Le Servan
32, rue Saint-Maur (11th)
Tél: 01 55 28 51 82
Métro: Saint-Maur, Voltaire, Saint-Ambroise