Making French Butter and Camembert de Normandie at Isigny Ste-Mere
I never miss an opportunity to "go to the source," so to speak. And in France, it's sometimes just a train ride away. Barely an hour by high-speed train from Paris is Normandy, and it's bucolic countryside, where even the cows have their own appellation; La vache Normande. Not only are the cows beautiful, with their wide black and mahogany speckles, and rings around their eyes, but their milk is especially high in fat and protein, which makes the butter from Normandy, and Normandy cheeses, so spectacular.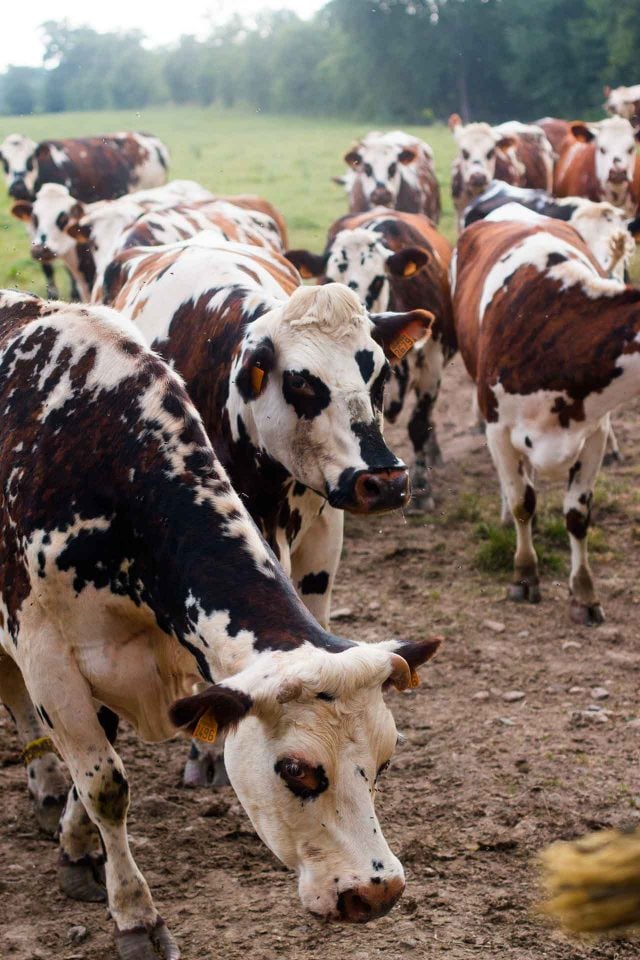 Isigny Ste-Mère is a dairy cooperative of local producers founded in 1932. Centuries ago the area was wetlands. But now, the local cows graze on grass that grows in the marshes, which adds a particular richness and minerality to their milk.
Isigny Ste-Mère has two plants; one that produces most of their cheeses, including Camembert de Normande, Camembert d'Isigny, Pont l'Évêque, brie, as well as crème d'Isigny, a ridiculously rich crème fraîche, that's cultured for 18 hours, and d'Isigny butter. A smaller facility, not far away, produces mimolette cheese and fresh dairy products, such as fromage frais, yogurt, and fromage blanc.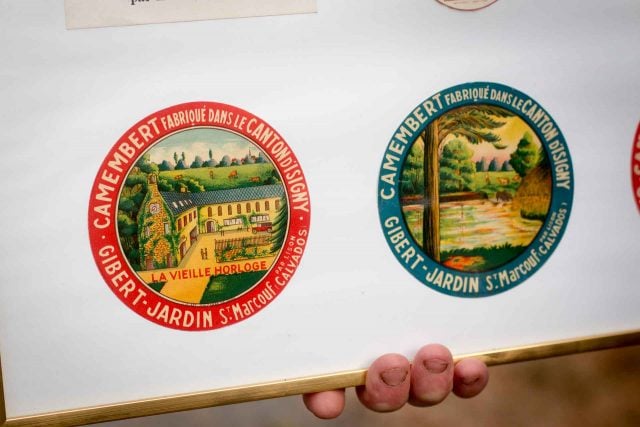 If you don't live in France, but even if you do, some of the names of French dairy products can be confusing. Like brie, the word camembert was never registered by a specific region. So a cheese can be called "camembert," and made anywhere. Likewise for brie; Brie de Meaux and Brie de Melun are AOP cheeses, which means they must be made in a certain region and adhere to certain standards.
While Isigny Ste-Mère makes a few types of camemberts, they specialize in the true Camembert de Normande (AOP), a designation which came about in 1983 (previously called AOC), which meant the cheese must be made with raw milk that comes from this region, it must be hand-ladled into the molds, aged at least 21 days, and the finished cheeses need to be a certain size. Camembert d'Isigny is a similar-looking cheese, made from pasteurized milk, so it's suitable for export, and for people that need to avoid raw milk cheese.
The milk for Camembert de Normandy is collected and warmed just enough so it "takes" the rennet culture that's added. Once the cheese is curdled by the rennet, which takes about 10 minutes, it's cut into blocky shapes by hand using a wire cutter.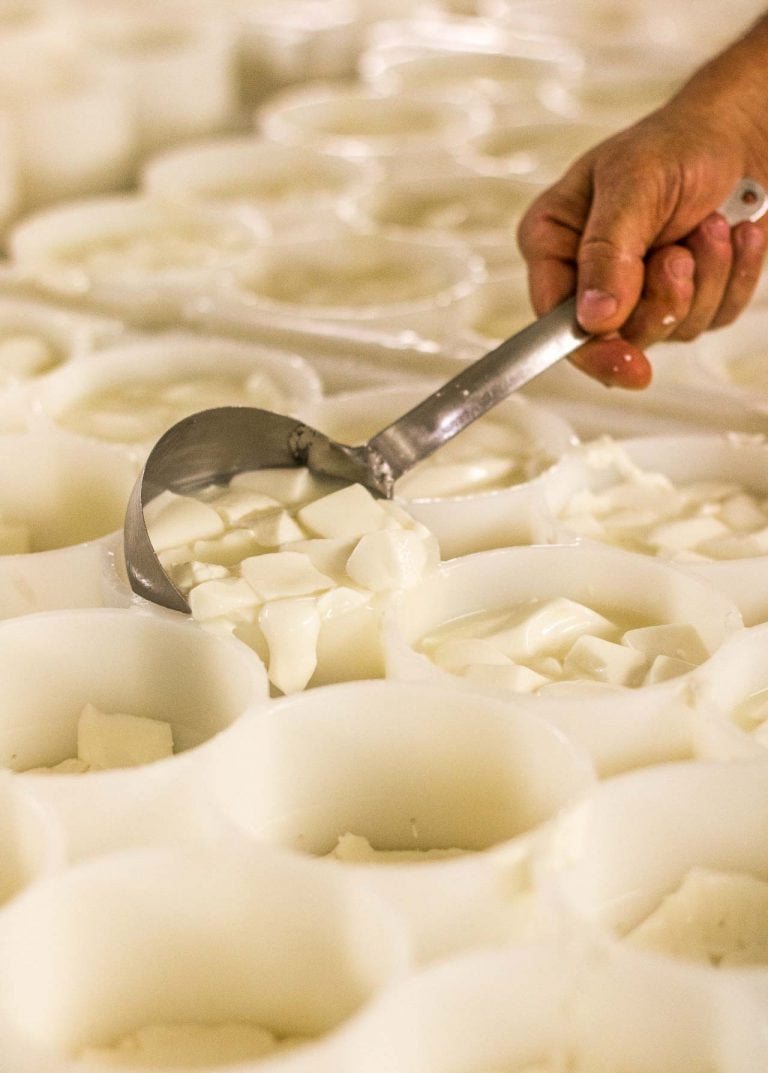 At that moment, the warm, slippery curds and whey are ladled into the molds. It takes between 2 and 3 liters of fresh milk to make each finished Camembert de Normandie, which will end up weighing 250 grams, or 8.8 ounces.
It takes the crew about five hours to fill all the molds from one batch of milk. When the cheese is firm enough to unmold, they're stacked on wire racks, which allows them to drain and dry properly. The racks are tilted, from side-by-side, as the cheeses "set," which allows them to drain more easily, and so they're not uneven.
They also take care so the cheeses don't touch each other during the end of this stage. Otherwise, they don't dry properly and end up with flaws. Both I and my travel companion, Ry Stephen, who is the owner and baker at Supermoon Bakehouse in New York (who uses their butter in his croissants and other pastries), inquired what happens to the duds. So they showed us a few: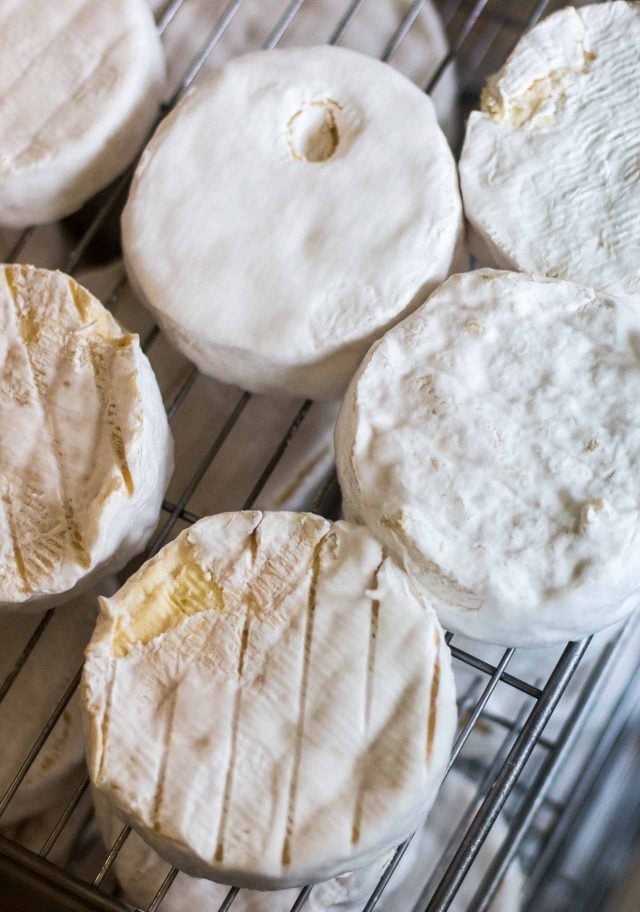 But not to worry; they end up in the coopérative shop, adjacent to the factory, where anyone can come in buy a discounted cheese, if they don't mind a few gaffes.
In the adjacent ripening room were squares of Pont l'Évêque (below), another highly-regarded cheese from Normandy with a bloomy rind. It's made with the same milk, and by a similar process as Camembert de Normandie, but with a different culture, it's the square blocks get washed with a salt solution a few days after they are removed from their molds. The different culture gives this pale yellow cheese nutty, apple- and hay-like aromas, whereas Camembert de Normandie is more musky and mushroomy. Both are excellent when paired with another speciality of the region; Normandy sparkling cider. One of the best is cidre Cotentin, which is naturally fermented and also carries the AOP designation.
The salt works to draw out more moisture than happens with Camembert cheeses, and gives the finished Pont l'Evêque a pâte (interior) with a lighter texture, and a decidedly saltier tang.
After four to five days of ripening on the racks, the cheeses develop their signature bloomy rinds. I wanted to touch one, since I'm a tactile kinda guy, but they told me if I did, it would cause the bloom not to grow, so I kept my hands to myself. But all this cheese was certainly making me hungry and it was fun watching the cheese getting ready to pack up and send out.
After 12 days, Camemberts de Normande are ready to be packed in wooden boxes, where they'll continue to ripen. Wood is essential to use as it allows the cheese to breathe, and lets more of the moisture wick away. Like many cheesemakers, they've been able to resist the urge by regulators to ditch the wood, in lieu of plastic.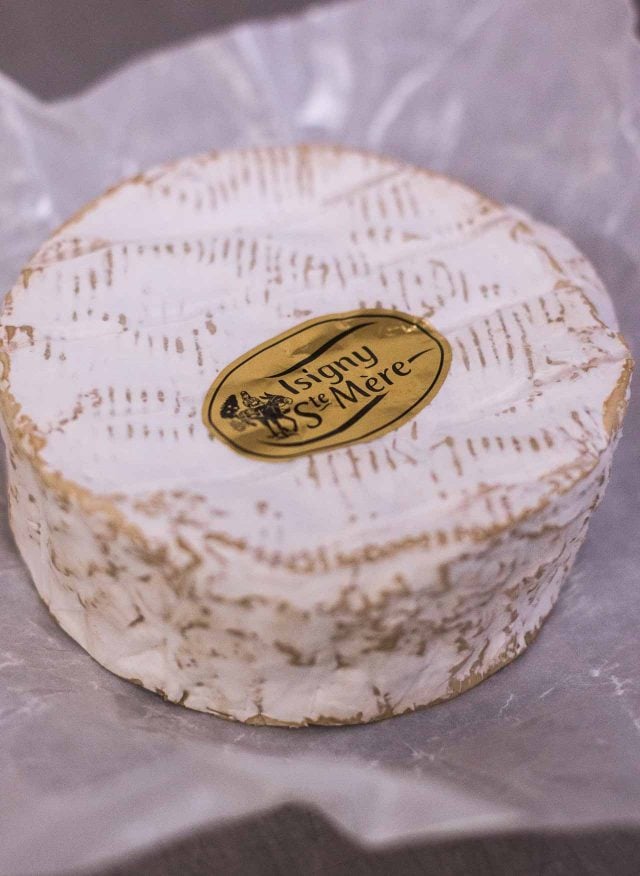 Then the cheeses are sent to various cheese shops and grocers. But because they haven't ripened long enough, for at least 60 days, the raw milk cheeses can't be exported to the United States. Zut.
Back in France…you can see above how the cheeses look after 1, 2, 3 and 4 weeks of affinage (ripening) in the caves. Some prefer their cheese less-ripe, on the left, with a drier pâte, while others (like me) like their camembert when it's fully ripe and oozing, on the right.
(Contrary to what you might think, a number of French people, and others, like their cheeses less-ripe, and many cut off the strongly-flavored crusts of cheese. A new trend, which I don't approve of, is people serving cheese cold, right out of the refrigerator, which I've been told is because it's more hygiènique.)
We did a tasting of the various camemberts lined up on a counter, with the master cheesemaker at Isigny Ste-Mère, who obviously enjoyed what he was doing. (And he was a man after my own heart as he definitely served at the right temperature.) We tasted a few standard versions of camembert, made with pasteurized milk, as well as a Camembert d'Isigny, and one affiné (ripened) in calvados-soaked breadcrumbs. Calvados, an apple brandy, is another specialty of the region, which is just as famous as its cheeses. Of course, like the local cider, calvados especially goes well with these cheeses, too.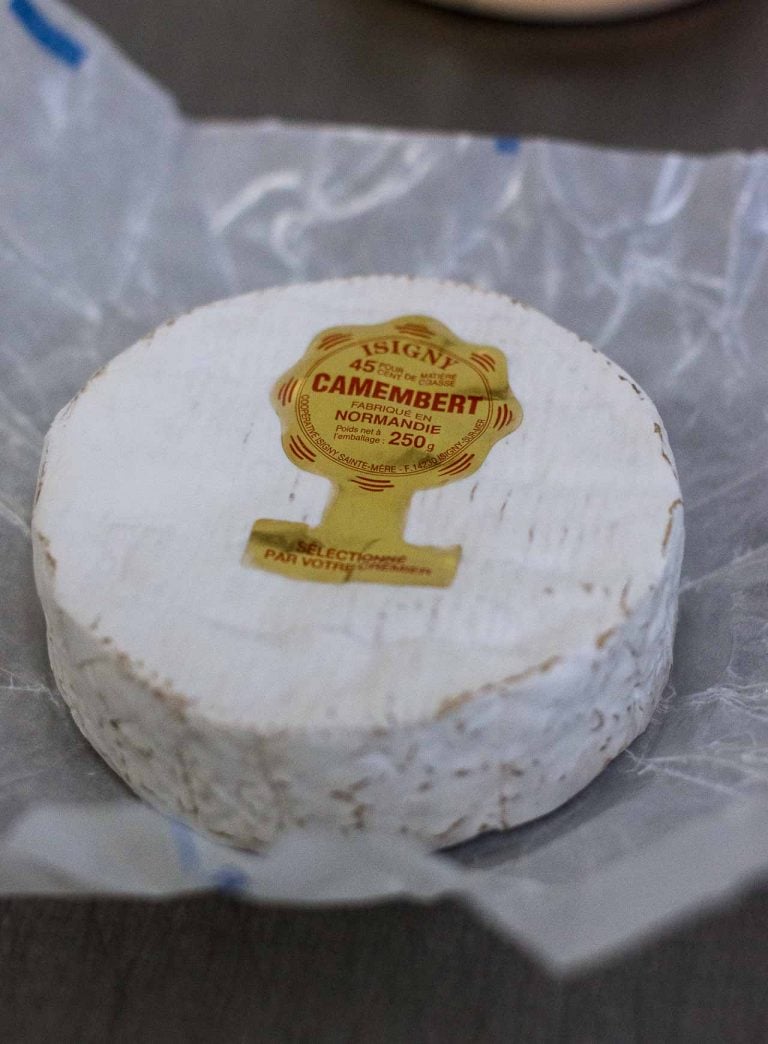 After we tasted five camemberts (Spoiler: The raw milk Camembert de Normandy won by a long-shot), I saw a familiar sight, and thought it was worth sharing. I didn't get to taste one of the cheeses destined for Costco, but it's nice to see a little bit of Normandy making its way to America.
---
But lest you think Ry and I were lured to Normandy after waking up at 4:30am to catch the first train of the day out of Paris, we came for the butter and cream. And what glorious rich, nutty, thick, gloopy, silky, tangy cream is it! When I asked the young Frenchman who accompanied us, who spends most of his time in the States, what he missed the most about France, without hesitation he said, "The crème fraîche."
It's not something you're supposed to travel overseas with, so I'm pretty sure he gets his fill on his trips back home. One spoonful and you realize that, yes, it's worth traveling 3000 miles for. It's so good!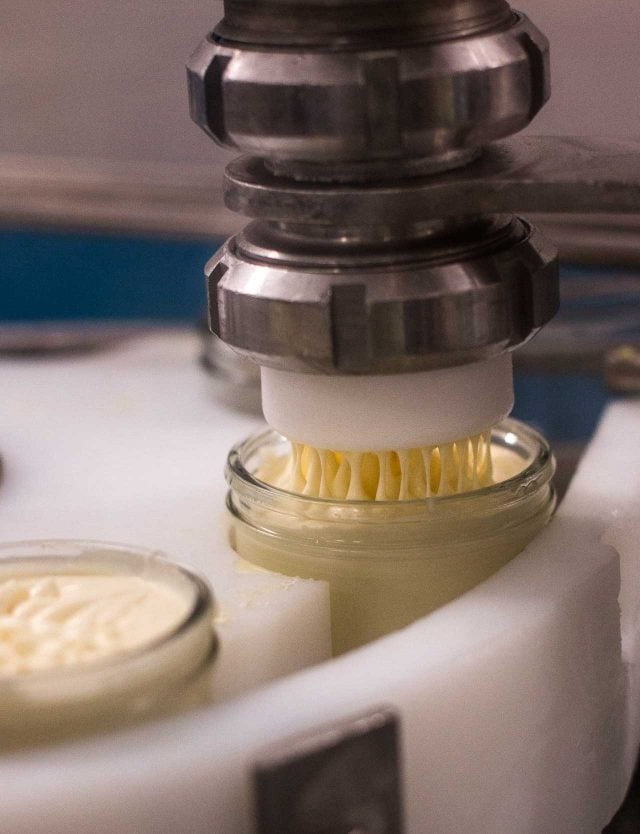 Ridiculously rich, at 40% fat, a spoon will stand up straight in a jar of crème d'Isigny and not move until you manage to slide it out. When you take a lick off the spoon, your mouth is filled with the flavors of ivory butterfat, Normandy grass, nuts, a hint of sea salt, and a bit of barn, all in that one spoonful. In short, it's heaven in a little pot.
But if you want a bigger pot, they're available, too. These (below) were 5 kilos, or 11 pounds. Lifting one up, it felt like there was a lot more than 40% butterfat lurking in there.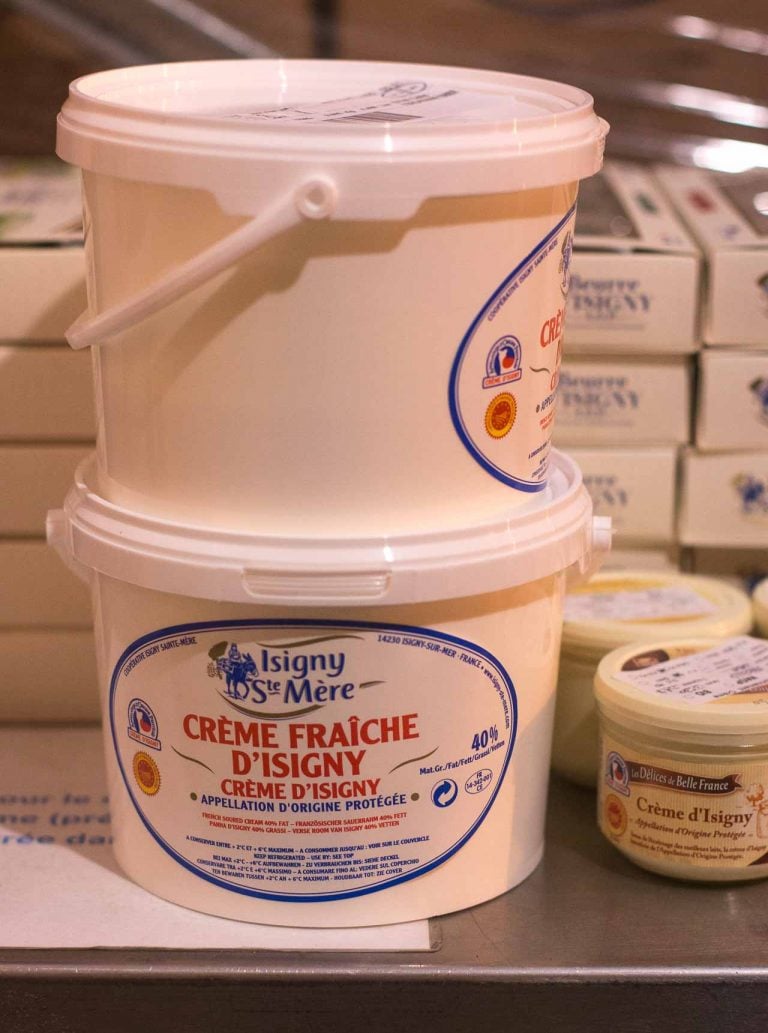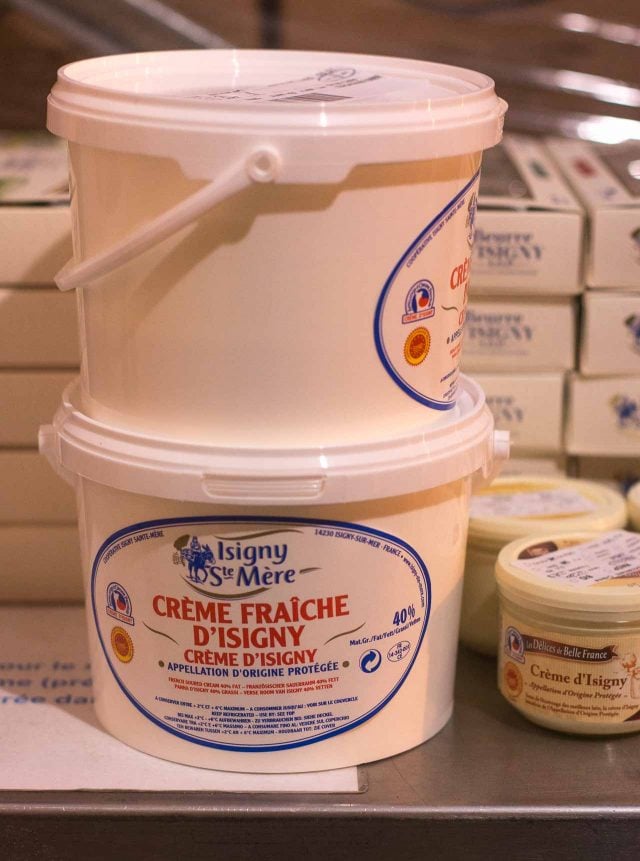 In another blog post, I'll go into what goes into the other fresh and cultured French cream products, like fromage blanc and fromage frais.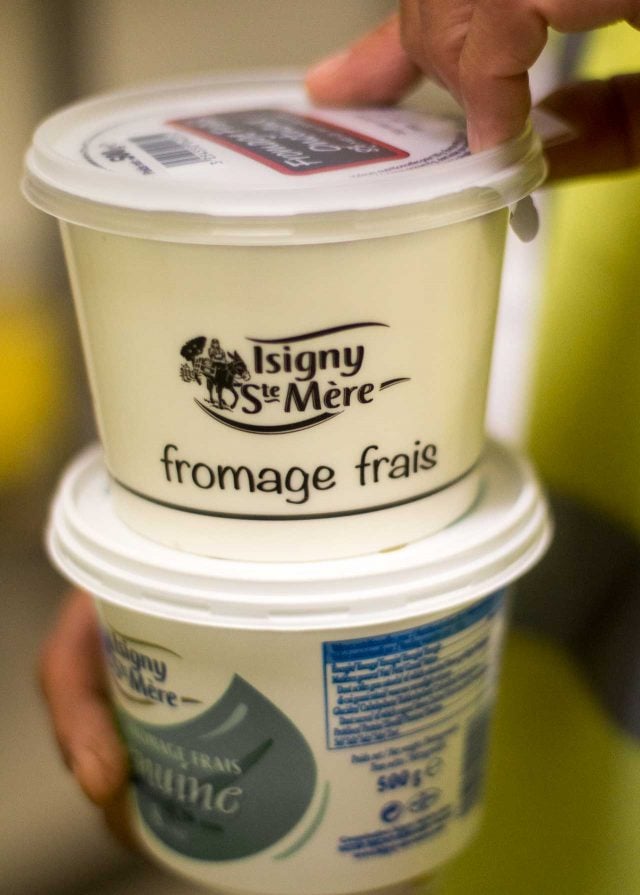 But unlike cheese, which you need to wake up early in the morning to watch (because they need to get the milk cultured and molded, pronto), the making of butter is a little more leisurely.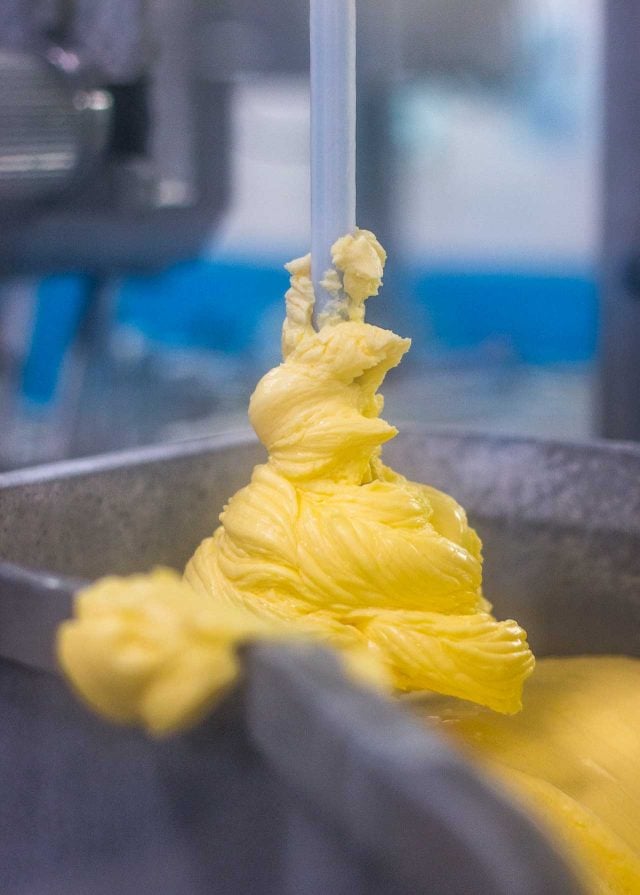 Beurre d'Isigny is cultured, meaning lactic starters are added to the cream. Once the culture is added, the rich cream is left to "mature" for 16 to 18 hours, before being churned into butter.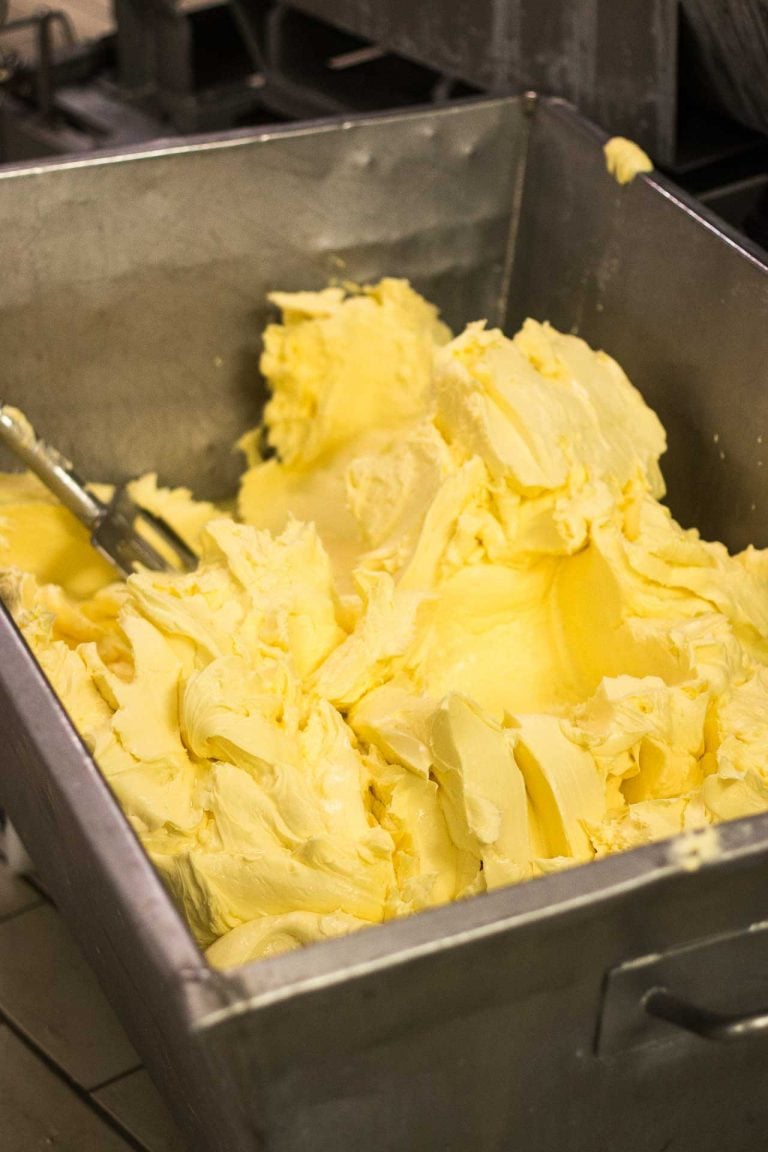 And what butter! That color is natural due to carotenoids, and it's high in butterfat, 82%, which means it has less water, and is better for baking. (The short answer is that the more water in the butter, the more liquid that will saturate the flour and weigh it down.)
Because so many pastry chefs and bakers rely on butter for their pastries, Isigny Ste-Mère also makes a special beurre de tourage for making puff pastry (which other companies do, too), where the finished butter is slightly warmed, then kneaded, so it's even more emulsified, and pliable, and doesn't crack when rolled out. It's also packed flat, rather than in blocks, so it's easier to roll out. When I first went into Supermoon Bakehouse and tasted one of Ry's croissants, it tasted quite different than others I've had in the U.S., because he uses beurre d'Isigny for folding into his doughs.
But you don't have to be a fancy baker to enjoy the benefits of good butter. It comes in regular blocks (above), and in single-serving packets, too.
And, of course, we wouldn't get any of this if it wasn't for the cows, who welcomed us at one of the nearby farms.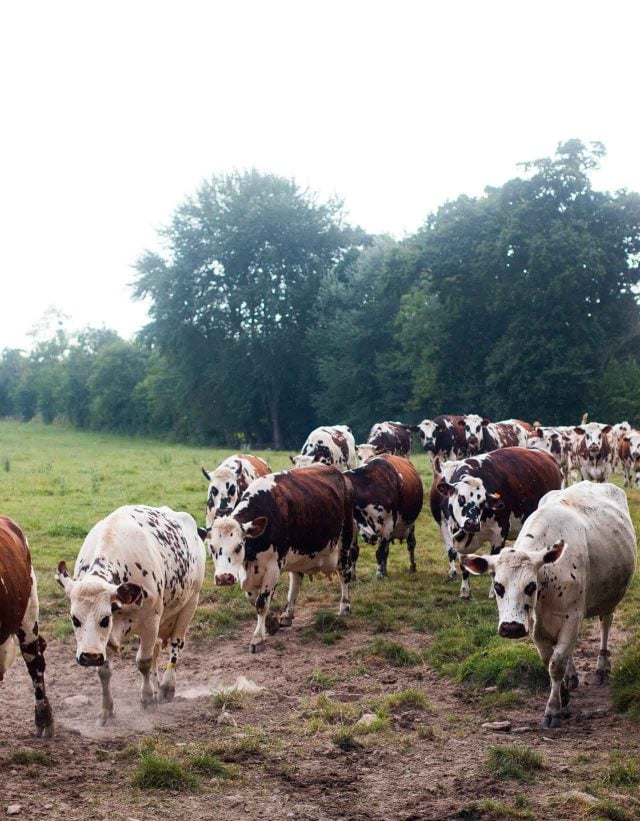 The farmer we visited has 160 cows, which he milks twice a day, every single day of the year. For those who think the French take too many vacations, most farmers I've met in France would beg to differ. It's a full-time job which you can't take a break from.
One problem facing the cheese industry in France is that young people in the countryside don't want to milk cows. They want to move to Paris and do something more exciting. I don't know about you, but I think I've had enough excitement, and maybe it's time to settle down in the countryside of Normandy. Right?
While I pondered my future, farmer Joël Rocher showed off the various labels they've used for their camemberts, which depict his farm on the labels. He also gave us a bonne accueil by offering us a glass of his homemade pommeau, and blend of fresh apple juice and calvados. Ry had never had pommeau, and hadn't even heard of it, so I have to make sure he gets a copy of my book, Drinking French, which explains the various drinks, liqueurs, apéritifs, and spirits, made and enjoyed in France. Pommeau is one of my very favorites. And now, it's his, too.
As a parting gift, Joël gave us each a bottle, saying he was getting to the bottom of the barrel and needed to make room for the next batch, which was coming this fall. (So we may need to go back!)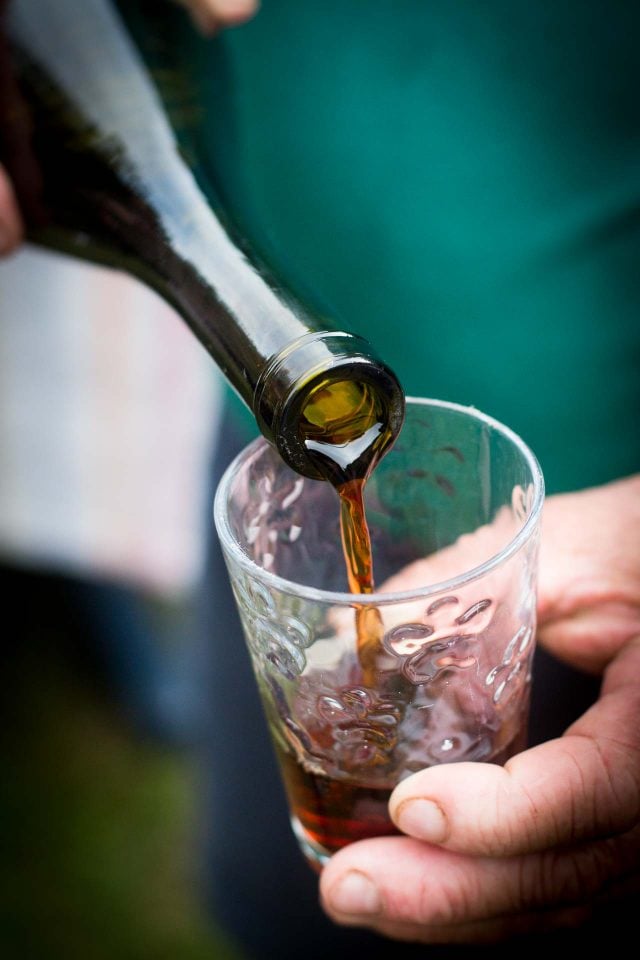 The next day at lunch, camembert made a surprise appearance broiled over some oysters at Chez Roger in Sainte-Mairie-du-Mont, where we dined with butter historian Fabrice Poncet. (Can I have that job?) The food was served family-style, and at the typical, leisurely pace of the French countryside, we drank wine for nearly an hour before eating anything (save for a little pot of house-made rillettes), while I searched my Larousse dictionary for the term "pace yourself."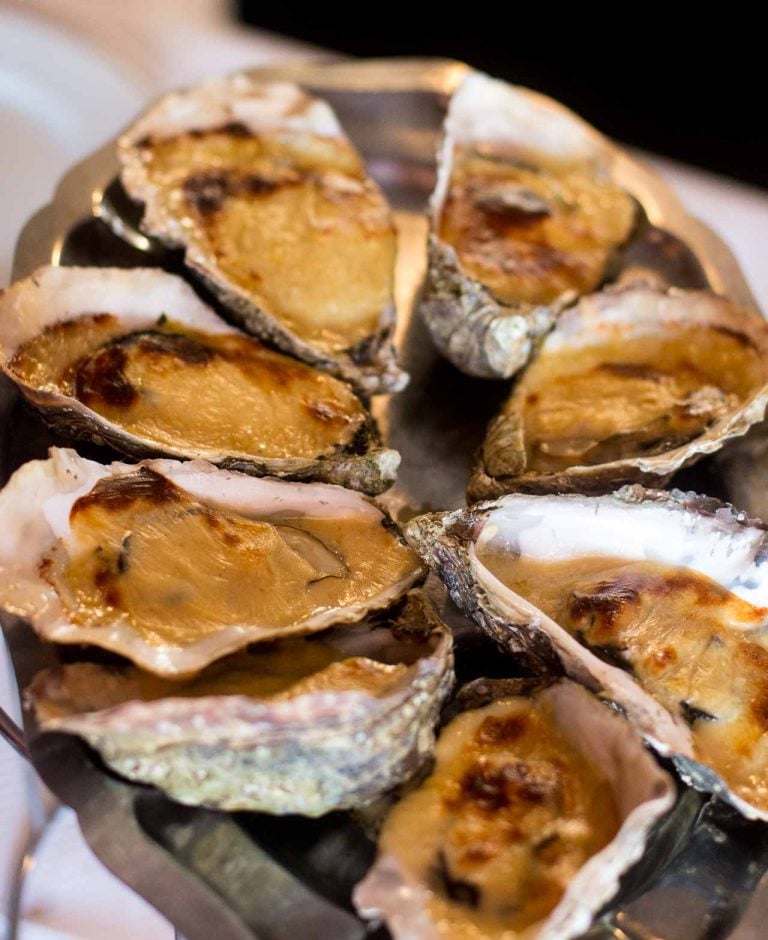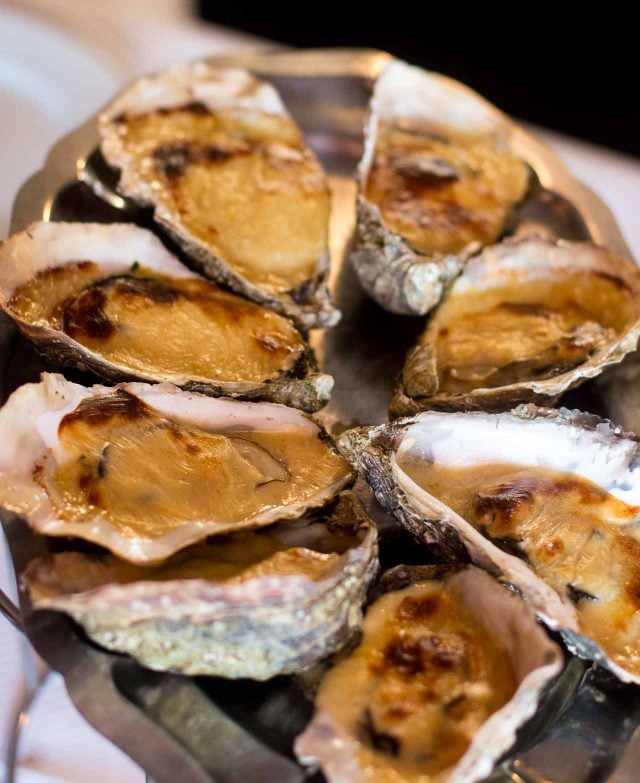 The first plate to arrive was hot with oysters dripping in melted camembert before moving on to local lobsters, before the owner took the lamb shoulder off the fireplace that was turning on a spit next to us, and cut it into pieces.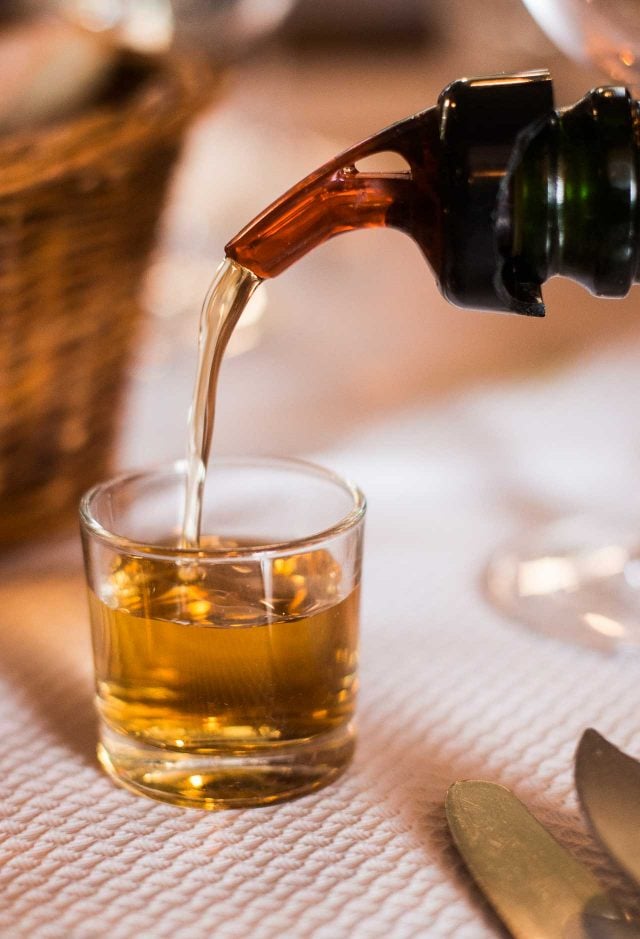 In order to make it through it all, we had the trou Normand, a shot of calvados taken between courses, to make a trou (hole) in your system, so there's more room to continue eating. Although we were lunching with locals, I was later told by a woman who makes calvados in the region, that you're supposed to take it standing up, so the calvados goes directly into your system. Seeing as how the French are experts on digestion, I didn't argue or disagree on the science of that, since I'll take any chance to have a shot of calvados.
Our last gasp for the day was a tart Tatin, served with a help-yourself pot of – yes – crème d'Isigny. While purists say that tarte Tatin should be enjoyed on its own, it's hard to argue that a mounded pool of local crème fraîche doesn't help things.
---
Notes
I'll be writing up the second part of this trip, where we saw the making of mimolette cheese and fresh dairy products at Isigny Ste-Mère, and posting it shortly.
We also had dinner at L'Angle Saint-Laurent in Bayeux. If you're in the region, it's worth reserving a table there.
Disclosure: Isigny Ste-Mère provided train tickets, our lunch, and overnight accommodations, to visit their production facilities.