Fromagerie François Olivier
When people ask me the rather perplexing question, "Why do you live in France?", I simply direct them to the nearest fromagerie. Yes, there's great food to be found everywhere: Spain has great ham and crisp, almond turrone, Italians have great olive oil and gelato. And when in New York who can resist the chewy bialys and bagels? But there is nothing comparable to the cheeses of France…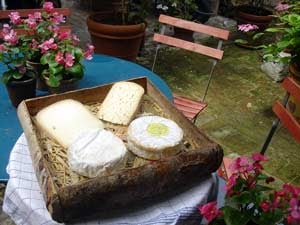 In the small city of Rouen, in Normandy, is one of the few remaining affineurs in France. As you may know, once milk is formed into molds, it needs to be properly ripened to become cheese. The ripening can be for just a few hours or can last up to several years for a hard grating cheese such as Parmegiano-Reggiano. There's just handful of affineurs left in France, who ripen cheese in caves just below their shops. The last time I visited François Olivier with my friend Susan Loomis, he welcomed us into the caves. This time, he told us that as of a few months ago, European Union regulations forbid visitors. Perhaps that's one of the reasons the French voted against the constitution.
Of course, I was immediately attracted to the butter that François salts himself. While I was there, a steady stream of customers came in for a large block of it.
But I also came for the camembert, since François carries one of the few artisanally-made camemberts left in Normandy. Although camembert is the unofficial symbol of France (there was a giant wheel of camembert balloon 'float' to lead off the parades at the commencements of the Tour de France recently) but there are few remaining true camemberts left. Like Brie de Meaux, true camembert is actually called Camembert de Normandie and will be labeled au lait cru (raw milk) so if you come to France, be sure to choose a cheese labeled as such, not simply "camembert."
The French are a famously stubborn lot and are refusing to compromise the integrity of their cheeses (as well as a few other things…) But why not? They make the best cheeses in the world. And Normandy is arguably the most famous cheesemaking region here in France. At François' fromagerie, you'll find the elusive Maroilles, a hulking square of cheese aged for 100 days and weighing in at a hefty one-pound, with a powerful, pungent fragrance that cheese-expert Steve Jenkins describes as "…about as subtle as a bolt of lightening–get out a clothespin." One whiff, and I agreed.
More subtle was the soft, dewy-white wheels of Delicor. When sliced open, the pleasantly chewy rind gives way to a soft, milky cheese that is sweet and slippery on the tongue. This is the one cheese that François makes entirely himself and is justly proud of it. Another famous cheese of the region is represented here, Neufchâtel (not to be confused with the low-fat cream cheese in the United States) which is often heart-shaped since the women cheesemakers would often make them for their sweethearts. You'll find Graval, a mound of bulgingNeufchâtel, enriched with extra cream with a velvety yellow mold on the exterior. The nutty, complex Comté, aged for 2 years, was the best I've had. And I've had a lot of Comté.
Properly made raw milk cheeses have been consumed for centuries and he noted that raw milk that's less than 1½ hour old is full of natural antibodies. He compared cheeses made with cooked milk to wine made with cooked grapes.
When reflecting on the new changes in cheese making because of EU regulations and strict US importation laws, François sadly noted that in most of the world, quality means hygienic, whereas here, quality means "good taste."
Fromagerie François Olivier
40, rue de l'Hôpital
Rouen
tel: 02 35 71 10 40


French Cheese Archives