Carrot Cake, Provençal-Style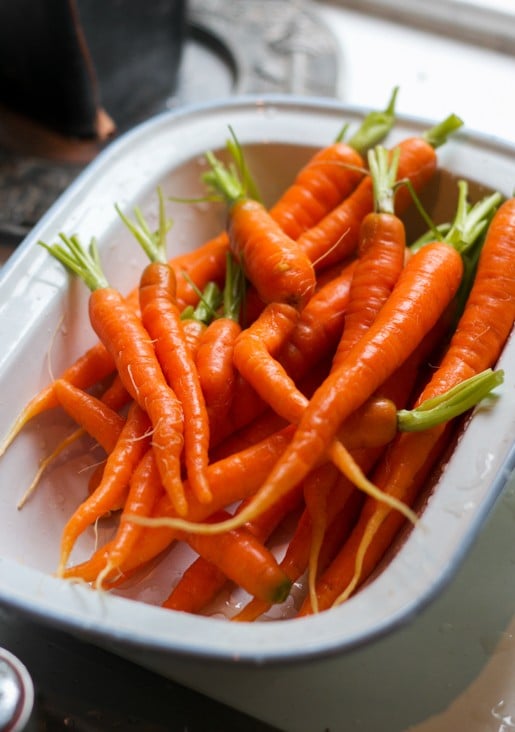 An American pal said to me the other day, "The French like carrot cake. You just can't tell them what's in it first." Indeed, I remember making an all-American dinner for some friends and when I'd mentioned "carrot" cake coming afterward, the look on their faces was like, "WTF?"
One mouthful, and of course, they loved it. But then again, you could slather cream cheese frosting on an Michelin tire and it would be enticing as well. There's a certain amount of chefs in France who are experimenting with vegetables in desserts, with mixed results—a gâteau au fenouil (Fennel Cake) I had at Le Grand Véfour comes to mind which, after a few bites, the waiter swiftly offered to replace.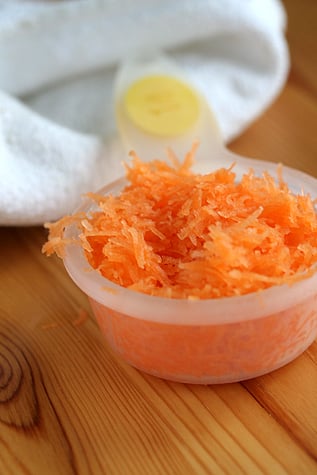 Much of it may be attributed to cultural differences. After all, when was the last time any of you Americans out there looked forward to digging in to a pile of sausages made from the bowels of pigs?

Aside from ordering a 36€ piece of fennel cake (and an unfortunate incident when I accidentally ordered the aforementioned sausages) another one of my biggest regrets was when Richard Olney came to Chez Panisse and we did a dinner for his book on Château d'Yquem, the most famous—and the most expensive, wine in the world.
The first time I had Yquem, Danny Kaye was entertaining a group at the restaurant and had a special bottle from 1938 and graciously sent me back a small sip. One single taste of the burnished syrup, with a cacophony of flavors that I can still recall, and included roast apricots and honeyed-almonds, absolutely justifies the insane price. So I guess I shouldn't bad-mouth him.
But for some stupid reason, I didn't get a copy of Olney's Yquem book, signed or otherwise, and I spent a few years afterward trolling websites selling used books looking for a copy. Unfortunately each one I found was priced as much as a bottle of the elusive sauternes itself, although it's fortunately been reprinted.
Richard also wrote Lulu's Provençal Kitchen, where he followed Lulu Peyraud around while she cooked. When eliciting ideas for serving suggestions for her bagna cauda, she offered forth such dining advice: "It's very messy. It is best eaten out-of-doors and it has to be eaten standing up, with an apéritif."
This kind of writing and cooking, comes from a time when cookbooks were published not because they were marketable or the author had a potty-mouth (does calling someone a 'dick' count?) or could toss dinner together in 22 minutes. But it was because the cook had something to contribute and their recipes absolutely needed to be documented. And there was no better food writer than Richard Olney to do it.
Lulu is the proprietaire of Domaine Tempier in Province, and is a natural cook, using products from the region; lots of spring garlic, just-caught fish from the Mediterranean, locally-pressed olive oil, and pungent thyme.
This is her recipe for Carrot Cake. It's not a traditional two-layer pièce de résistance, but moist and compact. And it's a recipe I've always been intrigued by. I like it cut into wedges and served alongside a compote of fresh fruit. Or when my ship comes in, a cool glass of Yquem. Any year will do. But if you want to 'Americanize' it, a scoop of Cheesecake Ice Cream, enriched with cream cheese, might not be such a bad thing, either.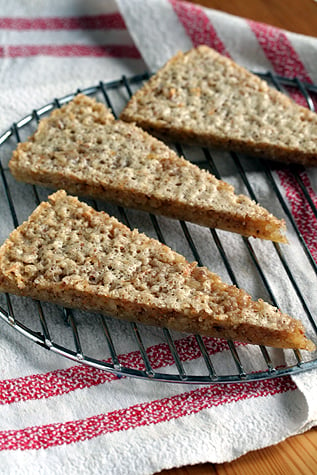 And you're looking for an American-style cake, check out the post: Carrot Cake with Cream Cheese Frosting, for a recipe for the two-layer classic.
Gâteau aux carottes
(Adapted from
Lulu's Provençal Table
* by Richard Olney, foreword by Alice Waters.) Although Lulu calls this a gâteau aux noix, I'm featuring the carrots, which appear in the cake as little orange flecks, hence the name change. I swapped out almonds for the walnuts since I like them better, but free to use either. Or another nut. When I get more time, I want to try this with different kinds of flour, as well as trying to make it a thicker, yet lighter, cake. In the past, I've played around, replacing one tablespoon of the butter with a tablespoon of a good nut oil. Walnut, plum kernel, or hazelnut all add a terrific nutty aroma to the finished gâteau.
8

tablespoons (115g)

butter

,

salted or unsalted, at room temperature

1 1/4

cups (250g)

sugar

pinch

of salt

5

large eggs

,

at room temperature

1 3/4

cups (225g)

toasted almonds

2/3

cup (90g)

flour

1/4

cup, packed, (40g)

finely grated carrot
Preheat the oven to 325F (160C). Butter two shallow 10-inch (23cm) cake pans and line each with a circle of parchment paper. Then lightly butter the top of each circle of paper.

Beat the butter, sugar and salt until smooth.

Meanwhile, pulverize the nuts and flour in a food processor or blender until relatively fine, but not powdery. If you don't have a machine, simply chop the nuts by hand and toss them with the flour.

Beat in the eggs one at a time. Afterwards, stir in the ground nut mixture and the carrots, mixing just until smooth.

Divide the batter into the pans, smooth it evenly, and bake for 40 minutes, until a toothpick inserted into the center comes out clean.

Cool, then release the cake from the pans and cut in wedges to serve.
Notes
Note: This is a rather unusual cake. More like a flat griddle-cake. Next time I might try it with one less egg and maybe a bit more flour since I think the recipe was written with American flour in mind, and French flour is quite a bit softer.
*The original edition of Lulu's Provençal Table shown above, was originally published by HarperCollins, and subsequently re-published. It appears to be out of print, but one can easily find used copies available. I suggest if you get one, try for an original edition, which are not at all expensive (for now) and includes photographs by Gail Skoff.