Mint-White Chocolate Ice Cream Shell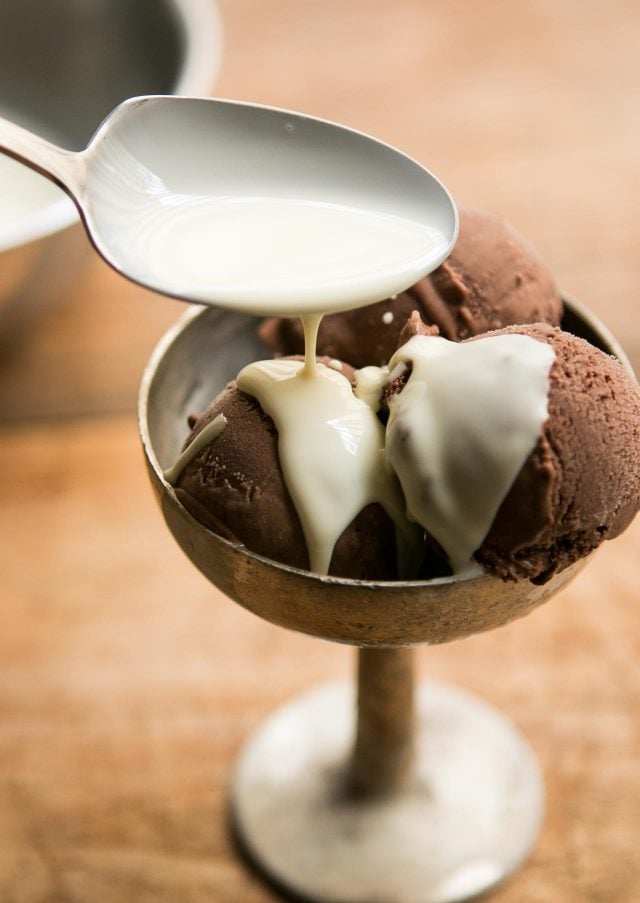 I was a sucker for soft-serve ice cream when I was a kid. The machine that made those swirly cones at Carvel mesmerized me, as well as on the Mister Softee truck, although they didn't drive around our neighborhood when I was a kid. (Those were the days of the Good Humor truck.) That was how I discovered sprinkles, which we called jimmies in New England, as well as a popsicle covered with lots and lots of sweet, shredded coconut, which I think at the time cost 35¢, and was the most expensive thing on the metal menu posted on the back of the truck.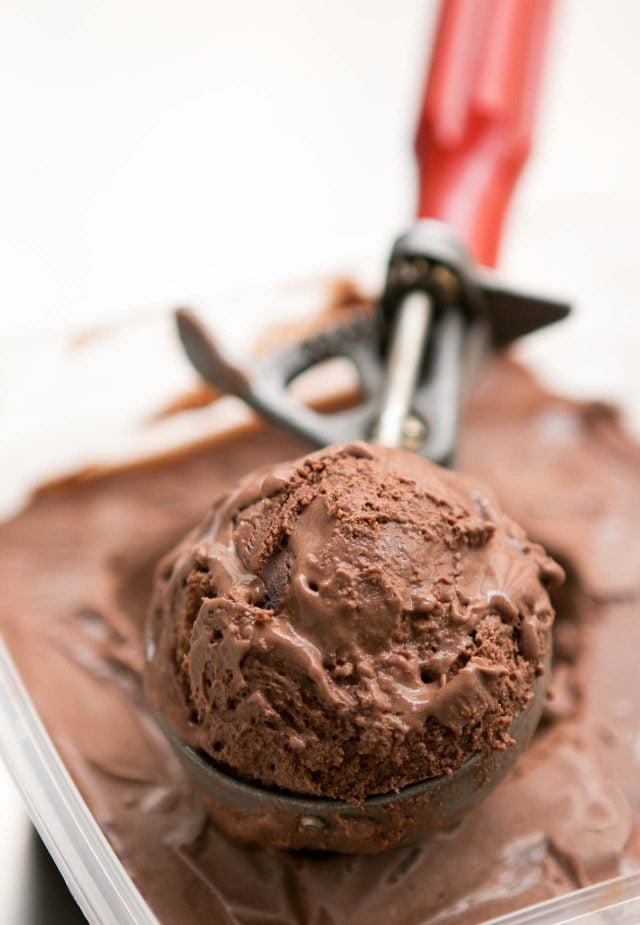 But I later got hooked on the crispy shell coating that was used to coat soft serve ice cream cones as well. I didn't quite know how they were able to upend a cone of ice cream and dip it into the vat of glossy chocolate, or what made it harden, but I later found out those sprinkles (or jimmies) that I loved so much, contained shellac, which comes from bugs. Neither deterred me, but soon my allegiances were torn between chocolate sprinkles, and chocolate coating
Now that I'm a well-adjusted adult, I realize that chocolate comes in many forms, and types, and even colors, and I like them all, including white chocolate.
No need to leave a comment saying that you don't like white chocolate because it's not "real" chocolate. No one is saying it is. (Unless there's something going on out there that no one is telling me about.) I don't compare white chocolate to dark chocolate and think both have their place, like in the bowls I served up at home, where I spooned mint-flavored white chocolate coating over scoops of dark chocolate ice cream, giving me the best of both cocoa-colored worlds. Who can argue with that?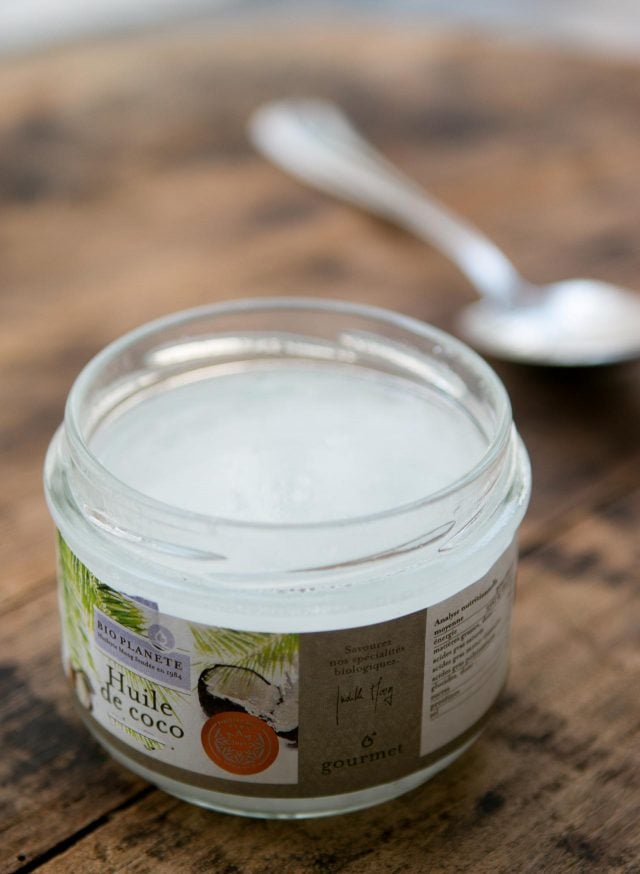 There's no shellac in this topping. The magic ingredient here is coconut oil, something that you had to search out in health food stores and at multicultural grocers, but it can now be found in regular supermarkets. On a recent trip to the States, I saw that even Crisco had their own brand of organic coconut oil. Who'd a thunk it?
I grabbed a jar at my local magasin bio, where there were two varieties: Virgin and deodorized. The first tastes quite strongly of coconut, and as a coconut-lover (whether it's shredded on the outside of popsicles, or elsewhere), I am a-ok with that flavor, especially paired with chocolate. But I don't find it to my liking linked up with fresh mint, so I advise using the deodorized (sometimes called "refined") coconut oil in this shell coating.
Mint flavoring can vary in intensity so you might want to add a little less than indicated, then taste, and add more if you'd like. I used Frontier brand mint flavoring, which is oil-based. Pure peppermint oil is knock-your-socks-off strong, so if you want to use that, you'll need to dial down the amount, and add it to taste.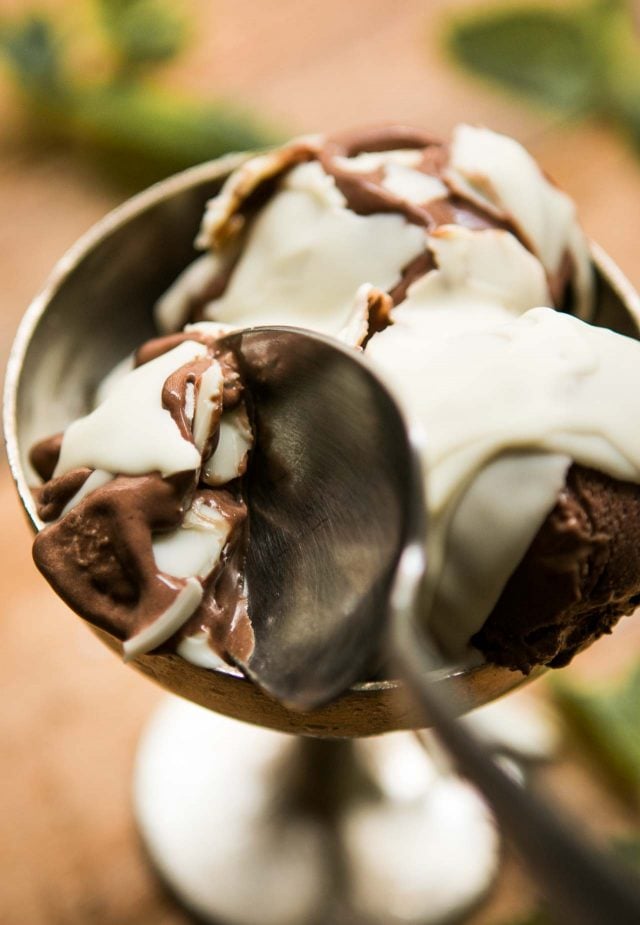 Don't worry if your scoops don't look perfect once you've doused them with sauce. I'm not a food stylist – I'd probably get fired if I was, because I can't resist snacking on anything within arm's reach – and any attitude you get over the way it looks will quickly melt into minty, chocolatey bliss, as soon as people start spooning it up.
| | |
| --- | --- |
| Mint - White Chocolate Ice Cream Shell | Print Recipe |
I recommend using regular (deodorized) coconut oil for this; virgin coconut oil has a strong coconut flavor which I don't ordinarily mind, but I find it clashes a bit with the mint flavor. The mint flavoring I used was peppermint-based, but you could use one that's made from another type of mint, such as spearmint, adjusting the flavor to taste. And be sure to use real white chocolate, not products labeled "chocolate coating" or "white coating." For more on white chocolate, check out my post: What is white chocolate? I used the chocolate ice cream recipe from The Perfect Scoop, but I've linked to another recipe at the end of this post.
2
tablespoons (30g)
coconut oil,
preferably refined or deodorized (see headnote)
6
ounces (170g)
white chocolate,
chopped
1
teaspoon
mint flavoring (or oil-based mint flavoring)
1. Melt the coconut oil and white chocolate in a clean, dry bowl, set over a pan of barely simmering water, stirring occasionally, until the chocolate is smooth and melted.
2. Remove the bowl from the heat and stir in the mint oil. Taste, and add more, if desired. (Mint flavorings can vary in strength and intensity.)
3. Let cool to room temperature, until it's the consistency of a runny milkshake, or buttermilk. Spoon the shell mixture over scoops of ice cream in a bowl.
Note: If the shell topping gets too thick upon sitting, rewarm it ever-so-gently (and ever-so-slightly) over a pot of barely simmering water, stirring just until it's pourable.
Storage: The white chocolate shell mixture can be stored at room temperature for up to two weeks. Rewarm gently before using.
Related Posts
Chocolate-Dipped Coconut Macarons
Quick Coconut Saffron Ice Cream