I haven't visited Jeni's Splendid Ice Creams in Ohio, but I've heard Jeni Bauer's ice cream was sensational. Because I can't get everywhere – no matter how hard I try – her ice cream came to me in the form of her book, Jeni's Splendid Ice Creams at Home.
When Jeni's book was released, we had a nice interchange via e-mail about ice cream making, including her technique for skipping the eggs and using other ingredients to get a specific consistency. She's a stickler for getting rid of ice crystals so milk and cream get boiled to remove water, and corn starch is added to absorb any additional water that might be lingering in your mixture, to help keep the ice cream as smooth as possible.
It's a pretty interesting process and just like liquid nitrogen ice cream, it's another technique that can be added to the canon of ice cream-making techniques. Like the ice cream made with liquid nitrogen, which also minimizes ice crystals, the ice cream is very creamy, yet doesn't feel as cold when you eat it like traditional ice cream does. I'm not much of a science nerd, but it's likely because ice crystals are colder than butterfat or milk fat, which is why sorbet, which has more water, tastes colder than ice cream.
The only snag I hit was finding the ice the recipe requests that you gather to cool the mixture down after you make it. Most Paris refrigerators don't have American-style ice makers, so I started a few days ahead with my single ice-cube tray (I actually have room for two, but my freezer is pretty packed), to make sure I had enough.
One question that folks will almost certainly have it regarding the corn syrup. In her ice cream shop, they use tapioca syrup (and tapioca starch) but since those ingredients aren't easily available, the corn syrup and corn starch are what's called for. (The syrup is available in some natural foods stores, and online, and tapioca starch can be found in Asian markets.) But the book cautions against using other liquid sweeteners, like honey or agave, and since I cook for myself and don't buy a lot of processed foods, I can monitor my intake of certain ingredients. And I'm a lot happier.
But all the questions and concerns aren't the fun part of making ice cream, are they? It's stirring the chocolate into the warm milk and watching it melt (and tasting a sample as you do), then scooping the finished ice cream from your machine.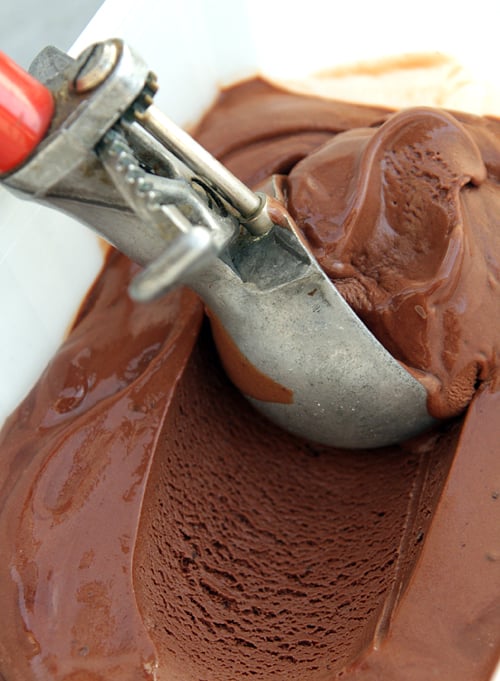 Chocolate Ice Cream
Adapted from
Jeni's Splendid Ice Creams at Home
by Jenni Britton Bauer (Artisan) Jeni Bauer calls this "The milkiest chocolate ice cream" because she likes milk chocolate and unlike bitter, dark chocolate ice cream, this ice cream does indeed taste like "a bar of fine milk chocolate." It has a pleasant sweetness and a consistency as smooth as Swiss chocolate. You'll notice this recipe doesn't call for eggs, which makes it suitable for people who are avoiding eggs for various dietary reasons. For best results, sift the cocoa powder to remove any lumps and use good chocolate, one in the range of 55 to 70% cocoa solids. There a note at the end of the recipe, which includes a variation I chanced upon that you might want to consider.
1

cup (250ml)

whole milk

4

teaspoons

corn starch

1

cup (250ml)

heavy cream

1

cup (250ml)

evaporated milk

,

unsweetened condensed milk

2/3

cup (130g)

sugar

2

tablespoons (60g)

light corn syrup

1/3

cup (35g)

unsweetened cocoa powder

,

natural or Dutch-process

3

ounces (85g)

bittersweet or semisweet chocolate

,

chopped

1/4

teaspoon

sea salt

1/2

teaspoon

vanilla extract

, or 1 teaspoon chocolate extract
Making a slurry by mixing a few tablespoons of the milk with the corn starch in a small bowl, until smooth.

In a 4-quart (4l) saucepan, heat the rest of the milk, cream, evaporated milk, sugar, and corn syrup. When the mixture comes to a moderate boil, whisk in the cocoa powder, then let it cook at a modest boil for 4 minutes.

After four minutes, whisk in the corn starch slurry then continue to cook for one minute, stirring constantly with a spatula, until slightly thickened.

Remove from heat and add the chopped chocolate and salt, stirring until the chocolate is completely melted and the mixture is smooth. Stir in the vanilla or chocolate extract.

Transfer the ice cream mixture into a zip-top plastic bag then submerge the bag into a bowl filled with ice, and let sit until cool, about 30 minutes. (If necessary, add more ice during the cooling period.)

Remove the bag from the ice bath and wipe off any excess water. Pour the mixture into the canister of an ice cream maker, then freeze according to the manufacturer's instructions.
Notes
Note: After I made this recipe the first time with 1/4 cup (60 ml) of heavy cream, I discovered that there is a typo in the book (which invariably happens), and it actually should be the amount I printed above. Although this affected the yield, I think less cream actually makes for a stronger-flavored, denser ice cream, which reminded me of real Italian gelato. I wasn't sure which would be best to present for readers. But since in Jeni encourages experimentation in her book, I realized I did a little of my own. If you want to try it with just 1/4 cup (60 ml) cream, you might like it as much as I did. But I'd reduce the sugar to 1/2 cup (100 gr) the next time.
FAQs
Which cocoa powder should I use?
You can use either natural or Dutch-process. For a more detailed explanation of the two, and the differences, visit Cocoa Powder FAQs.
I really don't want to use corn syrup. Can I use another liquid sweetener?
If you're concerned about high-fructose corn syrup, avoid brands that list hfcs as an ingredient and just use regular light corn syrup. As mentioned, tapioca syrup can be used, although other liquid sweeteners behave differently and aren't recommended by her book. (Although you are welcome to try them. If so, please report on the results in the comments.)
Even after the cooking, there are still undissolved little bits of cocoa powder. What do I do about them?
Take an immersion blender and mix until they're dissolved. You can use a standard blender but never fill a regular blender more than half full with a warm or hot mixture as it can splatter, even with the lid on. For extra security, cover the blender with a thick dish towel and hold it in place.
I don't want to use a plastic bag to cool down the mixture. What else can I use?
Make an ice bath: Find a smaller metal bowl that will fit into a larger metal bowl. Add ice, along with some cold water, to the larger bowl then set the smaller bowl into the ice. Pour the ice cream mixture into the smaller bowl and stir until completely cool.
---
Related Links
Making Ice Cream Without a Machine
Professional Kitchen Tour: Jeni's Ice Cream (The Kitchn)
Agave-Sweetened Chocolate Ice Cream
Salty Caramel (Jeni's Blog)