Quiche with greens, bacon and feta
While visiting friends in the countryside toward the end of the summer (…is it over already?), I met a woman who grew the most lovely little lettuces, which she sold at the local market. Which was basically a table with several baskets of her stunning greens sitting on it. If you haven't had eaten lettuce just a few minutes (or even hours) out of the ground, you don't know what you're missing.
I, myself, had forgotten about how good fresh lettuce and greens are, until I reached into the pile we bought and tasted the spiciest, most peppery arugula I've had in years. She also had mustard greens, which aren't as celebrated in France as other types of lettuce, perhaps due to their forceful flavor. (Although Dijon mustard is wildly popular, so not sure why the greens aren't.) But I filled an especially big bag with as many of the mustard greens as I thought I could use, and brought them back to our friend's kitchen.
Greens that are popular in Paris are spinach and Swiss chard, which you can find at most markets, as well as – curiously – bok choy, which I find too neutral for my tastes, in spite of my love of Asian greens. (Ever since Romain tasted pea shoots in the U.S., he's been harping on me to find them in Paris.)
Beets are popular in Paris and a majority of the time they're sold already cooked. I'm told this dates back to when energy was rationed during wartime and farmers were given an extra allotment of gas so they could cook them. But the greens? They seem to have been forgotten…
With renewed interest in légumes oubliés (forgotten vegetables), however, raw beets seem to be making a comeback of sorts. But no one is dumpster diving at the markets, fishing out the beet greens that are hacked off before the round beets are handed over to customers in a bag…except for a friend of mine, who couldn't stand to see the leaves go to waste, and I often run into her at the market, hauling a caddy jam-packed with beet greens home with her. Other than my frugal friend, I don't see anyone else scrambling to take home beet greens with them. But when I find organic beets, I keep the leaves and sauté them up.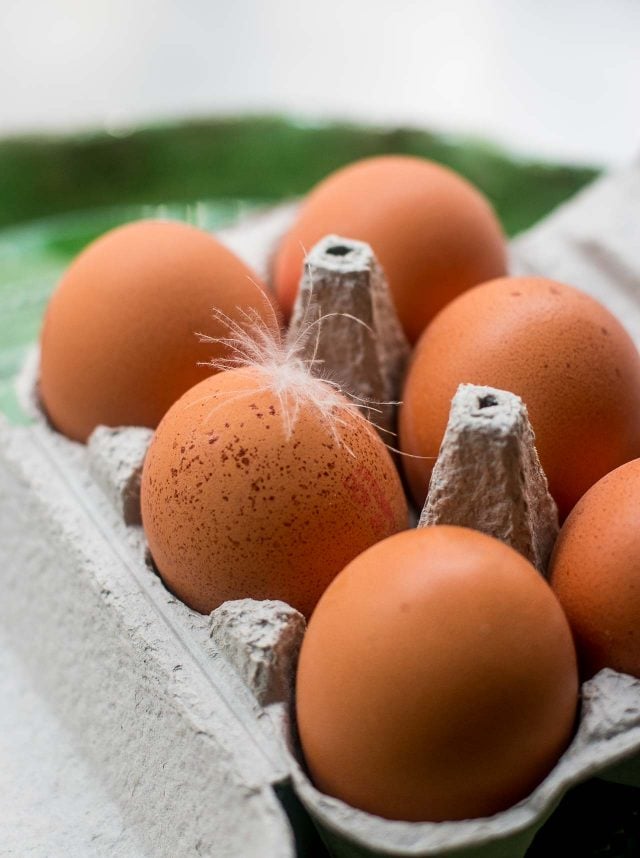 While I was deciding what to make with the overload of greens that I'd gotten, in my friend's kitchen, Romain took charge of the dessert. He'd just discovered pâte sucrée and was on a tart-making bender, and I let him have his way, while I took over the savory side of things.
Since I was on vacation, I didn't take pictures or write down what I did, much to the dismay of some commenters on Instagram. But when I got home, I rustled up some beet greens to use in place of the mustard greens and made it again. It was just as good; the sturdy beet greens didn't have the tang of mustard, but were full-flavored and made a nice counterpoint to the salty, tangy feta and bits of bacon, along with a generous handful of herbs.
One piece of bakeware that you'll find in every French kitchen are tart molds like these:
I had an uneasy relationship with them, until I learned how handy they are. You don't have to worry about drips and spills, due to the high sides, and they're easy to transport. They're also really inexpensive; you can pick one up at houseware stands at most outdoor markets for a few euros, or at your local Paris pas cher store, the discount stores that are scattered around Paris, that sell everything from clothespins, to Duralex glasses and casseroles. (If you walk up the rue de Belleville, you'll pass about a dozen of them.)
If you don't have one, I've given some guidelines for using other types of molds in the headnote before the recipe. You can swap out fresh or aged goat cheese for the feta, and if you want to use another herb, such as fresh dill, basil, thyme, tarragon, or whatever strikes your fancy in place of the chives, go for it.
| | |
| --- | --- |
| Quiche with greens, bacon and feta | Print Recipe |
The tart mold that's commonly used in France (shown in the post) is 27cm across, with sides that are 3cm high, approximately 10" by 1 1/4." You can get similar size quiche dishes online, or use a 10-inch (27cm) pie dish or pan, but like most French cooks, I wouldn't fret. Anything close in size should work fine.The amount of custard I call for was just right for using a tart mold with lower sides, but if you have one with higher sides, like the French kind shown in the post, you can bump the ingredients up to 1 1/2 cups (375ml) of milk and 6 eggs.I've made this recipe with mustard as well as with beet greens. See notes at the end of the recipe for tips on using other types of greens, and other variations. Whatever type of greens that you use, be sure to wash them carefully, in several changes of water if necessary, to remove any grit. The mustard greens I used the first time had tender stems so I chopped and cooked them together, but if the stems of your greens are thick (such as if you are using beet greens or kale), you probably want to separate the leaves and stems, chop them separately, and add the chopped stems to the pan a few minutes before the leaves, as they'll need to be cooked longer.
For the tart dough
6
tablespoons (3oz/85g)
unsalted butter,
cubed and chilled
5
tablespoons (75ml)
ice water
For the tart filling
1
cup (100g)
diced bacon,
preferably thick-cut
2
shallots, or one small onion,
minced
freshly ground
black pepper
1
bunch
beet or mustard greens, chopped,
about 8 ounces (230g)
1 1/4
cup (310ml)
whole milk
5
large
eggs,
at room temperature
1 1/2
teaspoons
Dijon mustard
1/4
teaspoon
kosher or sea salt
1/4
cup (10g)
minced fresh chives
3
tablespoons
chopped fresh basil
generous pinch
red pepper or paprika
4
ounces (100g)
feta cheese
1. To make the tart dough, mix together the flour, sugar, and salt in the bowl of a stand mixer fitted with the paddle attachment. (Or in a large bowl, if making it by hand, and use a pastry blender to cut in the butter.) Add the butter and mix on medium speed until the pieces of butter are the size of peas. Add the ice water and mix until the dough comes together. Shape the dough into a disk with your hands, wrap in plastic, and chill for at least 30 minutes. (The dough can be made up to 3 days in advance.)
2. Remove the dough from the refrigerator. Roll the dough on a lightly floured surface until it's a 13-inch (33cm) circle. Brush off excess flour and transfer the dough to a 10-inch (27cm) tart mold. Fit the dough in the tart mold, trim the overhang of the dough around edges of the rim, and chill the dough until ready to use.
3. To make the filling, heat a little olive oil in a skillet and add the bacon. Cook the bacon, stirring frequently, until it's cooked through, but not crisp. Transfer the bacon to a plate lined with a paper towel and set aside.
4. Wipe the skillet of excess oil and add the chopped stems of the greens, if they were tough and you separated them from the leaves. (See headnote.) Season with salt and pepper and cook until the stems are tender, adding additional olive oil if necessary. Add the shallots and cook for another minute, then add the greens. Cook the greens, stirring frequently, until cooked through. If they are particularly sturdy greens, cover the pan and let them cook, covered, for a few minutes, until softened. Remove from heat
5. To make the custard, in a medium bowl, beat together the milk, eggs, mustard, salt, chives, basil, and a pinch of paprika or red pepper.
6. Preheat the oven to 350ºF (180ºC).
7. Put the bacon pieces in the bottom of the unbaked tart shell. Add the cooked greens and crumble the feta in big chunks over the greens. Pour the custard over the greens and move them around a bit with a spoon so they're evenly distributed. Sprinkle Parmesan over the top. Bake until the filling is just set, 20-25 minutes if using a shallow tart pan, 25 to 30 minutes if using a deeper tart mold. Let cool for a few minutes before slicing and serving.
Notes: I made this with mustard greens as well as turnip greens, which took longer to cook than the mustard greens. You can use either of those or another favorite green, such as kale or Swiss chard. Spinach is another possibility although since it's very damp, you may need to wring it out well before using it in the tart.
If you don't eat bacon, smoked salmon (or even sauteed mushrooms or peas, for a vegetarian version) can be substituted. I've also swapped out goat cheese for the feta, and fresh dill for the basil.
Some might ask about pre-baking the tart shell, before adding the filling. In my experience, I've not seen a French home cook do that. These kinds of tarts are meant to be everyday fare; often people buy the pre-made pastry at the grocery store, unroll it, and fill it for a relatively quick dinner. But if you want to prebake the crust, you can. Simply line the tart shell with foil, fill with beans or pie weights, and bake the crust until golden brown across the bottom.