Winter Salad with Pecans, Pears and Gorgonzola
I eat a salad almost every day. I grab a big bowl, make dressing in it, then toss in whatever ingredients I have on hand. It might be a hard-boiled egg, miscellaneous greens, bits of roast chicken, slivered carrots, shredded cabbage, toasted nuts, cherry tomatoes, crumbled cheese, and so forth – whatever I have on hand. (But hold the alfalfa sprouts; does anyone really like those?)
It gets pretty frosty in Paris in the winter, and I always feel sorry for the outdoor market vendors who stand there and shiver while we decide on what to buy. Those of us who descend on the market try to get in and out as fast as possible. When it gets really cold, some vendors huddle near plug-in heaters that don't seem to do all that much, but I'm sure are better than nothing. (They have them in some of the French train stations as well, and people flock to be close to them, as if they were some mythic totem.)
At home, I'm okay in the heat department, but each year I vow I'm going to get one of those lights that is supposed to make you happy during the gray winter season. I was once a guest on a television show in New York and they had one in the corner of their kitchen. When I asked if it really made a difference, they said, "We're not sure…but we seem to gravitate toward it, and all of us end up working around it."
Until I find happiness with a lamp, I'll have to make do with this salad, which I gravitate toward in the winter as well. Since regular lettuce is in short supply at the market (because the heads tends to freeze solid), I grab a head of sturdy winter salad greens such as frisée, radicchio, Belgian endive, watercress, or escarole, which hold up better.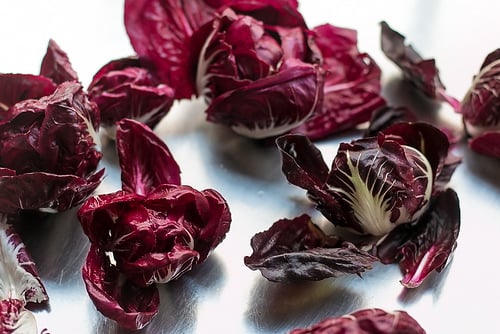 The purple heads of whatever that I got last week look similar to radicchio (or what they call trévise, in France), but the women who sells it at the market (who is a producteur, or grower) told me it's chicorée, and warned me that it's not too bitter. Which is odd, because do I look like the kind of guy who doesn't like bitter greens? And I also like is a mix of them, in various colors, since they're so beautiful when tossed together. Comice pears are the perfect choice for adding a little sweetness, although Fuyu persimmons – the squat kind, meant to be eaten firm – or orange segments would work in their place.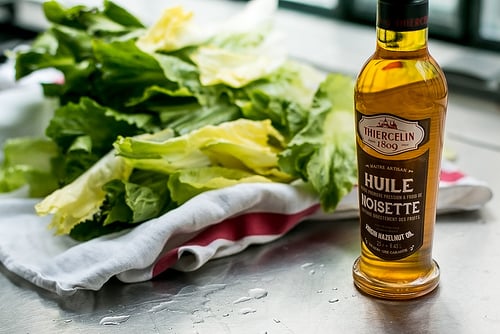 Like juicy-sweet Comice pears, gorgonzola is another winter pleasure. It has the perfect texture and flavor for this salad. A blue cheese, or Roquefort, would work. But I have a particular fondness for gorgonzola, and I always feel like it's a special occasion when I buy a wedge it. If you get extra, it's also nice crumbled over warm polenta, which is another way to make yourself happy in the winter. Especially if you don't have a lamp to snuggle up to.
| | |
| --- | --- |
| Winter Salad with Pecans, Pears and Gorgonzola | Print Recipe |
Nut oils can make a world of difference in a salad. Fortunately just a few spoonfuls is all that's needed to add a lot of flavor. I like hazelnut oil and buy it from a trusted source or brand. (Leblanc is reliably good, which can be found in well-stocked supermarkets or online.) Buy the smallest bottle you can since it doesn't get better the longer it sits. Store nut oils in the refrigerator and try to use them within 6 to 8 months. If you don't have nut oil, substitute the same amount of olive oil. Walnuts make a good substitute for the pecans.
Salted pecans
1/4
teaspoon
flaky sea salt
a few grinds of black pepper
Dressing
1
tablespoon
white wine vinegar or sherry vinegar
small dab of Dijon mustard
2
tablespoons
hazelnut or walnut oil
Salad
2
ounces (55g)
gorgonzola cheese,
at room temperature
6
cups (150g)
torn or chopped leaves of winter greens; any mixture of escarole,
radicchio, watercress, Belgian endive, and frisée
freshly ground black pepper
minced chives or parsley,
for garnish
1. Preheat the oven to 350ºF (180ºC.)
2. Mix the pecans on a baking sheet with the teaspoon of olive oil, the salt, and a few grinds of black pepper. Toss the pecans so they're well coated and toast the nuts in the oven for 8 to 10 minutes, stirring midway during baking, until lightly toasted. Remove from oven and cool.
3. Make the dressing by mixing together the vinegar, salt, and mustard in a large bowl. Mix in the olive oil and nut oil. Taste, and add a bit more vinegar and salt, if desired. Crumble the gorgonzola into the dressing and stir a few times. Add the torn greens to the bowl.
4. Peel and core the pear. Cut into slices and add them to the salad bowl along with the pecans. Toss the ingredients together thoroughly, adding an additional sprinkle of flaky sea salt, then divide the salad onto two plates. Grind black pepper over the salads and sprinkle with minced chives or parsley.
Related Recipes
Roasted Root Vegetable and Wheat Berry Salad