Buvette Gastrotheque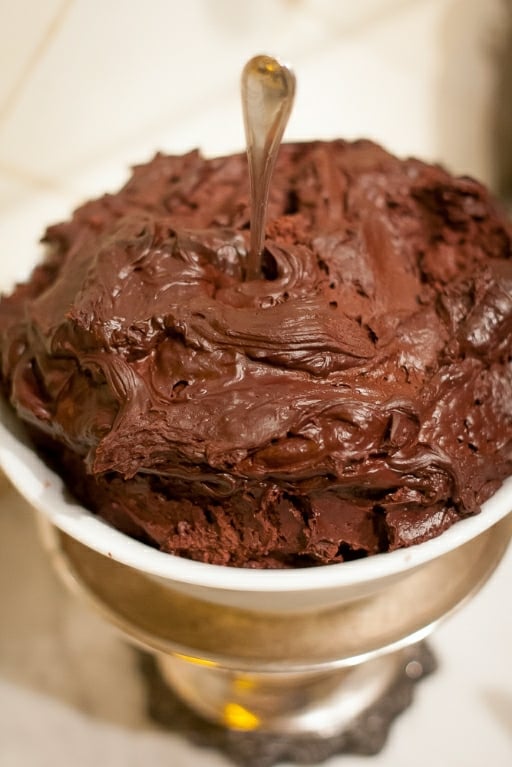 There was a lot of talk this year about how Paris, and its food scene, are changing. Some of the talk was regarding gentrification by hipsters in Paris and the transformation of certain quartiers of the city. It was discussed widely by people who don't live in Paris, and by those of us who do. (And those who work in, or frequent, the area.) Among those of us that live here, it brought up some wider issues, many reflected in the very good article, The Other Paris, Beyond the Boulevards.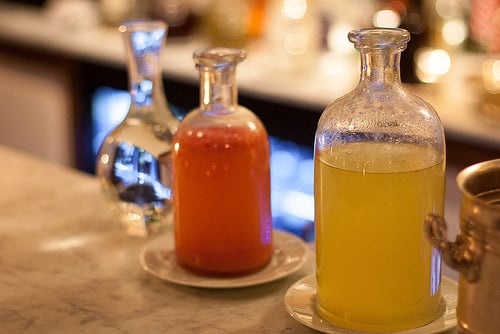 Paris is often seen as a living "museum" – a city that is constantly referencing its past. "Improvements" often yield mixed results; the city has a spiffy new website and the auto-sharing program, Autolib, has been a hit. Yet the popular Vélib bike program is reportedly reducing the number of bikes by one-third and people are questioning if the current renovation of Les Halles is mirroring the same mistakes of the former structure, that it replaced.
Few people come to Paris in search of innovation, especially in terms of cuisine. Judging from the questions that I get from visitors, most people are looking for classic bistro cooking or a good corner café where they can grab a just-griddledCroque monsieur or salade de chèvre chaud. While hamburgers are enjoying popularity with Parisians, traditional and regional French cuisine are have become harder to find.
One refreshing change that's taken place in the last few years in Paris is a younger generation of chefs (some French, but many from elsewhere, including America, Australia, and Japan) who are focusing on ingredient-based cooking, sourcing the freshest produce and grown locally, whenever possible. (Although some are focusing too much on the "concept", while not quite putting the concept into action: I'm still scratching my head at the glacéed green candied cherries that were on my dessert at a place called Terroir Parisien, which I don't think are grown or produced near Paris.) So while some chefs are focusing their attention on ingredients, as always, there's a danger of others latching onto the concept, but not quite practicing the principles behind it.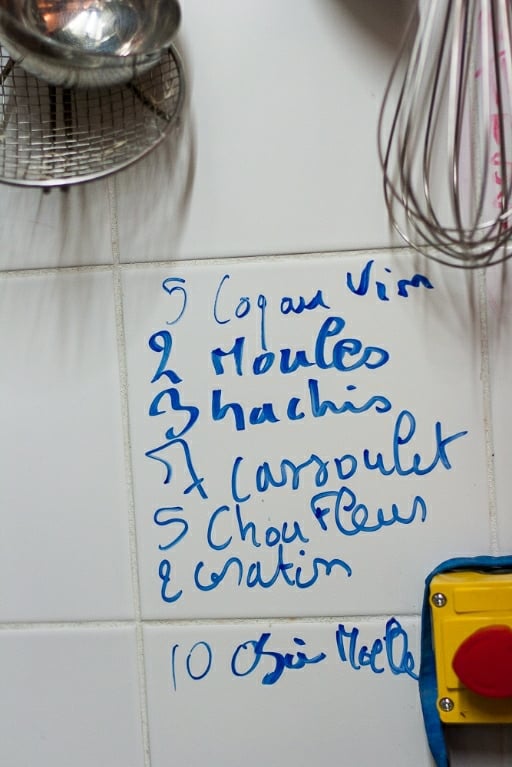 French cuisine has taken a few blows over the last few years as older bistros and brasseries have withered in quality or became chains, with the food becoming an afterthough. So this younger generation of cooks and restaurant owners – yes, many of them resembling hipsters – have been concentrating on bringing things like good coffee, local produce, wine from smaller producers, and sustainably sourced meat and fish, to the forefront of menus.
Globalization isn't always a good thing, but in the case of food, it's bringing a wider perspective to Parisian cooking and now you can find vegetarian restaurants in Paris, a phrase which previously elicited chuckles when mentioned. (Although it's still hard to find creative, interesting vegetarian fare, and I think I still have some of the needle-like leaves of dried rosemary stuck in my throat that completely encrusted the top of the vegetable tart I ordered at Café Pinson.) Still, it's nice that places are starting to make the effort. And two Americans are starting a food coop in Paris, which will bring high-quality, local foods to people in Paris at much lower prices (which will also pay the producers more) – and I'm not sure anyone can find something to complain about that.
Buvette Gastrothèque has landed in Paris in the gentrifying neighborhood of Pigalle, which in spite of the New York Times article, still has a gritty fringe. There are still "hostess clubs" where you can have a bottle of bottom-shelf Champagne with a scantily clad woman, then get socked with a €500 bill for the privilege – and the bottle. (But the trip to the ATM along with a bouncer to collect the cash to pay for it, is free.) But now the neighborhood also boasts good coffee shops and a two-story natural foods store, as well as pastry shops, restaurants, and bars with top-notch (and regularly priced) cocktails.
Amusingly, Buvette Gastrothèque is a New York-based restaurant that is based on the concept of a Parisian wine bar, which has been brought back to Paris. That's evident by a cute little chalkboard by the door, nestled amongst some baskets of food, announcing that there's cassoulet on the menu the night we went. When you walk inside, you realize that someone has created a picture-perfect little buvette, or a place to drink, with all the details perfectly in place.
You can start with a cocktail, or an apéritif, or go right to wine, which we did. I had a white Beaujolais, which was lovely (then moved on to Riesling) and we ordered a selection of foods on the menu, all of them "small plate-style" foods.
The meaty terrine was great, although we both agreed that serving it with a giant dollop of mustard was something they wouldn't do in Paris. I remember when I first arrived in the city and was having charcuterie at Le Baron Rouge. Thinking I was so sophisticated and doing the right thing, I asked if they had any mustard. The barman barked back at me – "Non! Our charcuterie is too good to serve with mustard, monsieur!"
Since vegetables are rarely well-represented on Paris menus, it was nice to see some salads on offer at the bar. We ordered the brussels sprout salad that my dining companion sent back because he thought the oil was passée. But we kept the individual Hachis Parmentier, a meaty casserole topped with pureed potatoes. It had a tinge of star anise in the sauce, which added a vaguely exotic flavor, while still honing close to the classic. But like many of the classic dishes of French cuisine, it's best when cooked a long time in a large, wide casserole or baking dish, so the sauces reduce and the potatoes meld and mingle with the meaty juices underneath and you get all those crusty bits around the edges. Individual servings don't necessarily do this kind of dish justice.
I enjoyed the Croque forestière (grilled mushroom sandwich), served on toasted bread with cheese, although it was hard to cut on the small plate (others who have dined here have suggested they get bigger plates, and I agree) – for this one, I recommend they wrap the little warm sandwiches in parchment paper, and cut them in half so you can pick them up and eat them.
Parisians normally eat warm sandwiches with a knife and fork, but in this case, the concept of le street food might want to be adopted. I can't really offer a comment on the taste of the kale tartine since the plate was so small, all of the finely shredded kale tumbled off when we cut into it. My suggestion would be to mash it into some fresh goat cheese and roasted garlic, and smear the paste on thinner pieces of the toasted country bread than it was served on.
There was no way were we going to leave without ordering the chocolate mousse (shown at the top), which was presented in an enormous vessel, rising up and over the sides. It was very good, and the tarte Tatin looked like a winner as well, although it was getting past my bedtime.
Buvette Gastrothèque has been popular since its opening with both locals and visitors. And it was obvious that they have carefully chosen the wines and the ingredients that the kitchen was using. Since it's open from morning 'til night, non-stop (and non-Paris style), if I lived in the area, I'd be inclined to stop in mid-morning for a coffee and pastry.
Not unique to this restaurant, but something that's becoming a frequent sight in Paris, are guests that sits at tables with unlit cigarettes dangling from their lips in anticipation of the moment when they can race outside and light it up. Or they're sitting with a group of friends, all of them with heads buried in smartphones.
(I think the first one is terribly disrespectful to the cooks and dining room staff, when the service gets interrupted. The great chef Fernand Point instructed waiters to give customers who lit up a cigarette a coffee and the final check, no matter what point they were at in their meal, based on the assumption that they had finished.)
I think when you go out to eat, you're paying good money to enjoy your time in the restaurant, so let the staff and kitchen do their job. If you can't sit through a meal without racing outside to light up (which I saw a group of four diners do the other night at another restaurant, just at the moment when the waiter was setting down their main courses) or to constantly check your voicemail, you might want to reassess your priorities. Or maybe I'm wrong, and I need to reassess mine.
Our check for two was €101, with €59 of that being three glasses of wine each, which is the downside of globalization (ie: New York prices for wine, in Paris.) So even though this is called a buvette, you might want to spring for a bottle right off the bat, rather than going the by-the-glass route.
The next few years, I think, we'll see some dramatic changes in the Paris dining scene. Wine bars are proliferating. Although not quite yet realized, vegetables are getting a little more attention. Young French cooks and entrepreneurs are adopting the idea of "le street food", or more casual, free-form styles of dining, using French ingredients. Coffee is finally getting the attention in a city where almost every other aspect of the dining experience is scrutinized for quality. (I was laughing with my friend Pim recently, that when she wrote about the bleak coffee situation back in 2005, and I did in 2008, we were roundly criticized for critiquing the coffee. Quelle difference!) And best of all, minds are open to other possibilities. Which I don't mind at all.
Buvette Gastrothèque
28 rue Henri Monnier (9th)
Tel. 01 44 63 41 71
Métro: Saint Georges or Pigalle
Open Tuesday through Sunday, 10am to midnight
---
Note: On an aside, I've been adding short restaurant write-ups to my monthly newsletter. If you'd like to get it, you can sign up here.
---